Is It Proper For President Obama To Decline To Appeal The DOMA Cases?
President Obama's decision to decline to defend Section Three of the Defense Of Marriage Act on appeal was a proper and appropriate exercise of his authority as President Of The United States.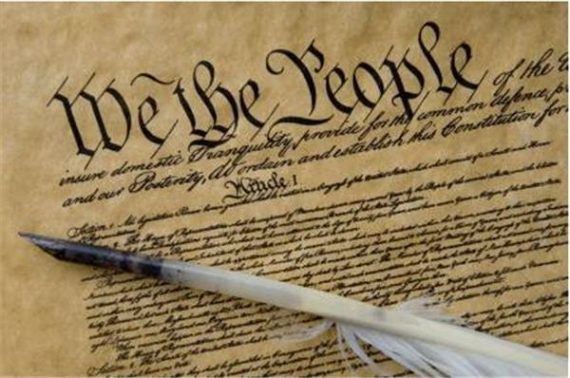 There has been much debate in the blogosphere about the Obama Administration's decision to cease defending Section Three of the Defense of Marriage Act. In some cases, there seems to be some confusion as to what was actually announced on Wednesday, with many people seeming to believe that the Administration had announced that it was going to cease enforcing DOMA. This is not that case and, in fact, Attorney General Holder specifically states in his letter that the Obama Administration will continue enforcing the law unless and until it is declared unconstitutional:
Notwithstanding this determination, the President has informed me that Section 3 will continue to be enforced by the Executive Branch. To that end, the President has instructed Executive agencies to continue to comply with Section 3 of DOMA, consistent with the Executive's obligation to take care that the laws be faithfully executed, unless and until Congress repeals Section 3 or the judicial branch renders a definitive verdict against the law's constitutionality. This course of action respects the actions of the prior Congress that enacted DOMA, and it recognizes the judiciary as the final arbiter ofthe constitutional claims raised.
Gabriel Malor is one of those people on the right who recognizes this distinction. but calls it indefensible:
This split-the-baby approach is unjustifiable. The President has no obligation to enforce unconstitutional laws under the Take Care clause; in fact, I'd say he's obligated not to enforce unconstitutional laws and that's exactly what prior Presidents concluded. President Obama's waffling—enforce it, but don't defend it—leads to the same eventual outcome, but only by needless delay and wasteful litigation.

For example, if a gay federal employee who is lawfully married to another dude were to apply tomorrow to add his spouse to his health insurance or seek to file their federal income taxes jointly, OPM and IRS would reject those filings under DOMA section 3. To get relief, the employee would have to hail these federal agencies into court, wherein the DOJ would promptly turn against its own client agencies and tell the court that their actions were indefensible.

How is that a good plan? Well, it's a good plan if one wants to finally see the courts extend heightened scrutiny to cases of discrimination against gays and lesbians. To date the Supreme Court has been mum about just how much justification the federal government needs to have to discriminate against gays.
Orin Kerr worries that it constitutes an Executive power grab that could have consequences further down the line:
Now, I wouldn't in a million years compare torture and wiretapping with gay rights. Obviously, the subject matter is totally and completely different. But there's an interesting analytical similarity between the DOJ's position on DOMA and the Bush Administration's reliance on its Article II theories. If you look at AG Holder's reasons for why DOJ won't defend DOMA, it is premised on DOJ's adoption of a contested theory of the constitutionality of laws regulating gay rights. The letter says that "the President and [the Attorney General] have concluded that classifications based on sexual orientation warrant heightened scrutiny and that, as applied to same-sex couples legally married under state law then, from that perspective, there is no reasonable defense of DOMA." This theory is not compelled by caselaw. Rather, it's a possible result, one that is popular in some circles and not in others but that courts have not weighed in on much yet.

By taking that position, the Obama Administration has moved the goalposts of the usual role of the Executive branch in defending statutes. Instead of requiring DOJ to defend the constitutionality of all federal statutes if it has a reasonable basis to do so, the new approach invests within DOJ a power to conduct an independent constitutional review of the issues, to decide the main issues in the case — in this case, the degree of scrutiny for gay rights issues — and then, upon deciding the main issue, to decide if there is a reasonable basis for arguing the other side. If you take that view, the Executive Branch essentially has the power to decide what legislation it will defend based on whatever views of the Constitution are popular or associated with that Administration. It changes the role of the Executive branch in defending litigation from the traditional dutiful servant of Congress to major institutional player with a great deal of discretion.

If that approach becomes widely adopted, then it would seem to bring a considerable power shift to the Executive Branch. Here's what I fear will happen. If Congress passes legislation on a largely party-line vote, the losing side just has to fashion some constitutional theories for why the legislation is unconstitutional and then wait for its side to win the Presidency. As soon as its side wins the Presidency, activists on its side can file constitutional challenges based on the theories; the Executive branch can adopt the theories and conclude that, based on the theories, the legislation is unconstitutional; and then the challenges to the legislation will go undefended. Winning the Presidency will come with a great deal of power to decide what legislation to defend, increasing Executive branch power at the expense of Congress's power. Again, it will be a power grab disguised as academic constitutional interpretation.

Now, maybe you think that's a good thing; maybe you think, as I do, that it's a bad one.
Malor and Kerr are joined by other legal scholars such as  Richard Epstein and Curt Levey, and their concerns are well-placed. After all, the same liberals who are cheering the President's decision to essentially punt on DOMA defense will likely feel very differently if, say, President Huckabee decided two years from now to decline to defend a school prayer or abortion case, or if a Republican Administration declined to defend the Affordable Care Act, and instead argued the other side of the issue. From a policy point of view,  allowing DOMA to die isn't necessarily a bad thing, and the idea of subjecting discrimination by the state against gays and lesbians to a heightened standard of scrutiny makes sense. However, whether we want to give this and future President's this kind of power is a valid question. Especially since it is generally the case that once the Executive Branch asserts a new power, that power never goes away.
However, it isn't necessarily the case that what the President has done here is really all that novel. In a 1996 Letter to Orrin Hatch, the Clinton Justice Department identified thirteen major cases over the previous 50 years where the Executive Branch explicitly declined to defend a Federal statute it believed to be unconstitutional. Additionally, in 1994 White House Counsel Abner Mikva wrote an opinion letter for President Clinton on this issue and concluded that the President does indeed have the authority to decline to defend, or even enforce, a statute he reasonably believes to be unconstitutional. Walter Dellinger, who headed the Office of Legal Counsel at the Department of Justice during the Clinton Administration noted back in October that there is a long history of President's declining to defend unconstitutional laws in Court:
In 1943, Congress passed a law prohibiting the payment of salaries to three particular government employees. Arguing that the law was unconstitutional, the employees sued and won in claims court. The solicitor general asked the Supreme Court to review the lower court's decision, but he also told the justices that the administration agreed with the original ruling; the court ultimately struck down the law.

That case and others like it provided a precedent for President Bill Clinton in 1996 both to comply with a law requiring the military to discharge service members who had H.I.V., and at the same time inform the courts that he found it to be unconstitutional. Thanks in part to support from the military, Congress repealed the law before litigation ensued.

Telling the courts that a federal law should be struck down is not a position to be taken lightly by a president wary of overstepping his bounds. But if he concludes that the law restricts important liberties without advancing a government purpose, he has the right to say so. After all, while courts usually defer to Congress on such questions, the president is under no such obligation: he is a constitutional officer entitled to his own views on governmental necessity, particularly on matters of national defense.
So contra Malor, Kerr, Epstein et al, this is not a new power or right being claimed by the Executive Branch but one that has long-standing roots and. when you consider the fact that the President is a co-equal Constitutional officer with the Members of Congress and the Justices of the Supreme Court, it's a practice that makes sense. Applied in a different way, the argument against what the Obama Administration is doing here would also say that a President should decline to consider his own opinion about the Constitutionality of a proposed piece of legislation that is presented to him by Congress and that he should, basically, sign into law a bill he believes to be unconstitutional and let the Courts handle it.
In fact, George W. Bush did exactly that when he signed the McCain-Feingold Bill into law:
In his Presidential signing statement issued last Wednesday, Mr. Bush declared that the McCain-Feingold bill contains "provisions [that] present serious constitutional concerns" and "questions [that will] arise under the First Amendment." In particular, the President expressed his "reservations about the constitutionality of the broad ban on issue advertising, which restrains the speech of a wide variety of groups on issues of public import in the months closest to an election." The President differentiated these constitutional objections from other shortcomings he described "as a policy matter."

Yet he still signed the bill.
As Law Professors Akhil and Vikram Amar wrote in 2002,  there is no way that these statements by Bush, followed by the fact that he signed the bill anyway can be squared with the Presidential duty to "preserve, protect, and defend the Constitution of the United States." If President Bush believed McCain-Feingold was, in whole or in part, unconstitutional, then it was his duty to veto the bill instead of acting in the cowardly and craven manner that he did. Similarly, President Obama has determined that Section Three of DOMA is unconstitutional. He still has a duty to enforce the law, but he is under no Constitutional duty to defend it in Court and, arguably, his oath requires that he order his deputies to do otherwise. Despite the concerns about Executive Branch power noted above, therefore, it is clear that the Obama Administration's decision here was both appropriate and correct.