Obama Administration Will No Longer Defend DOMA In Court
Huge news in the marriage equality debate today as the Obama Administration has decided not to defend the Defense of Marriage Act in court anymore.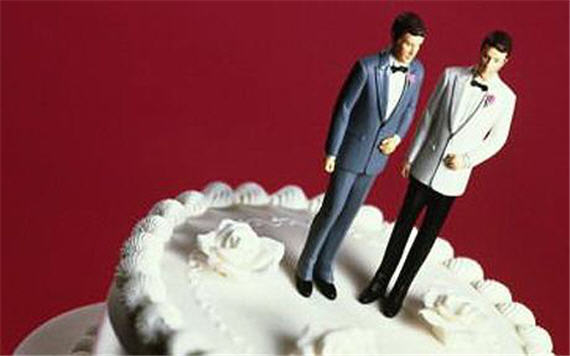 Huge legal news from the Department of Justice, which has announced that the Obama Administration will no longer defend the Constitutionality of Section Three of the Defense Of Marriage Act In Court:
President Obama, in a major legal policy shift, has directed the Justice Department to stop defending the Defense of Marriage Act — the 1996 law that bars federal recognition of same-sex marriages — against lawsuits challenging it as unconstitutional.

Attorney General Eric H. Holder Jr. sent a letter to Congress on Wednesday saying that the Justice Department will now take the position in court that the Defense of Marriage Act should be struck down as a violation of gay couples' rights to equal protection under the law.

"The President and I have concluded that classifications based on sexual orientation warrant heightened scrutiny and that, as applied to same-sex couples legally married under state law," a crucial provision of the act is unconstitutional, Mr. Holder wrote.

The move is sure to be welcomed by gay-rights advocates, who had often criticized Mr. Obama for moving too slowly in his first two years in office to address issues that concern them. Coming after the administration successfully pushed late last year for repeal of the military's ban on gay men and women serving openly, the change of policy on the marriage law could intensify the long-running political and ideological clash over gay marriage as the 2012 presidential campaign approaches.

While Mr. Obama has long argued that the Defense of Marriage Act is bad policy and has urged Congress to repeal it, his administration has also sent Justice Department lawyers into court to defend the statute's constitutionality.

The new position will require the administration to file new briefs in such litigation, including a major case now pending before the United States Court of Appeals for the First Circuit, in Boston.

Congress may decide to appoint its own lawyers to defend the law, or outside groups may attempt to intervene in the cases in order to mount legal arguments in the law's defense. Mr. Holder said that the administration will continue to enforce the act unless and until Congress repeals it, or a court delivers a "definitive verdict against the law's constitutionality."

"Our attorneys will also notify the courts of our interest in providing Congress a full and fair opportunity to participate in the litigation in those cases," he wrote. "We will remain parties to the case and continue to represent the interests of the United States throughout the litigation."
It's important to note that this decision only affects Section Three of DOMA, which provides:
In determining the meaning of any Act of Congress, or of any ruling, regulation, or interpretation of the various administrative bureaus and agencies of the United States, the word 'marriage' means only a legal union between one man and one woman as husband and wife, and the word 'spouse' refers only to a person of the opposite sex who is a husband or a wife.
The other relevant provision of the Act is Section Two, which provides that no state will be required to recognize a same-sex marriage from another state. That provision is arguably Constitutional under the provision of the Full Faith And Credit Clause which allows Congress to "by general Laws prescribe the Manner in which such Acts, Records and Proceedings shall be proved, and the Effect thereof." While there is a serious question over whether Section Two really falls within Congressional power under this clause, none of the currently pending lawsuits challenge its constitutionality so, regardless of what happens in Court, this part of DOMA will remain in effect.
That doesn't mean this isn't huge news, though, or that this decision doesn't have the potential to impact the legal debate over same-sex marriage, quite the contrary actually. In his letter, which I've embedded below, Attorney General Holder essentially argues that discrimination by governments based on sexual orientation should only be constitutional if they can pass a higher level of scrutiny:
The Supreme Court has yet to rule on the appropriate level of scrutiny for classifications based on sexual orientation. It has, however, rendered a number of decisions that set forth the criteria that should inform this and any other judgment as to whether heightened scrutiny applies: (1) whether the group in question has suffered a history of discrimination; (2) whether individuals "exhibit obvious, immutable, or distinguishing characteristics that define them as a discrete group"; (3) whether the group is a minority or is politically powerless; and (4) whether the characteristics distinguishing the group have little relation to legitimate policy objectives or to an individual's "ability to perform or contribute to society." See Bowen v. Gilliard, 483 U.S. 587, 602-03 (1987); City of Cleburne v. Cleburne Living Ctr., 473 U.S. 432, 441-42 (1985).

Each of these factors counsels in favor of being suspicious of classifications based on sexual orientation.

(…)

In reviewing a legislative classification under heightened scrutiny, the government must establish that the classification is "substantially related to an important government objective." Clark v. Jeter, 486 U.S. 456, 461 (1988). Under heightened scrutiny, "a tenable justification must describe actual state purposes, not rationalizations for actions in fact differently grounded." United States v. Virginia , 518 U.S. 515, 535-36 (1996). "The justification must be genuine, not hypothesized or invented post hoc in response to litigation." Id. at 533.

In other words, under heightened scrutiny, the United States cannot defend Section 3 by advancing hypothetical rationales, independent of the legislative record, as it has done in circuits where precedent mandates application of rational basis review. Instead, the United States can defend Section 3 only by invoking Congress' actual justifications for the law.

Moreover, the legislative record underlying DOMA's passage contains discussion and debate that undermines any defense under heightened scrutiny. The record contains numerous expressions reflecting moral disapproval of gays and lesbians and their intimate and family relationships – precisely the kind of stereotype-based thinking and animus the Equal Protection Clause is designed to guard against. See Cleburne, 473 U.S. at 448 ("mere negative attitudes, or fear" are not permissible bases for discriminatory treatment); see also Romer, 517 U.S. at 635 (rejecting rationale that law was supported by "the liberties of landlords or employers who have personal or religious objections to homosexuality"); Palmore v. Sidotti, 466 U.S. 429, 433 (1984) ("Private biases may be outside the reach of the law, but the law cannot, directly or indirectly, give them effect.").
It's worth noting that when Judge Walker struck down California's Proposition 8 last year, he used to lower "rational basis" test. Nonethless, Holder's arguments in the letter are very similar to those Walker used in his opinion, and I won't be surprised to see parts of this letter show up in appellatte briefs down the line as persuasive authority.
Personally, I think the entire act is unconstitutional, an opinion that is also shared by Bob Barr, who introduced the Act when he was a Member of Congress in the 1990s:
I've wrestled with this issue for the last several years and come to the conclusion that DOMA is not working out as planned. In testifying before Congress against a federal marriage amendment, and more recently while making my case to skeptical Libertarians as to why I was worthy of their support as their party's presidential nominee, I have concluded that DOMA is neither meeting the principles of federalism it was supposed to, nor is its impact limited to federal law.

In effect, DOMA's language reflects one-way federalism: It protects only those states that don't want to accept a same-sex marriage granted by another state. Moreover, the heterosexual definition of marriage for purposes of federal laws — including, immigration, Social Security survivor rights and veteran's benefits — has become a de facto club used to limit, if not thwart, the ability of a state to choose to recognize same-sex unions.

Even more so now than in 1996, I believe we need to reduce federal power over the lives of the citizenry and over the prerogatives of the states. It truly is time to get the federal government out of the marriage business. In law and policy, such decisions should be left to the people themselves.

In 2006, when then-Sen. Obama voted against the Federal Marriage Amendment, he said, "Decisions about marriage should be left to the states." He was right then; and as I have come to realize, he is right now in concluding that DOMA has to go. If one truly believes in federalism and the primacy of state government over the federal, DOMA is simply incompatible with those notions.
The other problem with DOMA is that it essentially tells couples living in states where same-sex marriage, or civil unions, are legal that they can only live in states where the law is the same, or where their marriage will be recognized, which at this point constitutes less than 1/4 of the United States. It means a couple married in Iowa cannot move to any state in the American south without giving up all of their legal rights. This is exactly the kind of thing that the Full Faith And Credit Clause was designed to prevent. In fact, under current law, a marriage between a man and a woman that may not be legal in one state — such as a marriage between first cousins — will still be recognized as legal since it was legal under the laws of the state in which it took place. There is no rational reason why the individual liberty of gays and lesbians should be restricted in this manner.
I have no hope that Congress will repeal DOMA any time soon, but, hopefully, the Court challenges will continue and this insult to the Constitution will be sent into the dustbin of history.
Attorney General Holder's Letter to John Boehner on DOMA Appeal