No, The 25th Amendment Isn't The Way To Solve The Donald Trump Problem
A Constitutional coup d'etat is not the way to solve the Donald Trump problem.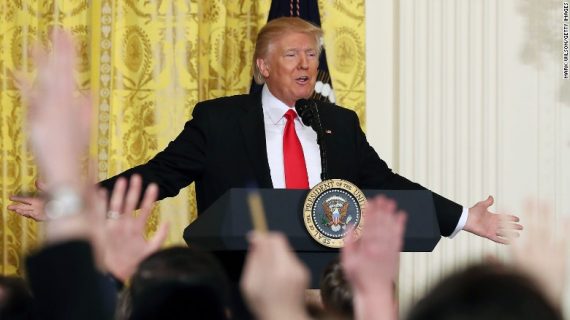 In addition to bringing talk of impeachment into the mainstream even though it seems incredibly unlikely anytime soon, the latest revelations about President Trump have also brought focus on a part of the Constitution that has mostly been ignored since its ratification, the 25th Amendment, which became part of the Constitution in 1967. In its broadest sense, the Amendment was the result of discussions prompted by several events that had occurred since the Constitution had gone into effect in 1789 relating to Presidential succession, death, and disability that neither the Constitution nor other Amendments that impacted the Presidency did. It was the fourth Amendment that impacted the Presidency adopted under the Constitution and joined others such as the 12th Amendment, which changed the procedures under which a President was elected in response to the Election of 1800, the 20th Amendment, which changed the dates on which the terms of the President, Vice-President, and Congress began from those originally set forth in Articles I and II, and the 22nd Amendment, which placed term limits on President elected after its ratification.
The first section of the 25th Amendment addresses an issue that had first arisen when President William Henry Harrison died and Vice-President John Tyler assumed his office. At the time, there was a question about whether Tyler was President in his own right or merely an "Acting President" filling the role until the next election. Tyler took the position that he was President in his own right and thus established the precedent that was followed by subsequent Vice-Presidents who succeeds a sitting President due to death in office, something that has happened eight times prior to the adoption of the 25th Amendment. Section One of makes the Tyler precedent formally a part of the Constitution by providing that a Vice-President who succeeds a President who dies or is otherwise removed from office via resignation or impeachment and conviction becomes President in his or her own right. The second section of the Amendment provided a means for replacing the Vice-President when that office becomes vacant, something that had happened 15 times from 1789 to 1967, eight times due to the fact that the Vice-President had succeeded to the Presidency and seven times due to the fact that the Vice-President had died while in office. The third section deals with situations where a President may be temporarily disabled and is able to decide for themselves that the power of the Presidency should be temporarily handed over to the Vice-President, who would act as "Acting President" until the President had recovered. While never formally invoked, the mechanisms of this section were effectively followed several times over past thirty years due to medical issues faced by Presidents Reagan, Clinton, and George W. Bush.
The final section of the Amendment, Section Four, is the one that people are beginning to talk about in the Trump Era, and it provides as follows:
Section 4. Whenever the Vice President and a majority of either the principal officers of the executive departments or of such other body as Congress may by law provide, transmit to the President pro tempore of the Senate and the Speaker of the House of Representatives their written declaration that the President is unable to discharge the powers and duties of his office, the Vice President shall immediately assume the powers and duties of the office as Acting President.

Thereafter, when the President transmits to the President pro tempore of the Senate and the Speaker of the House of Representatives his written declaration that no inability exists, he shall resume the powers and duties of his office unless the Vice President and a majority of either the principal officers of the executive department or of such other body as Congress may by law provide, transmit within four days to the President pro tempore of the Senate and the Speaker of the House of Representatives their written declaration that the President is unable to discharge the powers and duties of his office. Thereupon Congress shall decide the issue, assembling within forty-eight hours for that purpose if not in session. If the Congress, within twenty-one days after receipt of the latter written declaration, or, if Congress is not in session, within twenty-one days after Congress is required to assemble, determines by two-thirds vote of both Houses that the President is unable to discharge the powers and duties of his office, the Vice President shall continue to discharge the same as Acting President; otherwise, the President shall resume the powers and duties of his office.
This section of the Amendment, obviously, is intended to cover situations where a President becomes so mentally or physically disabled that they are unable to effectively carry out the duties of their office. The classic historical example of this, of course, is President Woodrow Wilson, who suffered a stroke during the final years of his Presidency and was effectively confined to the White House for the remainder of his term, with many openly wondering just how many of the decisions he allegedly made were actually being made by his top staffers and his wife. Something similar nearly happened during the Presidency of Warren Harding when Harding became seriously ill on a trip to the West Coast and lingered several days before he died. Additionally, there was much concern about President Eisenhower's fitness for office after he had heart attacks during his second term in office. Now, there are people in the media openly speculating about whether or not the Amendment should be invoked against President Trump, and today that includes Ross Douthat in The New York Times:
It was just three days and a lifetime ago that I wrote a column about Donald Trump's unfitness for the presidency that affected a world-weary tone. Nothing about this White House's chaos was surprising given the style of Trump's campaign, I argued. None of the breaking scandals necessarily suggested high crimes as opposed to simple omni-incompetence. And given that Republicans made their peace with Trump's unfitness many months ago, it seemed pointless to expect their leaders to move against him unless something far, far worse came out.

As I said, three days and a lifetime. If the G.O.P.'s surrender to candidate Trump made exhortations about Republican politicians' duty to their country seem like so much pointless verbiage, now President Trump has managed to make exhortation seem unavoidable again.

He has done so, if several days' worth of entirely credible leaks and revelations are to be believed, by demonstrating in a particularly egregious fashion why the question of "fitness" matters in the first place.

The presidency is not just another office. It has become, for good reasons and bad ones, a seat of semi-monarchical political power, a fixed place on which unimaginable pressures are daily brought to bear, and the final stopping point for decisions that can lead very swiftly to life or death for people the world over.

One does not need to be a Marvel superhero or Nietzschean Übermensch to rise to this responsibility. But one needs some basic attributes: a reasonable level of intellectual curiosity, a certain seriousness of purpose, a basic level of managerial competence, a decent attention span, a functional moral compass, a measure of restraint and self-control. And if a president is deficient in one or more of them, you can be sure it will be exposed.

Trump is seemingly deficient in them all. Some he perhaps never had, others have presumably atrophied with age. He certainly has political talent — charisma, a raw cunning, an instinct for the jugular, a form of the common touch, a certain creativity that normal politicians lack. He would not have been elected without these qualities. But they are not enough, they cannot fill the void where other, very normal human gifts should be.

There is, as my colleague David Brooks wrote Tuesday, a basic childishness to the man who now occupies the presidency. That is the simplest way of understanding what has come tumbling into light in the last few days: The presidency now has kinglike qualities, and we have a child upon the throne.

It is a child who blurts out classified information in order to impress distinguished visitors. It is a child who asks the head of the F.B.I. why the rules cannot be suspended for his friend and ally. It is a child who does not understand the obvious consequences of his more vindictive actions — like firing the very same man whom you had asked to potentially obstruct justice on your say-so.

A child cannot be president. I love my children; they cannot have the nuclear codes.

(…)

Read the things that these people, members of his inner circle, his personally selected appointees, say daily through anonymous quotations to the press. (And I assure you they say worse off the record.) They have no respect for him, indeed they seem to palpitate with contempt for him, and to regard their mission as equivalent to being stewards for a syphilitic emperor.

It is not squishy New York Times conservatives who regard the president as a child, an intellectual void, a hopeless case, a threat to national security; it is people who are self-selected loyalists, who supported him in the campaign, who daily go to work for him. And all this, in the fourth month of his administration.

This will not get better. It could easily get worse. And as hard and controversial as a 25th Amendment remedy would be, there are ways in which Trump's removal today should be less painful for conservatives than abandoning him in the campaign would have been — since Hillary Clinton will not be retroactively elected if Trump is removed, nor will Neil Gorsuch be unseated. Any cost to Republicans will be counted in internal divisions and future primary challenges, not in immediate policy defeats.
While not directly responding to Douthat, Jonathan Bernstein, who is most assuredly not a Donald Trump supporter, argues against the idea:
[W]hy shouldn't this be used against Trump?

I'll put aside the untried and unexplored nature of the provision (although just looking at it I can imagine multiple questions, potential loopholes, and challenges available to Trump if it's used against him).

The main reason not to use it is that the real chief complaint against Donald Trump is that he threatens U.S. democracy not (chiefly) by breaking laws, but by undermining the norms which are just as important to democratic governance as the laws and constitutional provisions. And therefore efforts to remove him should be especially careful to abide by those norms. The 25th amendment is for use in Wilson-like cases where the president is really, truly incapacitated. While mental illness could qualify, the many armchair diagnoses we've seen of Trump simply do not clear the constitutional bar.
Daniel Larison agrees:
Invoking the 25th Amendment in this case wouldn't just do violence to norms, but would make a mockery of the plain meaning of the language of the Constitution. Trump has demonstrated remarkable incompetence, but he is not so physically or mentally disabled that he can't discharge the duties of his office. He may discharge those duties badly, but that is an entirely different question and one that the amendment was never intended to address. Going that route would also require more support in the House than an impeachment vote would, so it would be even less likely to "work" in removing Trump. It would be an illegitimate use of this part of the Constitution, and most members of Congress wouldn't support it anyway.
As does Charles C.W. Cooke, a writer at National Review who has been a strong Trump critic since well before the election:
As always Douthat is worth reading. But I think that missing from his piece is a serious attempt to grapple with just how much of a psychic shock such a move would inflict upon this country — especially on those voters who backed and liked Donald Trump. David Frum wrote just a few minutes after the Comey firing that the president had staged "a coup." Well, what would this — an actual coup — represent? And how would that look to the people who would believe that Trump had been removed by the very elites he had set out to vanquish?

I have for a long while believed that Trump is unfit for office, and, as such, I do not disagree with all — or even most — of Douthat's characterizations. In addition, I continue to think that this president is his own worst enemy: The press is hostile, yes, but Trump seems utterly hellbent on making things difficult for himself. Nevertheless, at this point in American history — a point at which large numbers of voters in both parties believe that the system is "rigged" — for the president to be undone by a small group of establishment Republicans and replaced with a career politician would be disastrous for the culture. If it turns out that Trump has done something terrible while in office, he should be impeached by the usual process. If he finds that he no longer likes or wants the job, he should resign. But a legalized coup on the nebulous grounds of "witlessness" would be an invitation for discord the likes of which we have not seen in a while.
While Douthat is, as Cooke puts it, worth reading and his argument is worthy of more serious consideration than some of the other calls for invocation of the 25th Amendment that have been bouncing around virtually from the day Donald Trump took office, I think Bernstein, Larison, and Cooke have the better argument here and that talk of what essentially be a Constitutional coup d'etat is both a fantasy and somewhat dangerous. As all three point out in different ways, it's clear that the primary intention of Section 4 of the 25th Amendment is meant to address is a situation where a President has become so disabled due to physical or mental disability that the cannot carry out the basic functions of their office. In addition to the classic example of Woodrow Wilson that I note above, there are many other examples of how this could happen. A President could suffer a stroke or heart attack and be rendered effectively cationic, for example, or an attempted assassination could leave a President severely disabled or in a coma. In those situations, it would be appropriate for a Vice-President and Cabinet to act to ensure that someone can exercise the duties and power of the Presidency until such time as the President recovers, assuming that ever happens. This is especially true in the modern world, where being President means having the authority to protect the nation, command the military, and make the myriad of decisions that, for better or worse, come with the unofficial title "Leader of the Free World." Thankfully, we've never reached the point where that's been necessary but if it ever is it will be crucial that the parties seeking to invoke this section of the Amendment be able to lay before the American people and before Congress a strong and credible case for doing so. Failure to that would call into question the authority of the Acting President and would imperil the day-to-day functioning of government.
As bad as things have been over the past three and half month, it's quite simply not the case that there's any evidence that would support a case for invoking Section 4 at this time. Trump is not physically unable to carry out his duties, and the arguments that he is suffering from some kind of mental disability or even the early signs of Alzheimer's Disease, are based largely on speculation by armchair psychologists and others who are basing their opinions largely on what they see on television and what experts who ought to know better than to diagnose someone that isn't a patient of theirs. This isn't a sufficient basis to take the extraordinary step of attempting to remove a President from office using a provision that has not been tested before under circumstances that would clearly seem to be outside Constitutional norms and not part of the intentions of the drafters of the Amendment.
Donald Trump has been accused of many things, and the past 118 days have proven pretty much all of the warnings that those of us who have been opposed to him from the beginning to be correct. That doesn't make him incompetent to carry out his duties, though, and any effort by the Vice-President and the Cabinet to remove him because he is the incompetent, xenophobic, erratic, obnoxious man-child that he always has been would be a mistake. The American people elected him President notwithstanding all of these flaws, and to remove him without something more to support the action than the fact that the first three and a half months of his Presidency would be a mistake that could have serious repercussions for the state of American politics going forward. Donald Trump won the election and he sits in the Oval Office because of that. If he's going to be removed from office, then it's Congress's responsibility to do so using its impeachment power.