Impeachment Talk Grows, But It's Not Going To Happen Anytime Soon
Even with the revelations of the last three weeks, impeaching the President is still largely a fantasy.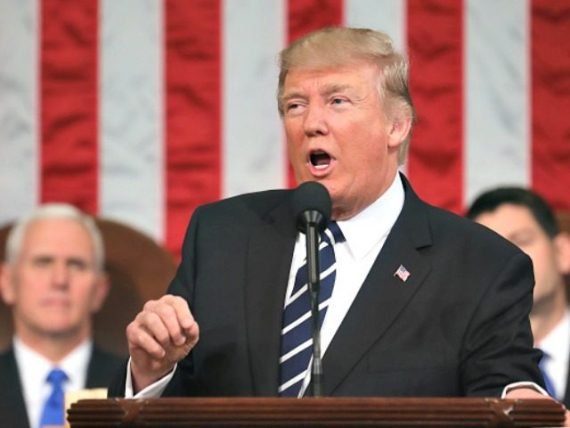 Over just the past several weeks, the revelations about President Trump and his Administration have been coming out fast and furious to the point where speculation about Trump being removed from office is now entering the mainstream. It started with F.B.I. Director James Comey confirming in testimony before the Senate Judiciary Committee that the Bureau was indeed investigating the Trump campaign and its ties to Russia as part of its broader inquiry into Russian interference in the election. The Monday after that testimony, Trump fired Comey under circumstances that seemed quite odd at the time and which Trump himself later seemed to confirm were related primarily to his irritation over that investigation. We also learned that, on at least one occasion, Trump had asked for a pledge of personal loyalty from Comey that Comey refused to give. On Monday, we learned that Trump had shared highly classified information regarding ISIS that the United States had apparently received from Israel with the Russian Foreign Minister and Ambassador to the United States. Yesterday, The New York Times reported that former F.B.I. Director Comey had kept detailed memoranda of his conversations with the President, including one in which President Trump allegedly asked him to quash the investigation into Trump's former National Security Adviser Michael Flynn, an allegation which brings up memories of the obstruction of justice charges leveled against Presidents Nixon and Clinton during scandals in their Administration. All of this after only 118 days in office.
With these matters now in the public, and many in Washington and elsewhere openly wondering what might come next, there is, as I said, open speculation now about removing Trump from office. The first thought, of course, is the idea of impeachment, an idea that has been floating in the blogosphere and on some cable news shows for weeks now, but which is now entering the mainstream:
The elephant in the room whenever talking about President Trump and the Russia investigation is the big "I" word — impeachment.

The word had been in the not-so-far reaches of liberal conspiracy talk since Trump was elected. There is a website with more than 976,000 signatures on a petition encouraging Congress to impeach Trump. There is even an "Impeach Donald Trump" Twitter handle.

It is highly unlikely — almost zero chance — that Trump would be impeached by a Republican Congress.

But with the revelation that James Comey, who was fired as FBI director last week, penned a memo after a Valentine's Day meeting with Trump in which Comey associates say Trump asked him to end the investigation into former national security adviser Michael Flynn, the "I" word is creeping its way into the mainstream.

Asked on CNN by Wolf Blitzer after the news broke Tuesday evening whether Trump could face impeachment, Sen. Angus King, I-Maine, said, "Reluctantly, Wolf, I have to say 'yes' simply because obstruction of justice is such a serious offense."

He later walked back that statement during a conference call with Maine reporters. "You're jumping way forward," King said of the possibility of impeachment. "What we really need to do is get the facts of this situation."

He added, "Before we start talking about obstruction of justice or impeachment, we need to get to the underlying facts."

The number of Democrats starting to use the "I" word is growing.

After Comey was fired, Connecticut Sen. Richard Blumenthal said, "It may well produce impeachment proceedings."

"We're actually pretty close to considering impeachment," said Kentucky Rep. John Yarmuth.

"He has committed an impeachable act and must be charged," said Rep. Al Green of Texas.

"We don't have to be afraid to use the word impeachment," Rep. Maxine Waters of California said Tuesday at a conference of the liberal think tank Center for American Progress in Washington. "We don't have to think impeachment is out of our reach."
As Frank James wrote for NPR in 2013, even though only two Presidents have been impeached since the Constitution when into effect in 1789, it has long been a political weapon that the opposition has threatened a sitting President with:
[S]o long as the U.S. has political parties, there will be people calling for the impeachment of the president of an opposing party. Or even threatening impeachment against presidents of their own party.

Only three of 44 presidents have had to endure actual impeachment proceedings. House charges against John Tyler were dropped; Andrew Johnson and Bill Clinton were acquitted.

But name a modern non-impeached president and someone probably imagined him being impeached. A Republican congressman from Michigan wanted Franklin Roosevelt impeached, and he wasn't alone.

Perhaps more fancifully, the poet Lawrence Ferlinghetti wrote a poem titled "Tentative Description of a Dinner Given To Promote the Impeachment of President Eisenhower." Jimmy Carter, Ronald Reagan, George H.W. Bush and George W. Bush, especially, all inspired more or less serious calls for their impeachment.

Many of those calls came from one lawmaker, the late Democratic Rep. Henry Gonzalez. The Texas congressman went after so many Republican presidents that journalist John Nichols, in his book The Genius of Impeachment, says he was jokingly referred to by his House colleagues as "Henry B. Gonzalez (D-Impeachment)."

None of Gonzalez's targets, of course, were impeached.
Given this history, the only thing about the calls for Trump's impeachment that are unique is that they are happening so early in Trump's Presidency. Part of that is because the past three and a half months have been among the worst that any incoming President has seen in American history. With only a handful of exceptions, seemingly every week has brought bad news of one kind or another for the Administration, and the last three weeks have been uniquely bad. Trump's job approval and personal favorability numbers have both suffered as a result, and even many Republicans are starting to grow frustrated with week after week of chaos and an Administration that doesn't seem to know what it's doing. Under these circumstances, open speculation about impeachment and removal from office was perhaps inevitable.
While talk of impeachment is not surprising under the circumstances, it remains politically unlikely at this point. In order for that to happen, you'd need a majority of the House of Representatives to support it and two-thirds of the Senate to remove Trump from office. Even taking the recent revelations in the worst possible light, this seems unlikely at this point. For one thing, all we have with regard to any of the stories that have allegations that have come out so far is just that, allegations. Until we see actual evidence, it's far too early to say that there is sufficient justification for a radical step such as impeachment. More importantly, though, the truth is that impeachment is, in the end, a political act and with Republicans controlling Congress it's quite simply unlikely that there will be sufficient political support for impeachment on that side of the political aisle unless and until it's clear that Trump has done something truly egregious and that he is harming both the nation and the Republican Party in the process. This is especially true as long as Trump's job approval numbers among Republicans remain as high as they are.
Even if Democrats take control of the House and Senate in 2018, the odds of impeachment seem low. As the Clinton impeachment showed us, impeaching a President when it's obvious that you won't have the two-thirds majority needed to remove the President from office is nothing more than an exercise in futility that potentially could end up harming the party that controls Congress more than it harms the President and his party. While a Democratic majority in the House could easily impeach Trump, convicting him would require 67 votes in the Senate, which would require a significant number of Senate Republicans to break with the President. When President Nixon was facing impeachment for Watergate, it wasn't until the final tapes that established his complicity in the cover-up of the initial break-in at DNC headquarters were released that Senators like Barry Goldwater were able to convince the President that he would be convicted and removed from office if it got to that. We're far from that being likely given what we know about the allegations against Trump, and until we are proceeding with impeachment is a rather foolish notion. As the saying goes, if you're going to move against the king, you better kill him. Donald Trump isn't a King, of course, but the truth of that statement remains. A failed impeachment effort would be a waste of time and political capital that could end up backfiring on the party that initiates it. If it is do be done, it should be done under circumstances where the outcome is a virtual certainty. It may be the case someday that both grounds and support for impeaching and removing Trump from office will exist, but that day isn't today and it's premature to start talking about it.