Trump Job Approval Falls To 38% In New Poll
Last week was one of the worst week's the still-young Trump Administration has faced, and new tracking poll data is starting to reflect that.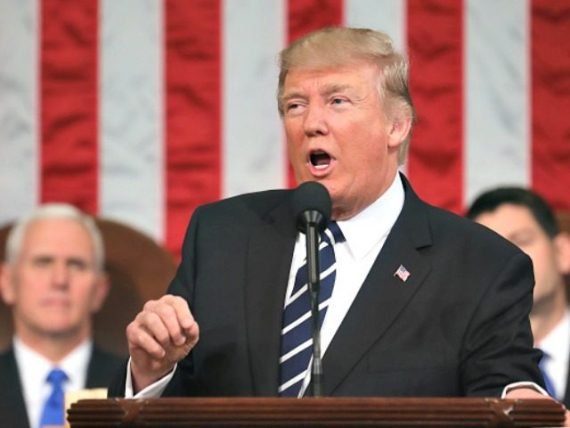 Monday's report on Gallup's Daily Presidential Job Approval Tracking Poll has no good news for the Trump Administration:
President Trump's approval rating has dropped to 38 percent, according to Gallup's daily tracking poll.

The Monday number in the Gallup Daily Tracking poll is Trump's lowest since April 1.

His approval dropped as low as 35 percent in late March.

According to Gallup's records, Trump's rating on his 115th day in office is lower than any of the last four presidents at the same point in their term.
This comes on the heels of a week that began with Trump's firing of F.B.I. Director James Comey and the extent to which his Administration kept changing the story about why he had done so. As I detailed in successive posts beginning last Monday afternoon — see here, here, here, here, and here — the Administration's explanation for why Comey was fired changed at least three to four times before Trump finally confirmed in an interview with Lester Holt of NBC News that he fired Comey at least in part because of the Bureau's investigation of Russian interference in the election and the allegations regarding ties between Trump associates and Russian government officials. As if that wasn't bad enough, the weekend ended with the President appearing to threaten Comey with the idea that he might have to fear if there were "tapes" of his conversations with Comey. Notwithstanding the gravity of the President apparently revealing the possible existence of a taping system in the White House, both Press Secretary Sean Spicer and the President himself have refused to comment on the obvious questions raised by that tweet. It's worth noting, though, that when he was a Trump was a private businessman it was apparently a badly kept secret among his closest aides that he routinely recorded phone calls and meetings in his office. In the wake of these events, polling on the question of whether it was proper for Trump to fire Comey has been mixed, but they all show that most American's do not support the action and that an overwhelming number of Americans want to see an independent investigation of all these allegations.
Looking at the polling averages, things continue to look bad for Trump. The RealClearPolitics polling average, for example, shows Trump at 40.9% approval and his disapproval average at 53.8%. On Pollster, it stands at 41.1% approval and 54.3% disapproval. Among Independents, Pollster's average shows Trump's average at 37.8% approval and 52.5% disapproval. As the RCP shows, the trend for Trump continues to be a bad one: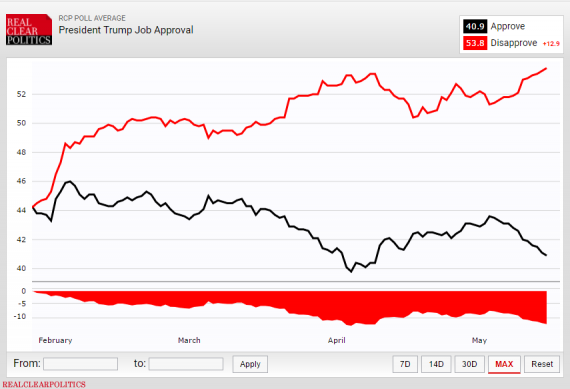 As I've said before, this is a bigger problem for Trump than his supporters will acknowledge.
Every President in recent memory has started off their time in office with genuinely positive job approval numbers. To a large degree, this is because voters appear to want to think the best of whoever the new POTUS is and want them to do the best job possible. How long that honeymoon lasts has varied, and often is related to things beyond the control of an individual POTUS. In recent times, though, it's lasted for a considerable period. For Geoge W. Bush, it lasted basically four years but that's pretty much because his numbers were sent into the stratosphere after 9/11 and it took a long time for that to fade. It wasn't until after 2004, that Bush's approval numbers began to sink thanks to a tightening economy and a seemingly endless war in Iraq. And, of course, he left office with one of the worst approval/disapproval ratios of any post-WW2 President with the exception of Nixon.  For Obama, it wasn't until well into his second year that his approval number had sunk to the point where there was even a slight majority that disapproved of his performance rather than approved. Obama's numbers would fluctuate from there until 2012 when they bounced back just in time for the election, and after that, he remained mostly in positive territory for the remainder of his time in office.  Trump started out in the negative and it hasn't taken long, just 116 days, for him to reach point Buh didn't reach until 2007. What that means for the future is hard to say but if it persists it's going to hard for the Administration to have good weeks in the news cycle, and Republicans in Congress are likely to start to drift away from the Administration to save their own skins in the midterms. Finally, even if Trump does bounce back, one has to wonder what he'll bounce back to. If he can't get those two trend lines reversed, he's going to face political trouble sooner rather than later.
And, my friends, we're only at the end of Day 116.