Another Week, Another Demonstration Of President Trump's Dangerous Incompetence
President Trump's decision to share highly classified information with the Russians is yet another demonstration of his dangerous hubris and incompetence.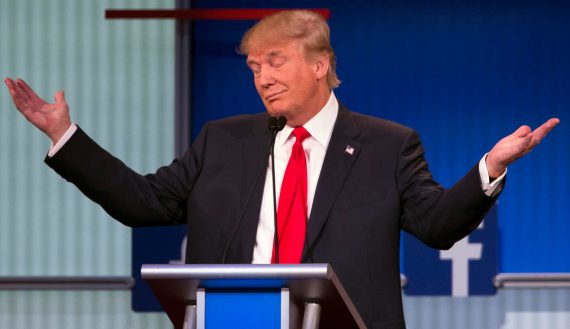 As Steven Taylor noted in a post late yesterday, the big news today is that the President of the United States apparently revealed classified information to the Russsian Foreign Minister and Russian Ambassador to the United States last week in the Oval Office, and it's a story that promises to embroil the Administration in yet another week of trying to fix something the President did. The story first broke in a report from Washington Post reporters Greg Miller and Greg Jaffe, and was soon followed by a similarly comprehensive report from The New York Times, after which news organizations ranging from CNN to Buzzfeed were soon out with reports of their own. All of this was based on independent reporting from each news outlet that relied on apparently independent sources, so it very quickly became clear that the initial report was not the thinly-sourced report that many Trump defender initially claimed it to be yesterday evening. That defense was based on the only public statement that came out of the White House after the initial report in which National Security Adviser H.R. McMaster appeared before reporters outside the White House and denied that the story was true, but did so in a way that didn't actually address what the reports indicate the President revealed:
Secretary of State Rex Tillerson and National Security Adviser H.R. McMaster denied a report that President Trump shared highly classified information with Russian government officials during an Oval Office meeting last week.

"During President Trump's meeting with Foreign Minister Lavrov, a broad range of subjects were discussed among which were common efforts and threats regarding counter-terrorism," Tillerson told reporters at the White House Monday evening. "During that exchange, the nature of specific threats were discussed, but they did not discuss sources, methods or military operations."

McMaster attended the meeting and also pushed back against the reports of Trump's comments to Russian Foreign Minister Sergey Lavrov and Russian Ambassador Sergei Kislyak.

"The story that came out tonight as reported is false. The president and the foreign minister reviewed a range of common threats to our two countries, including threats to civil aviation. At no time, at no time, were intelligence sources or methods discussed and the president did not disclose any military operations that were not already publicly known," McMaster said in a press conference Monday evening.

"The record should outweigh the anonymous sources. I was in the room. It didn't happen," McMaster added.

(…)

Deputy national security adviser for strategy Dina Powell also attended last week's meeting and pronounced the reports as false.

"This story is false," Powell said in a statement. "The president only discussed the common threats that both countries faced."
As the Miller and Jaffe, as well as others, immediately pointed out on Twitter, McMaster's statement, which was immediately picked up by Administration's supporters as "proof" that the reports were false is that it didn't address the factual assertions made in the report. Specifically, at no point did these reports say that what Trump told the Russians consisted of "sources, methods, or military operations." Instead, these reports say that Trump revealed details about what the United States knew in connection with what appears to be an impending decision by Federal authorities to ban laptops and some other electronic devices from being carried on U.S. bound flights from Europe and other parts of the world. Instead, such items would have to be stored in checked luggage and turned off. The proposed ban, which has been discussed in the media since last week but not officially made policy yet, is apparently based on information indicating a new plot by ISIS and related organizations involving placing explosives inside these devices that would be strong enough to puncture the airframe of a passenger jet and, most likely, cause it to crash in mid-flight. The information is apparently based on information that was shared with the United States by an unnamed nation that it obtained from a source inside White House with the understanding that the source was supposed to be masked as much as possible to ensure the safety of that source. In his discussions with the Russians, Trump is alleged to have essentially bragged to the Russians and revealed enough about how the information was obtained, including the city inside ISIS territory where the reports originated from, to put that source at risk. Although not officially confirmed, some reports have said that the nation that gave this information to the U.S. is Jordan and that the source is someone deep inside ISIS who was actually a Jordanian intelligence asset. In other words, McMaster's denial was actually an attempt at deflection that didn't address the claims made in the report at all.
This denial by the National Security Adviser, however, was essentially undermined by the President himself in a series of tweets this morning
WASHINGTON — President Donald J. Trump said early Tuesday that he had an "absolute right" to share with top Russian officials information about an Islamic State threat during a White House meeting last week.

But he did not precisely address reports from multiple news outlets that he had disclosed highly classified information to the Russian officials, possibly jeopardizing a relationship with an intelligence-sharing ally.

Mr. Trump spoke about highly classified intelligence in a meeting with the Russian foreign minister, Sergey V. Lavrov, and the Russian ambassador, Sergey I. Kislyak, last week, a current and a former American government official told The New York Times on Monday. The news was first reported by The Washington Post, and soon after, many organizations — including Buzzfeed, Reuters, The Wall Street Journal and The Times — quickly published their own accounts of the disclosure.

(…)

Although Mr. Trump's tweets on Tuesday did not mention laptops, he said he had shared "facts pertaining to terrorism and airline flight safety" with Russian officials. He said he did so for "humanitarian reasons," adding, "plus I want Russia to greatly step up their fight against ISIS & terrorism."
As a matter of law, Trump is correct in one respect. As President of the United States, he has the legal authority to share classified information or to declassify information no matter how sensitive with anyone he chooses at any time that he chooses. He is, in essence, the "Classifier In Chief" and the laws regarding sharing classified information with persons not authorized to hear or see it.  In that context, there's no real basis for arguing that he committed any crime here because this is one area where the old Nixonian adage that "if the President does it then it can't be illegal" is unquestionably true. That being said, this doesn't mean that a President is always right in making a decision like this. This is an area where people halfway across the world who are risking their lives to share information are quite literally putting their lives at risk to share what could be vital information with the United States or other nations. If the President is going to act on a whim and reveal that information to untrustworthy nations such as Russia, that could potentially put these people at risk of having their cover broken which would mean not only the loss of an important intelligence source but also the probability that such sources will be tortured or killed when they are discovered. Additionally, the fact that the information in question was shared by another nation under the strictest confidence risks putting at risk American relationships with other nations and make other nations less likely to share information in the future for fear that their sources could be put at risk by doing so.
As Aaron Blake notes, the entire episode appears to be yet another example of the President's irresponsibility and hubris:
Given how unusual a politician Trump is and how shocked most of us were that he was elected president, we're always in a constant search for alternate explanations for the off-kilter things he does. Maybe the tweets work! Maybe his offensive comments were calculated! Maybe he's just trying to distract us! Maybe he's really a secret political genius, despite his 36 percent approval rating!

But the Comey firing last week, its badly bungled aftermath and now Trump's disclosure of highly classified information to Russia in the Oval Office paint a pretty clear picture. This is a president who shoots from the hip. Sometimes he shoots from the hip and hits the target, but it's also causing him major, major problems now that he's President Trump and not Candidate Trump. It's one thing to say something offensive during the New Hampshire primary; it's quite another to jeopardize tools for fighting terrorism because you speak before you think.

Conspiracy theorists who are fond of the claims in that dossier will believe that this is Trump deliberately feeding valuable information to his buddies in Russia as payback for their help in the 2016 election. But sharing it out in the open during a meeting with other national security officials in the room would seem to be a very curious move. As The Post report notes, Trump's flub was quickly recognized and the damage control began almost immediately.

On a much more basic level, this appears to be Trump being careless and completely unaware of how the things he's saying may create problems — both perception problems for himself, and real-world problems for the fight against terrorism. He lets his hubris get the better of him and starts bragging about the power and information at his fingertips — just like he did at Mar-a-Lago back in February. "I get great intel," Trump reportedly told the Russians on Wednesday. "I have people brief me on great intel every day."

Trump badly miscalculated the public reaction to his firing of Comey and bungled the explanations; then he went ahead with the Russia meeting anyway; then he did something in that Russia meeting that is only going to feed the narratives that he's (a) in the tank for Moscow and/or (b) totally in over his head as president in ways that are dangerous.
At this point, it's unclear why Trump did what he did last week. If you take him at his word based on this morning's Tweetstorm, he deliberately released this information deliberately because in his judgment it was important to get the Russians on board with the fight against ISIS. The other possibility is that he revealed this information without fully realizing what he was doing and the extent to which he was handing Russia a foreign intelligence coup right there in the Oval Office, or in an effort to brag about the information that he has available to him. The final possibility is that the Russians essentially played Trump and got him to reveal something he shouldn't have revealed. Whatever the explanation, though, it hardly matters because the damage is done. Reports from abroad are already indicating that American allies are both frustrated and nervous about what has happened here and that there is at least some discussion about holding back on sharing classified information with the United States for fear that it won't be handled properly.
All of this is happening on only the 117th day of Trump's Presidency, and it appears that he's guaranteed that this week will once again revolve around an apparent misstep on his fault that ends up putting his aides on the defensive and causes all of official Washington to come to a halt as everyone tries to figure out what exactly the President thinking, assuming that he was thinking at all. While it's entirely possible that things could turn around eventually, it certainly doesn't seem likely that it will happen anytime soon. By and large, everything that has happened since January 20th is happening largely because Donald Trump is being the same kind of person as President that he was as a private businessman for more than thirty years. If anyone believed that becoming President would change him in any way they were asking for the impossible. A leopard doesn't change its spots and a seventy year old man doesn't change his character or lack thereof. What Trump did here was dangerous and irresponsible, and if a Democrat had done it Republicans everywhere would be calling for their head. Instead, they remain quiet as an obvious incompetent continues to act with impunity. They deserve whatever may become of them at the ballot box in 2018 or 2020.