No, We Don't Need To Allow People To Make Cellphone Calls On Airplanes
Imagine all these people talking on the cellphones during a long flight, or even a short one.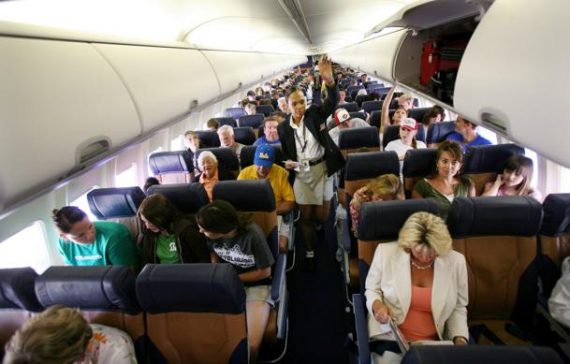 Several weeks ago I noted that the Federal Aviation Administration had lifted its previous all encompassing ban on the use of electronics on aircraft during all phases of flight. This brought an end to a policy that pretty much everyone admitted had no real logic to it given that there was no evidence that using smartphones, iPads, Kindles and the like during takeoff, in-flight, or landing had any real impact on the operations of even the most electronically sophisticated of modern airliners. Under the new policy, it is still technically within the discretion of individual carriers to decide how broadly they want to allow electronic use (for example, some may decide that using these devices during certain phases of flight could be a safety risk due to the danger of objects flying about the cabin), but most airliners seem to be moving rather quickly to allow liberal use of all electronics during all phases of a flight. Now, however, the debate is moving on to something completely different, and public opinion seems to be far less united on the issue.
Specifically I'm referring to the announcement this week that the Federal Communications Commission would be examining whether to allow people to make and receive cell phone calls while a plane is in flight:
WASHINGTON — The Federal Communications Commission said on Thursday that it would consider changing its rules to permit the use of cellphones and other wireless-data devices during airline flights. If approved, the change is certain to delight some passengers but frustrate many others.

Any change, which was placed on the agenda for the commission's Dec. 12 meeting, is still months away, requiring a public comment period of weeks and a final draft of the rules. But it would constitute a major shift for airline passengers.

The use of cellphones during flights has been vigorously opposed by many passengers and by flight attendants, although some airlines in Asia and Europe already offer cell service. In the United States, the flight attendants union immediately urged the F.C.C. not to proceed with the proposal.

An F.C.C. official said airlines in the United States would be given the option of outfitting their planes with equipment that would allow the use of cellphones once a plane climbed above 10,000 feet, but the airlines would not be required to provide the service.

Tom Wheeler, the F.C.C. chairman, said the new rules, if adopted, would "expand consumer access and choice for in-flight mobile broadband," meaning the commission thinks both Wi-Fi and wireless cellphone data plans could be used.

"Modern technologies can deliver mobile services in the air safely and reliably, and the time is right to review our outdated and restrictive rules," Mr. Wheeler said in a statement. "I look forward to working closely with my colleagues, the F.A.A. and the airline industry on this review of new mobile opportunities for consumers."

A swift negative reaction came from the Association of Flight Attendants, a union representing airline workers.

"Flight attendants, as first responders and the last line of defense in our nation's aviation system, understand the importance of maintaining a calm cabin environment," the union said in a statement. "Any situation that is loud, divisive and possibly disruptive is not only unwelcome but also unsafe."
And it's not just flight attendants who are reacting negatively to the idea of people being able to use cellphones on airliners, the flying public doesn't seem to be too thrilled about it either:
One FCC commissioner received hundreds of e-mails complaining that the move would lead to unbearable noise pollution, an aide said. Passengers are already crammed into smaller seats and tighter rows, and being forced to listen to one another's calls would be yet another indignity, they wrote.

A petition quickly went up on the White House Web site Thursday, asking the Obama administration to stop the effort. "This would make an already cranky, uncomfortable travel experience exponentially worse, and as a frequent flier and concerned citizen, I think the administration ne eds to nip this in the bud," a resident from Richmond wrote.

Wendy Evans, a San Diego resident who frequently travels to Seattle, Las Vegas and the Raleigh-Durham area of North Carolina for work and to visit family, mourned the potential loss of one of the last refuges from cellphones.

"I travel a lot and consider my time in the air a chance for many things — reading, thinking, sleeping or catching up on work but certainly not for listening to people chat on the phone," she said.

(…)

"I would rather insert sharp objects under my fingernails than have to sit next to that," said Larry Irving, a technology consultant and a former assistant secretary of commerce during the Clinton administration. Irving, who logs 150,000 to 200,000 miles of air travel each year, doubts airlines can create a quiet, cellphone-free section, even in business class.

"The problem is there is no way to get away," he said.
Jonathan Capehart calls the FCC's idea "hell on earth":
Air travel is an abomination. Getting to the gate is a combination obstacle course and striptease. Airplanes are cramped Greyhound buses with wings and passengers dress accordingly. And now a rule change is being considered that is guaranteed to make flying more of a living hell.

(…)

There are all sorts of real concerns about this possible rule change. The one I've heard most often so far is about safety. Folks won't pay attention to those in-flight announcements about turbulence or other serious emergencies. But, as is her wont, my colleague Jo-Ann Armao spoke for millions when she gave this insane idea a big thumbs down.

"It's a public safety issue," she said, "because I will KILL someone."
Jazz Shaw expresses similar sentiments:
[I]f you allow people to start using cell phones on planes, I'm fairly sure that I'm going to kill somebody. I fly more than I want to and the flights are getting worse and worse in terms of leg space, service and pretty much everything else. The one saving grace is that most everyone else – even if traveling with a companion in the next seat – is pretty much as miserable as me. For the most part we all sit there sullenly, reading our analog books (in my case) or digital device. Napping is fine if you can manage it… I'll even forgive you if you snore. But if I have to sit through four hours with some chipper little co-ed chirping "Oh ma' god!!!!!' and going on endlessly about the pointless minutia of her life into her phone, I'll be hard pressed to not attempt an experiment to see if she can be shoved through the double plated window.
Ed Morrissey, meanwhile, notes that there's a big difference between allowing the use of electronics, including Internet access, in flight and allowing people to make and receive phone calls:
There is a qualitative difference between allowing electronic devices such as tablets and laptops to operate during flight, and having your seatmate chatter all flight long into a cellphone about his personal life.  The attendants hate the idea of cell phones in flight, because thanks to the nature of economy class, people are already cranky enough being crowded together like sardines for several hours of flight.  If cell phone calls are allowed, it's only going to make the situation worse — which is why the airline unions opposed a similar proposal in 2004, and are likely to oppose it again this time around.
I don't fly nearly as much as I used to, but I've honestly got to say that this strikes me as a horrible idea. Whether it's cramped spaces or that person behind you is kicking to back of the seat too much or whatever, there are already enough annoyances on an airplane flight that one has to deal with, adding the prospect of people all around you talking on their cellphones about nothing in particular to the list would be nearly unbearable. Indeed, one of the worst flights I've ever been on was a flight from Baltimore to Cleveland where the person behind me, who unsurprisingly turned out to be a young college co-ed, quite literally talked non-stop from the moment the cabin door closed at BWI to the moment it opened at Cleveland Hopkins. If I'd only been subjected to it for the normal two hours or so of the flight it would have been one thing, but we ended up spending almost an entire hour on the ground in Baltimore due to weather and the need to go through a second de-icing procedure before taking off. As we were finally landing that night, the guy sitting next to me, who had spent the most of the flight quietly working on business papers, or I assume trying to work given the constant chatter, gave a quick glance behind us and whispered to me "Thank God it's almost over." A sentiment I could heartily agree with. The idea that this young woman could have spent the entire flight engaged in a one way conversation on her cell phone would, I think, just made that entire experience worse. That was almost ten years ago, and I still remember the experience.
It's already possible, of course, to make phone calls in-flight on many planes used by major commercial carriers, especially on international and longer domestic flights. I've been on many flights that have those hand devices on the back of the seat in front of you, or in the armrest, and if you're willing to pay an arm and a leg in per minute charges, you can make a call to your heart's content. My understanding is that such options are even more common for those flying Business or First Class. However, I'll honestly say that in my years I have only rarely seen anyone using these devices, largely no doubt because of the super-premium charges that the airlines charge. Given that it's likely that carriers would also charge some kind of premium for the ability to access their cellular "network," which in most cases is really satellite based, perhaps few people would take advantage of the service. Frankly, though, I wouldn't want to take the risk.
Richard Bennett makes the point that, notwithstanding the major inconveniences now associated with air travel, the airplane cabin is the last refuge that many people have from the hyper-connected 24/7 business world. The availability of Internet connectivity has already ended that refuge to some degree since bosses can now expect their employees to be available via email even while flying, but that has the advantage of at least being a quiet activity for the most part.  Cellphone conversations most definitely are not quiet and, as many have already expressed, allowing them would just make flying in a metal tube even more of an unpleasant experience than it already is, unless, of course, you happen to be one of those lucky people in First Class.
So FCC, count me among those who are an emphatic no on this proposal.