FAA Lifts Restrictions On Using Electronics On Airplanes
Finally, the FAA acts to end a pretty dumb rule.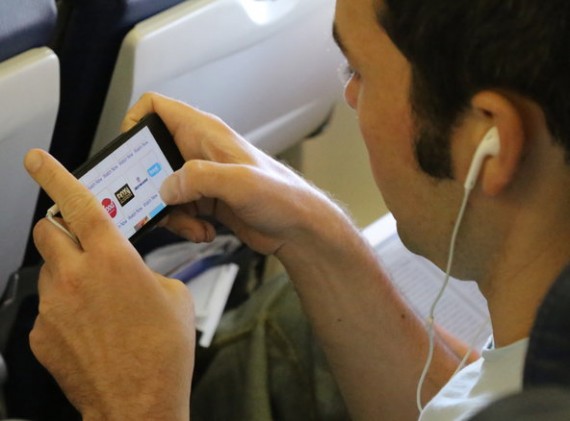 The Federal Aviation Administration has lifted most of the restrictions on the use of electronics on commercial airliners, leaving the issue mostly up to individual air carriers:
WASHINGTON — Airline passengers can use electronic devices in "all phases of flight" if the airline determines that its aircraft can tolerate the interference, the Federal Aviation Administration said Thursday, but using a cellphone to talk will still be banned.

The change will most likely take effect before the end of the year, the F.A.A. said. Rules for cellphone use are set by the Federal Communications Commission.

The administrator of the F.A.A., Michael P. Huerta, said he expected that, with rare exceptions, airlines would allow the use of tablets, MP3 players and smartphones in "airplane mode," with their cell network connections turned off. The airlines will have to conduct tests on their equipment and submit the results to the F.A.A. for approval, he said.

"In some instances of low visibility, 1 percent of flights, some landing systems may not be proven to tolerate the interference," said Mr. Huerta, briefing reporters at the ticketing lobby of Ronald Reagan National Airport. "In those cases, passengers may be asked to turn off personal electronic devices," he said.

The rule banning use of personal electronic devices during some parts of the flight "had been in use for 50 years," he said, and both the devices and airplane avionics had changed in that period. The change follows the recommendation an advisory committee made on Sept. 30.

But Mr. Huerta stressed that passengers would be told to turn off their electronics when the flight attendants gave preflight safety briefings about what to do in an emergency, and that the airlines would have to develop new rules about stowing lightweight electronics during takeoff and landing.
The fact that many airlines now offer in-flight WiFi services that allow passengers to use their smartphones, tablets, and laptops during flight, combined with the fact that there's almost no credible evidence that these devices, when left on, have interfered with flight safety, this seems like a long overdue decision. Indeed, I suspect its long been the case that planes all across the country have safely taken off and landed while more than one cell phone or table was inadvertently left turned on in someones pocket or carry-on bag without incident. While it's obvious that there will need to be rules regarding the safe storage of these devices during certain parts of a flight, a blanket rule such as the one that is being repealed today makes absolutely no sense at all. Additionally, given that we live in a world where practically everyone has some form of mobile communications device, especially among that group of people that fly on a regular basis, it's likely advisable that airlines and plane manufacturers will need to modify systems to limit the potential impact of any interference that these types of signals might produce.
As James Joyner has previously related, these restrictions were pretty much just as dumb as some of the security theater that we now have to submit ourselves to before we're even allowed to get to the gate where the plane is located. Kudos to the FAA for getting something right for once.