Airlines Want You Miserable and It Serves You Right
JetBlu is joining the competition in charging bag fees and cramming in more seats.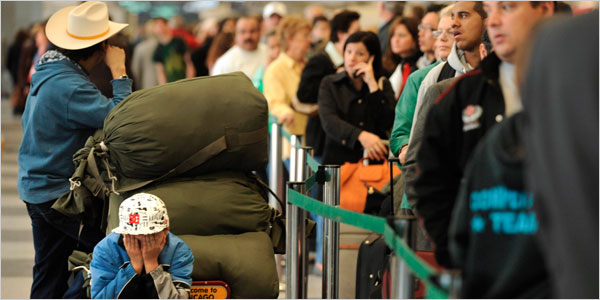 JetBlu is joining the competition in charging bag fees and cramming in more seats, sparking a new round of pontification on the sorry state of airline travel.
Tim Wu explains "Why Airlines Want to Make You Suffer" in The New Yorker.  The setup isn't anything new:
In 2013, the major airlines combined made about $31.5 billion in income from fees, as well as other ancillaries, such as redeeming credit-card points. United pulled in more than $5.7 billion in fees and other ancillary income in 2013, while Delta scored more than $2.5 billion. That's income derived in large part from services, such as baggage carriage, that were once included in ticket prices. Today, as anyone who travels knows well, you can pay fees ranging from forty dollars to three hundred dollars for things like boarding in a "fast lane," sitting in slightly better economy-class seats, bringing along the family dog, or sending an unaccompanied minor on a plane. Loyal fliers, or people willing to pay a giant annual fee, can avoid some of these charges; others are unavoidable.

The fees have proved a boon to the U.S. airlines, which will post a projected twenty-billion-dollar profit in 2014. To be fair, airlines are not just profiting because of fee income. Reduced competition, thanks to mergers, helps. There is also the plummet in the price of oil, which the airlines seem to have collectively agreed is no reason to reduce fares or even remove "fuel surcharges." But for the past decade it is fees that have been the fastest-growing source of income for the main airlines, having increased by twelve hundred per cent since 2007.
But Wu takes an interesting logical leap:
Here's the thing: in order for fees to work, there needs be something worth paying to avoid. That necessitates, at some level, a strategy that can be described as "calculated misery." Basic service, without fees, must be sufficiently degraded in order to make people want to pay to escape it. And that's where the suffering begins.

The necessity of degrading basic service provides a partial explanation for the fact that, in the past decade, the major airlines have done what they can to make flying basic economy, particularly on longer flights, an intolerable experience. For one thing, as the Wall Street Journal has documented, airlines have crammed more seats into the basic economy section of the airplane, even on long-haul flights. The seats, meanwhile, have gotten smaller—they are narrower and set closer together. Bill McGee, a contributing editor to Consumer Reports who worked in the airline industry for many years, studied seat sizes and summarized his findings this way: "The roomiest economy seats you can book on the nation's four largest airlines are narrower than the tightest economy seats offered in the 1990s."

Boarding for non-élite flyers has also become a miserable experience. There are far more efficient ways to load planes than the current back-to-front method, which is actually slower than random boarding. The process takes longer still thanks to the practice of letting flyers with status board out of turn and thanks to luggage charges, which compel fee-avoiders to cram their bags into overhead compartments. Airlines lack a real incentive to fundamentally improve boarding for everyone—by, for example, investing in methods such as filling both ends of an airplane at once. It would make life better and also defeat the status racket.
Sure. But here's the thing: most customers view air travel as a commodity, shopping for the cheapest base ticket to their destination, factoring in only obvious conveniences such as direct flights vs connections and arrival and departure times. An airline that sacrifices a couple rows of seats in order to make the remaining customers marginally comfortable gains nothing for the gesture. Ditto those checking bags or offering in-flight wi-fi for free. Frequent fliers might choose that airline over those who don't all things being equal; but most customers wouldn't know the difference.
Alison Griswold expounds on this idea for Slate ("Americans love to complain about cramped flights and extra fees. So why do they keep choosing them?"):
Not surprisingly, the trends in the airline industry—smaller seats, fewer free amenities—have been met with growing customer frustration. This summer, a seemingly unprecedented bout of "recline rage" infected the nation's air travelers, with multiple planes diverting to calm angry passengers. A quick glance at the data on passenger complaints to the U.S. Department of Transportation reveals that Spirit, perhaps the most notorious charger of "optional" service fees, is also by far the most reviled. In each of the past five years, the complaints per 100,000 enplanements on Spirit have been triple, quadruple, or even quintuple the complaint rates seen on most other carriers.
At the same time, customers haven't started protesting with their wallets. For the second year running, Spirit is reporting the highest operating profit of all U.S. airlines. Allegiant Air, another super-cheap domestic carrier, is close behind. Americans might love the idea of better-quality flights, but they're simply not willing to pay more to book one.
"There's clearly a disconnect between some customers' stated preferences and what actually matters most when they're sitting down ready to make a purchase," says Brian Davis, vice president of business development for Allegiant.

Over the past five years, ultra-low-cost carriers like Spirit and Allegiant have consistently outperformed their peers in terms of operating profit, the best measure of comparison. During the same period, airlines that promise a nicer experience for a slightly higher price have lagged behind. Virgin America, which seems to have something of a monopoly on the best domestic airline title in multiple rankings, bled money from 2010 to 2012 and has only started to catch up to its competitors over the past 12 months. JetBlue's operating profits have been steady but mediocre since 2010; the changes to its seating and pricing are designed to bolster annual revenues and margins. "JetBlue has tried all these years to believe that even the lowest-paying passenger can have lots of legroom, a free checked bag, and everything else, but it just hasn't worked," says Seth Kaplan, an industry analyst and managing partner at Airline Weekly. "People will tell you, 'I don't like being nickeled and dimed, just give me a price—I'm willing to pay more just to not have to deal with all of that.' But the data suggest that they're not really willing to do that. Because if they were, JetBlue would be the most profitable airline in America, and not Spirit."

[…]

For all the complaints that companies like Spirit get—and there are complaints galore—the market indicates that customers care more about cheap prices than anything else. Both Allegiant and Spirit say routine surveys of their riders support this conclusion. When passengers are asked how important they consider various aspects of airline service on their own, such as price, timeliness, and other factors, Allegiant's Davis says they all score "pretty high." When the options are pitted against one another, though—framed in terms of tradeoffs—price overwhelmingly wins. "The greatest service we can provide to them is keeping the fares low," Davis says.
Then again, for those who aren't frequent travelers, the price menu is hardly transparent. It's really difficult to know ahead of time just how uncomfortable a given seating experience will be on a five-hour flight. Or how much relief a $75 upgrade to "Slightly Less Shitty Economy Class" will actually bring. And while it's not incredibly difficult to figure out which carriers offer such things as free checked bags or wi-fi ahead of time, most people aren't going to take the extra trouble of doing that research and factoring it into the fare prices shown on the various airline booking websites. The upshot, then, is that all the incentives are for airlines to keep the base price as low as possible:
In the latest fiscal quarter, the average flight cost $164.80 on JetBlue and $84.50 on Spirit. JetBlue also collected an average $22 in additional fees, or so-called ancillary revenue, from its passengers, and Spirit another $54. Looking at those numbers alone, the average fare on Spirit is about $50 cheaper than on JetBlue. But to truly compare the services, you have to make a few adjustments. For starters, flights on Spirit tend to be about 20 percent shorter than those on JetBlue. Spirit also crams 178 seats onto the Airbus A320, while JetBlue's current layout accommodates 150. When you factor these things in, it turns out that JetBlue would have to take in about $196 on average just to make the same revenue per passenger that Spirit does. By those standards, JetBlue's flights are actually a better deal. But based on sticker price alone, they don't necessarily feel like it.
Nor, frankly, is there any easy way to the airlines to make it feel like you're getting a better deal if they throw in more services or better seats in their base price. So, naturally, they don't.
Fundamentally, then, Wu is wrong. It's not that airlines need to make you miserable in order to charge you more; it's that they need to make the price as low as possible and most people don't care about comfort enough to pay for it. And those who do—and can—are given the option of doing so.
The combination of most customers being  unhappy with the flying experience and airlines being unable to easily market a better flying experience is a classic market failure. Since this race to the bottom is at least partly a result of the decision to de-regulate the airlines in the late 1970s, it's not unreasonable to argue that having the government set higher minimum standards.
At some level, I support the idea. As an above-average-height individual with fairly long legs, there's a level beyond which seat pitch can't go without being incredibly uncomfortable. For many, it's actually a medical issue. And, with Americans getting fatter by the minute while airline seats are getting narrower, we're long past the point where airlines have to either humiliate obese passengers by making them pay for an extra seat or make unwitting strangers share a portion of the seat they paid for with a sweaty fat man.
But regulating such things means that airlines' already thin per-seat margin will go down and base ticket prices would have to increase. The revealed preference of most consumers is for low ticket prices. And, of course, some percentage of those who now fly would be unable to afford to do so.