FAA May End Stupid Electronic Device Restrictions
Passengers may soon be able to use approved electronic devices during all phases of airplane flights.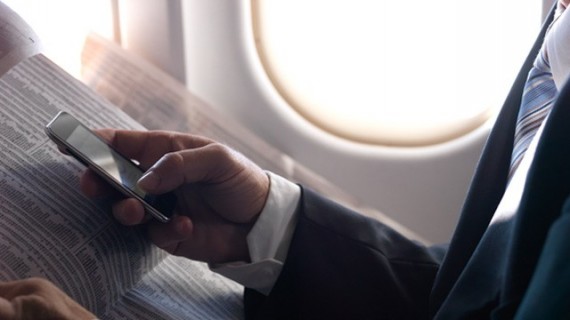 Passengers may soon be able to use approved electronic devices during all phases of airplane flights.
Nick Bilton for the NYT ("F.A.A. May Loosen Curbs on Fliers' Use of Electronics"):
According to people who work with an industry working group that the Federal Aviation Administration set up last year to study the use of portable electronics on planes, the agency hopes to announce by the end of this year that it will relax the rules for reading devices during takeoff and landing. The change would not include cellphones.

One member of the group and an official of the F.A.A., both of whom asked for anonymity because they were not allowed to speak publicly about internal discussions, said the agency was under tremendous pressure to let people use reading devices on planes, or to provide solid scientific evidence why they cannot.

As I wrote in 2011, travelers are told to turn off their iPads and Kindles for takeoff and landing, yet there is no proof that these devices affect a plane's avionics. To add to the confusion, the F.A.A. permits passengers to use electric razors and audio recorders during all phases of flight, even though those give off more electronic emissions than reading tablets.

[…]

The group has several goals beyond determining the safety of electronics on planes, according to an internal document that describes its objectives that was shown to The New York Times. Those include ensuring that flight attendants do not have to be the social police for which devices are acceptable during flight and determining what the term "airplane mode" really means. Finally, the group wants to ensure that whatever rules the agency announces apply to devices that are not on the market today.

The report also hopes to replace multiple regulations with a single, concise set.

To guarantee that the F.A.A. follows through with its promise to relax the rules, Senator Claire McCaskill, Democrat of Missouri, said she planned to hold the agency accountable by introducing legislation.

In a phone interview, Ms. McCaskill said she had grown frustrated with the F.A.A.'s stance on devices after she learned that the agency now allows iPads as flight manuals in the cockpit and has subsequently given out devices to some flight attendants with information on flight procedures.

"So it's O.K. to have iPads in the cockpit; it's O.K. for flight attendants — and they are not in a panic — yet it's not O.K. for the traveling public," she said. "A flying copy of 'War and Peace' is more dangerous than a Kindle."
The FAA, like most bureaucracies, operate on precisely the opposite instinct that a free society should have: it's prohibited unless there's unimpeachable evidence that it should be permitted. Good on McCaskill for helping push back.
Aside from the inanity of not being able to use one's iPad or Kindle, which has been much discussed here and elsewhere, the electric shaver exclusion is especially strange. The exclusion period typically coincides with takeoff and landing, when passengers are confined to their seats. I for one would be more than a little annoyed if I had to power down my iPad while the fellow in the seat next to me whipped out his Norelco and started shaving his whiskers.
On that note, I suspect most of us who fly on a somewhat regular basis hope that the ban on people yapping on their mobile phones remains intact. Not because it's unsafe, but because it's annoying.