North Carolina Still Very Close, And That's Bad News For Romney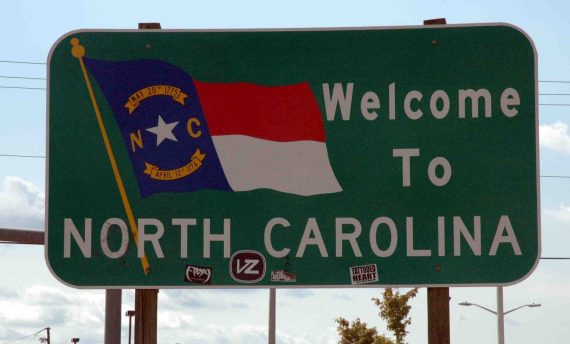 One week ago, I noted that the race in North Carolina remained very close despite the fact that many people, including myself, had begun to assume the state would be quickly returning to the GOP fold. With the Democratic Convention behind us, a new Public Policy Polling poll shows that the race hasn't changed much at all:
PPP's post-Democratic convention North Carolina poll finds virtually no change from last week. Barack Obama leads 49-48, a result hardly different from the 48/48 tie we found last week.

That's not to say the convention wasn't a success for Democrats. 57% of voters think hosting it was a good thing for North Carolina to only 15% who believed it was a bad thing with 26% considering it neutral. Democrats consider it to have been a positive by an 84/4 margin and independents do 53/11. Republicans though believe it was a bad thing by a 34/23 margin. By a 47/39 margin North Carolinians say the Democrats had a better convention than the Republicans.

Why no bounce? North Carolina voters have simply proven to be pretty intractable. We have polled an Obama/Romney match up in the state 25 times since November of 2010. Obama and Romney have been within 3 points of each other 24 out of those 25 times. Sometimes Obama's up by a little and sometimes Romney's up by a little but it's never outside the margin of error. The state of play in North Carolina this year is that each candidate has about 46% of the vote locked up, has had it locked up forever, and now they're just fighting over a very small persuadable swath of the electorate and seeing who has the superior GOTV operation. Barring a big shift in the national picture over the final eight weeks it's unlikely either candidate will win by more than 2-3 points, and a less than 1% difference in the final outcome like 2008 seems very plausible.

Obama has slightly positive approval numbers at 50/49. This is the first time PPP has found him above water in North Carolina since April. Romney has narrowly negative favorability numbers at 48/49. Those figures are basically unchanged from a week ago.

The marginal bump Obama has received is due to tying the race with independents at 48%. Last week Romney had led 51-40 with them. The convention didn't do anything to help Democrats win over Republican voters though. Romney's lead with the party base solidified, going from 86/10 to 93/5. Obama saw some party unification in the wake of the convention too though, going from a 79/19 lead with Democrats to 81/17.
The remarkable thing about the fact that Obama remains tied with Romney in this state is that it's happening despite a number of factors that would suggest that it shouldn't be happening at all. First, there's the fact that President Obama won the state by a mere 0.32% of the vote, the second closest state margin of the election (the closes was Missouri at 0.14%). It was, in other words, a state that Obama had a tenuous grasp on to begin with. Since then, the GOP has scored significant gains, particularly in the 2010 elections, and, thanks to major scandals inside the State Democratic Party, seems likely to win the Governor's race this year as well. Additionally, the Obama campaign has largely kept the Tarheel State at a distance. The last time the President or Vice-President campaigned there was several months ago, and neither campaign seems to be focusing many ad buys on the state either. By all accounts, Mitt Romney should have been doing well in this state all along, and at this point it should be drifting into the "Leans Republican" column as we get closer to November..
The fact that state is so close despite all of this suggests several things to me. First, the previous assumptions that North Carolina would naturally drift back in to the GOP camp appear to be incorrect, and it's rather irrelevant at this point whether that's for demographic reasons, or because of something to do with Governor Romney. Second, the fact that the President is keeping the race close here despite not really campaigning there recently suggests that he has indeed held on to many of the independent voters who put him over the top there four years ago. Finally, the fact that Mitt Romney hasn't closed the deal here is something that should be worrisome for his campaign. If Romney can't close the deal in North Carolina, how is he going to do it in Virginia, which is far more friendly territory for the President? This much is true, though, if Romney doesn't pull ahead in North Carolina and win there in November, there's almost no way he can win this election.