NYC Shuttering Fire Companies Over Vaccine Refusal
The idiocy continues.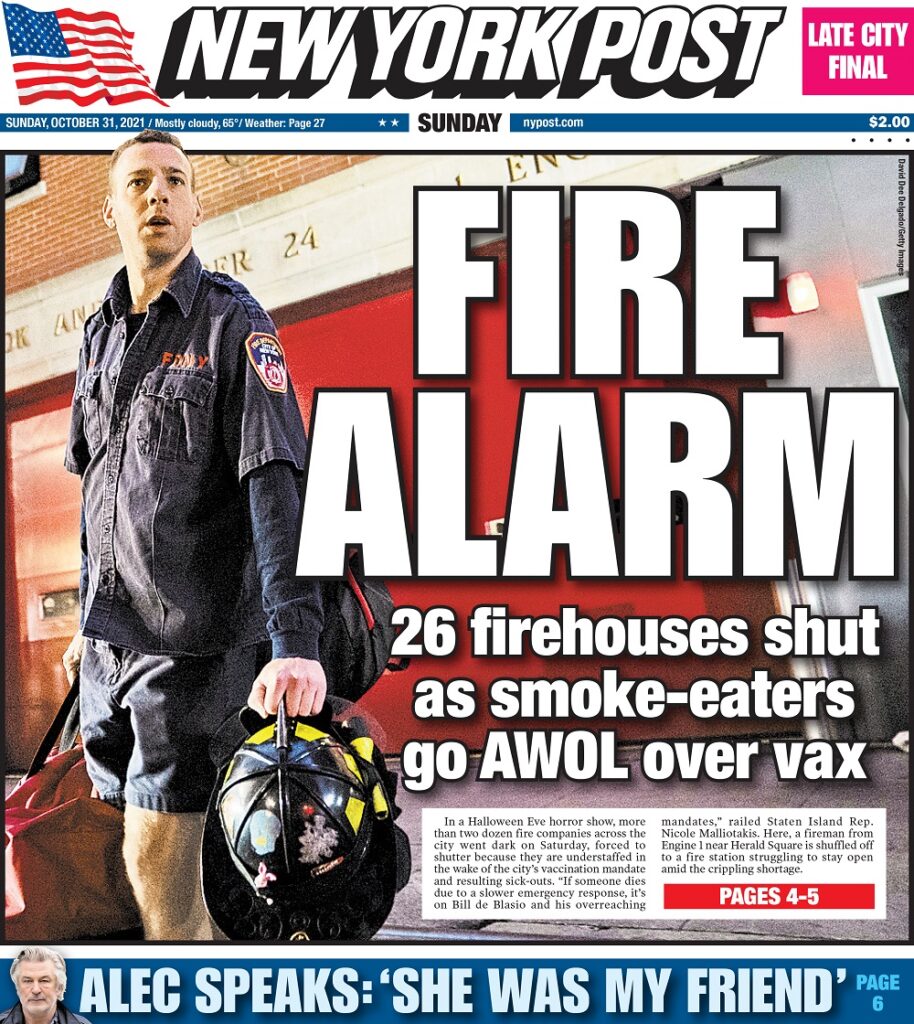 Speaking of firefighters losing their jobs for failing to comply with COVID-19 vaccination requirements, this from the NY Post:
The FDNY shuttered 26 fire companies citywide on Saturday due to staff shortages caused by the COVID-19 vaccination mandate, according to furious elected officials, who ripped the move as "unconscionable" — and warned it could have catastrophic consequences.

The shutdown came amid a pitched battle between City Hall, which on Monday will start enforcing a mandate that all city workers have at least one dose of the COVID-19 vaccine, and jab-resisting firefighters, many reportedly saying they were already sick with the coronavirus and therefore have "natural immunity."

Nicole Malliotakis (R-SI, Brooklyn) said 26 companies shuttered — five in her district — and laid the blame on  Mayor de Blasio.

"If someone dies due to a slower emergency response, it's on Bill de Blasio and his overreaching mandates. I hope this fool fixes it ASAP!" she tweeted. Some residents rallied outside of the Ladder Company 149 in Dyker Heights to support the firefighters.

Fire Commissioner Daniel A. Nigro said the department "has not closed any firehouses.

"Irresponsible bogus sick leave by some of our members is creating a danger for New Yorkers and their fellow Firefighters," Nigro said. "They need to return to work or risk the consequences of their actions."

No borough or neighborhood was spared, with the shuttered companies ranging from Engine Co. 55 in lower Manhattan, to Engine Co. 234 in Crown Heights, to Engine Co. 231 in Brownsville. Others included Ladder Co. 128 in Long Island City and Engine Co. 158 and Ladder Co. 78 on Staten Island, according to information provided by Malliotakis and Councilman Joe Borelli (R-SI), who cited the Uniformed Firefighters Association. Borelli said the list of 26 came from a FDNY alert dispatched to members.
It simply baffles me that people who will risk going into burning buildings—and who have surely had a dozen other vaccinations and gotten their kids vaccinated just to go to school—are throwing away their livelihood out of fear, principle, or political gesture. Not only is the mandate legal, it's good policy.
Yet there are millions of people, not all of them morons, who think the injustice is that these people have to choose between getting a vaccine they don't want and their jobs. For them, it's de Blasio who's the villain here.