Bill Maher: The Pandemic is Over
Denial, whining, and truth wrapped into one segment.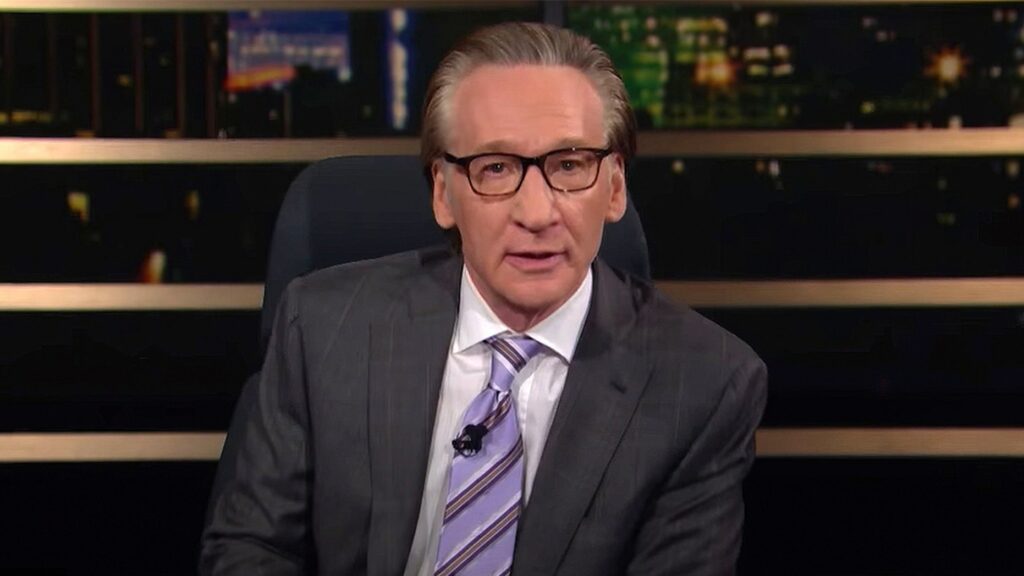 Some good news on the health front from the noted epidemiologist Bill Maher:
"Real Time" host Bill Maher railed against ongoing COVID restrictions, declaring the pandemic "over."

Maher kicked off the show's panel discussion Friday night by expressing relief that Dr. Anthony Fauci has given the green light on Halloween since it's been Maher's "position since the beginning of this."

"Just resume living," Maher told his audience. "I know some people seem to not want to give up on the wonderful pandemic, but you know what? It's over. There's always going to be a variant. You shouldn't have to wear masks. I should be to … I haven't had a meeting with my staff since March of 2020. Why?"

"Also, vaccine, mask, pick one! You've got to pick. You can't make me mask if I've had the vaccine," Maher added.

The Atlantic staff writer Caitlin Flanagan told Maher she had "broken up with COVID" after the first year of the pandemic, comparing it to an "abusive" boyfriend.

"And I got the vaccine. I walked out of the CVS. I hadn't been that thrilled coming out of the drugstore since I got the birth control pill in 1981," Flanagan quipped. "I've had cancer. I'm triple vaxxed. If it gets me, fair play to it because it will put up a fight against me but I'm not staying in my house again."

Maher then pressed his guest, Sen. Chris Coons, D-Del., since "it's the Democrats" that keep enforcing COVID restrictions.

"I travel in every state now, back on the road, and the red states are a joy and the blue states are a pain in the a–. For no reason," Maher said.

"One of the critical things that's being discussed right now by President Biden, one of the things we have to recommit ourselves to, is supporting vaccination around the rest of the world," Coons responded. "There's still a lot of countries that are very, very minimally vaccinated because if a variant develops out in the world that is able to defeat the vaccine, we are all the way back to the beginning. So in the United States, in most of the western world, we're ready to be done with this, but we're not done until the world is safe and we're not safe as a world until the world's vaccinated."

"Except the world recognizes natural immunity. We don't," Maher pushed back, "because everything in this country has to go through the pharmaceutical companies. Natural immunity is the best kind of immunity. We shouldn't fire people who have natural immunity because they don't get the vaccine. We should hire them. Yes?"

"If someone is having tested with antibodies," Coons conceded.

"Well, OK. But you know, people who've had it – I've had it," Maher said. "I mean, I shouldn't be tested anymore. I got the vaccine."

"And if someone's willing to be a fireman, if someone's willing to be a policeman, if someone's willing to go into a burning building and says, 'I'm just not that afraid of COVID and I don't want to take the vaccine,' that should be enough," Flanagan interjected. "You shouldn't be losing a job, you shouldn't be furloughed without pay, the guy that saves lives because he doesn't want to take the vaccine. It's ridiculous."

The HBO star complained about the "messaging" regarding COVID, pointing to people he had seen outside "alone walking with a mask," stressing "it's so stupid."

"It's an amulet, you know? A charm people wear around the neck that wards away evil spirits. It means nothing," Maher said. "I mean, can't we get people to understand the facts more?"
So, here are some facts.
Daily COVID-19 cases in the USA over time: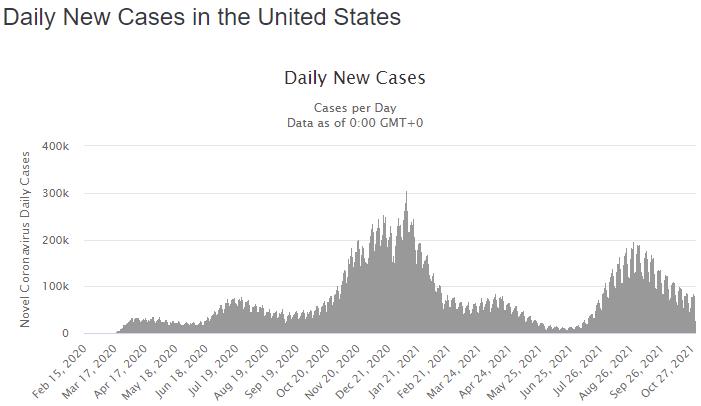 To my eye, it looks much worse now than when we shut the whole damn country down in the spring of 2020. Indeed, while not as bad as it was during last fall's peak—the vaccine is clearly helping—it's pretty damn bad.
But, James, you'll rightly note, the main point of the vaccine is to mitigate the effects of the pandemic. So, sure, people are still getting infected but they're not getting all that sick.
Alas, not so much: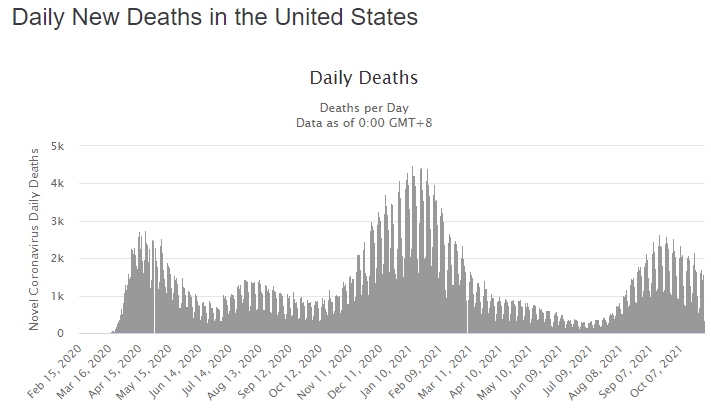 As many Americans are dying every day as they were during the initial wave. Again, we're way off the pre-vaccine peak. But, then again, we already killed off 700,000+ of our most vulnerable population, so the numbers were bound to decline.
And Flannagan's argument regarding firefighters is just silly. Unvaccinated people aren't just risking their own lives, they're risking others. I mean, sure, if I were in a burning building I would gladly take the risk that the rescuing firefighter gives me COVID over that of dying from burns or asphyxiation from the smoke. But I'd prefer that he just get the goddamn shot.
Similarly, while I fully agree with Maher that it makes little sense for fully vaccinated people to wear masks—and that people walking around outdoors in non-crowded spaces or driving around by themselves in their car wearing masks are being absurd—the fact of the matter is that there's no way to know who's vaccinated or not from a distance. So, I tend to just go ahead and put on a mask when I go into a grocery store or restaurant because it provides some assurance to others that I'm not intentionally putting them in danger.
Still, Maher and Flannagan have something of a point. This virus may well never go away. It's simply unrealistic to expect people to live under pandemic protocols indefinitely when highly effective vaccines are readily available.
I don't know the situation with Maher's staff and, frankly, it's not obvious why they can't write jokes and invite guests remotely from now until the end of time. But I work in a university setting where essentially everyone is already fully vaccinated (we have maybe 3 outliers out of 250-odd students, faculty, and staff) and are under Presidential order to get to 100 percent in the near future. Yet we're all wearing masks unless we're in private offices. It really seems more performance than protocol at this point.