The Experts Were Wrong on COVID
Hubris has set back the cause of science.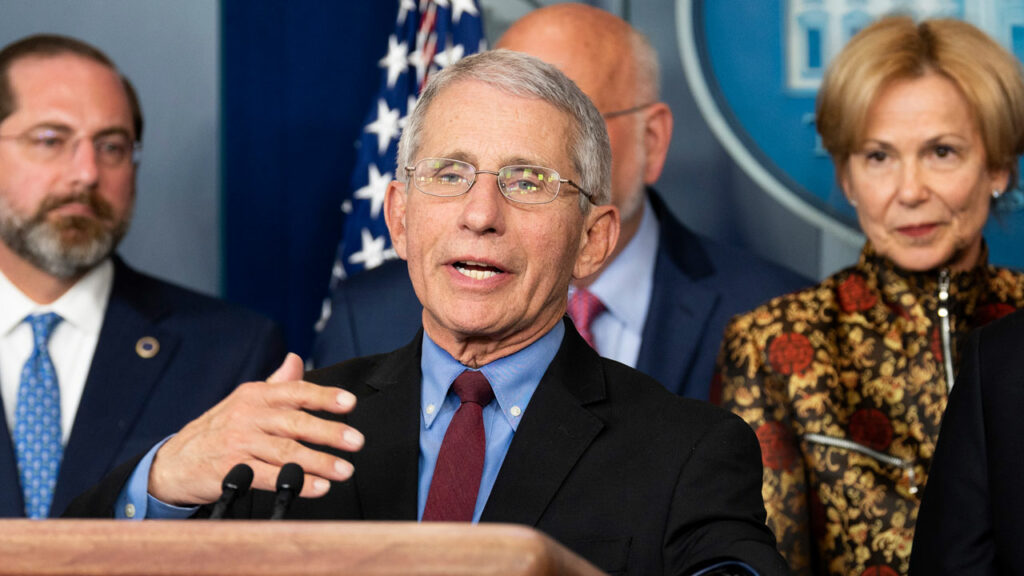 Atlantic staff writer Derek Thompson asks, "Why Are We Still Arguing About Masks?"
In the past few weeks, the conventional wisdom about COVID seems to have been upended.

Early in the pandemic, several mainstream news outlets dismissed theories that COVID came from a Chinese lab. But recently The Wall Street Journal and The New York Times reported that the Department of Energy reversed its prior judgment by announcing that the coronavirus probably did emerge from a laboratory. The FBI shares that assessment.

What's more, for the past three years, many scientists and writers—including me!—have reported that masks are effective at reducing the transmission of COVID. But last month, the lead author of a comprehensive analysis of masks boldly and unequivocally asserted that "there's no evidence that many of these things make any difference."
I've seen those reports, of course, and haven't bothered to blog about them because the questions simply aren't that interesting at this point. Whether the virus had its origins in a lab or a wet market is largely irrelevant*; nobody serious is asserting that the release was intentional or disputing that it came from China. Mask mandates largely are a thing of the past and it's rather intuitive that wearing a mask is better than not when there's a deadly pandemic going around and there's no vaccine.
That settles things: The elites got everything perfectly backwards; the lab-leak conspiracy theory was true, and the mask mandates were a fraud!

Well, not quite. The deeper you dig into the details of each case, the murkier the story becomes. In fact, the deeper you dig, the more you realize that murkiness is the story.
That's science for you! We had a novel virus that was spreading like wildfire and policymakers had to make big decisions. Naturally, they (mostly) relied on public health professionals who had to make educated guesses in real time based on extremely limited information, updating as they learned.
Start with the lab-leak hypothesis. Three years ago, many journalists and scientists rushed to condemn a theory that deserved a fair and open trial. But let's not replace one nutty take (The lab-leak theory is racist) with another (We know for sure that COVID came from a lab). Although the Department of Energy and the FBI say the virus likely emerged from a lab rather than a wet market, four other agencies and the National Intelligence Council have come to the other conclusion: that COVID likely started with natural exposure to an infected animal. By this count, the lab-leak theory is still an underdog, trailing 5–2 among government institutions. Adding to the confusion is the fact that none of the agencies reached their conclusion with much conviction, even with access to untold stacks of top-secret information. As my colleague Dan Engber pointed out, "Only one [assessment], from the FBI, was made with 'moderate' confidence; the rest are rated 'low,' as in, Hmm, we're not so sure."

In an ecosystem of doubt and paranoia, spooky factoids breed. Have you read about those sick researchers at the Wuhan Institute of Virology back in November 2019? Have you read the response to the response to the rumor about an earlier alleged biosafety breach at WIV? Bro, can you even spell "furin cleavage site"? Tantalizing leads, all. But they add up to a tug-of-war between a clever hunch and an educated guesstimate.

The frustrating truth is that we'll probably never know for sure how the pandemic started. China's refusal to grant access to global investigators is sketchy, but we don't know what they're trying to protect or conceal.
But here's where Thompson and I differ: the experts really, really screwed this one up. The essence of professionalism is knowing what you don't know and being humble and transparent about that fact. They utterly failed in that regard.
I was never a lab leak guy. The wet market hypothesis seemed to be the prevailing one among those who study these things for a living and there's quite a bit of precedent for viruses starting in Asian wet markets. I'm never going to be mad at professionals running with the best available evidence and making decisions on that basis. Information certainly is seldom possible.
What I do get mad at is arrogance. "Our best guess right now is that the virus originated in a wet market. There's no reason to believe it was created in a lab" is a perfectly reasonable starting posture. But that's not what we got. We got ridicule of opposing views, almost from the outset.
The rapid, open, and transparent sharing of data on this outbreak is now being threatened by rumours and misinformation around its origins. We stand together to strongly condemn conspiracy theories suggesting that COVID-19 does not have a natural origin. Scientists from multiple countries have published and analysed genomes of the causative agent, severe acute respiratory syndrome coronavirus 2 (SARS-CoV-2),1 and they overwhelmingly conclude that this coronavirus originated in wildlife, as have so many other emerging pathogens. This is further supported by a letter from the presidents of the US National Academies of Science, Engineering, and Medicine13 and by the scientific communities they represent. Conspiracy theories do nothing but create fear, rumours, and prejudice that jeopardise our global collaboration in the fight against this virus. We support the call from the Director-General of WHO to promote scientific evidence and unity over misinformation and conjecture.

Charles Calisher, et. al, "Statement in support of the scientists, public health professionals, and medical professionals of China combatting COVID-19," The Lancet, February 19, 2020
It didn't help, of course, that the most prominent faces of the lab leak theory were then-President Donald Trump and Senator Tom Cotton. That made it easier to dismiss the theory—as I did myself mentally, if not in writing—as anti-Chinese xenophobia and anti-science fearmongering. My longtime former employer, The Atlantic Council, condemned the latter for "infodemic" in a March 2020 post from its Digital Forensic Research Lab.
The World Health Organization (WHO) describes the spread of damaging online information as an infodemic, a false information virus that spreads faster than a real virus does. Disinformation, misinformation, and incomplete information can spread via influencers and media amplification far more quickly than a virus can spread from one person to another. With over 208,000 Twitter followers and over 159,000 Facebook followers, as well as being a frequent guest on cable television where he made this claim, Cotton has the ability to spread his ideas to hundreds of thousands of people, who in turn spread the ideas further.

The theory that the virus started in the Wuhan lab has been picked up primarily by fringe sites and social media pages dedicated to conspiracy theories and further amplified by people with large public profiles online, such as Cotton. Cotton, who has fought to curb China's relationship with the United States since being elected to the Senate in 2015, has been criticized for playing fast and loose with facts about the novel coronavirus. Even Fox News referred to Cotton's unverified claims as "startling." As an influential and outspoken public figure, his statements on the origin of the novel coronavirus hold weight, and his verified status on Twitter lends him a degree of authority that the average user might not have. The DFRLab tracked the origin of the conspiracy theory to see where the theory originated, where it spread, and which groups or individuals amplified the narrative.
And, yet, with the benefit of hindsight, it was Cotton, not the experts condemning him for fearmongering, who was measured and reasonable. Here's a Twitter thread from February 16, 2020, condensed into paragraph format:
Let me debunk the debunkers.

@paulina_milla and her "experts" wrongly jump straight to the claim that the coronavirus is an engineered bioweapon. That's not what I've said. There's at least four hypotheses about the origin of the virus:

1. Natural (still the most likely, but almost certainly not from the Wuhan food market)

2. Good science, bad safety (e.g., they were researching things like diagnostic testing and vaccines, but an accidental breach occurred).

3. Bad science, bad safety (this is the engineered-bioweapon hypothesis, with an accidental breach).

4. Deliberate release (very unlikely, but shouldn't rule out till the evidence is in).

Again, none of these are 'theories' and certainly not 'conspiracy theories.' They are hypotheses that ought to be studied in light of the evidence."
I'm not at all a fan of Cotton. But that's a much more sober analysis of the known facts than we were given by the reflexive scientific consensus. And, three years later, it holds up astonishingly well. If anything, 1 and 2 are now tied, with 2 gaining.
Three months later, Dr. Anthony Fauci was still dismissing it as not worth even entertaining and the University of Minnesota's Center for Infectious Disease Research and Policy was calling suggestions of lab origins "provocative conspiracy theories."
Back to Thompson:
[S]peaking of civilians continually screaming at one another, let's talk about masks.

The review by Cochrane, a London-based health-research organization, looked at 78 studies in total, including 18 trials focused solely on mask use. Their stated objective was simple: "to assess the effectiveness of physical interventions to interrupt or reduce the spread of acute respiratory viruses." In short, do masks work? The authors concluded that they don't. "There is just no evidence that [masks] make any difference, full stop," a co-author, Tom Jefferson, said.

Sounds definitive. So I called several sources whom I've found to be honest and informed on the issue of masks in the past three years. Jason Abaluck is a Yale professor who ran a massive, multimillion-dollar study on community masking in Bangladesh. Possibly the most comprehensive masking study ever undertaken, it found that community-wide mask wearing provided excellent protection, especially for older Bangladeshis. "The press coverage" of the Cochrane review "has drawn completely the wrong conclusions," he told me. Jose-Luis Jimenez, a professor at the University of Colorado at Boulder who studies the transmission of airborne diseases like COVID, is one of the country's most cited researchers on the nature of aerosols. "I think it's scientific garbage," he said of the review.

Abaluck, Jimenez, and other like-minded researchers have an extensive list of grievances with the Cochrane paper. One criticism is that some of the most convincing evidence for masks from laboratory and real-world studies was left out of the review. The best reasons to believe that masks "make a difference" as a product, Jimenez said, are that (1) COVID is an airborne disease that spreads through aerosolized droplets, and (2) lab experiments find that high-quality face masks block more than 90 percent of aerosolized spray. Meanwhile, observational studies during the pandemic did find that masking had a positive effect. For example, a 2020 study comparing the timing of new mask mandates across Germany found that face masks reduced the spread of infection by about half.

But most important, the researchers identify a mismatch between what Cochrane set out to discover and what the studies in its meta-analysis actually examined. Cochrane looked at randomized control trials, where, in many cases, researchers split a population in two, gave one half a bunch of masks and information about proper masking, then came back a few months later to see if the intervention group was any healthier. For the most part, Abaluck and Jimenez said, these studies don't really ask the question Do masks work? Instead, they ask: When you hand out masks and information to an intervention group without much enforcement, does it make them healthier? That's a subtle but important difference, because the frustrating truth is that, without encouragement and social norms, people tend not to wear face coverings properly.

In one famous Danish study, which concluded that urging people to wear surgical masks failed to reduce infections, fewer than half of the people in the masking group said they fully "wore the mask as recommended." In a 2022 study that distributed masks in Uganda, more than 97 percent of participants reached by phone said they "always or sometimes" wore masks. But at the end of the study, researchers concluded that just 1.1 percent of people they observed "were seen wearing masks correctly"—88 times less than the phone survey. Another study from Kenya found that participants were roughly eight times more likely to report mask usage than to actually wear them.

See how complicated this is? Many people who claim to wear masks actually don't. Many people who do wear masks wear them improperly. The questions Do masks work? and Does merely asking people to wear masks do much? are not interchangeable.
Here, I think we have a very different situation than we did with the lab leak theory. The science was more or less right from the start; the public policy was not.
There's next to no question that good masks, particularly N-95 respirators and less so hospital-quality surgical masks, worn properly and consistently, are effective at stopping the spread of coronaviruses. There's a reason healthcare professionals continue to wear them.
As detailed here and elsewhere ad nauseum, American public health professionals** did us a series of disservices in this regard. First, they flat out lied to us and told us masks were not useful for ordinary citizens in order to prevent a run on them to ensure that first responders had them. Then, they told us that we should wear masks but encouraged us to wear hand-crafted ones made out of cloth—again, in order to preserve the supply of more effective masks for those who needed them most. Far, far too late in the pandemic—long after the supplies of N-95s and KN-94s, and certainly surgical masks, was plentiful—they told us we should go ahead and get the good ones.
The question of mask mandates, though, is an entirely different one. That's not a question of science but one of human behavior. The chances of getting infected with COVID if you wear a quality respirator (N-95 or KN-94) properly and consistently are extremely low. But, for a variety of reasons—including denialism from politicians and other influential figures—there was both an ideological resistance to wearing masks and a natural human reaction to discomfort that meant a lot of people weren't wearing their masks properly or consistently. Or they were intentionally wearing ineffective masks as an act of rebellion.
And that's to say nothing of performative policies wherein people were required to wear masks to enter, say, a restaurant or movie theater but then allowed to take them off while eating their meals or munching their popcorn and sipping their gallon-sized soda.
This is a beautiful summation of the science-policy nexus on the issue:
"Poor-quality masks, worn poorly, work poorly, and high-quality masks, worn properly, work well," Jimenez offered as a summation of the evidence. For that reason, I think it is reasonable to say that mask mandates probably reduce COVID in settings where high-quality masks exist and social norms of mask wearing can be maintained. Abaluck's Bangladesh study achieved a roughly 30-percentage-point increase in community-level mask wearing by not only distributing free masks but also telling people how to wear them, modeling effective face-covering, and encouraging people out and about to put their masks on. By contrast, as even Abaluck acknowledged, "if Alabama tomorrow mandated mask wearing, it would do nothing."
Quite.
As for Thompson,
Meanwhile, we—you, me, governments—have to make discrete and sometimes irreversible decisions within these clouds of uncertainty. I'm trying to navigate that uncertainty myself, reaching provisional conclusions as I constantly reassess the evidence.

I share the Department of Energy's assessment, even though I don't have access to its information. I think the lab leak is probable, by the slimmest of margins, and have also reconciled myself to the fact that I'll never know for sure. I think the government should proceed as if the lab leak is 100 percent true and push for global gain-of-function limitations that reduce the likelihood of future catastrophic lab leaks.
I'm going to keep wearing N95 masks in public indoor spaces during periods of elevated COVID transmission. I think that my neighborhood, in Washington, D.C., would benefit from an indoor mask mandate during high-transmission periods, even as I suspect that many unenforced mask-mandate policies around the world don't do much, because of poor adherence and no enforcement.
I don't have a strong opinion on the origins of COVID but nonetheless agree with Thompson that increased measures to ensure lab safety are prudent.
I disagree with Thompson on mask mandates. While I thought they were prudent in 2020, being better than nothing even absent full compliance, I believe that, in an era of freely available vaccinations, people should be free to make their own risk assessments. Four doses and one mild COVID infection in, I'm living my life pretty much as I did pre-COVID, with the minor exception that I'm much less interested in going to the movies.
As to the larger questions, I think Thompson gets it right here:
The lab-leak and mask debates touch on a broader theme, which is the relationship between science and modern media. In a fragmented and contentious media environment, scientific communication is a mess. An abundance of crappy or confusing research gives audiences access to an armory of factoids, from which they can construct and defend any narrative they choose. For every position, there is an ostensible expert, an apparent paper, and an alleged smoking gun. Thus, the internet tends to serve as an infinity store for pop-up conspiracy theorists.

My advice in navigating this mess is: Do not trust people who, in their handling of complex questions with imperfect data, manufacture simplistic answers with perfect confidence. Instead, trust people who allow for complexity and uncertainty. Trust people who change their mind when the evidence changes. Trust people who, when they say "Believe the science!" put their trust in science, with a small-s, which is the dynamic reevaluation of complicated truths, rather than SCIENCE, in weird caps-lock font, which has come to mean the faith that for every random political position, there exists an official-looking study to permanently justify it. I wish the field of epidemiology was made up of immutable laws as settled as the roundness of the Earth and the power of gravity. It's not. Its priors are vulnerable to reevaluation. If you want to stay right in this space, you have to be curious enough to potentially prove yourself wrong. You have to keep paying attention. For better or worse, that's science.
It should be noted that small-s science did exactly that. Even though politics and the media environment made it much harder—no decent scientist wanted to give Trump, Cotton, and their ilk ammunition—hypothesis testing continued. Despite the emphatic ridicule in early- and mid-2020, the lab leak theory was in fact being treated as scientifically legitimate by mid-2021. Studies about the effectiveness of various types of masks and the effectiveness of mask mandates in various localities continued to be conducted, published, and dissected.
And, of course, multiple vaccines were produced in record time. Their effectiveness was less than first advertised but they've nonetheless gone a long way toward making the pandemic endemic and getting most of us back to something resembling normalcy. That we'll likely have to get annual boosters is a pretty small price to pay for that.
The information environment, alas, is an obstacle to solving so many of our problems. We have the blessing of carrying around essentially all the information in all the world's libraries around with us, instantly accessible essentially free of charge, all the time. Theoretically, that should make us smarter than any generation of human beings who ever lived. Instead, it has upended Daniel Patrick Moynihan's famous dictum, "You are entitled to your opinion. But you are not entitled to your own facts." Nowadays, everyone has not only their own facts but their own expert studies backing them up.
_________________
*[UPDATE: Stanford public health professor Keith Humphreys rightly chides me for calling the question "irrelevant," noting "finding out how a virus entered the population always matters because it's how they figure out how to stop future outbreaks." Absolutely. I should have simply said that it doesn't matter all that much in terms of whether average citizens such as me know the answer.]
**I'll note, for the 1000th time or so, that President Trump, many other Republican officials, and various media figures bear a greater share of the responsibility for poor decisions and poor compliance with sound medical advice than do the experts in question. But this is a post about expert behavior.