Should We All Be in N95 Masks?
Why are we still wearing cloth, which was an emergency measure?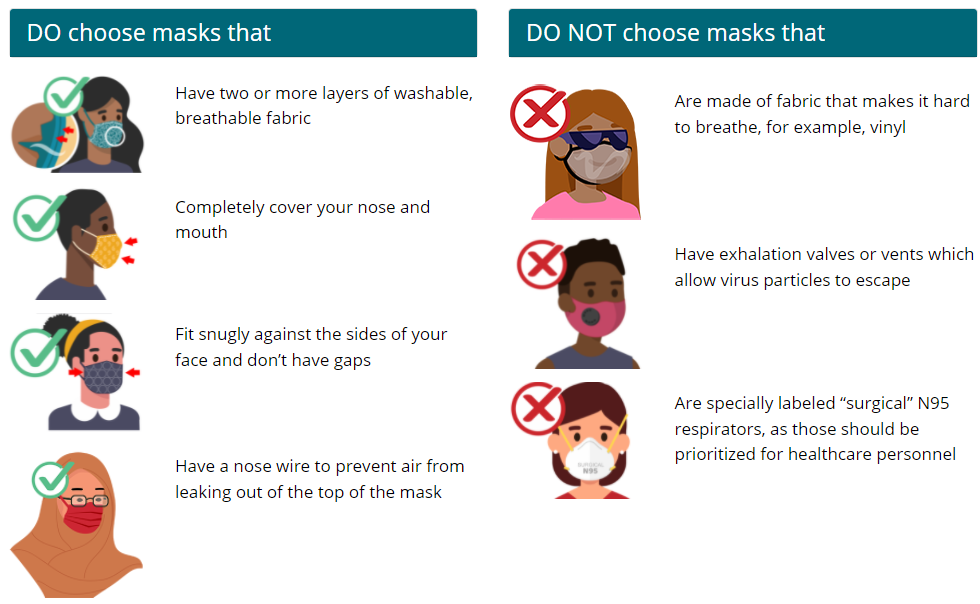 The above graphic is taken from "Your Guide to Masks: How to select, properly wear, clean, and store masks," published by the Centers for Disease Control and updated on October 25. It applies, for most of us, even if we're fully vaccinated and boosted in indoor settings.
It remains, for a variety of reasons, controversial. Most Americans, and indeed most people in the developed world, are increasingly living as though the COVID pandemic is over—or are simply over the pandemic and its strictures two years in. And there has long been a controversy over whether it makes sense to mask small children, mask outdoors, and the like.
On the other side are public health experts who argue that the CDC guidelines are actually woefully out of date in the other direction and that Americans should long since have abandoned the cloth masks pictured above and gone to surgical masks—if not upgraded to K/N95s.
As the highly contagious Omicron coronavirus variant continues to spread, some experts say it's past time to reconsider your face mask options — especially if you're still wearing the cloth variety."

Cloth masks are little more than facial decorations. There's no place for them in light of Omicron," said CNN Medical Analyst Dr. Leana Wen, an emergency physician and visiting professor of health policy and management at the George Washington University Milken Institute School of Public Health, on CNN Newsroom Tuesday."This is what scientists and public health officials have been saying for months, many months, in fact," Wen added in a separate phone interview.

"We need to be wearing at least a three-ply surgical mask," she said, which is also known as a disposable mask and can be found at most drugstores and some grocery and retail stores. "You can wear a cloth mask on top of that, but do not just wear a cloth mask alone."

Ideally, in crowded places, "you should be wearing a KN95 or N95 mask," which can be as inexpensive as a few dollars each, Wen added. By having a better fit and certain materials — such as polypropylene fibers — acting as both mechanical and electrostatic barriers, these masks better prevent tiny particles from getting into your nose or mouth and must be fitted to your face to function properly.
Now, the CDC has rightly earned skepticism on this score, having intentionally misled the public in the early months of the pandemic in order to dissuade panic buying of masks that medical professionals would need. That's incredibly cynical, as early adoption of mask-wearing would likely have saved a lot of lives, particularly of the elderly and immunocompromised citizens who were most vulnerable.
At the same time, now that most Americans who want to be vaccinated are, it seems rather absurd that we should be wearing masks that cost only a few dollars when going out in public. They're intended to be worn for a few hours and discarded.
Still, as Wen notes, the cloth masks that most of us wear were an emergency measure.
Other countries, including Germany and Austria, have "switched their standard to say that a face covering in public must be at least a medical-grade surgical mask" in certain settings, she added.
Nor is Wen a lone alarmist in a sea of rational analysts.
Cloth masks — encouraged earlier in the pandemic — can filter large droplets, while more effective masks, such as N95s, can filter both large droplets and the smaller aerosols or particles potentially laden with airborne virus if infected people are present, [Erin Bromage, an associate professor of biology at the University of Massachusetts Dartmouth] said. A cloth face covering also has 75% inward and outward leakage, which the American Conference of Governmental Industrial Hygienists defines as the "percentage of particles entering the facepiece" and the "percentage of particles exhaled by a source exiting the facepiece," respectively.

Properly fitted N95 respirators that are approved by the US National Institute for Occupational Safety & Health can filter up to 95% of particles in the air, according to the CDC. Surgical or disposable masks are around 5% to 10% less effective than N95 respirators, Bromage said, depending on their ASTM International categorization — with types 1, 2 and 3 ranking just surgical masks from least to most effective.

Why the Omicron variant has been so successful at quickly infecting many people is "unknown at the moment," but it only underscores the role quality masks can play, Bromage said."If it is less virus needed, or if it is a person who's infected is putting more virus out, then the role of a mask in this is if we can cut down the amount that you're actually breathing in, you get more time," he added. "If you needed 1,000 viral particles to infect you and you're wearing something that cuts 50% of things down, it's now going to take twice as long to get to that 1,000. If you're wearing one that is a 90% efficient, it's going to take at least 10 times as long before you get infected when you're around somebody (who is infected)."

"We need to be promoting better high-quality masks everywhere, because right now a single-layer cloth mask just isn't cutting it against Omicron," said former US Surgeon General Dr. Jerome Adams Thursday on CNN's AC360. "We need more testing. We need better masking. That's how we get through this."
In fairness, CDC recommends at least two layers of fabric, not one.
The math is the math. Obviously, a mask that's 95 percent effective is better than one that's 25 percent effective, all things being equal. But, if we're already having a difficult time getting people to mask up, making it radically more uncomfortable, inconvenient, and expensive may not make sense.
Even aside from compliance issues, given the relatively low likelihood of infection on any given trip to the grocery store or other visit to a crowded public space, the slight degradation between surgical masks and N95s would seem the obvious sweet spot. They're dirt cheap and much easier to obtain than K/N95s. And, of course, we should probably follow the example of just about every other reasonably affluent society and simply make them freely available, such that someone who lost* or forgot their masks can simply grab one on their way into the building.
___________________
*I'm surprised about how much mask litter I see on a routine basis. Pretty much every time I walk from a parking lot into a building, I see at least one mask layin on the ground. And these are almost all cloth masks rather than disposable ones, so I imagine they're falling out of pockets and such rather than being intentionally discarded in a lazy manner.