Obama Leads In New Polls In Ohio And Florida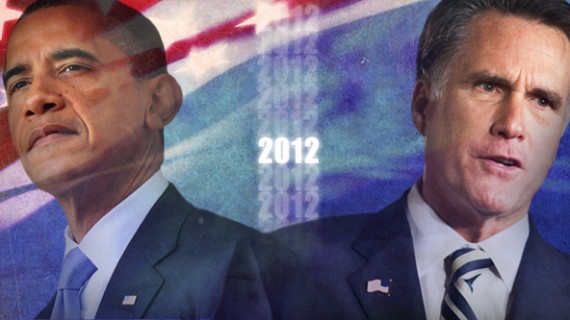 Two new polls from The Washington Post show the President expanding his lead in two of the most important states in the Electoral College battle between the President and Mitt Romney:
President Obama has grabbed a significant lead over Mitt Romney in Ohio and holds a slender edge in Florida, according to two new polls by The Washington Post, indicating that there are fresh hurdles in the way of the Republican challenger's best route to victory in the Electoral College.

Among likely voters, Obama is ahead of Romney in Ohio 52 percent to 44 percent. In Florida, the president leads 51 percent to 47 percent, a numerical but not statistically significant edge. Among all registered Florida voters, Obama is ahead by nine percentage points.

(…)

The new polls add to the evidence that Obama has benefited most from the two parties' conventions, a series of sharp, long-distance exchanges and a barrage of television ads. Nationally, polls continue to show a close race but with new-found momentum for Obama in the battleground states that are likely to decide the election.

There are few plausible ways for Romney to win the election were he to lose both Florida and Ohio, and even losing one of them would make a path to victory exceedinItgly narrow. No Republican has won the White House without winning Ohio, and Florida, with its 29 electoral college delegates, may be even more vital to Romney's hopes.

Both campaigns had thought of Florida as potentially more hospitable to Romney than to the president. But Obama's competitive standing there — benefiting, as he also did in the Virginia poll, from a huge lead among female voters — spotlights Romney's recent struggles.

For its part, Ohio has been the scene of hard-fought campaigns the past three elections and is widely seen as a barometer of economic stress. Obama's lead in Ohio is built in part on generally positive assessments of his job performance and on head-to-head comparisons with Romney on a series of issues. Slightly more than half of all Ohio voters — 53 percent — give Obama positive marks for in dealing with the economy, with more — 56 percent approving of his overall performance.

Fully 36 percent of all Ohio voters say they have been contacted by the Obama campaign; 29 percent say they have been contacted by the Romney side.

Matched against Romney, 50 percent of all voters say they trust the president more to deal with the economy; 43 percent say so of his Republican challenger. By a much wider margin, 57 to 34 percent, registered voters in Ohio say Obama rather than Romney better understands the economic problems that people are facing. Obama also holds a big lead over Romney on who is trusted to advance the interests of the middle class.
It's worth noting that there are two other polls in Ohio that show the race as being closer. One, from a company called Gravis Marketing, show as one point race while the other, from another company called Purple Strategies, shows Obama four points ahead of Governor Romney. However, both of these companies are new to the Presidential polling game, and they've been putting out some really odd poll results in other states lately so it's safe to consider them outliers at the moment. Moreover, even with these two polls in the mix, the RCP Average gives the President a +4,4 advantage and the chart shows a clear trend in the President's favor in the Buckeye State: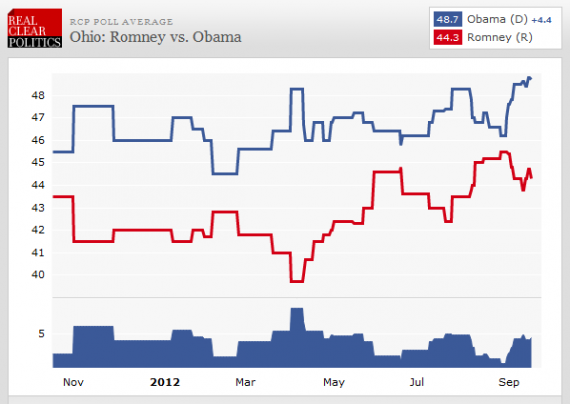 In Florida, the Post poll is the latest in a series of recent polls that appear to show the President pulling away in the Sunshine State. Once again, there are recent polls from Gravis and Purple Strategies that show Romney leading by one point in the state that stand out for their inconsistency from the overall trend. The the RCP Poll Average, though, the President has a +2.2 advantage and, once again, the trend appears to be moving in his favor: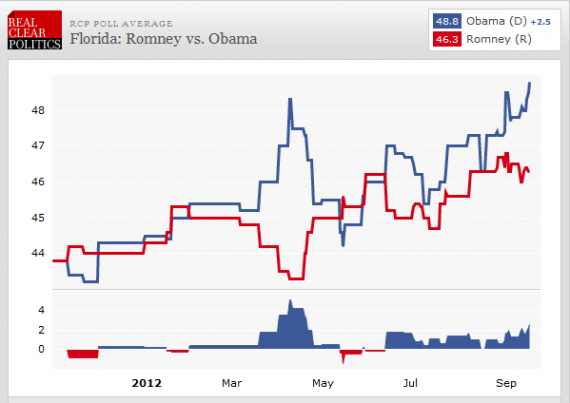 If these states are slipping away from Romney, then that is obviously a serious problem for his campaign. They represent a sizable chunk of the battleground Electoral Votes that are outstanding and it's hard to see how Romney wins without at least one, and probably both, of these states in his column.