How To Fix The Republican Party
Whether Mitt Romney wins or loses, the GOP needs to evolve or be doomed to minority party status.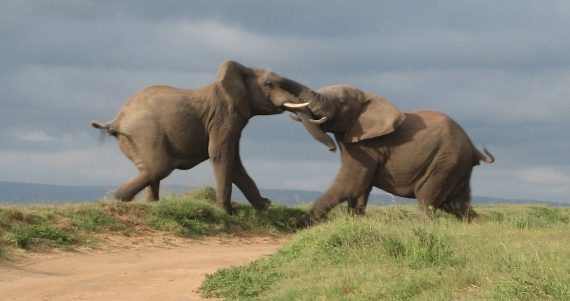 After linking to my post from last week about the future of the GOP in the wake of a Romney loss, Rod Dreher asks a question:
My question to the room: How should the GOP change?

Please don't say, in effect, "Become the Democratic Party." Let's be serious. Try also to answer in a way that challenges your own views — in other words, don't fall back on assuming that all would be well with the Republican Party if they only thought like you.
Dreher goes on to list what he sees as his ideal ways that the GOP should reform itself, especially in the wake of a second-consecutive loss at the Presidential level, most of which I find myself generally agreeing with.
On foreign policy, Dreher suggests the GOP become "far more realistic and less imperial in its foreign policy convictions and intentions," and that's an idea I've advocated for quite some time now, most recently last week:
We need, in other words, a humbler foreign policy stripped of both the jingoism of the right and the pie-in-the-sky idealism of the left. Our primary goal should be the protection of our interest, and the advancement of friendly diplomatic and trade relationships with the rest of the world. We've spent far too much time trying to accomplish more than that, and have nothing at all to show for it.
A Republican Party that moved away from the aggressive foreign policy prescriptions of the neoconservatives and toward something resembling this would be something that I, and I would imagine many others who have been turned off by the party's seeming position that the answer to all our problems in the world is military confrontation. Given the fact that the policies that we've been pursuing for the past decade or more clearly haven't made us more secure, it would also be in the best interests of the United States.
On economics, Dreher would like to see the GOP become more populist by getting behind ideas like Wall Street reform and bringing an end to the idea of banks that are "too big to fail." Given that many of the problems that have arisen in these areas are due to the incestuous nature of the relationship between government and the finance sector that has allowed these banks to have the laws drafted in a manner that favors them, I tend to agree. However, I think we'd need to see more change than that from the GOP when it comes to economics, particularly when it comes to fiscal issues. The party's insistence that the defense budget must never be cut, exemplified currently by its position in favor of eliminating the sequestration cuts set to go into effect starting in 2013, makes no sense at all in an era when we have no choice but to seriously address the fiscal issues facing the Federal Government. The same can be said for the orthodoxy enforced by the Americans For Tax Reform pledge against any and all tax increases, something that simply makes no sense in an era when absolutely every piece of the Federal Budget must be on the table. It's perfectly fine to insist that changes in the tax code be ones that cause as little disruption to the economy as possible, of course, but a blanket refusal to even consider one of the one two fiscal tools Congress has is quite simply insane. The GOP accuses Democrats of refusing to budge on entitlements, but they display precisely the same attitude when it comes to defense spending and taxes, and that needs to change.
On social issues, Dreher is a social conservative who's willing to recognize the fact that change is necessary:
As a social conservative, I will concede that the coming demographic tsunami compels the GOP to start making changes on its staunch opposition to same-sex marriage. This dog ain't gonna hunt for much longer. I wish it weren't so, but nobody who has spent any time reading the polls or talking to anybody under the age of 30 should have illusions about this.

I would be willing to accept the party liberalizing somewhat on this issue, provided it adopted a staunch position of defending religious liberty in the coming pro-SSM legal environment. Many younger conservatives who support SSM may find it acceptable to firewall religious institutions from civil rights laws, if that is possible.
On this single issue, I don't really find anything objectionable. I've said repeatedly that my support for same-sex marriage does not include mandating that religious institutions be required to recognize or perform those unions if it goes against their religious beliefs. A Catholic priest should no more be forced to marry a same-sex couple any more than he should be force to marry a couple made up of one or more people who was previously married and is now divorced. The debate starts, of course, over the issue of what kind of "carve out" there should be for religion on this issue, but that strikes me as a detail on which reasonable people can come to an agreement. More broadly, I don't think the GOP either can or should "get rid" of social conservatives. They're a part of the Republican coalition and, as much as I disagree with them, it's simply foolish to say that the party can realistically survive by cutting off one of its limbs. What the GOP  needs to do is broaden its base in such a way that other  points of view on these social issues are given a voice, and it needs to accept the fact that, say Republicans in California and the Northeast are going to govern and vote differently on these issues than Republicans in the Bible Belt. Otherwise, it's going to become entirely a one-note part, and doomed to electoral failure.
Dreher leaves out one issue that I think goes to the core of the future of the GOP and the question of whether it will end up spending years in the political wilderness, immigration. A mere eight years after George W. Bush won close to 45% of the Hispanic vote in the 2004 Presidential election, the GOP now finds itself severely  disliked by Hispanic voters to the point where it is likely to start hurting them in states with a large Hispanic population in future elections. Last month for example, a poll showed that Obama had a 39% lead among Hispanic voters over Romney. If that continues into the future, the GOP is going to have a serious problem in states throughout the Southwest, in Florida, and, someday, maybe even in Texas. For it's own political survival, as well as because it's the right thing to do, the GOP needs to come up with an immigration position that is more than just aimed at targeting illegal immigrants and closing the borders. They need to recognize that things like the DREAM Act are popular among Hispanics because they see it as being as much a humanitarian issue as anything else, and they're largely correct. Marco Rubio and Jeb Bush have been warning the party for the better part of a year now that they need to come to their senses on immigration. They're right.
More than just policy changes, though, the GOP needs to change its attitude and the way that it approaches governing, and they don't have to look very far. Ronald Reagan showed that it's possible to be strongly committed to conservative principles while still recognizing that one has to compromise with the opposition, especially when you don't control all the levers of power in Washington. Compromise is not necessarily a dirty word. Indeed, judging from the polls, compromise is exactly what the voters want to see from both the Republicans and the Democrats. Along with a willingness to compromise, Republicans need to stop with the demonization that has been so prevalent on the right since President Obama took office. Whether its birtherism, or the "secret Muslim" nonsense, or the idea that the President hates America, or the attacks on Michelle Obama, it's become a daily part of conservative political discourse, especially online. It's stupid, it's unbecoming of a serious political party, and it just ends up turning off the independent voters that the GOP needs to attract to win elections.
The next thing the GOP needs to do is stop coddling the crazies. Michele Bachmann, Louis Gohmert, Allen West, and Joe Walsh are not serious politicians, they are part of a carnival freak show that just happens to have set up residence on Capitol Hill. These are not people to be admired, or promoted, they are people to be avoided. Indeed, they point to the fact that candidate selection itself needs to be far more discerning. Were it not for Christine O'Donnell, Sharron Angle, and Ken Buck, the GOP may very well have won a majority in the Senate in 2010. Thanks to Todd Akin, they may not do so in 2012. Republican voters and political leaders need to be much more discerning when they select who is going to represent them in a General Election.
Conor Friedersdorf identifies one last change I'd say the GOP needs to make, but it really applies to the conservative movement as a whole:
Choosing what spot to occupy on the ideological spectrum is not what the right should be worried about, important though it surely is. It scarcely matters if the GOP starts titling three more degrees toward social conservatism, or fiscal conservatism, or libertarianism, or centrism, if that agenda is shaped and pursued by a coalition incapable of adjudicating arguments on their merits, or separating fact from fantasy, or maintaining the most basic ethical standards.

This truth was evident during the GOP primary, where voters were presented with unacceptable candidates as diverse as the right itself. So broken are the information outlets Tea Partiers in particular use to assess reality that for months they took Sarah Palin, Herman Cain, and Newt Gingrich seriously as potential or actual presidential contenders. They had every opportunity to see the respective character flaws of these figures; they were mostly self-evident, and persuasively described in great detail by the political press. Ah, but that's the liberal media talking. With that phrase, any huckster can short-circuit the Tea Party reality-assessing apparatus for months. And while movement conservatism has failed for decades to shrink government, it has succeeded spectacularly in creating jobs for hucksters in the private sector.

The civil war the right needs is one waged against the hucksters, whether they're in the marketplace of ideas or the marketplace itself. Victory would mean establishing norms that would've made Roger Ailes too ashamed to air all those months of Glenn Beck; that would've made the Claremont Institute mortified to give Rush Limbaugh a statesmanship award; that would've made Matthew Continetti cringe at the idea of a modeling a conservative publication on what he disdains about liberal publications; norms that would've caused Erick Erickson to apologize for his absurd parade of indefensible statements before it complicated his successful effort to start a CNN gig; and that would make Mitt Romney embarrassed to stand in front of donors uttering untruths.

The right needs to value robust argument more highly. And to denigrate those who subvert it more forcefully. For public discourse is all it has to test ideas and formulate an evolving agenda.
This is perhaps the biggest problem that the GOP has today. The entire idea of vigorous debate and dissent from whatever conservative orthodoxy happens to be has been replaced by a world where failure to adhere to some certain idea of orthodoxy leads to someone being denounced and labeled a "Republican In Name Only," among other things. It's happened to everyone from David Brooks and David Frum, from Jon Huntsman to Chris Christie, and even former Reagan Administration aides like Bruce Bartlett and David Stockman. Call it the closing of the conservative mind, call it epistemic closure, call it whatever you wish. The fact of the matter is that, especially over the last decade to 15 years, the GOP has become far less tolerant of disagreement, especially on hot button social issues like abortion and same-sex marriage. Lee Atwater's "Big Tent" is gone, as is the Republican presence in the Northeast and California, both of which had been GOP strongholds for decades.  If it's going to succeed on a national level in the future, the GOP needs to bring back that Big Tent, it needs to recognize that candidates that win in South Carolina aren't going to win in other parts of the country, and it needs to recognize that Senators such as Susan Collins and Olympia Snowe are not enemies, and that Sean Hannity and Rush Limbaugh are not necessarily friends.
I don't find it very likely that the GOP would take this course or that, if they tried to, it would be easy. The hard right would fight tooth and nail, and it would likely take many years for the dust to settle. However, I fail to see the downside in making the effort.