Rod Dreher Canceled
Things finally got too weird for his benefactor.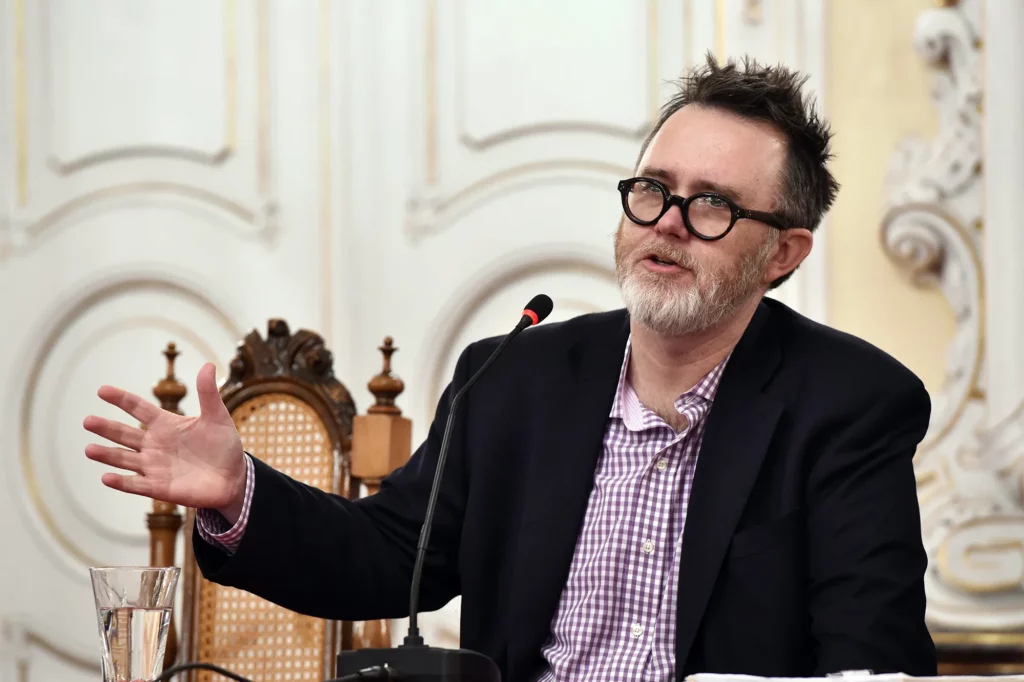 At Vanity Fair, Caleb Escarma reports on "How Rod Dreher's Blog Got a Little 'Too Weird'"' for The American Conservative."
"It never got weird enough for me," once spoken by Hunter S. Thompson, is an apt mantra for the dedicated fans of eccentric conservative blogger Rod Dreher. Over the last 12 years, Dreher, whose blog at The American Conservative will post for the last time Friday, has built a cult following with some of the most bizarre diatribes in opinion journalism. He has warned that so-called sissy hypnosis porn is "profoundly evil;" detailed the "formal" Catholic exorcism of a friend's suicidal wife; and recalled—in unsettling detail—the time he witnessed a Black classmate's uncircumcised penis.

But one particular reader, upon reading the last of said posts, determined the blog had simply gotten too weird, according to two sources familiar with the publication. That disgruntled reader was Howard Ahmanson Jr., the heir to a California banking fortune and the sole benefactor of Dreher's six-figure salary at TAC, which is published by American Ideas Institute, a nonprofit. This unique funding arrangement—a single donor choosing to cover one writer's entire salary—was paired with an even more unusual editorial arrangement: Dreher was allowed to publish directly on TAC's site without any revisions or legal oversight, according to the two sources.

Dreher, Ahmanson, and Emile Doak, TAC's executive director, did not respond to requests for comment.

Ahmanson had apparently long admired the work of Dreher, who has authored numerous conservative books and previously wrote for the Beliefnet blog and The Dallas Morning News. But according to the two sources, Ahmanson began to sour on his beneficiary in 2021, when Dreher, in a blog post debating circumcision, wrote the following: "All us boys wanted to stare at his primitive root wiener when we were at the urinal during recess, because it was monstrous. Nobody told us that wieners could look like that." Incredibly, that was the "first red flag" for Ahmanson, one source told me, adding that the rift had been building for about a year.

Some of Dreher's commentary on the gay and transgender communities also proved off-putting to Ahmanson, such as his lurid musings on anal sex, rectal bleeding, and the "partially rotted off" nose of a gay man who contracted monkeypox. "At some point, he basically decided, 'This is too weird,'" the source, paraphrasing Ahmanson, explained to me. "'I don't want to read this or pay for this anymore.'"

And, of course, it didn't help that the blogger, who resides in Hungary, almost caused a small geopolitical crisis last month, when he mistakenly published remarks made by Hungarian prime minister Viktor Orbán during a session with other friendly pundits that Dreher thought at the time was on the record. Dreher, whose stay in the country is being partially funded by a think tank with close ties to the Hungarian government, revealed Orbán's assertions that NATO is "in a war with Russia" and that he wishes to leave the European Union, comments that ran counter to the regime's official policies and were not meant for publication. When Dreher realized his mistake, he changed the post's wording to suggest that Orbán had maintained his public position.
There's more but you get the idea. Dreher's final post was gracious enough and he's taking his talents to Substack, where I wouldn't be the least bit surprised if he increased his take-home pay.
Regardless, his dissent into the depths of weirdness is rather sad. In recent years, I've mostly encountered his work from the odd link here and there and notes in the comment section here about the latest whacky thing he's written.
It wasn't always thus. I first mentioned his work here in June of 2005, in a post titled "The Wal-Mart Trade-Off," responding to a thoughtful column he'd written for the Dallas Morning News. He was still contributing to the conversation a decade or so ago, debating Andrew Sullivan on the Catholic Church's position on gay marriage ("The Christian Love That Dare Not Speak Its Name") and discussing with Ta-Nehisi Coates class resentment and its racial elements ("Don't Get Above Your Raisin'").
In the intervening years, prior to Steven Taylor and I commenting on Dreher's fascination with Orban, most of the OTB front page references to Dreher came from the late Doug Mataconis. Scanning those posts, there doesn't seem to be a switch that flipped.
It may, of course, be the case that Dreher was always profoundly weird but either was more careful in what he wrote earlier in his career or that, mostly viewing his writings from links from other bloggers or aggregators, I only saw those on matters that interested me.