A Foreign Policy Of Self-Interested Non-Interventionism
With Mitt Romney and Barack Obama basically saying the same things about foreign policy, it's time to take a look at an alternative.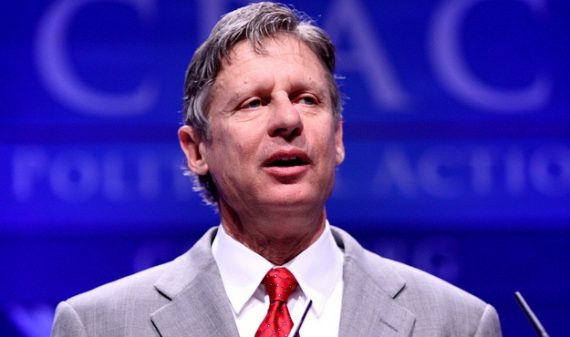 Former New Mexico Governor, and current Libertarian Party candidate for President, Gary Johnson argues that both Mitt Romney and Barack Obama are getting it wrong when it comes to foreign policy:
Foreign policy is supposed to make us safer, not get Americans killed and bankrupt us. Yet, even as we mourn the loss of four Americans in Libya and watch the Middle East ignite with anti-American fervor, our leaders don't get it.

In one corner, we have the U.S. apologists warning that — after the murders in Libya and the attack on our embassy in Cairo — we must be careful not to say or do anything that might hurt someone's feelings. In the other corner, we have the chest-thumpers demanding that we find somebody to shoot — and shoot them.

I have a better idea: Stop trying to manipulate and manage history on the other side of the globe and then being shocked when things don't turn out the way we wanted. As far as what we do right now in response to the tragic events of this week, it's actually pretty simple. Get our folks out of places they don't need to be — and out of harm's way — and cut off every dime of U.S. tax dollars we are sending to clearly ungrateful regimes.

(…)

It's time to tell and face the truth: The Bush-Obama-and-now-Romney interventionist approach to foreign policy is getting Americans killed and contributing to the bankruptcy of our nation without clear sight of our national interests. By what measure is that good policy?
Libertarians are often accused of having a naive view when it comes to foreign policy, at times they are even called, falsely I would say in most cases, isolationists in an effort to paint them with a label that is intended to do nothing more than discredit them without actually addressing their argument.  Is it really isolationism, though, to say that we need to think twice about interfering in the internal affairs of a region of the world that, notwithstanding our involvement there for the past 50 years or so, we still clearly don't completely understanding? Is it isolationism to point out that our own actions in that part of the world often end up getting used against us in order to fan the flames of anti-American sentiment (as if they needed much fanning in a place like Egypt where nearly 80% of the population has a negative opinion of the United States)? Is there something wrong with suggesting that we are only harming ourselves by engaging with a religion of a billion people in a manner that seems clearly designed to make them hate us? I don't think it's isolationism, I think it's common sense.
I find much that is appealing in what Johnson says in this article, as well as the remarks made recently by Kentucky Senator Rand Paul, largely because I really don't find anything to recommend the bipartisan foreign policy consensus we currently seem to be operating under. Starting with President Bush and continuing with President Obama, we seem to be pursuing policies that don't really have any long term goals in mind. Indeed, that's been the case since the end of the Cold War, as Reason's Nick Gillespie points out:
At least since the end of the Cold War, the United States has drifted along without anything resembling a coherent or sustained conversation about foreign policy, much less working to hash out a consensus position that reflects our body politic. In the 1990s, we witnessed Bill Clinton lurching from action to action. He ordered 25 major troop deployments over eight years, twice as many as Ronald Reagan. George W. Bush entered office promising a "humble" foreign policy that repudiated "nation building" and then embraced a disastrous "region building" approach from which we have yet to extricate ourselves. Barack Obama tripled troops in Afghanistan without bothering to clarify our mission there and unilaterally decided to drop bombs in Libya. Congress has acted the role of helpless bystander in foreign policy for going on the last 20 years at least (for god's sake, far more members supported the second invasion of Iraq than the first!).

The predictable result is a foreign policy that is completely unpredictable and unprincipled. There are simply no clear rules governing when and how America will act militarily, what we stand for, and what we stand against. Or, as Obama's bizarre phrasing of our relationship with non-enemy Egypt (which receives billions of dollars in aid from us), even who are allies are.
This is a fairly accurate representation of American foreign policy since the end of the Cold War. We've wandered, somewhat aimlessly, from one military encounter to another with little indication of what our overall goals actually are. Is territorial integrity of sovereign nations our goal, as the Persian Gulf War? Well, that's kind of hard to believe when you consider that it's unlikely that we would've sent a massive military force to protect the borders of a nation that didn't have massive oil reserves. Did the interventions in the Balkans indicate that humanitarian interests would be the focus of our 21st Century foreign policy? Well, that's kind of hard to believe considering that we barely paid attention to the massacres in Rwanda that were occurring at the same time, and it's even further debunked by the fact that the public didn't seem to have been a fan of even the 90s era Clinton idea of nation building. After 9/11, it seemed like fighting terrorism was the way we would go, then we ended up getting bogged down in a completely unrelated adventure in Iraq that cost far more lives , and lasted far too long, than it should have. Rather than wandering aimlessly, or just going to war for war's sake as the Republicans seem to want to do, perhaps it's time to look at things from a different direction.
Now, of course, the changes that Johnson and Paul talk about have to be viewed realistically if they are ever going to be implemented as policy, even in part. No matter how much the idealists might desire it, we cannot completely withdraw from the world in the manner some of my fellow libertarians would like to. We don't live in an ideal world at the moment and there are places on the planet where a lack of U.S. interest or influence would cause a devolution in to chaos. Additionally, our own economic interest require that we remain concerned about freedom of the seas and the protection of vital shipping lanes and choke points such as the Panama Canal, the Suez Canal, and the Straits of Hormuz. There is, in all honesty, nobody else in the world who can do that job, and I'm not sure that we would want to trust someone else with it if there was.
Recognizing the need to remain a presence in world affairs, though, doesn't mean that we are required to intervene in every conflict in the world. As a general rule, I would say that anything that doesn't directly harm America's vital national interests should not be sufficient justification for military action. That would mean no intervention in Syria, no intervention in Libya, and no Iraq War. It would also mean, however, that the War In Afghanistan, at least as originally conceived as an effort to eradicate al Qaeda and it's ability to strike American and western targets, was both proper and necessary as was, in retrospect, the Persian Gulf War. It would also mean, though, that we shouldn't try to impose a settlement on the Israelis and the Palestinians other than one that they agree to on their own, and that we need to abandon the idea of "nation building" along with the absurd idea that we can turn any nation into a functioning democracy even when it has no history of the same.
We also need to abandon the idea that we can change the world.
As we watch another round of protests in, at his point, 21 separate Muslim countries directed against the United States and ponder the first death of an American Ambassador since 1979, the question one must ask is what, exactly, we are doing in the world.  The  Obama Administration entered office thinking that it could remake our relati0nship with the world, and that approach was embodied in everything from the President's speech in Cairo to the famous, some would say infamous, "reset button"  to symbolize a new relationship with Russia.
Reality, of course, has been harshly different. Notwithstanding the Arab Spring, our relationship with the Muslim world has not improved at all, and there's a fairly good case to support the argument that it has deteriorated significantly. Indeed, the events of the past week would seem to support that position. As for Russia, whatever idea that anyone had that we would be working together as partners was long ago dismissed as an illusion, and the Syrian situation stands as Exhibit A for the argument that a new President in Washington doesn't necessarily change the fundamental realities of international relations. And yet, for some reason, American politicians continue to run for office on the idea that they can change the world.
We need, in other words, a humbler foreign policy stripped of both the jingoism of the right and the pie-in-the-sky idealism of the left. Our primary goal should be the protection of our interest, and the advancement of friendly diplomatic and trade relationships with the rest of the world. We've spent far too much time trying to accomplish more than that, and have nothing at all to show for it.