Rand Paul Offers An Alternate Path On Foreign Policy For The GOP
Senator Rand Paul suggests the GOP may want to reconsider its foreign policy aggressiveness.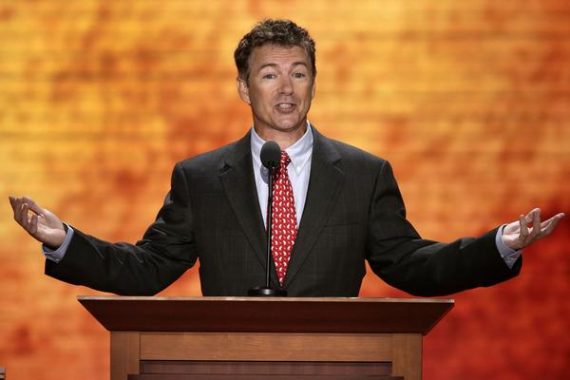 Kentucky Senator Rand Paul is suggesting that the Republican Party harms itself by adopting an overly aggressive, interventionist position on foreign policy:
Kentucky Sen. Rand Paul said Monday that Republicans can win in New England and on the West Coast if they're willing to drop a "we need to bomb everybody tomorrow" foreign policy.

"I think one of the problems we face, as a Republican party, is that we're behind the eight-ball to begin with," Paul said on CBS' "This Morning." "We're not winning the West Coast. We're not winning New England. Maybe we need to embrace more Ron Paul Republicans, more libertarian Republicans. … It means people who are little bit less aggressive on foreign policy. They believe in defending the country, but they don't believe we need to be everywhere all the time."

There are only four GOP senators from the six New England states, and none from the three states on the Pacific coast.

"We should have a more defensive foreign policy, a less aggressive foreign policy," Paul said. "I think that would go over much better in New England than the typical 'we need to bomb everybody tomorrow' policy you hear from some Republicans."
Here's the video:
This is, in many ways, a mirror of what Paul said during his speech at the Republican National Convention:
Republicans and Democrats alike must slay their sacred cows. Republicans must acknowledge that not every dollar spent on the military is necessary or well-spent, and Democrats must admit that domestic welfare and entitlements must be reformed.

Republicans and Democrats must replace fear with confidence, confidence that no terrorist, and no country, will ever conquer us if we remain steadfast to the principles of our Founding documents.

We have nothing to fear except our own unwillingness to defend what is naturally ours, our God-given rights. We have nothing to fear that should cause us to forget or relinquish our rights as free men and women.

To thrive we must believe in ourselves again, and we must never — never — trade our liberty for any fleeting promise of security.
Of course, Paul's vision is very much in the minority in the Republican Party, even though in many ways it is closer to the mainstream of American public opinion than the interventionism espoused by people like John Bolton and Newt Gingrich, and eagerly and completely adopted by Mitt Romney throughout the 2012 campaign. Indeed, more often than not someone who expresses ideas similar to Senator Paul's among other Republicans and conservatives ends up being called, falsely, an isolationist, a word that still seems to retain some sense of being a slur even though its been some 75 years or more since the pre-World War II "American First" crowd was a thing. It's not a fair or accurate representation of the ideas that Senator Paul is talking about here, but it is used by many on the right as a way of attempting to silence debate on foreign policy issues. While it doesn't seem to be nearly as effective as it used to be given that there are a growing number of Republicans, in the House, who are willing to break from GOP orthodoxy on issues such as the Afghanistan War and the defense sequestration cuts, it's still used and, especially among activists it still works. Call someone an "isolationist" and that give other people an excuse to just ignore them rather than giving their ideas the consideration they deserve.
The devil, of course, is always in the details and we do have to recognize that we live in a difficult and complicated world that requires us to be engaged at some level if for no other reason than to protect our own interests (such as by having a Navy able to keep sea lanes open and free from interference), but there's very little in the general principles that Paul puts forward that ought to be objectionable. A foreign policy that is less aggressive and more geared to fostering good diplomatic and economic relationships strikes me as a far better world to live in than one where we are in a constant state of confrontation. Speaking specifically of the War On Terror, the desire by many on the right to turn that into some crusade against Islam strikes me as monumentally stupid largely because, in the end, picking a fight with a religion made up of a billion people pretty much guarantees perpetual war. Obviously, that kind of strategy won't work with every country — North Korea in particular comes to mind — but it strikes me that the world would be a far better place if we didn't treat other nations like children to be controlled.
Even if there are elements of his ideas that are worthy of criticism, and I'm sure some can be found, I do find myself hoping that these comments by Senator Paul are a signs that there will be some real debate inside the GOP about the proper course of foreign policy. Not only would it be could for our national security, it would be good for our financial future as well. After all, peace is cheaper.