The British General Election And The Future Of The United Kingdom
With the election behind him, David Cameron's biggest problems may be yet to come.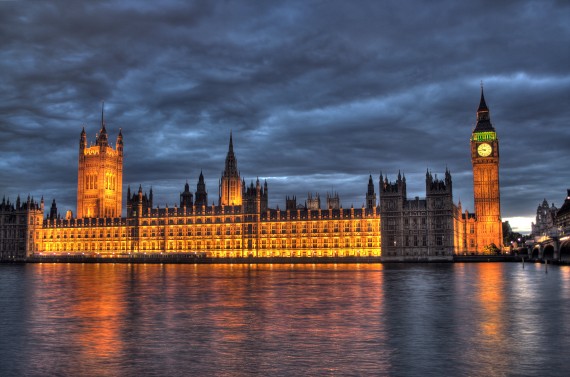 With the British General Election behind us, the question now is how David Cameron and the Tories will govern the United Kingdom over the next five years Various analysts have talked about how they will handle domestic policy, foreign policy, and the thorny issue of Great Britain's relationship with the European Union which seems likely to result in a referendum on continued membership in the E.U. at some point in the next five years. As John Cassidy notes, though, the biggest question that Cameron may have to face is just how united the United Kingdom will be over the next five years:
Scotland is now a sea of S.N.P. blue, and the union of England, Scotland, and Wales, which dates back to 1707, has, perhaps, never been in such peril. On the basis of the opinion polls, practically everybody believed that the separatist S.N.P. would make big gains, but it exceeded all expectations, including those of its leader, Nicola Sturgeon. When an exit poll suggested that the S.N.P., which previously had just six seats at Westminster, could end up with fifty-nine, Sturgeon tweeted, "I'd treat the exit poll with HUGE caution. I'm hoping for a good night but I think 58 seats is unlikely!" In fact, the S.N.P. won fifty-six out of fifty-nine seats.

In many Scottish seats, the swing from Labour to S.N.P. was more than thirty per cent. Douglas Alexander, the former Shadow Foreign Secretary, lost his seat to a twenty-year-old student, Mhairi Black, who is set to become Britain's youngest Member of Parliament since 1667. Labour lost Kirkcaldy, the seat that had been held by former Prime Minister Gordon Brown and was considered one of its safest. Even more astonishing, the Labour Party failed to win a single seat in Glasgow, which for many decades was one of its bastions.

(…)

Before last year's referendum, when the Scots narrowly rejected independence, Cameron promised to devolve more power to the Scottish Parliament, which the S.N.P. dominates, including more power to tax and spend. He repeated this pledge on Friday, saying that he intended "to create the strongest devolved government anywhere in the world." But the basic bargain between Scotland and the rest of the U.K. is looking increasingly frayed.

Nearly half of the Scots want independence, and virtually all of them regard Westminster as a distant place that seeks to impose upon them policies they don't want. Many English voters are increasingly irritated by Scottish nationalism and, especially, the fact that they are subsidizing it. (Scotland receives more money in public spending than it pays in taxes. The Scots say that this is perfectly justified because Scotland is poorer than England, and that it contributed the oil in the North Sea.)

Historical analogies to Thursday's result are hard to find, but the closest may be the election of 1885, when all of Ireland was still part of the United Kingdom. Charles Stewart Parnell's Irish Nationalist Party won eighty-six seats in the House of Commons and ended up holding the balance of power. That produced divisions in William Gladstone's ruling Liberal Party about a home-rule bill for Ireland, and there was another election a year later, which the Conservatives won.
It took Ireland another thirty-seven years and a war to become an independent country, but from 1885 on it was clear which way history was moving. For a democratic union of two countries to survive, it needs majority support in both countries. At the moment, this condition is still being met by Scotland and England, but only just. If the dynamic that produced the S.N.P.'s triumph continues, it points toward the eventual breakup of the union or, at the least, a federalization of the United Kingdom.
So far at least, Scottish National Party leader, and Scottish First Minister, Nicola Sturgeon is downplaying talk of another independence referendum, and it's unlikely that Camerson would be as quick to agree to a vote as he was in 2012 when the national government took the first steps toward what eventually became authorization of the vote that took place last year. Additionally, the SNP's success on Thursday arguably undermined its political power by placing it far outside the ability to influence national policy than it would have been under a Labour government, especially if the party had been able to extract some sort of agreement from Ed Milliband in exchange for its support on a confidence motion. Ironically then, by undermining Labour's position in Scotland, and by extension nationwide, the SNP may have actually harmed its agenda, at least in the short term. This is especially true since, unlike any of the other parties in Parliament, the SNP has no real ability to expand its influence outside of Scotland. Nonetheless, the Scottish issue going to be one that Cameron and the Tories, and by extension, all of the United Kingdom, are going to have to deal with sooner rather than later. In fact, the SNP's near complete sweep of Scotland's 59 seats in Parliament is likely to cause it to harden its position and could lead to an increase in support for independence itself.  An independence referendum is unlikely to happen again soon, though, so Sturgeon and the SNP will have to find another way to pursue their agenda.
During two interviews with Sturgeon that I saw while watching election coverage on Thursday night, she went back to one idea that sounds like it could be the centerpiece of SNP demands in the near future, the idea of full fiscal autonomy for Scotland. Without going into a long discussion on the topic, this would basically mean that Scotland would gain full control over its own finances while simultaneously cutting if off from a good deal of the subsidies it gets from Westminster. As with the case of independence, there are many who have argued that this would be a fiscal and economic disaster for Scotland in the end, but as with the referendum it seems like this may be an issue that goes beyond economics for people like Sturgeon and those who support her. Some who are decidedly opposed to the economic agenda of the SNP, such as Daniel Hannan, a Conservative who serves in the European Parliament, have suggested that Cameron should give the Scots what they want. In no small part, this seems to be motivated by the idea that giving the Scots what they want here would teach them a lesson about the value of remaining part of the union. The other possibility, of course, is that fiscal autonomy would just be the first step down the road to ultimate independence, even if it leads to economic disaster. As I noted when I wrote about the referendum last year, nationalism rarely driven by rational considerations like balance sheets and economic viability, and fiscal autonomy could just be seen by the Scots as the first step toward total separation.
As I've noted before, increased Scottish autonomy poses problems of its own in that it could well lead to similar demands from the Welsh and Northern Irish, and lead to a reopening of the so-called West Lothian Question and the issue of autonomy for England itself. Once you get to that point, you start pulling apart the strings that have held the United Kingdom together for the past three centuries and there's no telling where it might end, In its worst case scenario, the nations of the U.K. each go their separate ways — except, maybe, for the Welsh, who might just decide it makes more sense to stick with England — and each of them becomes something much lesser than the whole. It would be an unfortunate way for the British Empire, which once spanned the seas, to come to an end, and it would likely mean that London would lose much of the influence that it still has in world affairs. And mixed up into that, of course, is the future of the British Monarchy, which has existed in a nearly unbroken line starting with the Kings of England that dates back at least to the time of Alfred The Great. Whether or not all of that would be a good thing in the long run isn't for me to say, but it would certainly be a profound change that would have a real impact around the world.
Ross Douthat hits on that point, and argues that green eyeshade arguments about economics are not going win the day in  a debate involving the ultimately emotional idea of nationalism:
The nationalists of Scotland and England, in different ways, offer a vision of political community as an object of belief, an end unto itself. Against that kind of message, it's not enough to defend the present order bloodlessly, to say, "Yes, it's anachronistic to have a miniature empire in this day and age, but really the net benefits make it worth keeping."

Instead, you have to argue explicitly for a Great Britain. You have to invoke the United Kingdom's world-bestriding past, which the Scots no less than the English sustained and died defending, with something more than awkward embarrassment. You have to make a case to the Little Englanders that Britain's multicultural, Europe-facing present can keep faith with that past and not just bury it. You have to demonstrate that a liberal empire, no less than an ethnic homeland, can be something real and rooted — something felt in "the blood and guts," as Massie put it during the Scottish referendum, "the bone and marrow of our lives."
As Douthat notes, if there aren't politicians willing to make those arguments, or if the public isn't receptive to them, then the devolution of the United Kingdom may be inevitable.
Timothy Garton Ash at The Guardian raises a possible solution to all of this that seems to have be getting a lot more attention on both sides of the Atlantic, one that would involve Great Britain adopting the very American idea of Federalism:
For the next couple of years, the most urgent issues will be the economy, the unequal impact of public spending cuts and the referendum membership of the EU, which will happen before the end of 2017. But over the life of this parliament we should really start rethinking the whole shape of this country.

However unsympathetic a new Cameron government may be to such ideas, what we need is a Federal Kingdom of Britain. The quiet revolution in Scotlanddemands a new settlement, in which each constituent part of the kingdom has clearly defined powers.

(…)

The most radical and coherent proposal comes from a Conservative grandee, the Marquess of Salisbury, a descendant of that earlier and even grander Salisbury who was the David Cameron of 1895. The House of Lords should be abolished, he self-sacrificingly suggests, and turned into an upper house (a senate perhaps?) for the whole federal kingdom. The House of Commons should become the English parliament, so that each nation of our quadri-national state has its own democratic assembly.

Since every new assembly Britain acquires has a more proportional voting system, so would be the one for the senate. That would go some way to meet the discontents of the millions of effectively disenfranchised individual voters – including, let it be said, those of Ukip. Eventually, even the English parliament would be squeezed towards a somewhat more representative electoral system.

All this is inseparable from the matter of Europe. After all, the essential British argument over the EU is about who does what, at what level. That's what people will be looking at in the probably paltry results of Cameron's self-styled renegotiation with Brussels.

But another word for such multilayered arrangements is, precisely, federalism. In fact, Cameron's first government did an exhaustive exercise looking at all the different powers exercised by the EU – and then buried the results because they suggested the balance was really not at all bad for Britain. So here too the federal kingdom is what this transformed country needs.
Ilya Somin at The Volokh Conspiracy theorizes about what a "Federal Kingdom" of Britain would like:
Some form of constitutional change in Britain seems likely, as I previously predicted in the wake of the referendum. But the interesting question is what form would a new federal system would take. The SNP and other left-wing Scots might welcome greater devolution of power to the Scottish parliament at Holyrood. But they also want the UK government to keep subsidizing the welfare state in Scotland, and perhaps even increase those subsidies. Scotland is relatively poorer than England, and already gets a disproportionate share of UK government spending.

Public opinion in England – particularly Conservative opinion – is unlikely to support greater devolution of power to Scotland, while simultaneously giving Scotland large amounts of central government money. Many in England believe that the current "Barnett Formula" for distributing central government funds is unfairly biased in favor of the Scots Even Lord Barnett, the former Labor Party minister after whom the formula is named, holds that view. He has said that the formula is "is unfair and should be stopped… it is a national embarrassment and personally embarrassing to me as well."

Any federalist devolution likely to get Conservative English support would probably put strict limits on the amount of central government funding that goes to the Scots, quite likely stricter than what exists today. Some Conservatives would prefer that the Scots be required to themselves raise the tax revenue they spend. In addition, many English Conservatives are advocating greater devolution to regional governments in England itself, including perhaps even a system of "English votes for English laws" under which only English members of parliament would get to vote on issues exclusive to England. What counts as an "English" issue, as opposed to a national one, is far from self-evident.

In sum, there is broad support in Britain for moving towards some form of federal devolution. But it will be difficult to figure out an approach that is acceptable to both English Conservatives and much more left-wing Scots.
The other issue that a federalist approach to the future of the United Kingdom would have to deal with, of course, is the monarchy. It's easy to dismiss the institution as an anachronism, and as an American I must say I don't quite understand what all the fuss is about, but it's been part of British history for more than a millennium now and it seems like it would be unlikely for them to give it up completely. Given the fact that much of Scandinavia, along with nations like Belgium, have found a way to maintain the tradition of a monarchy amid massive political change, it seems like something that should be workable if the desire to maintain the institution exists. In the end, though, this is a much bigger question than what happens to the House of Windsor, it's a question of what happens to the future of a nation that has had a significant influence on world history for centuries. And, it's a question that only the people of the United Kingdom can answer.