Scottish First Minister Calls For Another Scottish Independence Vote
Scotland's First Minister is calling for another independence vote in the wake of the beginning of the Brexit process, but she's unlikely to get it.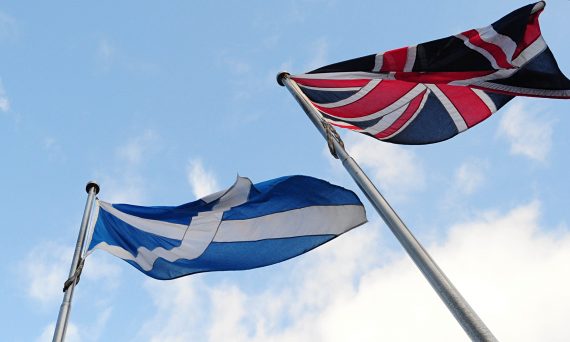 Scottish First Minister Nicola Sturgeon is calling for another vote on Scottish independence within the next two years:
LONDON — Scotland's leader delivered a shock twist to Britain's EU exit drama on Monday, announcing that she will seek authority to hold a new independence referendum in the next two years because Britain is dragging Scotland out of the EU against its will.

First Minister Nicola Sturgeon said that she would move quickly to give voters a new chance to leave the United Kingdom because Scotland was being forced into a "hard Brexit" that it didn't vote for. Britons decided in a June 23 referendum to leave the EU, but Scots voted by 62 to 38 percent to remain.

Scotland must not be "taken down a path that we do not want to go down without a choice," Sturgeon said.

She spoke in Edinburgh as Britain's Parliament was on the verge of approving a Brexit bill that will allow the U.K. to start the formal withdrawal from the EU within days.

Sturgeon said she would ask the Scottish Parliament next week to start the process of calling a referendum, to be held between the fall of 2018 and the spring of 2019. She said by then, details of Britain's post-Brexit deal with the EU would be clear and Scottish voters would be able to make "an informed choice."

The British government must agree before a legally binding referendum can be held. It didn't say Monday whether it would do so, but said an independence ballot "would be divisive and cause huge economic uncertainty at the worst possible time."

In a statement, the British government said it was seeking "a future partnership with the EU that works for the whole of the United Kingdom. The U.K. government will negotiate that agreement, but we will do so taking into account the interests of all of the nations of the U.K."

In a 2014 referendum, Scottish voters rejected independence by a margin of 55 percent to 45 percent. But Sturgeon said that the U.K.'s decision to leave the EU had brought about a "material change of circumstances."

Sturgeon said that she had sought compromise with May's government, but had been met with a "brick wall of intransigence."

Sturgeon has been seeking a deal that will allow Scotland to stay in the European single market and customs union. But she said she has become convinced May is pursuing a "hard Brexit" that would leave Britain outside those arrangements, which many U.K. businesses see as crucial.

"I am not turning my back on further discussions should the U.K. government change its mind," she said.

Sturgeon is taking a big gamble. Although the prospect of Brexit has likely boosted support for independence, polls do not indicate it has majority backing. And there is no guarantee that the EU would allow an independent Scotland to remain a member.
More from The Guardian:
Nicola Sturgeon has said the Scottish people will be given a choice whether to follow the UK into a "hard Brexit" or become an independent country between autumn 2018 and spring 2019.

The Scottish first minister said she was firing the starting gun on a second independence referendum because the British government had failed to move "even an inch" towards compromise over EU negotiations.

Latest polls put support for independence at 49%, but a third of people are at least partially open to persuasion

A spokesman for Theresa May responded by saying a second referendum would be "divisive and cause huge economic uncertainty at the worst possible time".

Rolling coverage of the day's political developments as they happen, including MPs debating and voting on the Lords amendments to the article 50 bill – on the rights of EU nationals and parliament voting on the final dealSetting out plans to seek the authority of the Scottish parliament, Sturgeon said: "Since last June my focus has been on trying to find an agreement with the UK that would reconcile the UK-wide vote to leave the European Union with the Scottish vote to remain."

Setting out plans to seek the authority of the Scottish parliament, Sturgeon said: "Since last June my focus has been on trying to find an agreement with the UK that would reconcile the UK-wide vote to leave the European Union with the Scottish vote to remain."

She argued that she had initially been encouraged by May's commitment to seek a UK-wide approach – and said her government had put forward proposals that offered compromise

."We accepted that Scotland would leave the EU despite the 62% vote to remain but we argued that the UK should stay in the single market or seek an outcome that would allow Scotland to do so. We set out how greater powers for the Scottish parliament could help protect Scotland's interest in a post-Brexit landscape.

"Over the past few months we have worked really hard to find agreement. The prime minister and her government have been given every chance to compromise." But Sturgeon accused May of failing to act in good faith, saying her government had hit a "brick wall of intransigence".

In particular Sturgeon cited the decision to leave the single market – revealed in the prime minister's Lancaster House speech – without consultation. "Not just Brexit but hard Brexit," said Sturgeon, arguing there had been a "point-blank refusal to discuss a differential approach".

Moreover, she said, the UK government had become even more assertive over Scotland's powers.

"The language of partnership has gone completely. If Scotland can be ignored on an issue as important as the membership of the EU, it is clear our voice and interests can be ignored at any time." The SNP leader said she wanted May to get a good deal from the EU, and would fight for Scotland's interests during that process.

"But I am far from alone in fearing a bad deal or indeed no deal. Nor am I alone in fearing that even a so-called good deal will be significantly inferior to membership of the single market and that it will set Scotland on a course that will not only damage our economy but change the very nature of the society and country that we are.

"The problem with doing nothing now is that by the time these fears are realised it would be too late for Scotland to choose a different path."
As noted, these comments are largely rooted in the outcome of last year's Brexit vote, in which the United Kingdom as a whole voted narrowly in favor of leaving the European Union, but in which there was a rather marked departure in support for the idea among the various constituent parts of the Kingdom. Whereas England voted in favor of 'Leave' by a majority of some two million votes and Wales favor 'Leave' by roughly 120,000 votes, Scottish voters voted to Remain in the E.U. by more than twenty percentage points, representing more than a 600,000 vote margin in favor of 'Remain" among the Scots. Additionally, Northern Ireland voted in favor of 'Remain' by more than eleven percentage points representing a roughly 100,000 vote margin for 'Remain' over 'Leave.' (Source) As I noted in the aftermath of the vote last June, Sturgeon had hinted after the vote that the outcome of the referendum and the United Kingdom's anticipated withdrawal from the E.U. could lead her to call for a new independence referendum. Despite that threat, Sturgeon largely held her fire over the past nine months as Theresa May took over from David Cameron as Prime Minister of the United Kingdom and began what appears as though it will be a longer, and more complicated, Brexit procedure and process than first believed. Now that the government in London seems firmly committed to a so-called "hard Brexit" that includes leaving the single market that existed prior to the E.U. itself, though, it appears that Sturgeon has chosen to speak out.
Notwithstanding Sturgeon's speech today, the process for a future Scottish independence vote is far from clear, and it's far from clear that it will actually happen. For one thing, any such vote would have to be authorized by Parliament in London, and Prime Minister May appears to be taking the same position that her predecessor did that the issue was effectively closed with the outcome of the last referendum in 2014. This is important because any renewed referendum would have to be approved by Parliament in order for it to have any legal force and effect and it appears that this will not be forthcoming as long as the Conservatives remain in power, which seems likely to be the case until at least 2020. Additionally, while the Labour Party's current leadership issues make it unlikely that they'll return to power anytime soon, a renewed Scottish independence vote is also opposed by the opposition party in Parliament, making it even less likely that Parliament would make any moves to authorize a second vote or that it would be approved if they did. Second, even if there was a referendum there's little guarantee that the outcome would be any different from the outcome in September 2014. As The Telegraph notes today, the most recent polls on the issue among Scottish voters shows that remaining in the United Kingdom is supported by a somewhat large percentage of Scottish voters today than was the case when the vote was taken some thirty months ago even with the probability that staying in the United Kingdom means leaving the European Union. Finally, as was the case in 2014 when Scotland's future hung in the balance there is no guarantee that the European Union would accept Scottish membership in the United, at least not initially. If it did become independent of the rest of the United Kingdom, Scotland would quickly become a much poorer nation with a smaller tax base and a large welfare state that it could no longer depend on the rest of Great Britain to help pay for. This would place it among the poorer of the members of the E.U. and could arguably constitute the kind of risk for E.U. membership that other members would rather avoid at this time, especially with the other crises occupying the E.U.'s attention. Without E.U. membership, Scotland would quickly find itself in quite the bind and quickly forced to make a choice between continuing its welfare state and adjusting to life on its own in a sustainable fashion. Sturgeon is no doubt aware of all of this, and aware of the risk she's taking in backing independence at this rather precarious time. More likely than not, he call for another vote is a bid to get a larger voie in the Brexit process for Scotland, but if she isn't careful, she could end up shooting herself, and the region of the U.K. that she leads, in the foot.