Poll Shows Scots Supporting Independence As The U.K. Stumbles Toward Brexit
Adding to the political headaches for British Prime Minister Boris Johnson, a new poll shows majority support for Scottish independence in Scotland as the United Kingdom stumbles toward Brexit.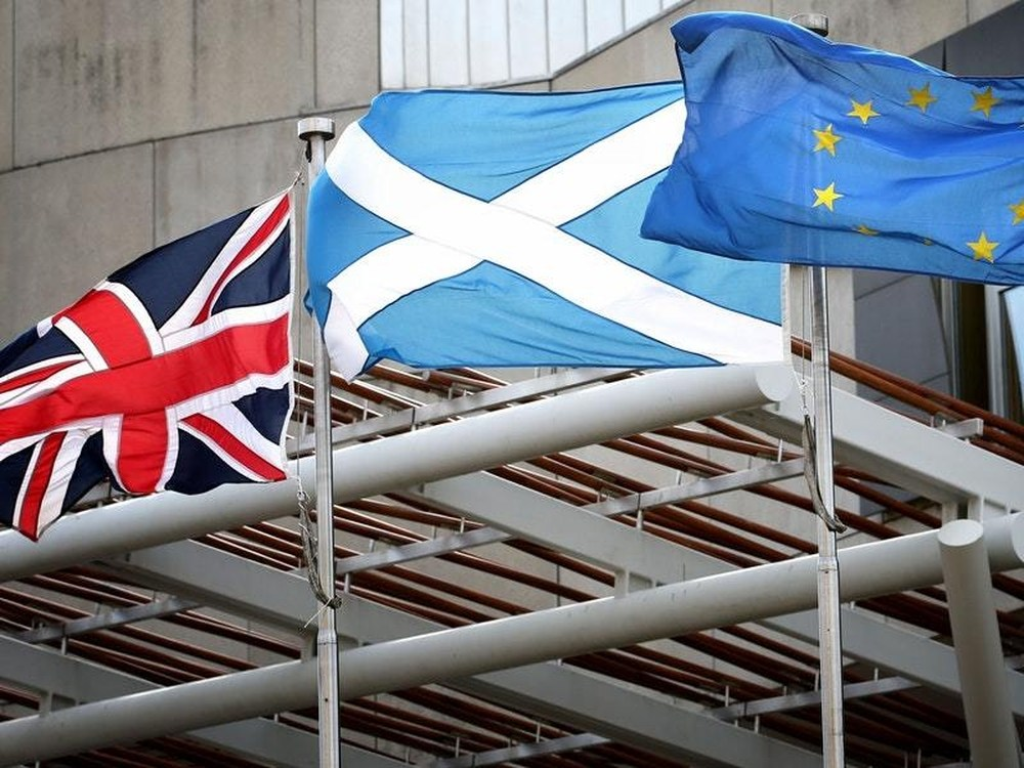 Adding to the potential political headaches that newly-installed British Prime Minister Boris Johnson is facing, a new poll finds increased support for Scottish independence even as he guides the United Kingdom toward a break with the European Union, a move that is highly disfavored in Scotland:
Voters in Scotland would vote for independence from the United Kingdom, a new poll has suggested.

The survey by Michael Ashcroft for Holyrood magazine is the first since March 2017 showing support among Scots for breaking up the union.

Of the 1,019 voters polled, 46 percent said they would vote for independence and 43 percent said they would vote against. When those who said they did not know or would not vote are excluded, the result swings to 52 percent versus 48 percent in favour of secession.

The results serve a major boost to Scottish First Minister and Scottish National Party leader Nicola Sturgeon, but are a blow for Prime Minister Boris Johnson, who visited Scotland last week, and Scottish Conservatives leader Ruth Davidson.

Sturgeon hailed the "phenomenal" poll, adding: "A broken Westminster system means Scotland is being dragged towards a no deal Brexit, regardless of the heavy price we'll pay for lost jobs and lower living standards.

"That project is being led by Boris Johnson — a prime minister Scotland didn't elect and who has no mandate to tear Scotland out of Europe with all the damage that will entail."

She added: "It would be a democratic outrage for any Tory government to deny that, and this poll shows such an anti-democratic position is completely unsustainable."

Scotland voted overwhelmingly to stay in the EU at the 2016 referendum on Brexit, while a POLITICO-Hanbury poll last month found Johnson is toxic among Scottish voters."
More from The Guardian, which reports that Scottish First Minister Nicola Sturgeon has warned British Prime Minister Boris Johnson against blocking a future independence vote:
Nicola Sturgeon has warned Boris Johnson against blocking a fresh referendum on Scottish independence after a poll found a majority would now vote yes.

The first minister said it would be "undemocratic and unsustainable" for the Conservatives to oppose one after the poll by Lord Ashcroft put the yes vote at 52%, once don't knows and non-voters were excluded.

The poll, the first since Johnson's visit to Scotland last week, also found that most Scots want a fresh independence referendum by 2021, once undecideds were excluded. Previous polls had shown only a minority of Scots wanted a second referendum that soon.

In a further blow to pro-UK parties, it also found that a majority (52%) believed the yes campaign was likely to win, including a third of voters who rejected independence in the first referendum in 2014. Only 30% believed Scotland would now vote to remain within the UK after Brexit, and 18% did not know.

This is the first poll since March 2017 to show a narrow majority for independence. Until now, the pro-UK vote has enjoyed a small but consistent lead.

Johnson's critics and opponents, including senior figures inside the Conservative party and the party leader in Scotland, Ruth Davidson, have long forecast that his election and his pursuit of a hard Brexit would boost support for independence.

Ashcroft, a former Tory party treasurer, found that 62% of Scots believed Brexit – regardless of whether that was with or without a deal – made independence more likely. That included 38% of Tory voters.

Despite repeated warnings from unionists that leaving the UK would be more economically and financially damaging to Scotland than Brexit, a narrow majority of voters (45%) said staying in the EU was more important than staying in the UK (43%, with 12% don't knows).
Ashcroft's data substantiates previous polls predicting that a Johnson premiership would help Sturgeon. However, since Ashcroft does not carry out regular polls on these questions and will not reveal which polling company carries them out for him, it is harder to compare this data accurately with previous polls.
Here's a tweet from Sturgeon responding to the poll:
This poll comes nearly five years after the 2014 Scottish Independence referendum, in which the votes to remain in the United Kingdom won by nearly an eleven-point margin, which was a far bigger win for remaining in the U.K. than polling has indicated. Since then, polling on the Scottish independence issue has generally fluctuated back and forth but has still generally shown that the majority of Scots supported staying in the union with England, Wales, and Northern Ireland. That has been slowly changing, though, ever since the 2016 Brexit Referendum. While the nationwide vote in the referendum gave the win to the decision to leave the European Union by roughly three percentage points. The result was quite different in Scotland, though, where 62% of the country voted to remain in the E.U., joining Northern Ireland, where roughly 55% of voters voted to remain.
Ever since that Brexit vote, pro-independence forces in Scotland have sought to capitalize on the country's support for continued membership in the European Union as a means to revive support for an independence vote. When the Brexit process began in early 2017, for example, Sturgeon made her first call for another independence vote, citing the vast difference on the E.U membership question between Scotland and England (joined by Wales) as justification for the move. As the Brexit process moved forward, there was at least some hope that the threat of Scottish independence could temper British enthusiasm for the prospect of actually leaving the E.U., a hope that obviously proved to be a false hope.
The current upsurge in support for independence appears to be a combination of the prospect of Brexit happening as soon as October 31st and the rise of Boris Johnson to the top of British politics. In the first respect, polls in Scotland continue to show support for leaving the United Kingdom and appear to show that support for this idea increasing as the reality of Brexit actually happening sank in. Additionally, Johnson has apparently long been an unpopular figure among the Scots so it's no surprise that support for independence would increase once he became Prime Minister.
Of course, there is a big difference between talking about Scottish independence yet again and actually making it happen. Before that could happen, the British Parliament would have to vote to authorize another referendum and that seems unlikely for the time being. Johnson's Conservative Party is not at all likely to support such a move since it has taken the position that the issue of Scottish independence was decided once and for all in 2014. The Labour Party has also taken a position against independence, but one wonders if that might change in the wake of another election where Labour might have to rely on the support of the Scottish National Party to gain the votes it needs to form a government. In that regard, it's worth noting that Sturgeon has recently said that she would not rule out an anti-Tory Parliamentary alliance with Labour. That comment came after what many observers have called an acrimonious meeting with Prime Minister Johnson. Unless and until something like that happens, Scottish independence will remain an aspirational goal that may not come close to being realized any time in the near future.