Can The Scots Save Britain From A Foolish Decision On Brexit?
The Scots want to stop Brexit, but it's not clear they have the power to stop it.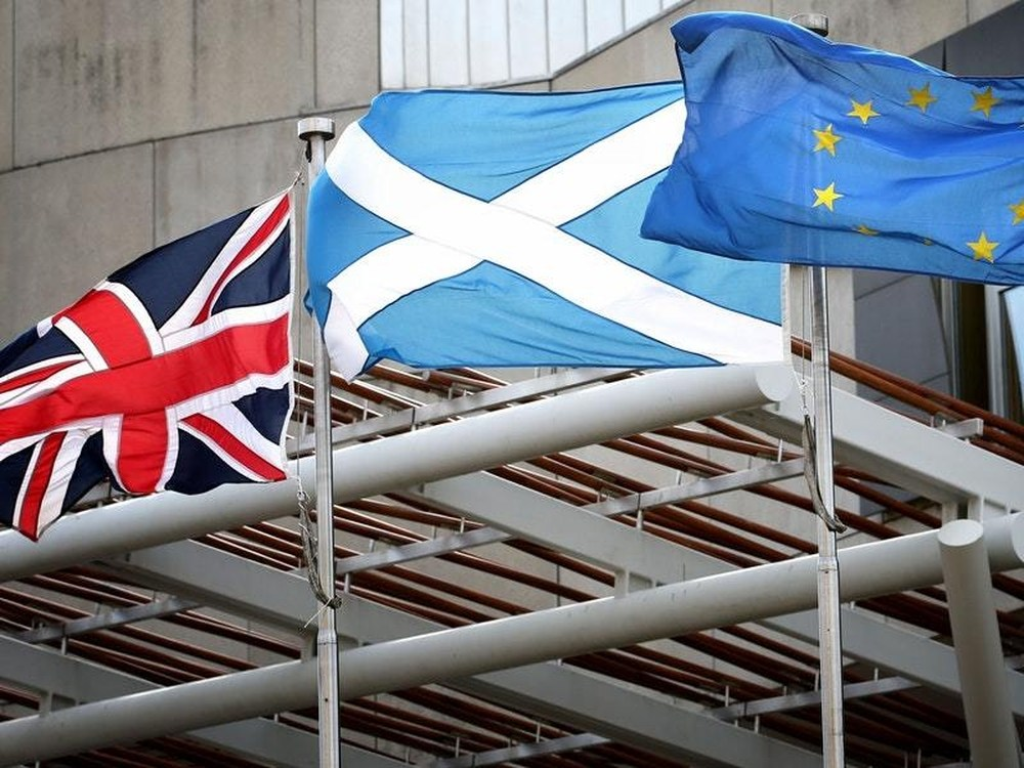 Scotland's First Minister Nicola Sturgeon is looking to form a coalition to stop Brexit:
LONDON — Pro-EU Conservative MPs can be part of a cross-party "coalition" against Theresa May's Brexit deal, and against a no-deal exit, Scotland's First Minister Nicola Sturgeon said Tuesday.

Sturgeon was speaking in Westminster following talks with Jeremy Corbyn, leader of the U.K.'s opposition Labour party. Sturgeon, whose Scottish National Party is the third largest party in the House of Commons, said those opposed to the binary choice of May's deal or no deal should unite behind a single alternative strategy — and that Conservative MPs "have a role to play" in the interests of "building a coalition" in Westminster.

"The next stage of these discussions has to then look at what option can the opposition coalesce around," Sturgeon said, adding that options included a second referendum, a permanent customs union and single market arrangement.

May's government has said that the only options available to MPs when they vote — most likely before Christmas — on her deal, is the existing agreement or no deal. Labour has said that if MPs reject May's deal then a no-deal exit must be prevented, and say they want a general election. While not ruling out a second referendum, Labour has prioritized a motion of no confidence in the government that could topple May's government and force an election.

Sturgeon is in favor of another referendum that could reverse Brexit altogether. When asked about the possibility of a confidence motion, she said it was "important now … that we focus on where we can build majorities."

In an apparent acknowledgement that the Conservative rebels required to give opposition parties a majority in parliament would not vote against their own government in a confidence motion, she added: "We can all table different things but if they get voted down because we haven't done the work to build the majority behind them it's not going to take us very far."
This comes at the same time the Sturgeon is also leaving her options open regarding a second Scottish independence referendum depending on what happens with Brexit:
Nicola Sturgeon has promised to reveal her plans for a second independence referendum in the "not too distant future", after claiming there was currently too much "chaos" over Brexit.

The First Minister, who was asked when she was going to "have the guts" to make an announcement on indyref2, said she would first have to let the dust settle on Theresa May's Brexit deal.

She confirmed her MPs would vote against the deal and said she would be in London this week to seek an alliance with Jeremy Corbyn and others opposed to the Prime Minister's plan, in the hope that they could "coalesce" around an alternative to the withdrawal agreement.

She claimed there were two possible ways forward that would mean either remaining in the single market and customs union, or another referendum on the EU.

Ms Sturgeon previously said she would make a statement on the timing of a second independence referendum after she had seen the Brexit deal.

But she told the BBC's Andrew Marr show that it would be appropriate to wait and see what the House of Commons did with the withdrawal agreement.

She added: "I think it is reasonable to allow the dust to settle. We could be facing another general election, we could be facing another Brexit vote, but one thing is beyond any doubt, the implications, the consequences of Scotland not being independent have been very stark in the last few months, and particularly in the last week. Scotland's interests have been sidelined, our parliament has been ignored."

Asked when she was "going to have the guts to say we are going to have another independence referendum", Ms Sturgeon replied: "That will be in the not too distant future, but we have chaos reigning at Westminster just now."

David Mundell, the Scottish Secretary, described her approach to leaving the EU as "a row, a concocted grievance and the inevitable battle cry of independence".

He also accused her of exploiting Northern Ireland's troubles in her bid for independence after she made what he called "crass" demands for Scotland to be "equated with Northern Ireland" in its relationship with the EU.

He said her comments on the "backstop" deal, which would effectively keep Northern Ireland in the single market in the event that outstanding issues are not resolved by a new trade deal, showed that nothing was "off limits" for her.

Mr Mundell said the arrangements were specific to Northern Ireland in order to prevent a hard border with the Republic and avoid a customs border in the Irish Sea, and were also required to protect a peace process that was still fragile after decades of bloodshed.

Writing in The Mail on Sunday, he added: "Her attempt to draw false parallels and use the Province's troubled history to further her cause of independence is at best insensitive and at worst disgraceful."

He admitted to having some reservations about Mrs May's deal but said a "no deal" outcome would seriously damage Scotland's economy, adding: "I'm backing the Prime Minister. Like her, I'm sticking at it."

Ms Sturgeon said she "absolutely supported" whatever arrangements it took to preserve peace in Northern Ireland, but the backstop would put Scotland at a competitive disadvantage with the Province.

She added: "Those who don't think the Prime Minster's deal is the right way to go, have now a responsibility to come together and coalesce around an alternative and I am happy to play my part in that and I will seek to have discussions this week with other parties to get us into that position."
Scottish nationalists trying to push back against Brexit is not surprising, of course. In the 2016 referendum, Scotland was one of the regions that voted in favor of remaining in the European Union and, with more than 62% of Scottish voters voting for "Remain," the region with the strongest level of support of any of the United Kingdom's major regions. Only Northern Ireland, where more than 55% of the voters voted in favor of Remain, and the Greater London area, where support for Remain was at nearly 60%, came close to the level of support for the European Union that Scottish voters displayed. (Source) Indeed, there was no region of the U.K. where support for 'Leave' received as high a percentage of the vote as 'Remain' did in Scotland. In the wake of the vote, Sturgeon and her Scottish National Party, which controls 35 seats in the House of Commons, have spoken out several times against Brexit and have been among the loudest voices calling for a second Brexit referendum to approve the final deal, something that Theresa May's government continues to resist.
In addition to trying to stop Brexit, Scottish nationalists have reacted to Brexit by attempting to renew the calls for another independence referendum.
In the aftermath of the Brexit vote, Sturgeon hinted that the outcome of the referendum and the United Kingdom's withdrawal from the European Union could lead her to call for a new independence referendum. This was consistent with what Sturgeon and others in her party had been saying in advance of the vote, and was largely rooted in the fact that skepticism about the advantages of membership in the E.U. never had the kind of support that it did in England and Wales. In the intervening time, though, she and her party have largely backed away from such talk as the Brexit process has moved forward. In part that was because the path toward Brexit was not entirely clear for a significant amount of time after the 2016 vote. This softer tone was also due to the fact that Sturgeon's party did suffer setbacks in last year's snap election, losing some 30+ seats largely to Labour. While this was to be anticipated after the massive success the party had in the 2015 General Election, largely at the expense of Labour, it nonetheless reduced the SNP's power in Parliament. After it became clear that the government in London under Theresa May was committed to a "hard Brexit" that includes leaving the single market that existed prior to the E.U. itself, though, it appears that Sturgeon began to resurrect the idea of another independence vote, and she appears to be doing so again.
Leaving this rhetoric aside, it's not at all clear that there would ever actually be a second independence referendum regardless of the fate of Brexit itself. First, any such referendum would have to be authorized by Parliament and May has taken the same position David Cameron did both before and after the Brexit vote. Specifically, that position is that the issue of Scottish independence was closed with the outcome of the last referendum in 2014. Any second referendum would have to be approved by Parliament in order for it to have any legal force and effect and seems clear that such consent will not be forthcoming as long as the Conservatives remain in power, which will be the case until 2022 at the latest unless May's government collapses or she calls for another snap election. Additionally, the Labour Party also opposes another Scottish independence vote, making it even less likely that Parliament would make any moves to authorize a second vote or that it would be approved if they did.
Moreover, even if there were a second independence vote in Scotland, there's no guarantee that the outcome Even if there was a second independence referendum in Scotland, there's no guarantee that the outcome would be any different than the outcome in September 2014. Last year, polls of Scottish voters showed that the idea of remaining in the United Kingdom was supported by a somewhat larger percentage than had voted in favor of remaining in the U.K. four years ago notwithstanding the fact that staying in the United Kingdom means leaving the European Union at some point in the next twelve to eighteen months. While that may not be the case once Brexit becomes reality, that's not something we can predict at this point. For now, though, it seems likely that another Scottish independence vote would lead to the same outcome we saw when Sturgeon and her party tried that tactic the last time.
Finally, as was the case in 2014 when Scotland's future hung in the balance. there is no guarantee that the European Union would accept Scottish membership, at least not initially. If it did become independent of the rest of the United Kingdom, Scotland would quickly become a much poorer nation with a smaller tax base and a large welfare state that it could no longer depend on the rest of Great Britain to help pay for. This would place it among the poorer of the members of the E.U. and could arguably constitute the kind of risk for E.U. membership that other members would rather avoid at this time, especially with the other crises occupying the E.U.'s attention. Without E.U. membership, Scotland would quickly find itself in quite the bind and quickly forced to make a choice between continuing its welfare state and adjusting to life on its own in a sustainable fashion. Sturgeon is no doubt aware of all of this, and aware of the risk she's taking in backing independence at this rather precarious time. More likely than not, the call for another vote is a bid to get a larger voice in the Brexit process for Scotland, but if she isn't careful, she could end up shooting herself, and the region of the U.K. that she leads, in the foot.
Taking all this into account, it's hard to see exactly what Sturgeon and the SNP, by themselves, can do to either change the terms of debate about Brexit or put sufficient pressure on the government in London to allow something akin to  a second Brexit vote. With only thirty seats in the House of Commons, for example, she lacks the kind of political influence that could be used to block a Brexit vote or to assist the anti-Brexit forces in either the Conservative or Labour parties, both of which seem to be largely disorganized and lacking in real leadership. Even if they were organized, though, it's not clear that they'd be willing to pay the price that the SNP would likely ask for support. So, while one can wish Sturgeon and the Scots good luck in their efforts to save the Brexiteers from the consequences of their seemingly foolish decision, the odds that they'll succeed seem low.