The Fine Line Between Nationalism and Racism
Andrew Sullivan wonders, "Will there always be an England?"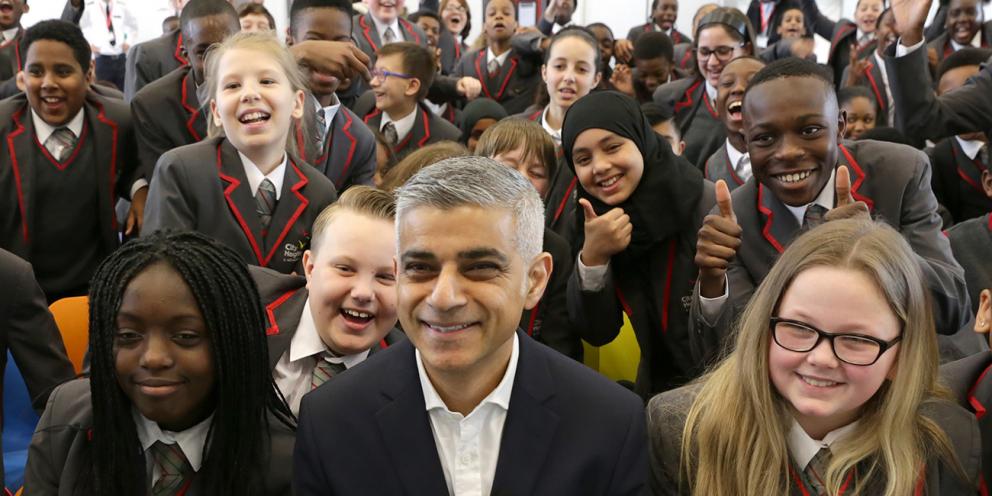 Andrew Sullivan is getting some pushback for a New York Magazine essay titled "Will There Always Be an England?" The controversy stems from this bit in the setup:
The minute you start chatting with anyone about the state of the country, you can almost feel the toxicity and tension, and the tenacious tribalism rending the country apart. Westminster feels like Washington, the way it did when Reagan and Thatcher were ascendant in the 1980s, or when Clinton and Blair entrenched the legacy of their conservative predecessors in the 1990s. This time, they are defined not by a new common direction but by a shared unraveling.

And if you hang around, you can begin to realize why. If my hometown feels remarkably similar, London is close to unrecognizable from the city I knew as a teen. Its skyline has a touch of Dubai to it, the wealth is tangible, even obscene, the prices absurd, the energy young and incredibly diverse. "It's not our capital any more, is it?" my brother asks, as if seeking confirmation from me. I can see what he means, by virtue of not being there continuously as change accumulated and transformed. In a little less than a week in London, I have yet to buy anything from someone English. Everywhere I hear foreign accents or one of the more than 300 languages London now incorporates. Thirty-seven percent of the capital's population is foreign-born — the same as New York City — and that share is predicted to be 50 percent by 2031. But New York has always been a thriving immigrant city; newcomers have always defined the place, and it's just one of several vast metropoles in America. But London is the overwhelmingly dominant city in the U.K., and has never previously been a city of immigrants in the English psyche. London, in fact, is synonymous with the essence of England, and has been a national center since the Roman era. The counties surrounding it are called the Home Counties, because London has always been home.
The best pushback against this are those noting that London has been a multi-ethnic city for a very long time. TNR's Jeet Heer has the best of those takes:
Andrew Sullivan:" London…has never previously been a city of immigrants in the English psyche."
Daniel Defoe in 1703: What the hell are you talking about, Sully? pic.twitter.com/wJc3ucQhDf

— Jeet Heer (@HeerJeet) April 27, 2018
The most amusing responses note that Sully is himself an immigrant, having become an American citizen. The Atlantic's Julia Ioffe is among them:
If only Andrew Sullivan, native and pure Englishman, hadn't emigrated and ceded his place to foreigners.

— Julia Ioffe (@juliaioffe) April 27, 2018
Duncan Black, better known by his nom de blog Atrios, is more caustic:
is this where I point out that Andrew Sullivan is a clear reminder of the dangers of unfettered immigration? https://t.co/jOfc6bSI64

— Atrios (@Atrios) April 27, 2018
There are also many simply pushing back at the notion that diversity has significant downsides. Bloomberg View's Noah Smith is an exemplar:
1/Here is an essay by Andrew Sullivan on immigration and diversity that deserves a response: https://t.co/oxcj2ET0cQ

Here is the money quote: pic.twitter.com/f6bLoRpLAE

— Noah Smith (@Noahpinion) April 28, 2018
Many, though, are calling Sullivan out for straight-out racism.
Splinter's Libby Watson is at least subtle about it:
andrew sullivan, new UKIP leader https://t.co/w5kaZ68NQx

— libby watson (@libbycwatson) April 27, 2018
Most harshly, technology journalist Kelsey Atherton:
Weird that Andrew Sullivan's editors keep giving him 2300 words when he clearly only wants 14.

— Kelsey D. Atherton (@AthertonKD) April 27, 2018
This is, of course, a reference white supremacist David Lane's 14 Words, "We must secure the existence of our people and a future for white children."
While Sully brings some of this on himself, I don't see this as a fair reading of his essay. It's true that, as a young man running The New Republic, he published large excerpts from Charles Murray's controversial book The Bell Curve and continues to defend that decision. Indeed, he continues to double down on the race-IQ link, seemingly reveling in the inevitable attacks that come from that. (As William Saletan notes in a recent Slate essay, there's just no useful way to have that conversation: "Don't imagine that if you posit an association between race and some trait, you can add enough caveats to erase the impression that people can be judged by their color. The association, not the caveats, is what people will remember.")
Regardless, Sullivan's argument here is far more subtle than "immigrants are ruining London." Indeed, he clearly doesn't think that at all.
I love the new London, but then I would, wouldn't I? I'm an American now, and became one in part because I fell in love with its racial and cultural diversity.
No, it's the rubes who don't like like it:
But most people, not gifted with a great education and lucky breaks, are not able to hop and skip between capital cities, finding each metropolis increasingly and pleasantly like the other. They're in suburbs and small towns, or in the rust-belt north, whence Orwell's patriotic (emphatically not nationalist) socialism sprang. And they're anxious — in a way that the young are not anxious. For the under-40s, economic insecurity, college debt, and inability to own a home drive the angst. For the over-40s, it's a sense that the England they identified with, that gave their lives meaning and pride — the England that was nearly destroyed in the "finest hour" of 1940 — this "sceptered isle," is disappearing.

That's the reason for Brexit. Period. In my view, it is an insane decision and it's becoming ever-clearer what the nature of that madness is. The current debate is whether the U.K. will remain in a single market, a customs union, or a customs partnership. If you ask anyone the difference between the three, the brows furrow as the eyes glaze over. The Tories argue for Brexit, bizarrely, as a tool for freer trade, in true English fashion. But it is withdrawal from the biggest free-trade area in the world! Many of the regulations and standards imposed Europe-wide will have to be retained, but under British law, not European — because the economies are so intertwined. The more you investigate what Brexit actually, practically means, it turns out to be an attempt to keep everything the same but somehow change it completely. It's a policy that makes no sense, is being negotiated by a prime minister who voted to remain in the E.U., is being debated by a Parliament overwhelmingly pro-staying, in deference to a referendum that was a blizzard of disinformation and ignorance. I truly don't believe if you asked the average Brit what the E.U. is, they'd be able to give you a coherent answer.
He goes on to show some polling data in both the UK and US that demonstrates this unease and then pivots to this:
Ta-Nehisi Coates has called these people witting enablers of white supremacy because they voted for Trump, conjuring up images of men in white hoods lynching and murdering African-Americans. But many of them voted for Obama twice. Clinton called half of Trump voters "a basketful of deplorables." But a majority of white women voted for Trump. The left intelligentsia regards them as bigots, racists, xenophobes, and even "privileged" — attitudes and statements that are re-broadcast every hour of every day to the white and culturally anxious viewers of Fox News. What few on the left seem to see is that cultural anxiety, given the ethnic and cultural transformation of the last few decades, is an entirely predictable and entirely understandable response. If people felt that someone in charge actually saw their point of view, sympathized with it, and attempted even minor changes to accommodate it, we would have a different politics. But all they had was Trump. And all they still have is Trump.

If that is true in immigrant-created, multiracial, multicultural America, a vast and churning continent, always restless, always changing, it is triply true in the little, overcrowded, once remarkably homogeneous island that is Britain. This country's core identity is thousands of years old. Yes, it has long accepted immigrants, but until the 1950s, net immigration was a rounding error. Since then, it has exploded. In the last 20 years, it has reached American levels. For those whose self-understanding is wrapped up in bluebells and tea, in English accents divided solely by class and region, in a nearly all-white and all-English country for centuries, these times are culturally terrifying.

It wasn't their economic insecurity that gave us Brexit. It was that no one in charge even sensed their unease. Elites — and I count myself among the guilty — gave them nothing by way of reassurance or even a sense that they were understood instead of reviled. So all they had was Brexit. It wasn't a rational decision; it was their only way to have their voices heard. Their pride and self-identity are bound up in it now, just as a critical slice of America's is bound up in Trump. Which is why, despite the mounting evidence that the Brexit gambit is a disaster, they will never let it go.

Home is indeed where one starts from. Change it too rapidly and it will disintegrate. We have been fools on mass immigration, we have been fools for preventing an honest debate about the benefits and drawbacks of diversity, and we have been contemptible in our contempt for so many of our fellow citizens. Both countries are now paying a terrible, terrible price.
Jeet Heer's tweetstorm, linked above, correctly notes that these attitudes are minority viewpoints on both sides of the Pond. But that doesn't mean they're not a powerful political force. Rather clearly, ethnonationalism is on the rise in both the United States and Western Europe and we're seeing impacts at the ballot box, most notably with the Brexit vote the election of Donald Trump—both of which represented minority viewpoints in the countries writ large but generated outsized enthusiasm.
Matt Yglesias, who appeared on the same masthead as Sullivan when they blogged at The Atlantic,  notes that Sullivan was once an advocate for a different position:
This 1999 Andrew Sullivan ode to the UK's multi-ethnic then-present is a good rebuttal to Andrew Sullivan's 2018 nostalgia for the UK's mono-ethnic fake-past. https://t.co/kno04PgIW8

— Matthew Yglesias (@mattyglesias) April 28, 2018
But I don't see a change here. In 1999 as now, Sullivan's perspective is classically conservative: a desire that change come incrementally rather than drastically. In 1999, he both lamented the loss of the quaintness of English village life, which he saw being homogenized into an American-style suburbia, and yet understood the desperate need for change:
This wasn't quite the script I had imagined when I left in 1984. Every immigrant to America likes to think of his home country as a repository of the old and the quaint, of unchanging stability and backward thinking. It is the vanity of immigration, and in a deeper sense, the vanity of America itself. So it is somewhat of an adjustment to find the suburban England I had once seen as a rickety edifice of nostalgia, class and passivity become the kind of striving, anonymous exurb I once associated with America, and to feel the still-raw unease that such a transformation has clearly brought about.
By transformation, I don't mean merely the shift that has occurred everywhere the global economy has been allowed to do its work unchecked. And I don't mean the changes that happen with every hometown between remembered adolescence and adulthood. I mean something a little deeper, something alien to the American experience, which is why perhaps it has gone largely unnoticed in this country. I mean the loss of national identity itself, the unraveling of a sense of nationhood and settled way of life that was once almost definitional of the stolid British. For in a way perhaps invisible to outsiders and too gradual for insiders to fully acknowledge, the combined forces of globalization, political reform and the end of the cold war have swept through Britain in the last two decades with a force unequaled in any other country in the Western world.

As the century ends, it is possible, I think, to talk about the abolition of Britain without the risk of hyperbole. The United Kingdom's cultural and social identity has been altered beyond any recent prediction. Its very geographical boundaries are being redrawn. Its basic Constitution is being gutted and reconceived. Its monarchy has been reinvented. Half its Parliament is under the ax. Its voting system is about to be altered. Its currency may well soon be abandoned. And its role in the world at large is in radical flux. The implications for Britain's closest ally, the United States, are far from trifling.

Some of this change was organic and inevitable. But much of it is also the legacy of three remarkable Prime Ministers, who have successively managed in very different ways and with very different styles to revolutionize Britain's economy, society and Constitution — in a way that promises to free the people of the island from the past that long threatened to strangle them.
That Andrew Sullivan was at the tail end of his youth, lamenting that so much of it had been lost. Its title, "Farewell Britannia; There Will Always Be an England," very much parallels that of the piece he wrote as a man well into middle age. Looking back on one's childhood 30 years hence, a lot will have changed. Almost two decades later, the homeland of one's youth will be almost unrecognizable. That's even more the case when one remembers the past through rose-colored glasses.
Sullivan is a member of the elite; indeed, the elite of the elite. He's extremely talented and went to all the right schools. He was editing one of the premier opinion magazines in his 20s and has been a global figure for decades. He's spent most of his life in those circles and in global cities, which are fine places indeed to live—especially if you're rich and famous.
But the forces of globalization that Sullivan understands work to his benefit, even as he looks back wistfully at what has been lost, scare the living hell out of people our age who have been less fortunate. They mostly see the downsides of manufacturing jobs moving overseas, immigrants from diverse cultures changing the face of their community, and just change in general. One can understand the Eff You impulse behind Brexit and Trump, even while shaking one's head at the destructiveness that results.
Still, the line between those fears and racism is not always obvious. Where does pride in national identity and a desire to preserve one's culture end and prejudice begin?
It's not unreasonable to think of "England" or "America" in terms of their dominant cultures, which have been white, Christian, and English-speaking even while recognizing that both have long been immigration-friendly and benefitting from the resulting diversity. If the question "Will there always be an England?" means something other than "Will the island of Great Britain continue to exist?" it's because "England" has a social meaning, tied to language, ethnic heritage, traditions, and the like. Would an England that's not predominantly English-speaking still be "England"? One that's not predominately Anglo-Saxon? Probably not—at least, not if it happened overnight.
We've long defined "America" mostly in political terms. So, the fact that,  presuming I make it to median life expectancy, I'll see a United States where whites are no longer a majority won't mean an end "America." Even if we officially recognize Spanish as a second language, we'd still be "America." Partly, though, it's because of the pace of these changes. While they may seem fast to middle-aged white men looking back wistfully at our youth, they've been gradual.