Obama To Bar Discrimination Against Gays By Federal Contractors, With No Religious Exemption
Later today, President Obama will sign an Executive Order barring Federal Contractors from discrimination based on sexual orientation. But that's not even the most controversial part for some conservatives.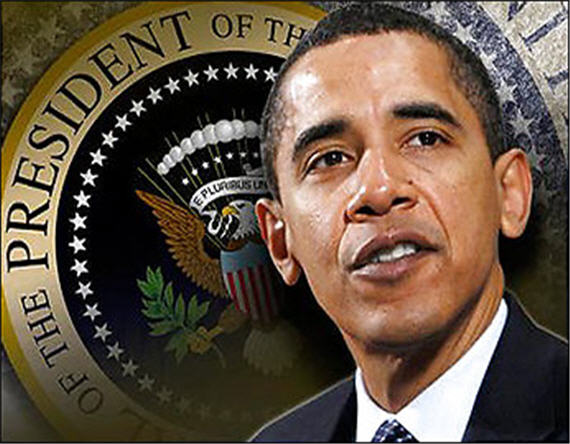 Later this morning, President Obama will sign an Executive Order barring companies doing business with the Federal Government from discriminating on the bases of sexual orientation in employment:
WASHINGTON — President Obama plans to sign an executive order on Monday that protects gay, lesbian, bisexual and transgender employees from discrimination by companies that do federal government work, fulfilling a promise to a crucial Democratic constituency, White House officials said on Friday. But the directive will not exempt religious groups, as many of them had sought.

The order will also, for the first time, explicitly protect federal employees from discrimination on the basis of gender identity, officials said. Federal workers are already protected based on their sexual orientation.

Gay groups stepped up their already intense campaign to persuade Mr. Obama to sign the order after the Supreme Court's decision last month in the Burwell v. Hobby Lobby Stores case. In that ruling, the court said that family-run corporations with religious objections could be exempted from providing employees with insurance coverage for contraception, and there were fears that the case would have repercussions for gay men, lesbians, bisexuals and transgender people.

"With the strokes of a pen, the president will have a very real and immediate impact on the lives of millions of L.G.B.T. people across the country," Chad Griffin, the president of the Human Rights Campaign, said in a statement on Friday. "These actions from the president have the potential to be a keystone in the arch of his administration's progress, and they send a powerful message to future administrations and to Congress that anti-L.G.B.T. discrimination must not be tolerated."

Religious groups had sought the exemption to ensure that they would not lose federal money or contracts if they could not meet the new guidelines because of their beliefs.

Galen Carey, the vice president of government relations for the National Association of Evangelicals, said he expected the president's executive order would lead to a lengthy and expensive legal fight.

"It would be better if the president could provide leadership that promotes tolerance all the way around," Mr. Carey said, "rather than use the force of the state."

He said the exemption would have protected the groups' freedom and "social harmony as our nation is working through these issues, on which there's a lot of disagreement."

(…)

The issue of how to treat religious groups under any new order was a divisive one — among gays, lesbians, bisexuals, transgender people and religious leaders.

Some gay rights groups were angry that the Obama administration had accepted the inclusion of a religious exemption in anti-bias legislation that passed the Senate — but not the House — last fall, but others saw it as the political price of securing the Republican votes necessary to enact it.

Religious groups that have contracts with the federal government already have a limited exemption from existing anti-bias rules, based on a 2002 executive order by President George W. Bush. That directive allows them to factor their religious beliefs in their employment decisions.

The directive will not change under the new rule. Michael Wear, who led the religious outreach during Mr. Obama's re-election campaign and had joined calls for a religious exemption, said he was "encouraged" by that move.

Mr. Wear said the new order provided "a path for the administration to both advance protections for L.G.B.T. Americans and continue to respect the religious identity of organizations serving our nation in partnership with the federal government."

But some groups wanted Mr. Obama to go further to protect religious groups in carving out an exception. One example of such protections would allow a Catholic charity that believes sex outside heterosexual marriage is a sin to keep its government financing if it declined to hire a gay man.
There's no real question that the President has the legal authority to make these changes. Federal law relating to government contractors gives the Executive Branch broad authority to craft the rules by which the government will operate when it decides who it is going to deal with when contracting to purchase goods and services, including setting the terms by which these employers operate vis a vis their employees. In the past, this authority has been used to ban discrimination based on race and other facts and to mandate that employers abide by a minimum wage in paying their employees. Republicans may argue otherwise, but as a preliminary matter there is no real argument that the President does not have the legal authority to set these regulations. If they disagree with what he's done, than the alternative open to them is to change the law to repeal the regulations, or reign in the Presidents authority to set these kinds of conditions for Federal Contractors.
As for the policy itself, as I've noted before — here and here — there are good arguments both for and against extending employment discrimination laws to cover gays and lesbians. Arguing in favor of such law is the fact that non-discrimination laws have become enshrined in our legal system over the past fifty years to such a great degree that its essentially impossible that they will ever be repealed. Conceding that point, the question then becomes one of whether to extend the protections provided by those laws to other groups, something that Andrew Sullivan has made a strong argument for. On the other side of the argument there's the argument that, at some point, we have to consider just how far we are going to extend these laws, not the least because the further they are extended the more cumbersome they become and the more they tend to encourage litigation that often tends to be frivolous.  One's opinion on this issue will depend largely on ideology, of course. For myself, my libertarian beliefs make me sympathetic to the argument that we shouldn't extend anti-discrimination laws any more than we already have. However, the argument that not extending these laws to gays and lesbians despite clear evidence that they have experienced discrimination in the workplace doesn't seem to make much sense once you concede the point that anti-discrimination laws are, basically, here to stay.
The real political battle over these new regulations, or the Employment Non-Discrimination Act, which remains pending in Congress, isn't going to be over the question of whether or not Federal Law should ban employment discrimination based on sexual orientation. Instead, it is likely to focus on the issue of whether or not there should be exemptions from these laws based on religious beliefs. Related in some sense to the arguments that were made in the Hobby Lobby case, religious conservatives argue that employers should be exempt from non-discrimination laws if they have strong religious objections to homosexuality, much as they have argued that vendors should be exempt from similar laws if they have religious objections to same-sex marriage. In fact, it was discussions over a religious exemption for ENDA that caused several major gay rights groups to withdraw support for the bill in the wake of the Hobby Lobby decision. For that reason alone, the Administration's decision to not include a religious exemption in the upcoming Executive Order is likely to prove to be a point of controversy.
Anticipating that controversy, Rod Dreher unloads on the President:
Today, the president signaled his intention to refuse. And so Christian and other religious groups that receive federal money to do things like feed the poor will have to decide between Christ and Caesar. The march to progress continues. Traditional religious believers are pushed ever more fully out of the public square. Your president, speaking on behalf of your government, thinks you are too tainted by bigotry to be trusted with government contracts.

I've been telling y'all for years now that the advance of gay rights will come at the expense of religious liberty. This is a prime example. Note that the pro-Obama religious leaders weren't asking Obama not to issue the executive order banning discrimination against gays in federal contracting; they were only asking for tolerance for religious organizations that serve the public good, but cannot for reasons of religious principle obey the new dictate. There will be no toleration. Error has no rights.
As a start, of course, Dreher engages in some extreme question begging here, because one has to wonder exactly how refusing to hire someone solely because they are gay, lesbian, or transgendered, or discriminating against them in salary or work conditions based on those facts, has suddenly become "religious liberty." In some circumstances, such as a purely religious organization that is hiring someone for a job that is largely religious in nature, there is obviously an argument that religious employers should be free to hire and fire based on their religious beliefs. However, there is already an exemption for these types of employees under general anti-discrimination laws and that exemption was affirmed by a unanimous Supreme Court in a decision handed down two years ago. That exemption would apply to religious organizations that contract with the Federal Government even under these new regulations in all likelihood, so any concerns in that regard are entirely exaggerated. As for the broader issue, what people like Dreher seem to be arguing is that employers with strongly held religious beliefs should be able to discriminate based on sexual orientation notwithstanding a generally applicable law such as the regulations discussed here. If that's the case, though, then does that mean that an employer who claims to have a religious objection to women working outside the home should be able to refuse to hire married women, or that someone who claims to have a religious objection to racial equality should be able to refuse to hire blacks? Where, exactly, should the line on what a valid "religious belief" is be drawn, and who gets to draw it? The fact that it would be virtually impossible to draw such a line suggests strongly that the idea of a religious exemption to laws against employment discrimination, outside of the exemption for purely religious organizations noted above, is utterly absurd. Dreher and those who support this idea aren't asking for the protection of religious liberty, they are asking for a special exemption for people who don't like gays and lesbians from a law that would otherwise apply to everyone else. That's a privilege, not a right.
Even without an exemption, it is likely that someone will try to challenge these regulations under the same provisions of the Religious Freedom Restoration Act that were relied upon in the Hobby Lobby case; however, the fact that they will make the argument doesn't mean that it has much legal merit. As I noted in my initial post on the decision in that case, the Court dealt tangentially with the possibility of a religious-based challenge to non-discrimination laws in responding to Justice Ginsburg vigorous dissent when it said:
The principal dissent raises the possibility that discrimination in hiring, for example on the basis of race, might be cloaked as religious practice to escape legal sanction. See post, at 32-33. Our decision today provides no such shield. The Government has a compelling interest in providing an equal opportunity to participate in the workforce without regard to race, and prohibitions on racial discrimination are precisely tailored to achieve that critical goal.
Obviously, this part of the Court's opinion is not binding law because these issues were not before the Justices in the Hobby Lobby case. However, as I noted at the time, it does suggest that there is a limit to how far the majority sees the rights that the RFRA in general, and Hobby Lobby in particular, extending. At the core of the RFRA analysis in the opinion is a balancing test between the religious rights asserted by the Plaintiffs in the case and the interest being asserted by the government. In the particular cases before the Court, the majority found that the government had not used the least restrictive means to achieve its goal of broadening access to contraceptives. Accordingly, pursuant to the RFRA, the regulation could not be applied against these employers. As the Court notes in the text quoted above, the government has a compelling interest in promoting equal opportunity in the workplace, a compelling interest that has been recognized in numerous cases over the past five decades. Given that, it seems highly likely that an employer claiming a "religious" exemption to laws against employment discrimination under the RFRA would have a far more difficult argument to make than the Green family did in Hobby Lobby. In fact, I'd be willing to guess that such a case would be likely to fail on the merits.
On a broader point, this entire idea that there should be a religious exemption to generally applicable employment discrimination laws strikes me as the entire problem with the RFRA to begin with. As I said when I wrote about that issue earlier this month, though, it's unlikely that we're going to see that law repealed any time soon.