Obama's Top Economist Opposes Biden Debt Relief Plan
An unlikely source argues that it's too big and poorly targeted.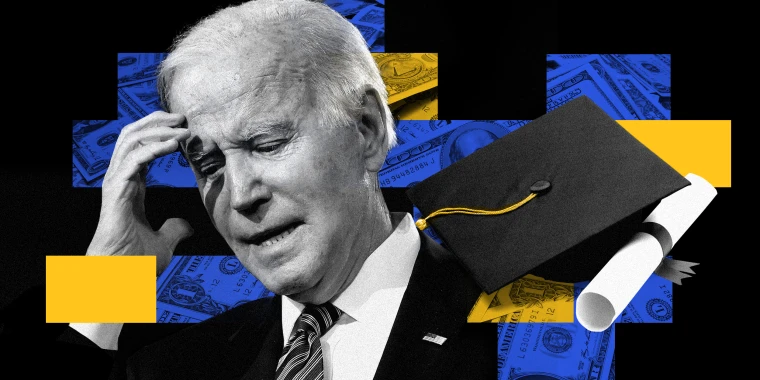 Harvard Kennedy School professor Jason Furman "served eight years as a top economic adviser to President Obama, including serving as the 28th Chairman of the Council of Economic Advisers from August 2013 to January 2017, acting as both President Obama's chief economist and a member of the cabinet." Yet, in an interview with The Atlantic's Annie Lowrie, argues against President Biden's order wiping out massive amounts of student loan debt.
Annie Lowrey: Joe Biden has just erased the student-loan debt of roughly 20 million people, and decreased monthly payments by an average of $250 for borrowers who will still have a balance on their loans. You've criticized the move, but can you give me your best case for it?

Jason Furman: The college-financing system has a lot of problems. We need to make a lot of reforms to it. Could I see a case for some form of debt relief for lower-income people? Maybe, but with a much lower income limit than the Biden administration has chosen.
Which is pretty much where I am. While I'm skeptical about this particular plan, I think there's actually a strong argument for more targeted relief.
Lowrey: With that, let's hear the case against it.

Furman: With any public policy, you need to analyze the trade-offs. You can't just say, "This person gets this, and therefore it's good." It's always better for someone to get something rather than nothing. But that's not how it works.

If you're giving $500 billion to one group, where's that money coming from? One possibility is that the economy grows much more quickly, and so spending that money doesn't hurt anyone. I think that's extremely unlikely, given the highly constrained state we are in. And so I think most of that $500 billion that one group is getting is coming at the expense of everyone else.

That doesn't make it a bad idea. If we were covering a Medicaid-coverage gap, I'd say, "You know what? If everyone has to pay $50 more and poor people get health insurance and the inflation rate is a tenth of a percentage point higher, I'm all for that." But we're giving couples making up to $250,000, which is a lot of money, up to $40,000.
This point, by the way, gets lost in press accounts. The focus has been on the $125,000 individual limit but for married couples it's actually twice that.
Lowrey: So one concern is that this is not targeted toward people who really need help.

Furman: Then, there's the expectation that debt relief will happen again. That will lead to shifts in the college-financing system, toward loans and away from grants. It will also raise college tuition, as colleges move to capture some of this spending. Our goal should be getting more people into college. It is not obvious that Biden's plan helps with that goal. It might even hurt that goal.
He returns to this point later but it's one often ignored in the debate: since wiping out past loans doesn't solve the problem of future loans—and, indeed, likely exacerbates it—it's quite reasonable to expect that there will be pressure for future debt forgiveness, which incentivizes more bad behavior.
Finally, I'm uncomfortable with this level of presidential power. You know, President Trump was being pushed by some of his advisers to index capital-gains tax rates to inflation, and do it by executive order. He ultimately resisted. I think the indexation of capital gains is a much worse policy than this one. And it's possible the legal grounds were weaker. But he actually said, No. I'm not going to just change tax law by myself without checking with Congress. I think that's a good rule to live by, and one we've mostly had up until now.
I'm rather confident that the courts will strike this order down as unconstitutional. I'm also skeptical that Trump thought himself bound by the Constitution or, indeed, any limits.
Lowrey: This is the Biden administration forgiving debt by keystroke, without raising taxes. So how is the burden of that falling on everyone but the borrowers? Why is that problematic?

Furman: One group is getting $500 billion. And they're going to spend more. They're going to buy more housing. They're going to be better off. The problem is that the economy is already producing the most it possibly can. If anything, the Fed wants it to produce less, not more. What will happen is that they will spend more and it will drive up the price of houses and everything else. Due to that inflation, every household will end up spending $200 more a year on what they need.

There isn't free money out there. There are consequences. Once you frame it as 320 million people paying for a benefit for 30 million people, it makes you think a lot harder. You're giving a benefit to someone making $200,000 a year. How important is it to give them relief?
I'm actually rather skeptical that this amount of money—massive though it is—is going to have that much inflationary impact given the size of the overall economy. But I agree that giving debt relief to those doing pretty well in that economy makes little sense.
Lowrey: You said one of your concerns is that universities will increase tuition, with the expectation that there'll be more debt forgiveness in the future. But there's an argument that this might actually create more pressure to fix the underlying system of financing.

Furman: We don't control what universities do. They make their own choices, subject to incentives. The incentive of a diploma mill is to tell people, "Hey, you know what, it's going to cost $10,000—but don't worry, Biden's going to do it again next year."
Which indirectly gets at another point: one of the reforms that desperately needs to be made but has happened only on the margins is that the government should simply not back loans to degree mills. Indeed, to the extent possible, we should highly discourage any lending institutions for backing those loans.
Lowrey: Let's go back to the distributional consequences. Surely most people who finish college or a two-year degree set themselves on a higher-earnings trajectory. But a lot of people aren't finding themselves on an upward trajectory, given the pressure on wages in the past decade. And a lot of young people have concerns about taking on debt, given the rising cost pressures everywhere else in the economy.

Furman: I'd go back to the income limits here. If you're a 24-year-old who makes $125,000 a year, you're probably going to be okay in life. Even if what you just said was true, that's an argument for a different plan, not for this plan. Make the limit $62,500 for a single person and $125,000 for a married couple.

I do think there's evidence the college premium stopped rising. I haven't seen any evidence that it has fallen. For the median person who goes to college, they are getting an incredible return on their debt. They're borrowing $30,000. But their lifetime earnings go up $500,000. You just don't need to do something for them to get relief to people for whom debt is a problem.
Which is weird way for an economist to look at numbers. After all, the borrowed $30,000 will be a whole lot more in payments—especially if the payment gets deferred a lot in the early years before the increased earnings kick in. Which speaks to another way that I'd have preferred the problem have been addressed: we should refinance the loans to something much closer to the prime rate. And make them dischargeable in bankruptcy in at least some circumstances.
Furman counters a familiar trope here:
Lowrey: What about the Black-white wealth and income dynamics? As you know, Black students are more likely to have loans, and their loans tend to be larger. And Black students are much, much less likely to come from family wealth.

Furman: You also need to understand what this does to the wealth of the people who are ending up paying for it. They are disproportionately going to be Black, because a higher fraction of them have not attended college.
And this is fair as well:
Lowrey: Would something based on the familial wealth of a higher-ed student be better? It would be very hard to do. But you could imagine steering relief toward the kids who did not have parents who could help them with school.

Furman: I'm not sure I agree with that. If somebody at age 30 is graduating from law school and is making $125,000 a year in their first job out there—even if they originally went to college on a Pell Grant—that's someone who's in a good position to pay their debt back. I'm worried about the 20 percent of students who are in a bad position. I don't think you have to worry about the 80 percent.
Absolutely. Indeed, the Biden plan is rather bizarre in this sense: it doubles the relief of those who got Pell Grants, despite those folks having already gotten substantial relief at the outset by getting grants rather than having to borrow. And, really, the parents' income at the time they started college really has little bearing on their own ability to pay back loans after graduation.
Finally, this gets at a thing that's been bugging me about the whole conversation:
Lowrey: We haven't talked about the emotional part of this, the human-welfare part. People hate having student loans. They hate having to pay a second mortgage, even if they know it might be working out for them on paper.

Furman: People hate college debt more than they hate other types of debt. It's not 100 percent obvious to me why. We're not talking about forgiving car debt or mortgage debt. I do think shifting to a world with more grants, or an Australian-type system—where they collect the [student-loan payment] on your tax return, and if your income is too low, they just don't collect it—would be better. You barely have to think about it. That would be a really good system, and it would be great to do something like that.

I will say, of all the policy issues I've ever discussed, the level of vitriol directed against anyone who disagrees [with the debt-relief plan] is incredibly high. There is something that is so emotive for people. It has made it harder for analytic people to enter the conversation. And I think the odds of bad unintended consequences, imposed on people paying for the policy now or imposed on students in the future, have gone up a lot.
This works both ways, of course. People are much more vitriolic about student debt relief than they are about other forms of relief.
It's perfectly reasonable for those who sacrificed, whether by living less lavishly while in college to avoid running up debt or living less lavishly after graduation in order to pay off their loans and avoid racking up additional interest, to resent being forced to bail out their peers who didn't. But there's more going on than just that.
Part of it's classist, with resentment of those who went to college—and particularly those who studied something that wasn't purely vocational. Part of it's generational, with older folks like me who worked their way through college debt-free resenting having to bail out younger folks who made poor decisions—while mostly not understanding how much more expensive (in inflation-adjusted dollars) it is to go to college now.
Regardless, it's not just a partisan thing. Furman is hardly a Trumper trying to own the libs. Indeed, while Elizabeth Warren and Bernie Sanders pushed debt relief hard during the 2020 primaries, most of the other Democratic candidates opposed it. Pete Buttigieg and Amy Klobuchar were especially vocal about the fairness aspect and Biden himself was clearly concerned that those who went to public schools, like him, shouldn't be bailing out the snotty rich kids who went to the Ivies. It's interesting, then, that he came so far on the issue since.