How Much Student Loan Relief?
Now, we're just haggling over price.
During the 2020 Democratic primaries, Elizabeth Warren and Bernie Sanders championed the idea of student loan forgiveness. While Joe Biden opposed the idea at first, he gradually glommed on to it but in a smaller way. Last week, in his first town hall session since being sworn in as President, he shot down a questioner demanding that the government should write off $50,000 but championed a $10,000 amount.
Conservative friends on my Facebook feed have been circulating memes like this throughout the discussion: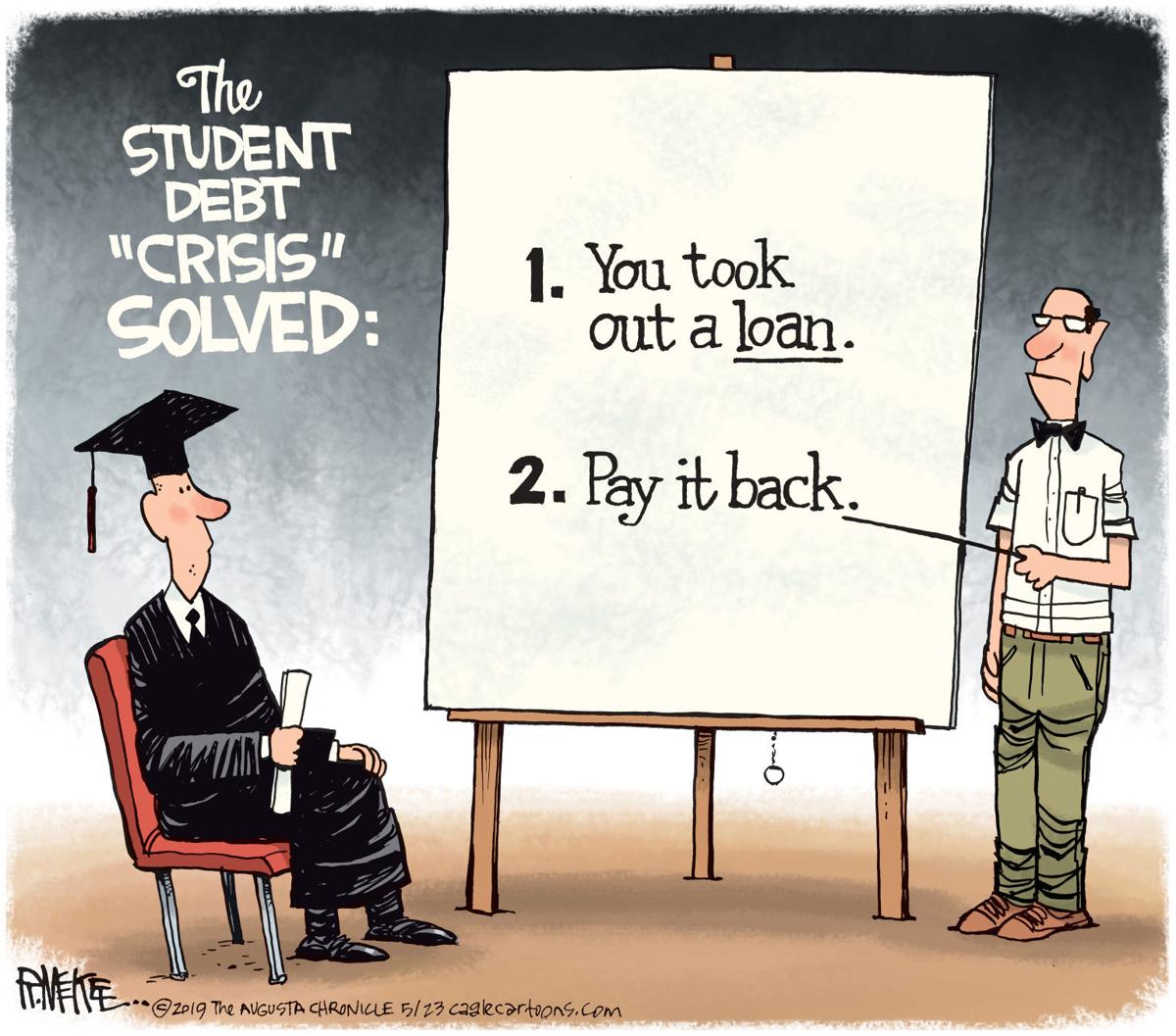 It's pretty intuitive. Especially if 1) you never went to college and resent the idea of being forced to subsidize someone else's poor choices or 2) like me (and President Biden) you went to college a long time ago when it was much easier to graduate without debt.
Less often, I see memes more along these lines: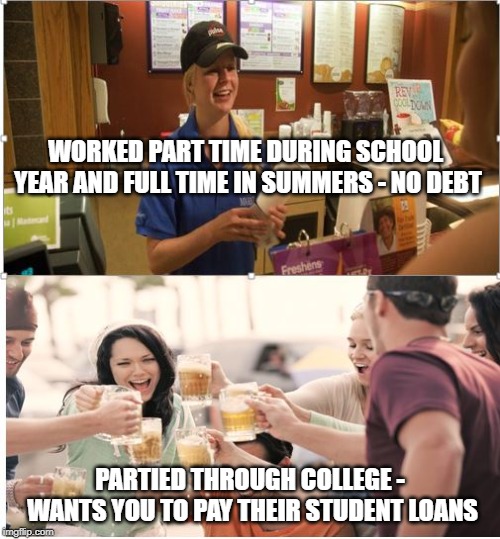 Again, it's not wholly without merit. A lot of people do in fact borrow much more than necessary to get through school so they can maintain their parents' upper-middle-class lifestyle, take beach vacations, and live the Greek lifestyle. I get why people who didn't go to college or who were frugal while in school would be resentful of bailing out those who partied for four years. Or why people like Biden, who went to the local state university, would bristle at subsidizing those who went to fancy-pants Yale.
The "you should have worked a part-time job" argument is especially appealing for those of us who finished college more than thirty years ago. Between a $100/month ROTC stipend, $150/month from Army Reserve service (not counting extra pay for summer drills, for which I always volunteered for the advanced party for an extra week's pay), and $135/month from the GI Bill, I did in fact finish not only my bachelor's but my master's debt-free. Most of my cohort who had loan debt were in fact living large during school.
But, again, it's simply not possible to do what I did these days and it hasn't been for 20 years or more. When I was at Jacksonville State, full-time undergraduate tuition was $400/semester, which is $954.68 in today's dollars. Since "full-time" was 12 hours or more, I tended to take 18-20 hours at a time so that I could finish more quickly. Today, tuition is $324.00 per credit hour. Even at 15 credits, then, it's $4860 a semester. It's literally five times as expensive now as it was then. There's also a $700 "general student fee" on top of tuition; if I paid one back in the 1980s, I don't remember it—and I would remember $293 (the inflation-adjusted equivalent).
That, combined with two of the most massive economic catastrophes since the Great Depression—the Great Recession of 2008-9 and the COVID shutdown—means that a lot of people who did nothing wrong are in way over their head. They took out huge loans to get a college degree because everyone has been told for generations that it's the only way to make a good living and yet states have quit subsidizing the cost. Meanwhile, the good-paying jobs never materialized.
Many economists therefore argue the $10,000 write-off is warranted:
Some of the economists arguing for $10,000 forgiveness warn that anything higher runs the risk of rewarding borrowers who don't need the help.

"Borrowers who have the lowest student debts are the ones who struggle the most," explains Adam Looney, an economist at the University of Utah.

More than a third of borrowers owe less than $10,000 in federal student debt, according to federal data.

Often borrowers with low debt balances went to college for a semester or a year or two, and never completed a degree. Without a degree, those borrowers often earn less money, making it harder for them to pay their student loans, and making them more likely to default. Roughly 8 million federal student loan borrowers are currently in default, and most of them owe less than $10,000.
Certainly, this is the most sympathetic group. They're likely first-generation college students who had poor prospects going in and either couldn't survive academically, couldn't make it financially even with the loans, or needed to enter the labor force full-time to meet family obligations. They're already struggling to make ends meet and yet are obligated to pay off loans for a degree they never got. (And that's to say nothing of those who fell prey to the ever-increasingly supply of for-profit degree mills.)
Those who complete their degrees, by contrast, tend to be able to pay back their loans:
Student debt is not a burden for everyone. Economist Looney points out that many borrowers who took out loans to get a bachelor's degree are able to pay down that debt. And research shows that more than a third of student debt is owed by the top 20% of income holders in the U.S.
Slate's Jordan Weissmann provides a handy-dandy chart illustrating the distribution of debt: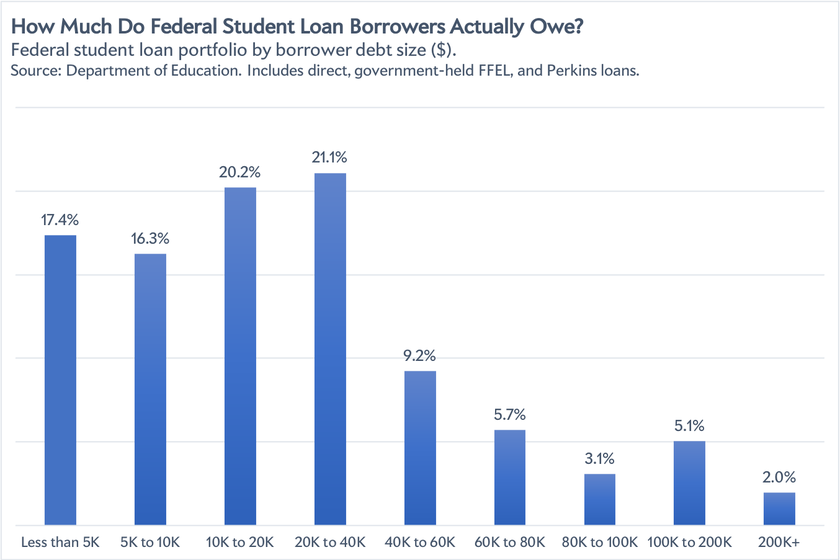 The $10,000 figure would wipe out the amount owed by more than a third of those with outstanding student loans and leave more than half of loan-holders with little-to-no debt. Further, limiting relief to the first $10,000 is
. . . decent way to target the most troubled borrowers while spending a somewhat limited amount of cash. One unintuitive wrinkle of the student debt crisis is that the ex-students who have the most difficulty paying back their loans are not, generally speaking, the ones who took out the most money. In fact, the opposite is generally true—borrowers who default tend to have some of the lowest balances, in part because a large share of them never finished their degrees. (A long-term study of students who began repaying their loans in the 2003-04 school year found that, of those who eventually defaulted on their loans over the next 12 years, 49 percent had dropped out of school.) The students who rack up the largest loan balances, meanwhile, have often earned advanced diplomas in fields like law and medicine that usually pay off fairly well, at least in the long term (obviously, being a hospital resident is not a financial picnic). Forgiving just $10,000 wouldn't be cheap, per se—my quick Excel math says you'd probably be wiping away around $375 billion of the $1.5 trillion in outstanding federal student loans2—but it would keep costs down, while relieving a lot of financial pressure. Plus it would make the whole scheme a bit more progressive, since Washington wouldn't be forgiving as much debt belonging to doctors and lawyers.
Most of the arguments for higher figure are about broader social justice issues:
Black families tend to have significantly less wealth than white families, according to the Federal Reserve, and Black households are more likely to have student debt — and more of it — than white or Latino families. They're also more likely to default on their loans, even if they've earned a bachelor's degree, thanks to discrimination in the labor market.

Proponents of the $50,000 proposal say a more generous policy would target those wealth gaps, especially among Black families. About 80% of borrowers have student debt under $50,000, according to federal data. Advocates of this proposal also argue this level of forgiveness is about racial justice — the dollar amount comes from research that found $50,000 would help grow the wealth of the highest number of Black households. (That research was later updated to reflect growing debt balances.)

"The student debt crisis is disproportionately impacting borrowers of color and communities of color, Black borrowers in particular," explains Ashley Harrington, senior policy counsel at the Center for Responsible Lending. "When we talk about cancellation, we have to start there."

Many Black and Latino families have missed out on ways to build wealth in the past — such as homeownership and job training programs — due to racist policies. Researchers who study and talk to student loan borrowers say student loan debt is a primary factor in holding them back now.
Weismann echoes that concern and argues that there's no magic in the $10,000 number:
Once you set aside concerns about the debt, though—and in these days of trillion-dollar relief packages, it seems like a lot of Democrats have—it becomes pretty difficult to come up with a principled reason for keeping the limit at $10,000, especially once you start considering all the nuances of student debt that make it such a pernicious burden for many Americans, such as how Black Americans are particularly saddled by costly graduate school loans. I mean, once you've committed to doing any forgiveness at all, there just isn't a clear philosophical dividing line between writing off 10 grand from everybody's loans versus 20 or 30.
But that strikes me as a weak argument. Of course any cap is in some way arbitrary. But $10,000 seems to be 1) politically possible, 2) relatively targeted to those who need the most relief, and 3) minimizes poor people subsidizing the rich.
The Nation's Elie Mystal, however, isn't buying it. For one thing, he correctly notes that graduates of fancy-pants Ivy League schools, like himself, tend not to have a lot of debt because those schools heavily subsidize low-income students with their generous endowments. Indeed, the list of colleges where students have the most debt is led by Philadelphia's Drexel ($72,883) and nine schools with averages in the $50,000 range.
Further, he makes a more nuanced version of the social justice argument:
Moreover, to the extent that student debt forgiveness helps the Ivy League grads Biden apparently thinks are undeserving, that help will go disproportionately to graduates of color. That's because student debt, like everything else in this country, hits Black and brown people harder. A 2016 Brookings Institute study found that Black students owe $7,400 more in debt than their white counterparts upon graduation, but that figure balloons to Black graduates owing $25,000 more debt than white graduates, tripling the gap between them, just four years after graduation.
Regardless, Weismann is right about how far the debate has come:
When you stop and consider it in the grand scheme of things, though, it's somewhat remarkable that this plan is actually considered the moderate option at the moment, given that just a few years ago mass student debt forgiveness was still considered a relatively fringe idea mostly advocated by self-identified socialists. Now the president is striking a moderate pose by talking about merely freeing a third of borrowers from their education debt entirely while the Senate majority leader is urging him to go bigger. Times have changed in the Democratic Party—just a bit less than many would like.
While I still think the moral hazard issues that Pete Buttigieg and others raised have merit, some sort of forgiveness program seems reasonable under the extraordinary circumstances outlined above. Personally, I would prefer something like the $10,000 cap but to a program that's targeted to those who actually need relief. If a younger me was coming out of Jacksonville State today with an officer's commission and set to earn $40,629.60 a year (plus thousands more in non-taxed benefits) it would be perfectly reasonable to ask him to pay back $10-20,000 in student loans over time.
Further, Mystal's argument actually points to an easier reform than simply wiping out massive numbers of loans: interest reform. For the last decade-plus, the Prime has been near zero. Most savings accounts and Treasury bills pay next to nothing. Why are we charging students usurious rates for their loans? Further, given that worthless degrees from online degree mills tend to be expensive, why shouldn't those loans be dischargeable in bankruptcy?