Diploma Mills Forced to Forgive $6 Billion in Student Loans
Phoenix, DeVry, and other scam colleges have reached a settlement.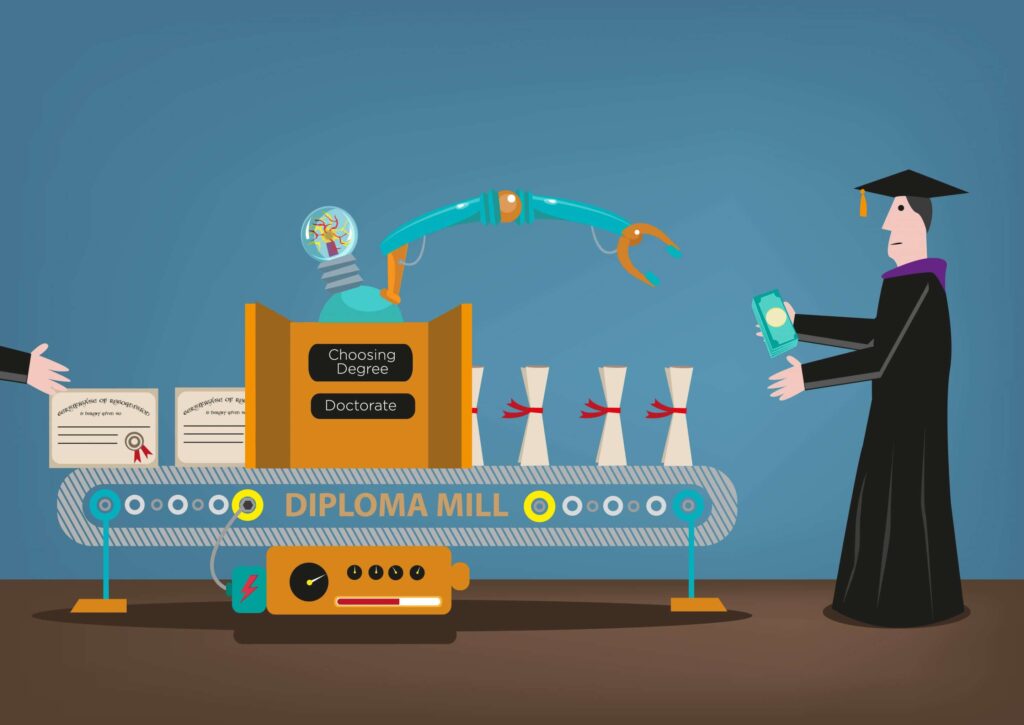 The POLITICO headline "Biden administration agrees to cancel student debt of 200K borrowers who say they were defrauded" is somewhat misleading, attributing to politics what in reality is simply an agency doing its everyday business.
The Biden administration has agreed to fully discharge the federal student loan debts of approximately 200,000 borrowers who claimed they were defrauded by their college but whose applications for relief have languished at the Education Department for years.

The agreement, which could wipe out more than $6 billion of student loan debt, was reached as part of a proposed class-action settlement filed in federal court Wednesday evening.

The proposed settlement is a possible ending chapter to a long-running lawsuit challenging the Education Department's handling of the "borrower defense" law, which entitles federal loan borrowers to debt relief when their college misleads them or otherwise defrauds them.

The class-action lawsuit accused the Trump administration — and then the Biden administration — of illegally delaying for years any action on the applications that borrowers had filed with the Education Department seeking debt relief.

Under the proposed agreement, which still needs to be approved by a judge, the Biden administration would forgive the student loan debts of hundreds of thousands of borrowers who have already filed a claim against one of 50 colleges, most of them for-profit institutions. Those borrowers would also receive a refund of payments they already made under the agreement.

Approximately 74,000 of the borrowers are those whose claims had been denied in the final years of the Trump administration. Those large-scale denials scuttled an earlier settlement in the case after a judge in 2020 blasted the decisions as being without sufficient explanation and "disturbingly Kafkaesque." The Biden administration has now agreed to rescind those decisions, according to the proposed settlement.

Eileen Connor, director of Harvard Law School's Project on Predatory Student Lending, which brought the lawsuit, called the proposed settlement a "momentous" agreement that "will deliver answers and certainty to borrowers who have fought long and hard for a fair resolution of their borrower defense claims after being cheated by their schools and ignored or even rejected by their government."
It's true that the administration was a party to the lawsuit but that's simply how these things work; we sue officials, not agencies.
Forbes ("Education Department Cancels $6 Billion Of Student Loans For 200,000 Borrowers") gets the headline right and adds:
The announcement comes at a critical juncture as President Joe Biden considers wide-scale student loan forgiveness for millions of student loan borrowers. The original class-action lawsuit included 264,000 student loan borrowers who attended more than 150 colleges and universities such as the University of Phoenix and DeVry.
While I have strong misgivings about wiping out the loans of students who went to traditional colleges and universities, I very much support this move. The Federal government should never have backed loans to these degree mills, which notoriously make it hard to get the final credits necessary for degree completion in order to continue milking students for more money and whose degrees lack regional accreditation and are therefore useless for most purposes.
The Forbes piece also notes,
Before this major announcement on student loan forgiveness, Biden canceled $25 billion of student loans. This amount included $7.9 billion of student loan cancellation for 690,000 borrowers under borrower defense to student loan repayment and school closures. Earlier this month, the Biden administration canceled $5.8 billion of student loans for 560,000 student loan borrowers. Borrower defense to repayment is an Obama-era rule that allows student loan borrowers to get student loan cancellation if their school closes or if they were misled by their college or university. Borrower defense to repayment has been featured prominently in lawsuits regarding for-profit schools.

"Since day one, the Biden-Harris Administration has worked to address longstanding issues relating to the borrower defense process," Cardona said. "We are pleased to have worked with plaintiffs to reach an agreement that will deliver billions of dollars of automatic relief to approximately 200,000 borrowers and that we believe will resolve plaintiffs' claims in a manner that is fair and equitable for all parties."
These are in fact administration policy decisions rather than normal business at the Education Department. I don't know enough about this program to have a strong opinion but, again, if the students were in fact defrauded they should get their money back. But, as with the Phoenix and DeVry cases, the government should go after the fraudsters for the money rather than having the taxpayer simply eat the loss.