Biden Student Loan Forgiveness in Danger
The Supreme Court's conservative majority is signaling an unfavorable ruling.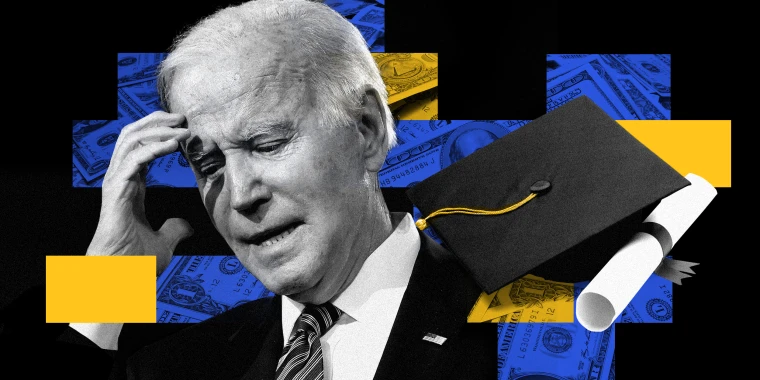 Reading ideological analyses of legal cases can be amusing, showing radically different interpretations of the questions with very little meeting in the middle. Such is the case with Vox's Ian Millhiser and Volokh Conspiracy's Ilya Somin as they look at yesterday's oral arguments before the Supreme Court on President Biden's backdoor waiver of student loan debt.
Millhiser ("You probably won't get any student loan relief, thanks to a GOP-controlled Supreme Court"):
On Tuesday, the Supreme Court heard oral arguments in two cases, Biden v. Nebraska and Department of Education v. Brown, that ask the Court to strike down the student loan relief program. That program would provide $10,000 in relief to most borrowers who earned less than $125,000 a year during the pandemic, and $20,000 in relief to borrowers who received Pell Grants.

The Brown case is laughably weak, and no justice appeared to believe that federal courts have jurisdiction to hear this case. But the Supreme Court only to needs to assert jurisdiction over one of these two cases to kill the loan relief program, and the Court appeared likely to split along party lines in the Nebraska case. Though there is an off chance that Justice Brett Kavanaugh or Amy Coney Barrett might break from their fellow Republican appointees, all six of the GOP-appointed justices appeared inclined to kill the program.

And even if the Biden administration did convince Kavanaugh or Barrett to vote in their favor, that would not be enough. The administration would need both of their votes to prevail.
Here, Millhiser is commenting on the standing issue: whether the states in question have a case in controversy that entitles them to sue. Somin treats that as a secondary issue to the merits but agrees that it's the best chance for Biden to prevail:
From early on, I have thought that the Biden Administration's best chance to save this policy is by winning on standing. Today's arguments confirm that.

The plaintiffs in the two cases advance various theories of standing. But by far the strongest is that of the state of Missouri, based on the fact that Missouri has a state agency called the Higher Education Loan Authority of the State of Missouri (MOHELA), which services many federally backed student loans and stands to lose money if some of those loans are forgiven.

Interestingly, Prelogar today conceded that MOHELA would have standing if it brought the case itself! But she argues that the state of Missouri lacks standing to bring a case on MOHELA's behalf, because the latter has an independent corporate status, and has the legal right to sue and be sued. In my view, this overlooks the reality that MOHELA is a state agency fulfilling public functions, that it is owned by the state, and thus any financial losses suffered by MOHELA are also suffered by Missouri. The fact that there is some administrative separation between MOHELA and other state agencies is irrelevant.

Nonetheless, the three liberal justices seemed to buy this argument. Conservative Amy Coney Barrett may also agree with it. She repeatedly pressed this issue today. At one point, she asked Nebraska Solicitor General Jim Campbell "[i]f MOHELA is an arm of the state, why didn't you just strong-arm MOHELA and say you've got to pursue this suit?" It's a reasonable question, and Campbell didn't deal with it well, saying that it's "a question of state politics."

A better response is that, while the state attorney general may not have the power to order MOHELA to file a lawsuit, that does not change the fact that MOHELA is owned by Missouri, and therefore that financial losses to MOHELA are also losses to the state. The state government can limit the power of one state agency (the AG's office) to control another (MOHELA). But that doesn't change the fact that the state ultimately owns and controls both. While the AG may not have the authority to issue orders to MOHELA, he does have the power to bring lawsuits on behalf of the state as a whole, to advance any of the state's interests—including those involving the assets of administratively independent state agencies.

It is not entirely clear which way Justice Barrett will go on this issue. While she posed probing standing questions to Campbell, she also at one point suggested that Missouri may get standing simply on the basis that it owns MOHELA.

The other five conservative justices said little about Missouri's standing. If they were inclined to rule against the plaintiffs on this basis, I would expect them to push the issue much more.

Some of the conservatives also seem open to other arguments for standing advanced by the plaintiff states, such as more indirect financial losses they might suffer. Justice Neil Gorsuch noted that a majority of the Court had granted state standing in Department of Commerce v. New York, the 2019 case challenging the legality of the Trump Administration's plans for the 2020 census, on the basis that "undercounting the state's population "would have potential effects to the State of New York in the term—in terms of the benefits it might later receive, that kind of knock-on effect was sufficient to constitute standing in that case." In addition, if a majority of justices thought that no plaintiff has standing, they would probably not have left in place the lower court injunctions blocking implementation of the loan forgiveness plan.

For all these reasons, I think at least five conservative justices will ultimately conclude that at least one plaintiff in Biden v. Nebraska (probably Missouri) does have standing. If so, they are likely to rule against the program on the merits. But I admit there is much more uncertainty on this issue than on the merits.

As I have pointed out before, the Biden Administration and its supporters have—in this case—been pushing ultra-narrow theories of standing traditionally associated with the political right. Those theories were wrong when advanced by conservatives, and are still wrong today.
He actually has several more paragraphs on the matter and, honestly, I have no strong opinion on the matter. Standing is very much an inside baseball legal issue and, in cases with such widespread implications, justices tend to find a way to grant it when they want to rule on the matter and deny it when they don't.
My preference here, like Somin's, is for the Court to issue a ruling on the merits. This isn't some disgruntled citizen suing because he paid back his loan and he objects to others getting a free ride. The states have a stake in the outcome here.
Regardless, the argument on the merits is more interesting and, again, the two diverge considerably.
Millhiser:
The justices are likely to strike down the program, moreover, despite the fact that the federal Heroes Act explicitly gives Secretary of Education Miguel Cardona broad authority to "waive or modify" many student loan obligations "as the Secretary deems necessary in connection with a war or other military operation or national emergency," such as the Covid-19 pandemic. As it turns out, the most important question in American law is not what the law actually says, it is whether the nine justices on the Supreme Court think the policy is a good idea.

Almost immediately after the argument began, the justices split into two partisan camps. The Court's three Democratic appointees largely argued that the judiciary's job is to follow the text of federal law. As Justice Elena Kagan put it at one point, the Heroes Act is "really quite clear here" that this student loan forgiveness program is allowed. Under this approach, that should be the beginning and the end of the Court's inquiry (although it's worth noting that the three Democratic justices also asked questions suggesting that they do not believe that federal courts have jurisdiction to hear this case).

A handful of questions by Kavanaugh and Barrett aside, the six Republican appointees spent much of the argument fixated on concerns that if this student debt relief program is upheld, then the Biden administration would have too much power. Notably, US Solicitor General Elizabeth Prelogar received some of the harshest questions from Chief Justice John Roberts — ordinarily the most moderate member of the Court's Republican bloc — who immediately criticized the size of the program because, he claimed, it will lead to "half-a-trillion dollars" in loan obligations being waived.

The Court's Republican appointees spent much of the argument discussing policy disagreements with President Biden that have nothing whatsoever to do with the question of whether this loan forgiveness program is legal. Roberts, along with Justices Samuel Alito and Neil Gorsuch, for example, all took turns criticizing Prelogar's position because this loan program benefits student borrowers and not, say, someone who took out a loan to start a lawn care business.

The obvious response to this legally irrelevant objection to this program is that, as Justice Kagan pointed out, "Congress passed a statute that deals with loan repayment" for student borrowers, and it didn't pass a statute that provides loan forgiveness to people who own lawn care businesses.

But, if Tuesday's argument is any sign, Roberts, Alito, and Gorsuch's disagreements with the Biden administration's policy are likely to trump the actual text of the Heroes Act.
Somin:
Various conservative justices repeatedly signaled they have doubts that the HEROES Act authorizes the Biden plan, both because the power to "waive or modify" student loan conditions does not include large-scale cancellation of debt principal, and because many of the 40 million potential beneficiaries of the plan are not actually "in a worse position financially in relation to" their student loan obligations as a result of the Covid-19 pandemic, as the statute requires in order for the power to "waive or modify" to be authorized by the Covid national emergency declaration. In my view, the latter is the biggest legal weakness of the plan.

Chief Justice John Roberts cited evidence indicating that more than half of the potential beneficiaries do not believe they will have any trouble repaying their student loans. Of the remainder, many have issues unrelated to the impact of the pandemic. While the Solicitor General Elizabeth Prelogar rightly pointed out that the statute does not require "case-by-case" assessment of each individual, such massive overreach—covering tens of millions of people and hundreds of billions of dollars—seems obviously beyond what the statute authorizes.

The conservative justices—and at least one liberal—also signaled they believe the "major questions doctrine"—which requires Congress to "speak clearly when authorizing an [executive branch] agency to exercise powers of vast economic and political significance"—is applicable here. Justice Sotomayor (who was sympathetic to the government on almost every other point), rightly pointed out that "the amount at issue, the Chief [Justice] mentioned the quarter [of] a trillion dollars or the half a trillion dollars… seems to favor the argument that this is a major question."

None of the justices seemed sympathetic to Prelogar's argument that the major questions doctrine applies only to regulations, but not to federal benefits. Chief Justice Roberts noted that this ignores the fact that the purpose of doctrine is to protect separation of powers across the board. Justice Alito commented that "drawing a distinction between benefits programs and other programs seems to presume that when it comes to the administration of benefits programs, a trillion dollars here, a trillion dollars there, it doesn't really make that much difference to Congress."

The Court need not resort to the major questions doctrine to rule against the administration. It could just make that decision based on the text of the HEROES Act. But the doctrine raises the burden of proof the administration must meet. If the loan forgiveness policy qualifies as resolving a "major question" (and the immense size of the expenditure suggests that does!) the government must not only show that the statute authorizes the policy, but that it does so "clearly." If the Court concludes the statute is ambiguous, the federal government will lose.
Rather obviously, given the lengths to which both parties* go to create a streamline of ideologically-favorable judges in the federal pipeline and then select a young one when a Supreme Court vacancy opens—not to mention imploring oldish Justices on their side to retire so they can be replaced by younger ones, cementing that vote for decades—it's silly to think Justices are impartial oracles simply divining the law. They come to the table with biases, as do we all.
Regardless of the policy merits of the loan forgiveness program—on which my views are complicated—I tend to agree with the conservatives here both that Biden's Executive Order (via his Education Secretary) here goes well beyond the scope of the HEROES Act** and that, in any case, Presidents and their plenipotentiaries ought not to be able to spend hundreds of billions of dollars without Congress specifically authorizing it. The fact that it's damned near impossible to get anything through Congress even when the President's party held, as it did at the time, razor-thin majorities in both Houses doesn't alter the Constitution.
Still, I concede that these are not slam dunk questions.
Millhiser:
The Heroes Act speaks in expansive terms about the Secretary of Education's power to forgive student loans, at least in response to a national emergency. Under this law, "the Secretary is authorized to waive or modify any provision" of the federal laws governing student loans — including the provisions governing borrowers' obligation to repay their loans, and the provisions governing cancellation of student loans. This power, moreover, may be exercised "as the Secretary deems necessary in connection with a war or other military operation or national emergency."

Additionally, Congress took several additional steps to make sure that the secretary could act quickly to forgive student loans. Frequently, for example, federal law requires government agencies to undergo a time-consuming process known as "notice and comment" before they can alter federal policy. But the Heroes Act explicitly exempts the secretary's power to waive or modify loans from this process.

[…]

Additionally, the Heroes Act provides that "the Secretary is not required to exercise the waiver or modification authority under this section on a case-by-case basis" — thus allowing him to dole out loan relief en masse to many borrowers at a time.
Again, I agree with Somin that the pandemic served here as a ruse. But it did in fact happen. Whether the Secretary had a duty to take some care that forgiveness was targeted to those unable to pay because of the pandemic is a justiciable question.
All of this said, the Supreme Court has, in recent years, developed a doctrine that it uses to strike down federal policies created by a government agency, even when those policies are explicitly authorized by an act of Congress. This doctrine, known as "major questions," provides that Congress must "speak clearly if it wishes to assign to an agency decisions of vast 'economic and political significance.'"

So, when Roberts almost immediately brought up the fact that this particular loan forgiveness program will impact many borrowers and will save them a whole lot of money, he was speaking the language of this major questions doctrine. The whole idea behind the doctrine is that big government programs are inherently suspect, at least when they are promulgated by a federal agency.
Look, I agree that this is a core ideological question. Conservatives prefer less expansive government power than liberals. But it's also a legitimate Constitutional one: at what point does the Executive branch go from simply interpreting and implementing power delegated to it by Congress to a quasi-legislature of its own?
It should be noted that, even on its own terms, the major questions doctrine only requires Congress to "speak clearly" if it wants to expansive powers to a federal agency. And, as Justice Kagan noted during oral argument, "Congress doesn't get much clearer" than the Heroes Act.
Again, there's a real dispute as to whether the order followed Congressional intent or merely used the pandemic as figleaf to pass a massive spending bill the administration otherwise had no chance of getting through Congress. Indeed, Biden tried very hard to get Congress to incorporate student debt relief into his other massive pandemic relief plans and couldn't even get all of his party's Senators on board.
But this doctrine itself isn't very clear; the Court hasn't laid out how "clearly" Congress must speak, or what does or does not constitute a matter of "vast 'economic and political significance.'" Moreover, the Court hasn't exactly applied this major questions doctrine in a principled way. In West Virginia v. Environmental Protection Agency (2022), for example, the Court struck down a regulation that never took effect, and that likely would have accomplished nothing at all, on the grounds that it involved a matter of "vast 'economic and political significance.'"
Again, I don't doubt that the conservative Justices have an agenda here, if one rooted in ideology. But it's also true that Presidents have increasingly turned to governing by fiat as a workaround a sclerotic Congress. We may simply be in a phase, as we were with the various obscenity cases in the 1970s, where the Court is fleshing out a doctrine on a case by case basis on an "I know it when I see it" construct. That's frustrating, to be sure, but hardly unprecedented.
________________
*I stipulate that the gambit by which the vacancy created by Justice Scalia's death was held open, denying President Obama a vote on his highly-qualified and reasonably moderate nominee, Merrick Garland, in the hope that a Republican would win the 2016 election was an extreme case. But, while I opposed the move as dirty pool, it is evidence in support of my position.
**I hereby reiterate my disdain for cutesy names designed to make bills un-opposable.