Oberlin College Student's Request For Ferguson-Related Exam Delay Gets Epic Response
An Oberlin College student makes it clear just why she needs an education.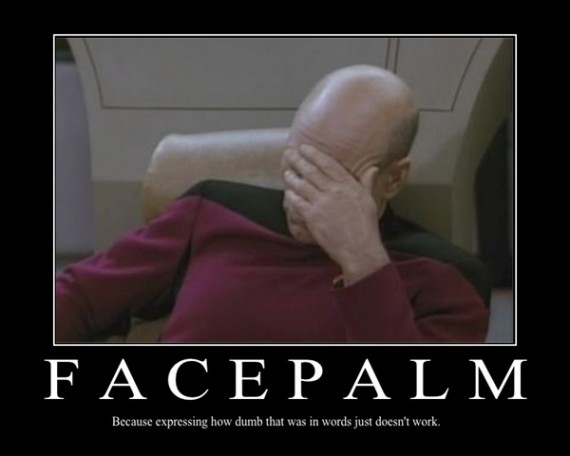 As I noted last week, Law Students at Columbia University and Harvard University had, apparently successfully, petitioned school authorities to allow students to petition for a delay in their exams due to supposed emotional trauma over events in Ferguson, Missouri and Staten Island, New York centered around the failure of Grand Juries in those jurisdictions to indict police officers accused of unlawfully causing the deaths of Michael Brown and Eric Garner and the protests that followed. A student at Oberlin College was met with much less success in her effort to do the same, but got a response that can only be described as epic: (Click to enlarge)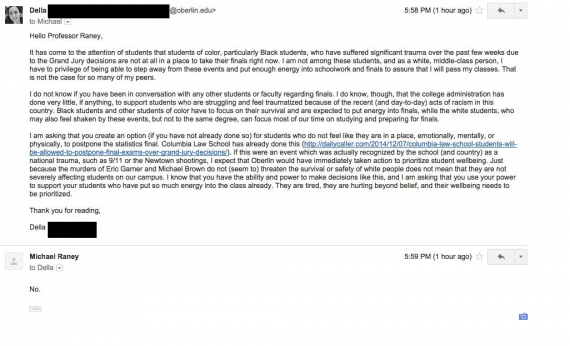 The email was originally posted as a publicly available photo on Facebook and quickly went viral. It has since been either taken down, or marked as private so that it cannot be seen and the Facebook shares have disappeared. Nonetheless, there were several screenshots of the email taken, including the one above. I have chosen, however, to black out most of the identifying information in the email address and the signature block. Anyone wishing to obtain that information can look elsewhere for it. As I had originally commented when I posted about this elsewhere this morning, were I Professor Raney my response would have probably been far more to the point that just Professor Raney's simple, curt, and blunt "No," but it seems to me to be the best response possible to an unreasonable, and ultimately dumb request. There are, no doubt, personal tragedies that an extension might be appropriate for, and of course students at all levels are famous for trying to find ways to delay the inevitable — whether it is an exam, a due date for a paper, or some other sort of project with a deadline — to the point where it has become something of a comedic trope for any television show involving students in High School or College. Given that, I suppose it is not all that surprising to see students trying to use events hundreds of miles away —- Oberlin for example is located some 530 miles from Ferguson, Missouri and 492 miles from Staten Island, New York — as excuses to delay exams, but I honestly get the impression that this isn't just an "I'm not prepared" thing, it's an earnest belief that they are somehow engaging in a form of social protest by asking for their exams to be delayed. I'm sure that people who stood in front of Bull Connor's police dogs and water cannon's appreciate the effort.
It's worth noting that this exam was not in anything related to the legal field, it wasn't a political science class, or sociology, or some class studying racial attitudes in America. It was a statistics class. That's right, a math class. What makes the whole thing even more amusing is how the student decided to share the entire thing with the world:
Notice that the student who sent the email isn't writing on behalf of herself but that of black students she just knows must be too traumatized to take exams and yet unable to speak for themselves. Good for Professor Raney for quickly and succinctly putting an end to this nonsense.

After receiving his professor's response, the student posted the exchange publicly to Facebook, with the message: "TRIGGER WARNING: Violent language regarding an extremely dismissive response from a professor. This is an email exchange I had with my professor this evening. … We are obviously not preaching to the choir. Professors and administration at Oberlin need to be held accountable for their words and actions and have a responsibility to their students."
Not being a current undergraduate or tuned in to whatever the "social justice" movement passes for these days, I have no idea what the Trigger Warning is about here, but apparently the author felt that her response required it. Given the earnestness of her request to the professor for a delay, which she seems honestly shocked was not only denied but denied so curtly, I can only assume that the "No" violates some rule or another that this movement considers important. What's actually revealed here, though, is what I can only call the truly pathetic state of affairs among students at what are supposed to be some of America's top universities. Have we really bred a generation that thinks that every piece of bad news that appears on cable creates grounds for which their tender souls must be coddled? I'm afraid it does, and the fact that just a few generations ago their were hundreds of thousands of people their age and younger who responded to a truly traumatic event — an attack on our nation that killed thousands and the prospect of a war that promised to be the bloodiest in the history of human civilization — not by whining and asking to be coddled but by standing up and getting to work doing what needed to be done, thus earning for themselves the title "The Greatest Generation." Given how things seem to be working out today, our college students are well on their way to earning the title of "The Whiniest Generation," and I don't think that bodes well for the future. Buck up kids, because life is full of difficulties and you are either going to be prepared to handle them or you, and the rest of us, are going to pay the price for it. So far, you're not impressing anyone.