On A Day That Called For National Unity, Trump Reverted To Attacks And Division
On a day that called for national unity and empathy, President Trump couldn't help but revert to form.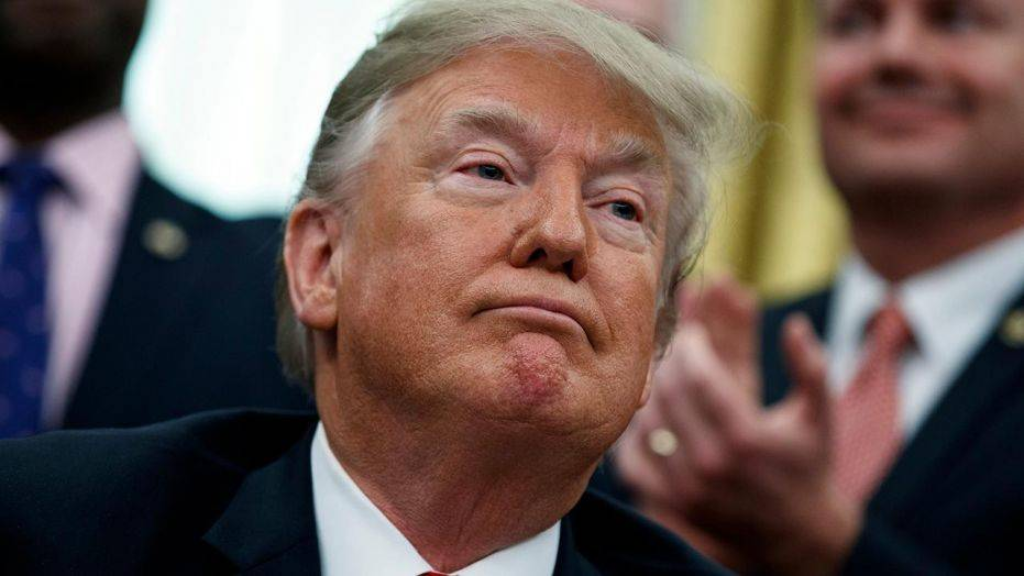 Yesterday, President Trump traveled to Dayton, Ohio and El Paso, Texas to Owith victims, first responders, and government officials involved in the shooting events that took place in those two cities just over twelve hours apart. Instead of being a uniting force in a nation still shocked by the back-to-back mass shooting events, one of which was clearly motivated by hatred and white supremacy, though, the President returned to his traditional themes of division and attack:
EL PASO — President Trump visited Dayton, Ohio, and El Paso on Wednesday on a day intended as a show of compassion to cities scarred by a weekend of violence, but which quickly devolved into an occasion for anger-fueled broadsides against Democrats and the news media.

Mr. Trump's schedule was meant to follow the traditional model of apolitical presidential visits with victims, law enforcement officials and hospital workers after calamities like the mass shootings that resulted in 31 deaths in Dayton and El Paso and that created a new sense of national crisis over assault weapons and the rise of white supremacist ideology.

That plan went awry even before Mr. Trump, who has acknowledged his discomfort with showing empathy in public, departed Washington. On Tuesday night, he tweeted that Beto O'Rourke, the former Democratic congressman from El Paso, should "be quiet." As he prepared to leave the White House on Wednesday morning, he went after former Vice President Joseph R. Biden Jr., who said in a speech that day that Mr. Trump had "fanned the flames of white supremacy."

Both Mr. O'Rourke and Mr. Biden are running for president and have been particularly harsh in their criticism of Mr. Trump after the two shootings, and Mr. Trump rose to the bait.

The result was the latest example of Mr. Trump's penchant for inflaming divisions at moments when other presidents have tried to soothe them, and further proof of his staff's inability to persuade him to follow the norms of presidential behavior.

Mr. Trump himself finished the day claiming success. "We had an amazing day," he told reporters in El Paso. Of his earlier stop in Dayton, he said, "The love, the respect for the office of the presidency — I wish you could have been in there to see it."

Yet shortly after, in response to questions about his Democratic critics, he again assailed them. "They shouldn't be politicking today," Mr. Trump said, referring to Mr. Biden and Senator Sherrod Brown, Democrat of Ohio, who accompanied Mr. Trump to a hospital in Dayton. And en route home to Washington, he tweeted still more attacks on Democrats, calling their charges that he is a racist "truly disgusting."

He was particularly upset by excerpts from a news conference in Ohio featuring Mr. Brown and Nan Whaley, the Democratic mayor of Dayton, that he had seen while flying from Dayton to El Paso. Both officials took a mostly respectful tone toward the president and said he had been received graciously. But Mr. Brown also said that some people at the hospital had privately said they do not support Mr. Trump, and he charged that the president had used racist and divisive language.

Mr. Trump reacted with fury. As his plane soared toward a restive El Paso, he shouted at aides that no one was defending him, according to a person briefed on what took place.

(…)

Mr. Trump was greeted in both Dayton and El Paso by protests of unusual size for a presidential visit at a time of collective grief.
In Republican-leaning Dayton, small groups of demonstrators waved signs that read "Dump Trump" and "Do Something!" His supporters, who insist that his language is not to blame for the actions of deranged individuals, and that calls for him to embrace gun control do not address the root causes of gun violence, turned out in smaller numbers.
The reception was especially bitter in El Paso, a border city that Mr. Trump has repeatedly criticized and where many people blame his anti-immigrant messaging and talk of a cross-border "invasion" for inspiring the gunman who killed 22 people at a Walmart here.

Protesters staged a daylong demonstration in a park near the University Medical Center of El Paso, and when Mr. Trump arrived at a nearby police emergency operations center, a group greeted him with a large white bedsheet that had the words "Racist, go home" written on it. At a memorial site in a parking lot near the Walmart, where mourners had erected small white crosses and left hundreds of flowers, balloons and candles, the appearance of a woman in a red "Make America Great Again" hat provoked shouting and profanity, prompting state troopers to intervene and urge calm.

Even as the president denied that he had "fanned the flames of white supremacy," as Mr. Biden had asserted, Mr. Trump repeated his past claim of equivalence between extremists on the left and right.

"I am concerned about the rise of any group of hate," the president told reporters before leaving the White House. "Any group of hate, I am — whether it's white supremacy, whether it's any other kind of supremacy, whether it's antifa, whether it's any group of hate, I am very concerned about it."

That response had echoes of Mr. Trump's characterization of a white nationalist rally in Charlottesville, Va., in August 2017 that left a counterprotester dead. After initially condemning white supremacy, the president later said that violence had been committed "on many sides."


In recent days, Mr. Trump's aides have also sought to draw attention t other acts of violence committed by people who have expressed leftist political views. They include the 2017 shooting of a Republican representative, Steve Scalise, at a softball practice by a man with a history of anti-Republican diatribes. But many current and former law enforcement officials are increasingly concerned that white nationalist violence is growing into a major domestic terrorist threat.

In his comments to reporters on Wednesday morning, Mr. Trump repeated his previous attacks on undocumented immigrants and called Mr. Biden, his leading Democratic presidential rival, "a pretty incompetent guy" who has "truly lost his fastball."
The fact that the President has so much trouble showing empathy isn't really a surprise, of course. As I've said with respect to his other character attributes, Trump's rather obvious lack of public empathy is something that has been part of his public persona that has existed long before he made the transition from "celebrity" to politician beginning in the early 2000s when he first flirted with the idea of running for President as the nominee of the Reform Party. In a sense, Trump's lack of empathy is just an outgrowth of some of his other personality attributes, but as President in a country that has become used to having Presidents who are able to unite the nation in a time of tragedy, it is particularly apparent.
Other Presidents have set the example for this over the course of the past forty years or so. example. President Reagan demonstrated it at various points in his Presidency, such as in the wake of the terror attack in Lebanon that killed more than 200 marines, the downing of Pan Am Flight 103 over Scotland, and, of course, the Challenger Disaster. President Clinton demonstrated it in the wake of the Oklahoma City bombing. President George W. Bush, of course, demonstrated it in the wake of the September 11th attacks. And, President Obama demonstrated it in the wake of the mass shooting attacks that plagued the nation while he was President, most notably after the Sandy Hook Elementary School shooting and the shooting at an African-American church in Charleston, South Carolina which included the moment when he led the crowd gathered to remember the victims of that tragedy in a rendition of 'Amazing Grace' that several people have replayed in recent days as a means of comparing that response to the manner in which Trump has acted in the wake of similar tragedies during his Presidency.
Yesterday's divisive outbursts by the President were also a demonstration of another aspect of the President's (lack of) character, namely the extent to which he is completely self-centered even when he's supposed to be acknowledging the suffering of others. The reason he attacked Ohio Senator Sherrod Brown and Dayton Mayor Nan Walker while flying from Dayton to El Pase, for example, appears to be because he didn't feel as if they didn't give him sufficient credit for being there and meeting with people. Similarly, his attacks on people like Beto O'Rourke and others in advance of his arrival in Texas was motivated by the fact that it was clear that many people in the city didn't want him there. (In fact, it is being reported that none of the people still hospitalized from that attack agreed to have the President come to visit them.) This is a man who sits in front of the television for hours every day and steams whenever he sees negative coverage and then inevitably goes after his critics with rage tweets or comments to the media. In other words, it's all about him and the supposed unity of the nation in a time of tragedy is, in his mind, a secondary concern.
This isn't the Presidency we deserve, but at least until January 20th, 2021, it's the Presidency we have.