On Debt Deal, Americans Want Compromise Not Grandstanding
Three new polls provide a warning to both sides of the debt negotiations, but mostly to Republicans.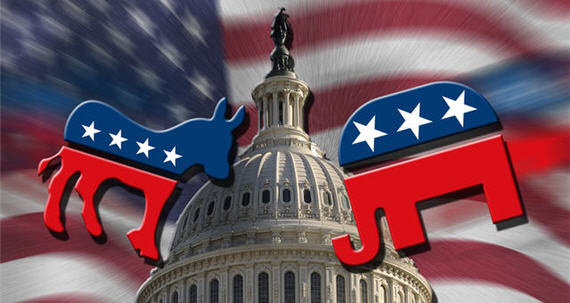 As the clock ticks down to August 2nd and the unknown world that lies ahead if the debt ceiling isn't raised, a trio of polls released over the past two days makes clear that what the public wants, and the risks the GOP is taking if it goes with the "no compromises" strategy that some in the House seem committed to.
First, we've got a new Gallup poll that finds that a majority of Americans, including a majority of Republicans, want a compromise:
Two-thirds of Americans would like government officials to agree to a compromise plan on the debt and budget deficit negotiations now underway. Fewer than 3 in 10 want lawmakers who share their views on the debt and budget deficit to hold out for their desired plan. A majority of Republicans, independents, and Democrats favor reaching a compromise.

These results, from a July 15-17 USA Today/Gallup poll, come as President Obama and congressional leaders continue to wrangle over a number of different types of agreements that could be reached in time to raise the debt ceiling before the Aug. 2 deadline.

Obama held two press conferences last week on this topic, and in each portrayed himself as willing to compromise, while arguing that not all Republican leaders have reciprocated. Rank-and-file Republicans, however, believe compromise is in order, with 57% saying leaders should agree to a compromise plan, even if it's a plan the respondent disagrees with. Independents and Democrats are somewhat more likely to support a compromise.
The results are similar in the NBC/Wall Street Journal poll released today:
As Democrats and Republicans wrestle over spending and deficits in advance of an Aug. 2 deadline to raise the debt ceiling, most Americans want their political leaders to compromise rather stand their ground, according to a new NBC News/Wall Street Journal poll.

Strong majorities of Democrats and independents prefer that Democratic congressional leaders make compromises in this budget debate, while almost 70 percent of independents want Republican leaders to do the same. And nearly six in 10 favor President Barack Obama's proposal to lower the federal deficit by $4 trillion over 10 years by cutting federal spending, raising tax revenue from the wealthy and reducing some Medicare spending.

By comparison, only about a third of respondents prefer the House Republican proposal to reduce the deficit by $2.5 trillion over 10 years through cutting spending alone and not raising additional revenues.

Democratic pollster Peter D. Hart, who conducted the survey with Republican pollster Bill McInturff, says the public's message can be summed up in one phrase: "Compromise and get it done."
And the ABC News/Washington Post poll is sending the same message:
Majorities of Americans see both President Obama and congressional Republicans as not willing enough to compromise in their budget negotiations, but the public views the GOP leaders as particularly intransigent, according to a new Washington Post-ABC News poll.

There is also growing dissatisfaction among Republicans with the hard-line stance of their congressional representatives: Fifty-eight percent say their leaders are not doing enough to strike a deal, up from 42 percent in March.

While Republicans in Congress have remained united in their opposition to any tax increases, the poll finds GOP majorities favoring some of the specific changes advocated by the president, including higher income tax rates for the wealthiest Americans.

There is also broad dissatisfaction with Obama's unwillingness to reach across the aisle: Nearly six in 10 of those polled say the president has not been open enough to compromise. Among independents, 79 percent say Republicans aren't willing enough to make a deal, while 62 percent say the same of Obama.

Republicans may also be losing the war of perception about who stands with whom in the debates over the deficit and the economy. A majority view the president as more committed to protecting the interests of the middle class and small businesses, while large majorities see Republicans as defending the economic interests of big corporations and Wall Street financial institutions.

If there were an economic breakdown, neither side would escape blame. Forty-two percent say they would mostly hold the GOP responsible, and 36 percent say Obama would be at fault. But Republicans in Congress are also under increasing pressure from their own partisans.

(….)

Overall, more than six in 10 Americans say a plan to reduce the deficit should include a combination of spending cuts and new taxes, rather than exclusively one or the other. Big majorities of Democrats and independents and nearly half of all Republicans support the mixed approach.
One of the main reasons that the public seems to have moved toward a compromise position on a debt deal, even if it includes a debt ceiling increase, is that there now seems to be general acceptance of the idea that failure to do so would harm the economy. In all three polls, majorities of respondents, although a minority of Republicans, say that failing to raise the debt ceiling would cause problems for the economy. If you took t the same survey among House Republicans you would be unlikely to get similar numbers, and if you polled House Republican freshman, you'd probably get only a few who were willing to admit that not raising the debt ceiling would be a very bad idea.
Ed Morrissey is correct to point out that these poll numbers portend trouble for both sides of the debate if things go badly. Certainly, the economy going south will cause the President's job approval numbers to take a hit regardless of the reason that it happened. However, as we head into the final  13 days of bargaining here, I think it's the GOP that needs to be careful about how they play things here. The public wants a deal, mostly because they are beginning to recognize that the arguments of the debt kamikazes that we can somehow cut off 44% of federal spending in one month without suffering some economic consequences is nonsense. They also want a deal that is a compromise of the respective parties positions rather than the "stick to your guns" advice that the House GOP is getting from the activists. It strikes me that the party that is most likely to take the blame if things go wrong is the one that is perceived as having refused to compromise. So far, the Democrats and the Administration have done a very good job of making the Republicans appear to be that party, thanks largely to help from Republicans in the House and Senate themselves.
Steve Benen sums it up:
The American mainstream fears the consequences of failure, wants a debt-ceiling increase, expects new revenue, supports tax increases on the wealthy, wants Republicans to be more flexible in reaching a compromise, would blame Republicans if a deal doesn't come together, and trusts President Obama more in dealing with this mess. This clearly isn't what Boehner, McConnell, & Co. had in mind.
I disagree slightly with Benen here. I've said all along that I think that Boehner wants a deal. He's been in Congress long enough to understand the consequences of not raising the debt ceiling, and the limits of the actual power that he has at the moment. McConnell, I think, knows this as well although he is also motivated by the desire to turn his Senate minority into a majority in 2012. I think both of them have maneuvered as best they can within the confines of their respective caucuses. Boehner is especially constrained because the influence of the Tea Party movement is much stronger in the House than the Senate. They know what votes they can deliver on a given deal, more or less, and that's one of the things that has motivated their actions. If it was up to them, we'd have a deal, but it isn't up to them.
So, we head into the final two weeks of this spectacle not knowing exactly what's going to happen. If the GOP was smart, they'd take the best deal they could get on spending cuts even if it meant agreeing to revenue increases. That's the most rational outcome, but we're not exactly living in rational times. Personally, I fully expect this to go down to the wire, and I think the GOP will live to regret it.