Palin For President, With An Assist From Mike Bloomberg?
Political columnist John Heilemann thinks he's come up with a scenario that would put Sarah Palin in the White House, but his assumptions don't add up.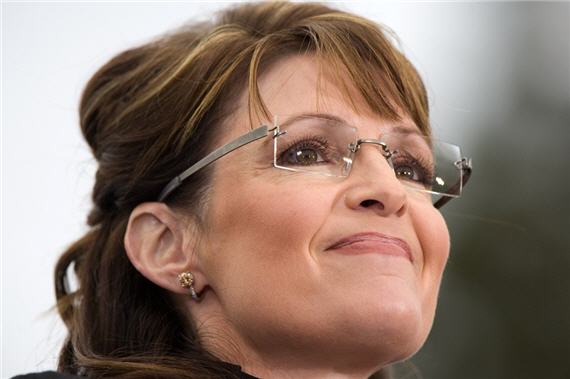 In the pages of New York magazine, John Heilemann becomes the latest pundit to speculate on Sarah Palin's intentions for 2012, and he spins a rather odd tale about how it could happen:
Assuming that Palin were the nominee, just how much further would Obama have to slip for that to happen? Not long ago, I asked a person close to Bloomberg, who said that if the president's approval rating fell into the thirties, diving in might be irresistible to the mayor. But what if it was at, say, 42 percent—four points below its current level, according to the Gallup tracking poll? "Forty-two?" this person pondered, and then smiled impishly. "That might get him in there, too."

What would then transpire? To get Rumsfeldian for a sec, the combination of known unknowns and unknown unknowns is enough to make your head spin. But there are also a handful of known knowns: that Bloomberg's team, probably led by Sheekey and Wolfson, would be as tough, savvy, and technologically sophisticated as any ever assembled; that the mayor, regardless of being on the ballot in 50 states, would target more like half of them where his prospects were brightest; and that he would spend more than $1 billion and maybe upward of $3 billion.

One scenario, most likely if the economy suffers a double-dip recession, is that the nation would be so desperate for capable economic management that Bloomberg would be able to overcome his vulnerabilities—his short-Jewish-unmarried-plutocratness—and find himself deposited in the Oval Office.

Another scenario, the likeliest, is that Bloomberg's entry would secure the reelection of Obama. "There's enough solid Republicans that even Palin gets between 26 and 30 percent of the vote," forecasts Dowd. "And there's enough solid Democrats that, depending on the economy, Obama gets 40 to 42 percent. That leaves Bloomberg with between 28 and 34 percent, which just isn't enough."

But there is a third scenario, one that involves a more granular kind of analysis-cum-speculation. By the accounts of strategists in both parties, Bloomberg—especially with the help of his billions—would stand a reasonable chance of carrying New York, New Jersey, Connecticut, Florida, and California. Combine that with a strong-enough showing in a few other places in the industrial Northeast to deny Obama those states, and with Palin holding the fire-engine-red states of the South, and the president might find himself short of the 270 electoral votes necessary to win.

Assuming you still remember the basics from American Government 101, you know what would happen next: The election would be thrown to the House of Representatives—which, after November 2, is likely to be controlled by the Republicans. The result: Hello, President Palin!
Heilemann leaves out a crucial point about the House of Representatives, of course. Under the 12th Amendment, each state gets a single vote which would mean, presumably, that the members of each delegation would have to agree who their states' vote would go to. In states where the delegation is controlled by the same party that won the state's Electoral Vote, this would be an easy issue. However, there would be real pressure on a Democratic delegation from a state that voted Republican for President to adhere to the voters wishes. Then there are states that are equally divided between the parties. Presumably, they would be unable to cast a vote at all.
Before we even get to that point, though, there's the matter of this hypothetical third-party candidacy by New York Mayor Michael Blooomberg. For some reason, this is an idea that's been getting a lot of circulation among political pundits lately. Heilemann suggests, for example, that the bizarre Op-Ed that Thomas Friedman recently wrote about a "real tea party," which James Joyner wrote about here a few weeks ago, was some kind of sub rosa effort by Bloomberg supporters to test the waters for a 2012 run.
Personally, I don't get the Bloomberg hype. Unlike a Ross Perot, there's no evidence of any kind of populist yearning for a short billionaire from New York. Moreover, I'm not sure that most Americans know who Bloomberg even is. He's certainly less well-known than predecessors like Giuliani and Koch were during their times in office, and neither one of them would've made a good President.  Heilemann speculates that Bloomberg would somehow prove popular enough in the Tri-State area, Florida, and California to cost Obama those state's Electoral Votes, or even to win them outright. The only place I see any yearning for a Bloomberg candidacy, though, is in the New York-Washington corridor among the punditocracy, for whom the idea of an all-knowing East Coast Technocrat in the White House seems to be very appealing. Or maybe it's just that they idea appeals to them because it would give them something interesting to write about.
But while the idea of a Bloomberg for President campaign may excite the crowd that rides the Acela, I don't see it playing anywhere outside the chattering classes, and without a viable third-party candidate siphoning votes away from Obama, there's no way Palin becomes President.