Harnessing The Tea Party
Support for the Tea Party is at record levels but that movement does not have a coherent policy platform. Can the energy be harnessed to good use?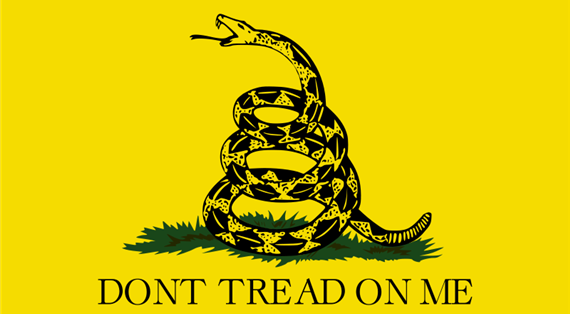 Taegan Goddard points to a new WSJ/NBC poll which shows that "71% of Republicans described themselves as tea-party supporters, saying they had a favorable image of the movement or hoped tea- party candidates would do well in the Nov. 2 elections."
"These are essentially conservative Republicans who are very ticked-off people," said Republican pollster Bill McInturff[*], who conducted the survey with Democratic pollster Peter Hart.  If the Republicans win control of the House or Senate this fall, Mr. McInturff added, the survey shows "enormous amounts about how limited the interest is going to be in those new majorities to try to seek negotiation with the president or the Democratic leadership."

The poll found that tea-party supporters make up one-third of the voters most likely to cast ballots in November's midterm elections. This showed the movement "isn't a small little segment, but it is a huge part of what's driving 2010," Mr. Hart said.
My heart sank when I saw that 71% topline but my sense is that Bill's explanation is the right one.   There isn't some overwhelming mass of people eager to be led by Sarah Palin and Christine O'Donnell so much as a lot of people fed up with the system.
Joy McCann forwarded me an essay by Michael Lotus, aka Lexington Green, titled "The Insurgency," which begins,
Mass political movements often begin with a single, striking event. The Insurgency began in the fall of 2008, when President Bush, Senator Obama, and Senator McCain appeared together to endorse the TARP bailout.  At that moment the lights came on for many Americans. It was glaringly obvious that both political parties jointly operated the system, and the system existed to protect the well connected at the expense of everyone else. The public opposed the TARP bailouts; the banks got their money anyway. The Insurgency, long brewing, began.

The Insurgency is a movement of citizens directed against unsustainable government taxation and regulation, and spending, both of which benefit insiders rather than ordinary people. The target of the Insurgency is a leviathan in Washington, D.C. that will ruin us all if it is not dismantled.
Now, I don't like the description of this as an insurgency.  While I'm as frustrated as the next guy with our political system — and fundamentally agree that the degree of choice currently offered by our two party system is poor — we have a representative democracy and any implication that violence is an acceptable tool for changing the system is deplorable.
Moreover, as many regular readers are doubtless tired of hearing, I'm not a fan of the leadership and tactics that have characterized much of the Tea Party movement thus far.   It's anger and populist rhetoric without much useful policy focus.   Being against everything without real alternative proposals is nihilism.
But it should be possible to harness the broad sentiment against the way we're currently doing things into something focused and useful.   Thomas Friedman, of all people, thinks it can happen.   He agrees with me that, "Based on all I've heard from this movement, it feels to me like it's all steam and no engine. It has no plan to restore America to greatness."  He thus terms it the Tea Kettle movement.
The issues that upset the Tea Kettle movement — debt and bloated government — are actually symptoms of our real problem, not causes. They are symptoms of a country in a state of incremental decline and losing its competitive edge, because our politics has become just another form of sports entertainment, our Congress a forum for legalized bribery and our main lawmaking institutions divided by toxic partisanship to the point of paralysis.

The important Tea Party movement, which stretches from centrist Republicans to independents right through to centrist Democrats[**], understands this at a gut level and is looking for a leader with three characteristics. First, a patriot: a leader who is more interested in fighting for his country than his party. Second, a leader who persuades Americans that he or she actually has a plan not just to cut taxes or pump stimulus, but to do something much larger — to make America successful, thriving and respected again. And third, someone with the ability to lead in the face of uncertainty and not simply whine about how tough things are — a leader who believes his job is not to read the polls but to change the polls.

Democratic Pollster Stan Greenberg told me that when he does focus groups today this is what he hears: "People think the country is in trouble and that countries like China have a strategy for success and we don't. They will follow someone who convinces them that they have a plan to make America great again. That is what they want to hear. It cuts across Republicans and Democrats."
And he and I broadly agree on the direction this should take:
This is the plan the real Tea Party wants from its president. To implement it would require us to actually raise some taxes — on, say, gasoline — and cut others — like payroll taxes and corporate taxes. It would require us to overhaul our immigration laws so we can better control our borders, let in more knowledge workers and retain those skilled foreigners going to college here. And it would require us to reduce some services — like Social Security — while expanding others, like education and research for a 21st-century economy.
But, alas, the problem with all this is obvious:   Making these choices fractures the "movement."    While the Left, Center, and Right are broadly united on the problems, they differ widely on the solutions.   I'm highly doubtful, for example, that the people currently showing up at Tea Party rallies would support Friedman's immigration policy.   And no way in hell the center-left will support raising the regressive tax on gasoline whilst lowering corporate taxes.
His answer, I'd wager, is the same answer that I get on all the NATO reform panels I attend:   Leadership.    Why, if only we had a Winston Churchill or Franklin Roosevelt or Ronald Reagan, they would be able to unite the people on the need to make tough choices. I'd really like to think that's true.    But I'm afraid that the 24/7/365 media environment — of which I'm part — makes it too easy to demagogue each and every plank of a platform.   And, of course, 40 votes in the Senate can stop anything.
____________
*My wife works for McInturff's firm.  See Disclosures for details.
**Balloon Juice's DougJ is incensed by the implication that those on the far Left and Right don't care about the country.   That's an unfair reading.   Friedman is a centrist, is constructing his perfect outcome for harnessing the energy of the Tea Party movement, and correctly believes those outside the broad Center would oppose his platform.