Pre-Convention Electoral College Wargaming Finds Romney In A Tough Spot
A pre-Convention look at the Electoral College map finds Mitt Romney in the same tight spot he's been in for months now.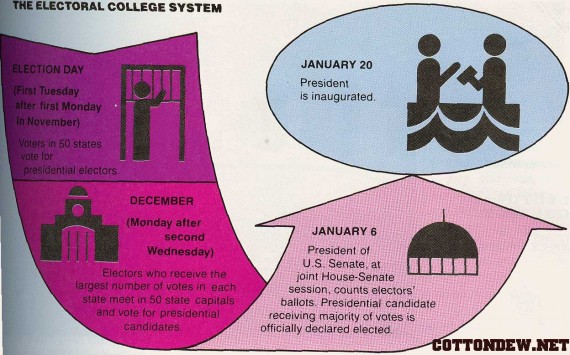 Vodkapundit's Stephen Green is out with the latest version of this Electoral College Wargaming series and his latest projections come up with this map: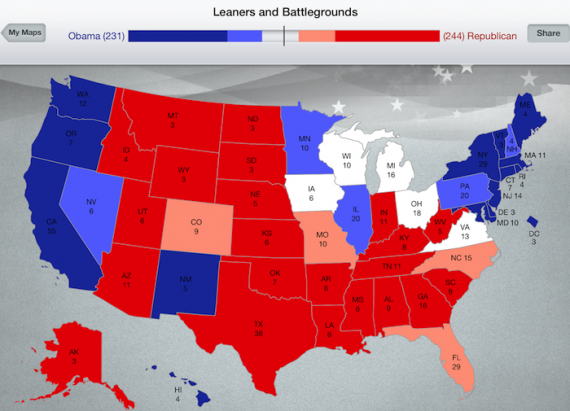 Stephen comments:
Three surprises this time around, one of which you might already be pointing and laughing at: "He has Illinois is a leaner? What a maroon!" Very likely, yes. But the only poll I've seen out of Illinois showed Obama with only 49% — in Cook County, home of Chicago. Any Democrat running statewide in Illinois needs to run up the numbers in Cook, because they're going to get slaughtered downstate. Now, I don't really think Illinois is in play, but until I see some other indicator, I'm putting it in the leans column. It might even stay there long enough for me to finish writing this paragraph.

Missouri got downgraded to leans Romney, thanks to the heroic jerkiness of one Todd Akin. Women will turn out in droves to vote against this guy. Missouri, once safely red, is now a state to watch. You can't hear me, but I'm saying very bad words right now.

And Colorado lost its blue tint for the first time ever on a battleground map. I thought my home state was going to be a tough nut for Romney to crack. He underperformed here during the primaries, I thought, and our state GOP has been in a circular firing squad for the better part of a decade now. You'd think they'd have run out of ammo, but no. Anyway, the last Rasmussen poll gave Romney a nice edge, with an R+5 sample. Colorado was R+1 in 2008 (when Obama was the Messiah) and R+9 in 2004 (when it went heavily for Bush). So R+5 sounds about right, as Colorado tilts back partway towards its historic norm.
I've got some disagreements with Stephen here, especially with regard to states like Colorado and Pennsylvania, but before we get into the specifics, here's the map I'm working from as of today: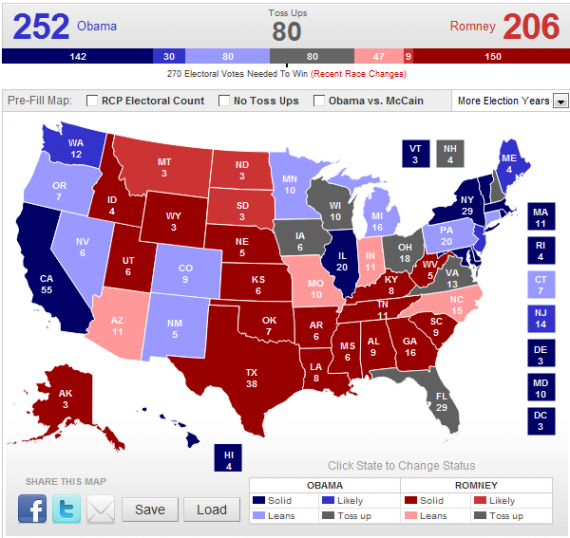 I created this map using the app available at RealClearPolitics, which I've found more useful than 270ToWin only because it allows you to differentiate between "leaning," "likely," and "sold" states for each candidate. Additionally, the projections made here are based both on current poll numbers and some degree of intuition about how the state is likely to go in November based on history and the makeup of the electorate. Obviously, there will be room to change these projections if the evidence warrants it.
With regard to Colorado, while there have been some recent polls that seem to show Romney surging there, most notably a CBS/NYT/Qunnipiac poll that was released earlier this month, the RCP Average for the state still gives the advantage to Obama. The advantage is, granted, within the margin of error, but it strikes me that the state has been gradually moving into the Democratic column ever since 2008. Indeed, the Senate and Gubernatorial races there were among the few nationwide to resist the 2010 Republican wave.
With respect to Pennsylvania, I'm still not convinced that this state is any more in play than it was in all the elections from 1992 through 2008. Right now, the RCP Average for the Keystone State favors Obama by 7.7 points, well outside the margin of error, and there doesn't seem to be any evidence of a Romney surge there notwithstanding the strong Republican tide there two years ago. With regard to that election, it's worth noting that there were more than 2 million fewer voters in 2010 (3.9 million) than in 2008 (6 million) in the state, which suggests that the 2010 results may not tell us much about what will happen in 2012.
Other differences can be found in Michigan, which I currently count as Leans Obama thanks in large part to Obama's historical lead in the polls and the Wolverine State's history in previous Presidential elections. Additionally, I have taken Florida out of the "Leans Romney" category given the fact that the polls there have tightened to the point where the RCP Average is now a tie.
I'm also assuming that Romney will recapture two traditionally Republican states that President Obama managed to win in 2008, Indiana and North Carolina. Indiana has been polled only rarely so far this cycle, but each time, Romney had a sizable lead over the President. This clearly seems to be a year when Indiana will be returning to it's traditional role as a reliably Republican state. In North Carolina, meanwhile, Romney holds on to a slim one point lead in the RCP Average, and one recent poll has the President up by three  points in the state. Nevertheless, it's worth keeping in mind that the President won the state by the slimmest of margins in 2008 and the state Democratic Party, which will be contesting the Governor's office in November with a weak candidate named to replace the retiring,and unpopular, Bev Perdue. By all reports, the state party is demoralized and disorganized, while the state GOP sees a clear chance to retake the statehouse and win the state for Romney at the same time. I'll give this one to Romney barring new polling indicating a different trend.
That leaves the map with six toss up states totaling 80 Electoral Votes; Wisconsin, Iowa, New Hampshire, Ohio, Virginia, and Florida. Sitting at 252 Electoral Votes under the projection, President Obama would only need to win an additional 18 out of these 80 outstanding Electoral Votes to be re-elected,  while Governor Romney would need 64 of the remaining 80 Electoral Votes. That's a very tough needle to thread.
Here's how I think those states will break down in thNew Hampshiree end, based on the current trends and a little bit of guess work:
Florida remains the one Obama 2008 state that Romney/Ryan is most likely to flip. Republicans have been polling stronger there for four years now, and there's very little evidence that the Medicare issue has turned the elderly voters who have been voting Republican so negative that they'd end up voting for Romney. Of Course, as I noted this morning, there are some signs that could change. Right now, though, I'd give Florida to Romney'
Iowa has been drifting to the right for many years now and, while the polls remain close, I'm going to give this one to Romney as well given the rapidly rising power of Iowa's very conservative Evangelical Christians;
As I've noted several times here at OTB, Romney has gained a lot of ground in Wisconsin since picking Paul Ryan as his running mate. That, combined with the Republican surge in the state since 2010, causes me to give this one to Romney/Ryan as well;
Many people, including myself, have thought that the GOP has a chance to pick up  this year given Romney's ties to the state. However, President Obama remains ahead in the polls, none of which have shown Romney leading. I'll give this one to Obama;
Virginia is one of the crucial states this year and, while the Romney campaign is likely to put up quite a fight I think it's going to be difficult for them to win here given the advantages that Obama seems to enjoy in population-rich areas such as Northern Virginia.
That leaves Ohio and, if you been adding the Electoral Votes up in your head as we've gone along, you'd know where at 269 to 251 in President's Obama's favor. If Mitt Romney happens to win the Buckeye State, then we'd have our nightmare scenario of 269 to 269, and the election would be thrown into the House of Representatives where each state would vote as a single unit and a simple majority of delegation votes would be all that's needed to be elected President. I don't think that's going to happen, though. While the polls in Ohio are close, the truth is that Romney has consistently been unable to gain ground there and hold onto it for any significant length of time. Indeed, the entire history of polling an Obama-Romney race in the state shows only a small number of instances where Romney ended up in front. One of the reasons that Ohio may be a problem is the fact that its been the state that has been most exposed to the Bain advertising that has been run by the Obama campaign and its supporting SuperPACs. It's possible that these ads have so poisoned the ground for Romney in Ohio that it will be tough for him to gain ground there. Under this scenario, if Obama wins Ohio, he wins the election 287 Electoral Votes to 251, smaller than his win in 2008 but, a win is a win.
Anyway, that's where things appear to be to me at this point. The real takeaway here, though,  isn't who might win or lose based on the information available today, but how narrow Mitt Romney's path to victory remains. As noted above, he would need to win more than 80% of the outstanding toss-up Electoral Votes. That leaves almost no margin for error on the part of a campaign that has made several errors this summer. By contrast, President Obama only has to win about 23% of the toss-up EVs, and there are plenty of paths to victory that would allow him to do that. Obviously, there are many things that could happen between now and Election Day that could completely change the road map to victory for both candidates, starting with the conventions that start Monday. At this point, though, we're pretty much at the same point we were back in April, it seems far more likely that President Obama will be re-elected than that Mitt Romney will defeat him.