Mitt Romney's Incredibly Narrow Path To Victory
The biggest argument against Romney winning in November is the fact that there aren't many ways for him to get to those pesky 270 Electoral Votes.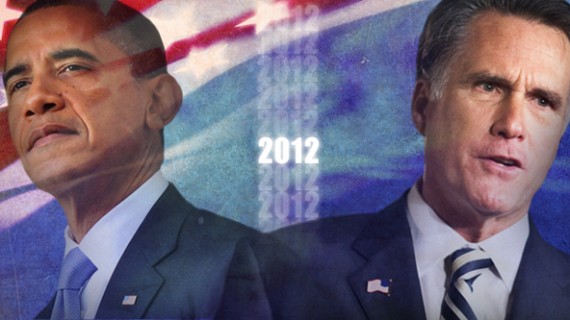 The Washington Post's Chris Cillizza notes that, under current conditions, Mitt Romney's path to victory would essentially be the electoral equivalent of threading the needle:
It's no secret that former Massachusetts governor Mitt Romney has a narrow path to win the presidency this fall. Nowhere is that reality more apparent than when examining the electoral map on which Romney and President Obama will battle in November.

A detailed analysis of Romney's various paths to the 270 electoral votes he would need to claim the presidency suggests he has a ceiling of somewhere right around 290 electoral votes.

While Romney's team would absolutely take a 290-electoral-vote victory, that means he has only 20 electoral votes to play with — a paper-thin margin for error.

(…)

In 2000, Bush won 271 electoral votes — one more than he needed to claim the presidency. In eking out that victory, Bush not only carried the South and Plains states with a near sweep but also claimed wins in swing states such as Nevada, Colorado, Missouri and the major electoral-vote prizes of Ohio and Florida.

If Romney was able to duplicate Bush's 2000 map, he would take 285 electoral votes — thanks to redistricting gains over the past decade.

But to do so, Romney would need not only to win the five swing states mentioned above — with the exception of Missouri, all of them are considered tossups (at worst) for the president at the moment — but also hang on to states such as North Carolina and Virginia where Bush cruised 12 years ago. (Obama carried both states in 2008.)

In 2004, Bush won reelection with 286 electoral votes, losing New Hampshire from his 2000 map but adding wins in Iowa and New Mexico.

Under the 2012 map, Romney would win 292 electoral votes if he replicated the Bush 2004 victory. But New Mexico seems like a very tough place to win — not to mention the fact that he would again need to carry Ohio, Florida, Colorado and Nevada as well as North Carolina and Virginia.
This is roughly equivalent to the six states that I listed as essential to the election back in March, although I didn't include either Nevada or Colorada at the time:
In 2008, President Obama was able to win election in part because he won in states that had been traditionally Republican such as New Hampshire, Indiana, Virginia, and North Carolina , as well as picking up the still-crucial swing states of Florida and Ohio. This time around, the only way the GOP can win the Presidency is by picking up a good portion of those states
The good news for Romney is that while he has a relatively low ceiling in the Electoral College, he also has, as Rick Moran points out, a high floor. It seems fairly well established that Romney is likely to hold on to the states that John McCain won in 2008, which gives him 180 Electoral Votes under the new allocation (McCain garnered 173). The one state that seems in doubt is Arizona, as I noted in two posts last week that suggested the race was close there at the moment, but just as Obama is likely to benefit from the Hispanic population in that state, Romney will likely benefit from the Mormon population in that state. Barring a real disaster, I just don't see Arizona going blue in this election, something it hasn't done in a Presidential election since 1996 (and then only by the narrowest of margins due in large part to Perot's presence on the ballot, before that Arizona had not gone Democratic since 1948).
Of the remaining listed states, all of which Obama won in 2008, there are some real prospects but also several road blocks. Nevada may be a likely prospect for Romney to flip simply because of the large Mormon population in the state (11% of the population). At the same time, though, it seems unlikely that Colorado will be good territory for Romney this year. That state has been trending blue for years now and that seems unlikely to change this time around unless the state of the economy completely turns voters off to the President. North Carolina and Indiana seem likely to return to the Republican column. Thus leaving Romney having to battle it out in Ohio, Florida, and Virginia, all three of which are likely to be bitterly fought from now until November 6th.
President Obama is in a far better position at the moment. Going off of his 2008 results, he could lose North Carolina, Indiana and Nevada, along with Virginia and either Florida or Ohio, and he'd still win the election. It would be a bit of an historical anomaly since it would be the first time since 1916 that a President was elected to a second term with fewer Electoral Votes than he won the first time around.1 But, a win is a win and I doubt the Obama campaign would complain.
Looking at things most generously for Romney, this is how I see the race right now, courtesy of our friends at 270toWin: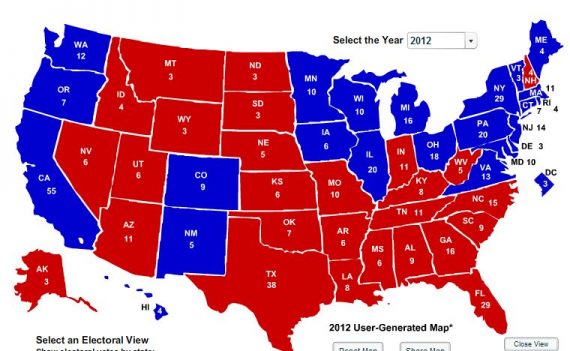 This gives Obama 293 Electoral Votes to Romney's 245. In order to win the election, Romney would have to strike 23 Electoral votes from Obama's column, and the most likely way to do that would be to win Virginia and Ohio, which makes the total Romney 276 Obama 262. Winning just one of those states would put Romney close, but not over the 270 hump. Although there is one interesting possibility. If Romney wins Ohio and flips Iowa, which isn't beyond the realm of possibility given the strength of the Republican Party in that state in recent years, then the total becomes Obama 269 Romney 269. And guess where that puts us? In the middle of a political circus that would make the 2000 Election seem like a tea party.
1 Franklin Roosevelt also saw his Electoral Vote hauls slip in a little in 1940 and 1944, but after winning 523 Electoral votes in 1936 there really was no where for him to go but down.