Swing State Polls Make Clear Romney's Narrow Path To Victory
Mitt Romney gained some ground in Swing State polling, but that just makes clear how narrow his path to 270 Electoral Votes actually is.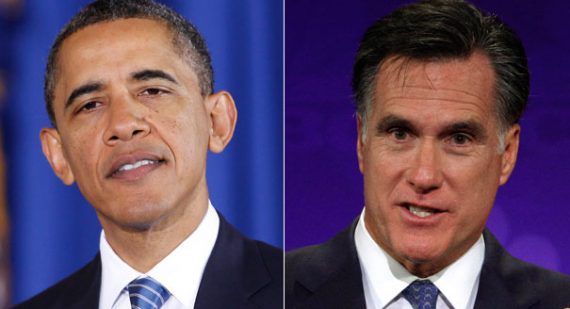 Yesterday, we looked at two new national polls, as well as a series of trends that showed that the race between Barack Obama and Mitt Romney is looking like it's going to be incredibly close for the foreseeable future. As I noted at the time, it's always worthwhile to keep in mind the caveats about early polling in Presidential races. However, today we have polling from NBC News and Marist College that shows similar narrowing of the race in three swing states that are likely to play a key role in deciding who takes the Oath Of Office in January 2013:
President Barack Obama holds a narrow advantage over presumptive Republican nominee Mitt Romney in three of the most pivotal presidential battleground states — Florida, Ohio and Virginia — according to new NBC-Marist polls.

But in each of these states, Obama's share of the vote is below the 50 percent threshold usually considered safe haven for an incumbent president, and Romney has narrowed the margin in these three battlegrounds since earlier this year.

In Florida and Virginia, Obama leads Romney by an identical four-point margin, 48 percent to 44 percent, among registered voters, including those who are undecided but leaning toward a particular candidate.

In Ohio, the president is ahead by six points, 48 percent to 42 percent.
In March NBC-Marist polls — conducted during the middle of the GOP primary season — Obama led Romney by 12 points in Ohio (50 percent to 38 percent), and by a whopping 17 points in Virginia (52 percent to 35 percent). In January, Obama was ahead of Romney by eight points (49 percent to 41 percent).

Benefiting Obama in these three states is a sense that the economy has improved. Majorities in all three battlegrounds believe that the worst is behind us, rather than the worst is yet to come. That said, 40 percent or less think that the economy will get better in the next year.

Also helping the president is the notion that he inherited the current economic conditions, a belief held by a strong majority of respondents in each state: 56 percent in Florida, and 57 percent in both Ohio and Virginia.

And then there's the gender gap. Romney holds a narrow lead with men in all three states. But Obama has a double-digit edge among women (10 points in Florida and Virginia, and 12 points in Ohio).
While the President is in the lead in all three states, there is some definite good news in these numbers for Romney. For one thing, he has definitely closed the gap in all three states from where the same poll was back in March, and some polls, such as a Quinnipiac Poll of Florida released yesterday, show Romney in the lead.  To some degree, that is to be expected though. In March, Romney was still contending with a primary fight with Rick Santorum and Newt Gingrich. Even though it was clear at that time that he was going to be the GOP nominee regardless of how long his two main opponents stayed in the race, the attacks that he was continuing to take from them, and had taken since January, certainly were taking a toll on his head-to-head numbers against the President. It was inevitable that the gap would close, especially in these states where the balance between Republican and Democratic is so razor thing to begin with. Beyond that, though, Romney can point to the fact that his favorable/unfavorable numbers definitely seem to be improving, especially in Florida.  Additionally, Romney has Obama under 50% in all three states and the undecided vote (which typically breaks against the incumbent) —- 8% in Florida and Virginia and 10% in Ohio — is large enough that there's more than enough room for him to catch up to the President and overtake him if things go his way over the next five months.
On the negative side from Romney's point of view, though, are two factors which could make it difficult for him to close the gap and win the White  House. First, notwithstanding Romney's improving favorability numbers he still trails the President significantly in that area in all three states. We saw that issue in yesterday's national polls too, and while it's possible that Romney could turn those around and close the gap, it's not going to be easy to do and it may make it difficult to win over the undecideds. Additionally, it's worth remembering that the Obama campaign is already on the ground organizing in all three of these states and has been for some time, by all accounts that I've seen the Romney campaign is just getting its ground operation going. In 2008, one of the key factors that helped Obama in both the primary and the General Election was an overwhelming grassroots operation, if his campaign can replicate that at least to some degree than Romney is going to have a problem.
These polls are each only a single data point, of course. Looking at the RealClearPolitics average for each state, we see Ohio at a +4.9 for Obama, Florida at a +0.5 for Romney, and Virginia at a +5.2 for Obama. It is worth noting, though, that each of these averages still include polls from as long as two months ago, thus factoring in numbers from long before the President and Romney were fully engaged in a General Election fight. As we go through the summer, we're likely to get more reliable numbers, especially when all pollsters start switching over to a Likely Voters, as opposed to a Registered Voter, model. Looking only at the most recent polling in each state, though, it's rather clear that the race in each of them is narrow and competitive.
There's one other final point that emphasizes just how important these states are in determining the outcome of the election, especially for Mitt Romney. I've written previously about Romney's narrow path to victory and the six states that will decide the election. Well, now we may be able to narrow that list to just three states. Put simply, there are almost no realistic Electoral College scenarios pointing to a Romney victory that do not include him winning Florida, Ohio, and Virginia. If he loses one, no matter which one it is, he either loses the election or would have to look elsewhere for the Electoral Votes necessary to get him to 270 or above. Of course, it's possible that Romney could win a state like Wisconsin or Michigan, lose one of the other three states (preferably from Romney's point of view Virginia since it has the fewest Electoral Votes of the three) and still win the election. But, honestly, if we get to the end of October and Romney has a chance to win Wisconsin and/or Michigan, then he's not going to be in much danger of losing Ohio, Virginia, or Florida.
Although he doesn't come right out and say it, Karl Rove pretty much says the same thing in a piece he has up today a The Wall Street Journal:
Mr. Romney's victory road starts with "3"—as in Indiana, North Carolina and Virginia, a trio of historically Republican states. In 2008, Mr. Obama won by narrow margins in Indiana (barely 1%) and North Carolina (0.32%).

Today, even Team Obama doesn't pretend Indiana is in play. North Carolina also appears to be sliding away from the president: A May 14 Rasmussen poll of likely voters showed 51% for Romney, 43% for Obama. Virginia, on the other hand, will likely remain a battleground through Election Day. Mr. Obama carried it by more than six points and remains ahead by a little more than three points, according to the RealClearPolitics average of state polls.

Nevertheless, if Mr. Romney can put these states' combined 39 electoral votes back into the GOP column, the Electoral College vote would be 319 for Mr. Obama, 219 for Mr. Romney.

Next up is "2"—as in Florida and Ohio. They flipped from Republican in 2004 to Democratic in 2008. Both were close—a 2.8% margin for Mr. Obama in the former and 4.6% in the latter.

(…)

These two states have a combined 47 electoral votes. If Mr. Romney wins them, the Electoral College would stand at 272 for Mr. Obama, 266 for Mr. Romney.

Which brings us to "1." Mr. Romney then needs one more state—any state—and the White House is his.

So, it all comes back to those three. At the very least, he has to win all of them, or he loses the election, Obama could lose any one of them and still win. That could be the biggest problem Romney finds himself facing on the night of November 6th.

(…)

These two states have a combined 47 electoral votes. If Mr. Romney wins them, the Electoral College would stand at 272 for Mr. Obama, 266 for Mr. Romney.

Which brings us to "1." Mr. Romney then needs one more state—any state—and the White House is his.
I tend to agree with Rove that Indiana and North Carolina are likely to return to the Republican fold. Both have been reliably Republican in Presidential elections for decades and developments since 2008 have shown that Obama's victories there were likely flukes brought about by a weak economy, and unpopular outgoing President, and a weak Republican nominee. Rove then goes on to spin a variety of scenarios to get Romney to 270, but the only one I find plausible at the moment is the idea of Romney winning New Hampshire, a state where he has deep political ties due both to his time as Governor of Massachusetts and his two runs for the Presidency. If he can win all three of the swing states and flip New Hampshire, then he wins. If he can't flip new Hampshire, then the odds of him being about to make up that six point deficit in the Electoral College become far longer.
It all starts, though, with Romney having to win Ohio, Florida, and Virginia. He either does that and has a chance to win, or he doesn't and Barack Obama gets another term i office. So, keep your eye on these three states because that's where the battle is going to be.