More Bad Swing State News For Romney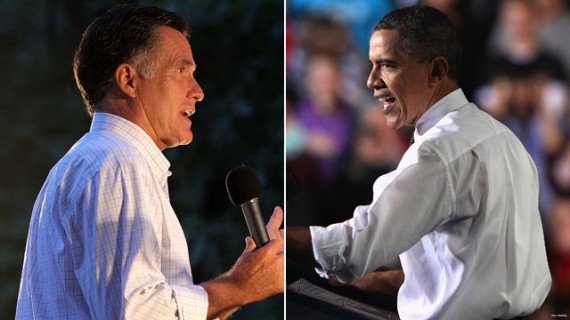 Just a day after a trio of Washington Post polls showed Mitt Romney falling behind President Obama in three crucial swing states, a new CBS/New York Times/Quinnipiac poll of two of those states shows the more trouble for the Romney campaign:
COLUMBUS, Ohio — For weeks, Republicans in Ohio have been watching with worry that the state's vital 18 electoral votes were trending away from Mitt Romney. The anxiety has been similar in Florida, where Republicans are concerned that President Obama is gaining the upper hand in the fight for the state's 29 electoral votes.

Those fears are affirmed in the findings of the latest Quinnipiac University/New York Times/CBS News polls of likely voters in both states, which show that Mr. Obama has widened his lead over Mr. Romney and is outperforming him on nearly every major campaign issue, even though about half said they were disappointed in Mr. Obama's presidency.

The polls, along with interviews with supporters and advisers in the nation's two largest battleground states, lay bare an increasingly urgent challenge facing Mr. Romney as he prepares for his next chance to move the race in his favor, at the first debate with Mr. Obama next week. Mr. Romney's burden is no longer to win over undecided voters, but also to woo back the voters who seem to be growing a little comfortable with the idea of a second term for Mr. Obama.

As Mr. Romney arrived in Ohio on Tuesday for a two-day bus tour and the president was set to campaign here on Wednesday, the poll also found potential openings where Mr. Romney could gain support. More voters say he would be better than Mr. Obama at tackling the budget deficit — the only major issue where he had such an edge — and a majority agree with his assertions that the government is doing too much of what should be left to individuals and businesses.

But Mr. Romney is facing mounting hurdles in these two critical states, which hold nearly as many electoral votes as the rest of the swing states combined. Mr. Romney's lead among older Americans has shifted toward an advantage for Mr. Obama; his competitiveness with Mr. Obama on who would better handle the economy has dipped into slightly negative territory; more view Mr. Romney unfavorably than favorably — the opposite is true for the president — and majorities say Mr. Romney does not care about the problems of people like them.

(…)

The New York Times, in collaboration with Quinnipiac University and CBS News, is tracking the presidential race with recurring polls in six states. In Ohio — which no Republican has won the presidency without — Mr. Obama is leading Mr. Romney 53 percent to 43 percent in the poll. In Florida, the president leads Mr. Romney 53 to 44 percent in the poll.

The surveys, which had margins of sampling error of plus or minus three percentage points for each candidate, also included a Pennsylvania poll, where Mr. Obama is leading Mr. Romney by 12 percentage points.

The polls were conducted as the Romney campaign grappled with fallout last week from the release of his tax returns and remarks he made at a fund-raiser in which he bluntly suggested that 47 percent of Americans saw themselves as victims who are dependent on the government. That was the latest in a string of setbacks for the campaign that appe+ars to be sapping the optimism of some of his supporters.

"Romney needs a PR person," Natalie McGee, a law student at Ohio State University who supports Mr. Romney, lamented during an interview on campus, where Obama volunteers were working to register voters and rally supportive students.

With 41 days remaining until the election, aides to Mr. Romney acknowledge that they are not leading in either state, but dispute the characterization that the race has shifted toward Mr. Obama. The political director, Rich Beeson, told reporters aboard Mr. Romney's plane that the campaign's internal data showed a closer race, saying, "The public polls are what they are."

In Florida, a month after Republicans from across the country went to Tampa for their national convention, about half of the voters have an unfavorable opinion of the party. Several Republican strategists in Florida said that they believe Mr. Obama has an advantage, but disputed it was as wide as the poll suggested. Some polls have shown the race in Florida to be tighter, although Mr. Obama has consistently had an edge in nearly a dozen recent polls.
The Pennsylvania numbers are not at all surprising. Despite some thoughts from Republicans that the GOP had a shot in the Keystone State this year, a state they have not won in a Presidential election year since 1988, recent  polling has shown the state moving solidly into the President's camp. Even if you don't buy the 12 point margin that the Quinnipiac poll gives the President, Franklin & Marshall, which has a long history of polling inside Pennsylvania, has him up by nine points.  This leaves the President with a +8.3 advantage in the RealClearPolitics Average  now and the overarching conclusion is that Pennsylvania will once again be safely blue come November.
Florida was one of the states in the polls released yesterday, but the result here is very different from what we saw in The Washington Post poll. That poll, and several others that have come out over the last several days, have Obama ahead by 3-4 points rather than the nine that Quinnipiac has, which may indicate some bad sampling on their part. Nonetheless, the President now has a +3.1 advantage in RCP Average in the state, and the trend in the Sunshine State is eminently clear: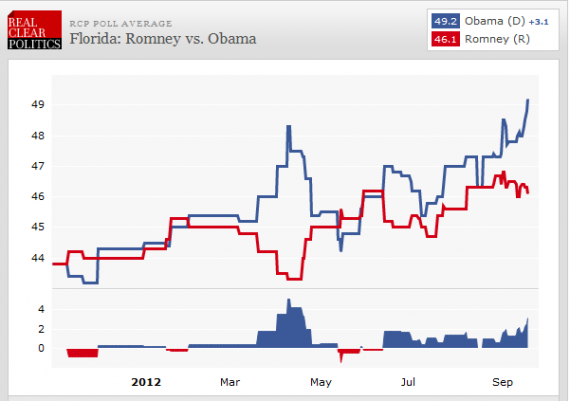 Ohio is also a state that was included in the polls released yesterday, and in this case the Quinnipiac poll is relatively similar to the Post poll. As I noted yesterday, though, both of these polls are showing Obama with a larger lead than other recent polls. Nonetheless, the trend in the Buckeye State is clear. Mitt Romney has not led in any of the last eleven polls conducted in the state, and if you take out questionable polls like Gravis Marketing and Purple Strategies, as well as Rasmussen, Romney has not led in a single poll in Ohio since the General Election campaign effectively began in April when Rick Santorum dropped out of the race for the Republican nomination. The current RCP Average for the state is now +5.2 in favor of the President, a development which has caused RCP to change Ohio from a "toss up" state to "Leans Obama" in their Electoral Map Projection, giving the President a 265 to 191 advantage with 82 Electoral Votes listed as "toss ups." Under this projection, Mitt Romney would have to win every single toss up state in order to win the election, something which is next to impossible.
Nate Silver, whose current Electoral College projections are slightly different from RCP's, discusses the problems for Romney if he loses Ohio:
[I]t would not quite be appropriate to call Ohio a "must-win" for Mr. Romney. In fact, he could lose it and still have 14 electoral votes to spare.

Mr. Romney would burn through that slack immediately if he lost either Florida (which has 29 electoral votes) or North Carolina (which has 15).

Of these, Florida is the bigger concern for Mr. Romney. Both states have featured somewhat inconsistent polling, but Mr. Obama's highs have been higher in the Florida polls, some of which have given him a lead in the mid-to-high single digits.

Losing both Florida and Ohio would almost assuredly be impossible for Mr. Romney to overcome. Out of the 25,001 simulations that we ran on Tuesday, there were literally zero cases in which Mr. Romney won the Electoral College despite losing both states.

A more favorable piece of news for Mr. Romney is that he could lose both Ohio and Virginia and still win the election, as they would only suffice to give Mr. Obama 268 electoral votes, although Mr. Romney would need to sweep all the other competitive states.

The combination that should perhaps most worry Mr. Romney, however, is the following: Mr. Obama wins Wisconsin and Iowa in addition to Ohio.

Usually, Wisconsin and Iowa are the alter egos of Ohio: highly competitive states that are just a bit blue-leaning, as compared to Ohio's slightly red-tinged history.

The last time that the Democrat performed more strongly in Ohio than he did in Iowa was in 1980, when Jimmy Carter lost both states, but Ohio by a slightly narrower margin. The last Democrat to perform better in Ohio than he did in Wisconsin was Hubert H. Humphrey in 1968, who lost Ohio by two points, but Wisconsin by four.

In other words, it seems unlikely that Mr. Romney can salvage either Iowa or Wisconsin if he's already lost Ohio – in which case he will lose the election.
That does seem to be the way things are panning out at the moment. We are one week away from the first Presidential Debate, at that point Romney will either need to start turning this race around or he's going to find October to be a very unpleasant month.