Mitt Romney's Path To Victory: Incredibly Narrow, And Perhaps Impossible To Navigate
As the final stretch of the campaign begins in earnest, Mitt Romney faces a very difficult task.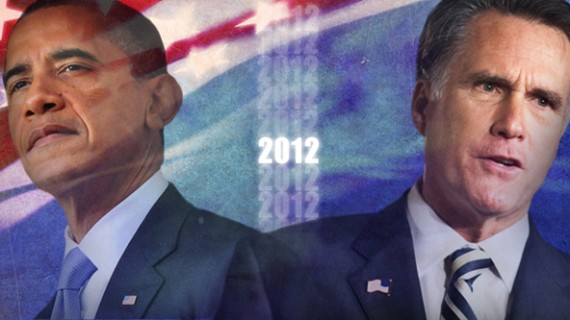 Shortly after President Obama's acceptance speech ended Thursday night, the Romney campaign announced an ambitious ad campaign targeted at a group of swing states,signaling that the post-Convention phase of the campaign has officially begun:
Mitt Romney's campaign is gearing up for its first major television offensive since the Republican National Convention, laying down heavy-duty ad reservations in eight swing states, according to media-buying sources.

Romney's campaign is buying time in Nevada, Ohio, Colorado, Florida, Iowa, North Carolina, Virginia and Massachusetts — the last of those representing the Boston TV market, which covers much of New Hampshire.

Right now, the flights cover just four days: Friday, Sept. 7, through Monday, Sept. 10. But that's unlikely to be the full extent of Romney's advertising next week.

Romney's ads are the first major use of the general-election money that his campaign and the RNC raised, and that Romney was unable to use before his formal nomination in Tampa last week.
The ad buy went into effect fairly quickly, as I saw my first run of the Virginia-focused ad while watching Morning Joe Friday morning. I'm sure that won't be the first iteration of that particular ad that I will see no matter how much I try to avoid it. You can see the ads themselves on Romney's YouTube Channel, but here's the Virginia ad just as an example of what they're gearing up for in the first round of ad buys:
It's a fairly well done ad, and the mention of the cuts to military spending are likely to resonate with defense workers and military families in Northern Virginia and the Tidewater area, which are likely to be the two areas of Virginia that decide the outcome of the election here. The ads for the other states are also fairly well done and, one presumes, likely to be followed up with sequels in the weeks to come.
What's interesting about the ad buy, though, isn't the quality of the ads but the states that they are running in. All of them are generally recognized as battleground states this election cycle, but, as Jonathan Chait points out, the ad buy itself seems to be a reflection of how Mitt Romney's path to victory has become even narrower:
Romney is targeting eight states: Nevada, Colorado, Iowa, Ohio, Florida, North Carolina, Virginia, and New Hampshire. No Wisconsin, Michigan, or Pennsylvania. This is surely not because Romney is husbanding scarce cash. Campaign aides also told Fox News yesterday that they basically have so much money they have to come up with ways to get it out the door, Brewster's Millions-style, before election day. ("We have $100 million we've just raised. If you look at our burn rate to date and our cash on hand, there's not much more we can spend on infrastructure. So we've got to start spending our general election funds in a big way, because you know what the value of that money is on the day after the election? Zero.") And it's probably not because they want outside super-PACs to spend in those states, either — they can't legally coordinate, and the super-PACs will take their cues from the Romney campaign about where to fight. (The GOP super-PACs have already pulled outof Michigan and Pennsylvania.)

The reason this looks worrisome for Romney is that he's pursuing an electoral-college strategy that requires him nearly to run the table of competitive states. The states where Romney is not competing (and which aren't obviously Republican, either) add up to 247 electoral votes. The eight states where Romney is competing add up to a neat 100 electoral votes, of which Romney needs 79 and Obama just 23. If you play with the electoral possibilities, you can see that this would mean Obama could win with Florida alone or Ohio plus a small state or Virginia plus a couple small states, and so on.

Unless I'm missing something badly here, Romney needs either a significant national shift his way — possibly from the debates or some other news event — or else to hope that his advertising advantage is potent enough to move the dial in almost every swing state in which he's competing.
I've made note of the differences between Romney's path to victory and Obama's several times before. As I noted back in April when the race between Obama and Romney was just beginning, President Obama's Electoral College advantage at the time was so significant that he could afford to lose several states that he won in 2008, including such important states as Florida and Virginia, and still win the election. Romney, on the other hand, was in a position where he could not afford to lose many of the battleground states, and certainly would be required to win two out of three out of Ohio, Virginia, and Florida. By May, it was appearing as if Romney would have to win all three of those states in order to get to the magic number of 270 in the Electoral College based on the way the swing state polling was going at the time.  Considering that he was, and still is, polling behind Obama in at least two of those three states, that was a tall order indeed in a race where neither candidate was making a breakthrough. The situation wasn't much better for Romney when I looked at in July and, by the time that we found ourselves on the eve of the party conventions just two weeks ago, I noted this:
The real takeaway here, though,  isn't who might win or lose based on the information available today, but how narrow Mitt Romney's path to victory remains. As noted above, he would need to win more than 80% of the outstanding toss-up Electoral Votes. That leaves almost no margin for error on the part of a campaign that has made several errors this summer. By contrast, President Obama only has to win about 23% of the toss-up EVs, and there are plenty of paths to victory that would allow him to do that. Obviously, there are many things that could happen between now and Election Day that could completely change the road map to victory for both candidates, starting with the conventions that start Monday.
Things don't look much better for Romney today than they did when I wrote that, as this RealClearPolitics Electoral College projection shows: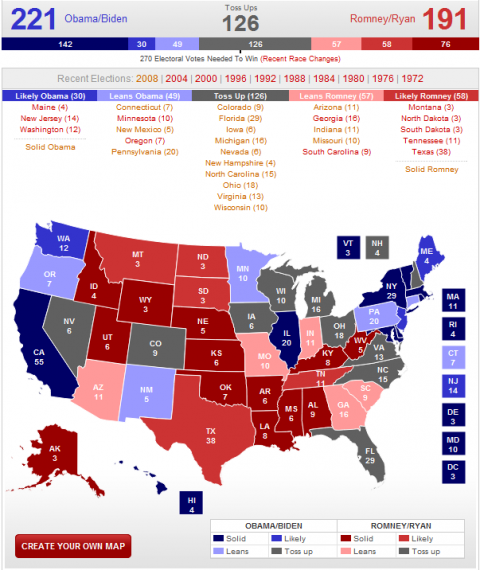 There have been some changes since the last time I posted this map. The number of toss-up states has increased from six to eleven, and much of that has come from President Obama's side of the column with states like Michigan and Wisconsin being put in the toss up column largely due to recent polls that seemed to suggest they were, in fact, toss up states. The caveat there is that there are significant doubts about whether that will last very long. As I noted just yesterday, the Romney campaign and pro-Romney SuperPAC are not running any ads in Michigan at all, and the ad buy that started today doesn't include either Michigan or Wisconsin despite the polls showing a tighter than expected race. This suggests that the Romney campaign has internal numbers indicating that those states are not as tight as recent public polling indicates, and not worth spending this early money on. Of course, given the amount of money the Romney camp has and the need to spend it all before Election Day, they may end up putting ads up in those states just to see if they move the polls at all. For the moment, though, the Romney camp seems to be conceding that the upper Midwest is not nearly as winnable as they might have hoped.
Even assuming that this RCP map is accurate about what states are toss-ups, though, Romney is still in a difficult position. Based on these numbers, Obama would need to win just under 39% of the outstanding toss-up Electoral Votes. Romney, on the other hand, would need to win nearly 63% of the outstanding Electoral Votes in order to win, and right now, it's fairly clear to me that he's far behind in that task. Just look, for one example, at the fact that he remains in a fight with Obama in North Carolina. This is a state that pretty much everyone assumed would be safely in the Republican column this year for a lot of reasons, but it isn't. Every dollar that the Romney campaign spends in North Carolina is one that they cannot spend in another state that may arguably be more important and, if it turns out that Romney does not win the Tarheel State in November, then he can likely begin working on his concession speech.
This is the reason that, for the moment at least, I see the race like this: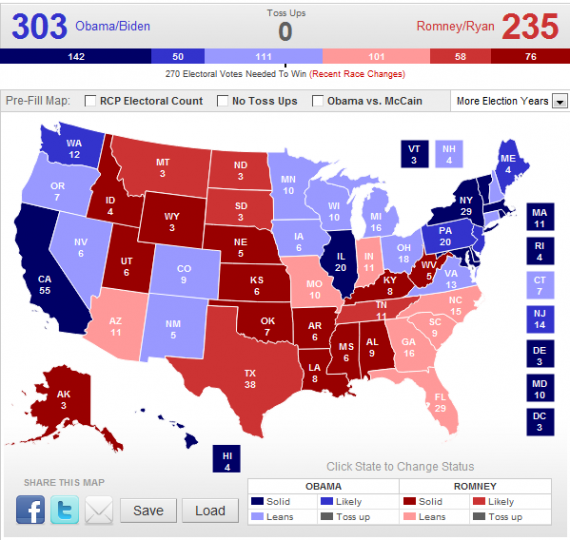 In order to reverse this, Romney would need to flip 35 Electoral Votes from Obama's column to his. He would do that if he won Ohio and Virginia and picked up New Hampshire, but that would give him the narrowest of Electoral College victories, 270 to 268. Despite the optimistic projections of many conservatives, I see no prospect of a Romney landslide this year absent a serious economic downturn or serious mistake by the Obama campaign, and the Obama campaign hasn't been making very many mistakes lately. As I've said before, though, Mitt Romney is in a situation where he has to run a nearly flawless campaign. So far, we haven't seen much evidence of flawless coming out of Romney headquarters in Boston.