Mitt Romney's Path To Electoral College Victory Is Still Very Narrow
Mitt Romney faces an uphill battle in trying to get to that magic number of 270 Electoral Votes.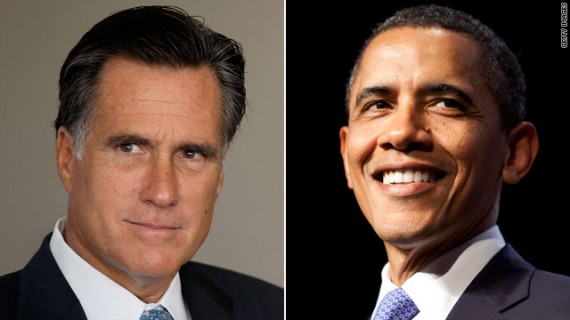 As of today there are 99 days left until Election Day and, just as was the case several months ago, while the national polls remain tight and there are signs that the state of the economy continues to hurt the President, the path to victory for Mitt Romney remains very precarious and, some might say, unlikely:
President Obama has an overall edge in the 12 decisive battleground states that is measurably greater than his advantage in national polling.

The dynamic, which may reflect a combination of lower swing-state unemployment rates and demographic advantages for the president, is causing stirrings of unease among Republicans, even as they emphasize that it is important not to read too much into the state of the race right now.

"Obama is concentrating his considerable early resources and messaging in the swing states, and it's had an impact," said Mark McKinnon, who served as a media adviser for President George W. Bush's presidential campaigns.

(…)

The crucial battleground states number about a dozen: Colorado, Florida, Iowa, Missouri, Nevada, New Hampshire, New Mexico, North Carolina, Ohio, Pennsylvania, Virginia and Wisconsin.

Taking the polling averages used by Nate Silver in the New York Times, the president is ahead in 10 of the 12 vital states. If those polls were borne out on Election Day, Obama would coast to victory with 332 electoral college votes. Only 270 votes are needed to win the presidency.

Awarding Obama only the states in which he now leads by 3 percentage points or more in the polling averages still sees him safely home.

By that measure, as of last Friday, he would win 8 of the 12 battlegrounds, for a total of 290 electoral votes.

Romney victories in Florida, Missouri, North Carolina and Virginia would leave the Republican marooned on 248 electoral votes.
Indeed, based on my own calculations, Romney would need to reverse the current trend and win at least 8 of the 12 battleground states discussed here. Some of them, likeColorado, Pennsylvania, and New Mexico seem like unlikely places for a Republican victory this time around unless there is a major change in the polls. The others (Ohio, Florida, Virginia, Iowa, Missouri, Nevada, New Hampshire, and North Carolina) are at least possibilities but by no means easy ones if current polling trends continue in the same manner that they've been going. Romney's ties to New Hampshire may be enough for him to pick up those four electoral votes, the growing evangelical movement in Iowa may be enough to push that state into the Republican camp, and Nevada's Mormon population could well prove decisive although Romney will have problems there thanks to his problems with Hispanic voters. However in all three of those states, RCP shows Obama with a lead. In Iowa it's a small 1.3 point lead, but in Nevada it's a fairly strong 5.3 point lead, while in New Hampshire the President leads by an average of three points. North Carolina remains close in the polls, but I think Obama will be unable to repeat his narrow 2008 victory there this time around and would give that state to Romney for now. The rest of the swing states are all going to be massive battlegrounds and Romney would need to win all of them in order to get a 270 vote majority and right now Romney is behind in the crucial states of Ohio and Virginia. Even if Romney wins these states, though, it would leave him with the slimmest of majorities, as slim as only a 6 point majority and in any case no larger than a 12 point gap. That leaves almost no margin for error, it also depends on the polls moving in Romney's direction as we move into August and September, as well as a good debate showing by Romney in October's three debates. There's very little that can go wrong, and the problem the Romney campaign has is that they've shown us several times is that they are very capable of doing the wrong thing.
Based in part of polling and in part on intuition and history, here's where I see the race right now, courtesy of a map I made at 270towin.com. There's no ability to create "Leans" states, which would be helpful, so I've essentially given to each respective candidate the swing states they are leading in right now regardless of how small the lead might be: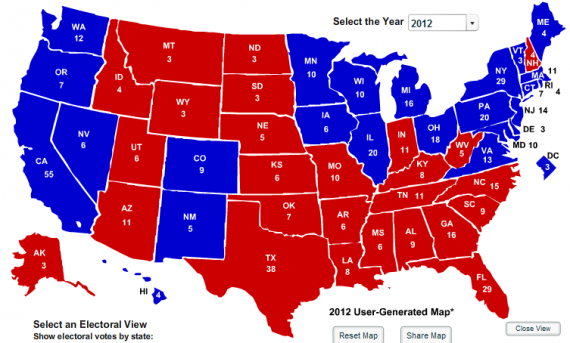 This puts us at Obama 299 Romney 239, slightly better for the President than where I saw things when I did this three months ago. Romney would need to pick off  at least 31 Electoral Votes just to get to 270. The good news for Romney is that some states, like Virginia, are very close right now and still very much capable of being picked off. Other states, however, such as Ohio, seem to be becoming more and more Pro-Obama. If he's going to win, Romney needs to find a way to pick away at least 31 Electoral Votes from the President. That would require wining Ohio and Virginia, which would give him 270 Electoral votes and make him the next President. That's not going to be easy, especially given the way current trends are going in this race.
There are several factors that can change between now and Election Day that could shift this election in a direction more to Romney's advantage, not the least of them being the state of the economy. However, we've been stuck in a very narrow band for most of this year and there's every reason to think it will stay that way at least until after the conventions. At that point, the question will become whether or not Romney will be able to give voters a reason to fire the incumbent President and, in the process, pick up enough Electoral Votes to win the election. Given the advantages that President Obama has in that regard, though, the odds are not in Romney's favor at the moment.