President Obama Capitulates On Freedom Of Speech Before The United Nations
President Obama's remarks before the United Nations were, at least in one particular part, disappointing.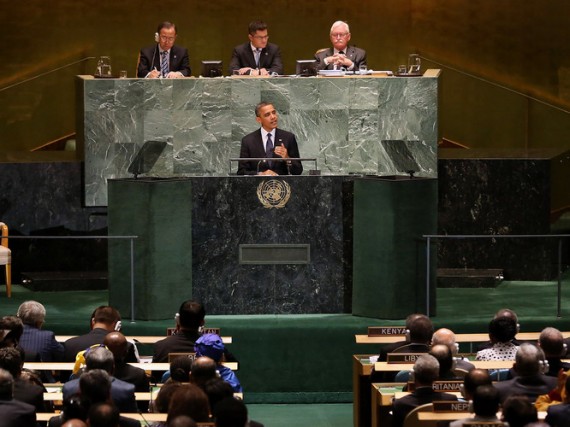 During his speech before the United Nations General Assembly this morning, President Obama said this:
In every country, there are those who find different religious beliefs threatening; in every culture, those who love freedom for themselves must ask how much they are willing to tolerate freedom for others.

That is what we saw play out the last two weeks, as a crude and disgusting video sparked outrage throughout the Muslim world. I have made it clear that the United States government had nothing to do with this video, and I believe its message must be rejected by all who respect our common humanity. It is an insult not only to Muslims, but to America as well – for as the city outside these walls makes clear, we are a country that has welcomed people of every race and religion. We are home to Muslims who worship across our country. We not only respect the freedom of religion – we have laws that protect individuals from being harmed because of how they look or what they believe. We understand why people take offense to this video because millions of our citizens are among them.

(…)

The future must not belong to those who slander the prophet of Islam. Yet to be credible, those who condemn that slander must also condemn the hate we see when the image of Jesus Christ is desecrated, churches are destroyed, or the Holocaust is denied. Let us condemn incitement against Sufi Muslims, and Shiite pilgrims.

(…)

In every culture, those who love freedom for themselves must ask how much they are willing to tolerate freedom for others.
No, Mr. President. This is not a choice. Freedom is not a choice, it is the right of all human beings, and the fact that the manner in which I or someone else exercises their freedom might offend someone is, in the end, entirely irrelevant. Their offense does not give them the right to riot, to destroy property, to issue bounties for the death of the person who created something that offended them or, as in the case of Theo van Gogh, to kill someone because they created something that offended them. Kowtowing to the tyrants and those who would suppress free speech by agreeing that offensive speech is somehow wrong accomplishes nothing other than reinforcing their opinion that they are correct in believing that it is acceptable to riot and kill people because they are offended. These are American values, but they are universal human rights, and an American President ought to have the self-respect to stand up for them.
Matt Welch comments: [Emphasis mine]
So many things wrong in so few words. Why this video, and not Theo Van Gogh's Submission, or Lars Vilks' animation of Mohammed wanting to go to a gay bar, the "Super Best Friends" episode of South Park, or Funny or Die's "How to Pick a Pocket"? Is it the degree of the insult, the craptasticness of the production values, the size of the release, or the vociferousness of the outrage expressed?

Given the track record of our past two administrations, I think we know the answer to that question, which suggests another thing terrible about this sentence: As Eugene Volokh recently pointed out, "Behavior that gets rewarded, gets repeated." If all it takes to earn a White House call for global condemnation of a single piece of expression is some violent protests outside a dozen or two diplomatic missions, then the perpetually aggrieved know exactly what to do the next time they pluck out some bit of cultural detritus to be offended by.

It is not any politician's job, and certainly not any American politician's job, to instruct the entire world on which films to criticize.
Welch is absolutely correct here. Irregardless of the diplomatic issues involved, no American President should be standing up before the world and effectively apologizing for the fact that we have a legal and Constitutional structure that allows people to freely express their opinions even when those opinions offend people. It is not the job of the speaker to temper his speech because of the irrational response of the listener, it is the job of the listener to become more rational.
To his credit, the President did condemn the rioting and did say that our laws protect the film that has caused protests in the Muslim world. However, he erred significantly in one very important respect. As Welch says, it is not the job of the United States as a nation, or our political leaders, to condemn what other people in the world might consider blasphemy, or to even take into account the fact that the fact that we do not punish people for the content of their speech might anger them. That is our system and it is one we should be proud of rather than apologizing for. The United States didn't condemn Salman Rushdie for The Satanic Verses when the Muslim world rose up in condemnation of that book, indeed the American government condemned the fatwa that was issued against him by Ayatollah Khomeni.  We didn't condemn the Mohammed cartoons when Muslims irrationally reacted to them by rioting. We didn't condemn Theo van Vogh when his film Submission was condemned by Muslims, a condemnation that eventually led to his murder. Why must we condemn this film now?  I see no good reason.