President Trump Attacks American Citizens For Exercising Their First Amendment Rights
In President Trump's mind, American citizens exercising their First Amendment rights are "sons of bitches" who should be fired for exercising their rights.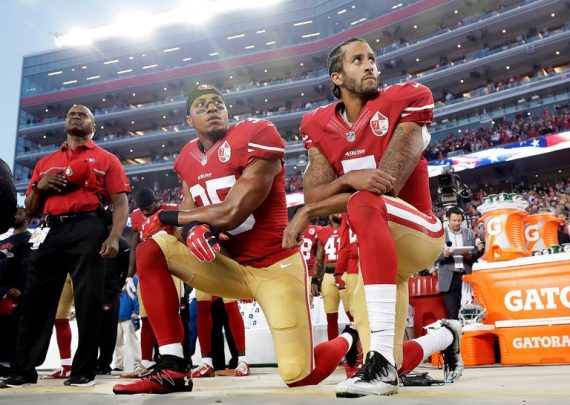 Last night during a campaign rally speech for Alabama Senate candidate Luther Strange, President Trump decided to wade into the still-ongoing debate about N.F.L. players such as Colin Kaepernick and the pre-game protests they've waged by declining to stand for the National Anthem:
HUNTSVILLE, Ala. — President Trump said on Friday night that N.F.L. owners should fire players who kneel during the national anthem, and he encouraged spectators to walk out of stadiums in protest.

In an extended riff during a speech in Alabama, Trump also bemoaned what he sees as less violence in football games.

"They're ruining the game," he complained.

Several athletes, including a handful of N.F.L. players, have refused to stand during "The Star-Spangled Banner" to protest of the treatment of minorities by the police. Quarterback Colin Kaepernick, who started the trend last year when he played for the San Francisco 49ers, has not been signed by a team for this season.

Trump says those players are disrespecting the flag and deserve to lose their jobs.

"That's a total disrespect of our heritage. That's a total disrespect of everything that we stand for," he said, encouraging owners to act.

Trump predicted that any owner who followed his advice would become "the most popular person in this country" — at least for a week.

Trump, who was in Alabama campaigning for Senator Luther Strange, also attributed a decline in N.F.L. ratings to the nation's interest in "yours truly" as well as to what he described as a decline in violence in the game.

He said that players were being thrown out for aggressive tackles, and that it's "not the same game."

Over the past several seasons, the N.F.L. and college football have increased penalties and enforcement for illegal hits to the head and for hitting defenseless players. A July report on 202 former football players found evidence of a debilitating brain disease linked to repeated head blows in nearly all of them. The league has agreed to pay $1 billion to retired players who claimed it misled them about the concussion dangers associated with playing football.
Here's video of what Trump said:
.@realDonaldTrump says he'd love see NFL players "fired" for protesting the flag. Read more here: https://t.co/NpLJ5eTMBJ pic.twitter.com/KBrLu6f52R

— POLITICO (@politico) September 23, 2017
Several current and former N.F.L. players have hit back at Trump for his statement last night, as has the N.F.L. Player's Association:
The head of the NFL Players Association, the union representing professional football players, said Saturday that the union "will never back down" from supporting players' right to protest.

The statement follows President Trump saying Friday night that people should "pick up and leave" NFL games if players kneel as a form of protest during the national anthem.

"Whether or not [NFL commissioner] Roger [Goodell] and the owners will speak for themselves about their views on player rights and their commitment to player safety remains to be seen," NFLPA executive director DeMaurice Smith said in a statement.

"This union, however, will never back down when it comes to protecting the constitutional rights of our players as citizens as well as their safety as men who compete in a game that exposes them to great risks," he continued.

Trump told a crowd at a rally for Alabama Senate candidate Luther Strange (R) on Friday night that NFL players will stop kneeling if crowds started leaving games.

"When people like yourselves turn on television and you see those people taking the knee when they are playing our great national anthem – the only thing you could do better is if you see it, even if it's one player, leave the stadium," Trump said. "I guarantee things will stop."

Trump also said NFL owners should fire players if they refuse to stand during the national anthem.

"Wouldn't you love to see one of these NFL owners, when somebody disrespects our flag, to say, 'Get that son of a b—- off the field right now,'" he continued, adding, "'He is fired.'"

Trump also accused NFL referees of "ruining the game" by penalizing players who "hit too hard."

"Today, if you hit too hard…15 yards, throw him out of the game," Trump said. "They are ruining the game, right?"

Multiple NFL players have fired back at Trump, with one Washington Redskins player telling him to "stay in your place" following his comments.
Here's the statement from the N.F.L.P.A.:
We will never back down. We no longer can afford to stick to sports. pic.twitter.com/Ec3Bc4qt9h

— DeMaurice Smith (@DeSmithNFLPA) September 23, 2017
And N.F.L. Commissioner released this statement this morning:
New NFL statement pic.twitter.com/XHPgVvPPfH

— Brian McCarthy (@NFLprguy) September 23, 2017
Additionally, CNN's Jake Tapper had this comment:
Focusing like a laser on the major problems of the American people: black professional athletes with opinions. https://t.co/yhRHZWt7dk

— Jake Tapper (@jaketapper) September 23, 2017
To be clear, if the owner of an N.F.L. team decided to discipline players who declined to stand for the Anthem, or if the N.F.L. itself fined such players for such activity, it would not be a violation of the First Amendment. Both the team and the N.F.L. itself are private organizations and the protection of the First Amendment don't apply to them at all. It's unclear, of course, if an owner or the league has the authority to do what Trump suggests because it's not at all clear that Kaepernick or any of the other players who have protested during the Anthem are violating any team or league rule, and the Collective Bargaining Agreement between the league and the N.F.L.P.A. would likely bar punishing a player for violating a rule that doesn't exist. Additionally, the protests as such don't occur during gameplay and clearly haven't caused any interruptions or problems during the course of the game itself. Therefore, it's entirely likely that Trump is recommending an owner do something that they have no authority to do at all.
Leaving aside these technicalities, though, it strikes me that that there's something utterly inappropriate about a President who attacks individuals for exercising rights that are guaranteed by the First Amendment. As an American citizen, Trump has as much right to speak his mind, such as it is, as anyone else, of course. However, as President of the United States, he has a responsibility to do so in a manner that recognizes that the people he's criticizing have the same rights that he does. His remarks here demonstrate quite starkly that he doesn't, and that he cares more about using this issue as red meat to toss to his supporters than he does about any issues regarding the fact that these players are merely exercising their right to engage in a silent, non-disruptive, and non-violent pre-game protest. None of this should come as a surprise, of course, both during the campaign and since becoming President, Trump has shown contempt for parties exercising their rights, and this has continued into his time as President.
On a final note, it's worth noting that Trump decided to call people engaging in a peaceful, non-violent protest "sons of bitches" while he is on the record as referring to people who people who participated in a rally that repeated Nazi-like slogans such as "Blood and Soil!" and "Jews Will Not Replace Us!" as being "very fine people." Draw your own conclusions from that.
Update: Trump continued his attack against Kaepernick and other N.F.L. players this afternoon on Twitter:
If a player wants the privilege of making millions of dollars in the NFL,or other leagues, he or she should not be allowed to disrespect….

— Donald J. Trump (@realDonaldTrump) September 23, 2017
…our Great American Flag (or Country) and should stand for the National Anthem. If not, YOU'RE FIRED. Find something else to do!

— Donald J. Trump (@realDonaldTrump) September 23, 2017
Mr. President, that flag stands for the right of people to stand up for what they believe in, even when that includes kneeling during the National Anthem. It even stands for your right to use Twitter to demonstrate how much of a complete idiot you are.