Previewing The Second Democratic Debate With A Look At The Polls
For the second time in month, the candidates for the Democratic Presidential nomination will face off in a two-night debate, so it's as good a time as any to look at the polls.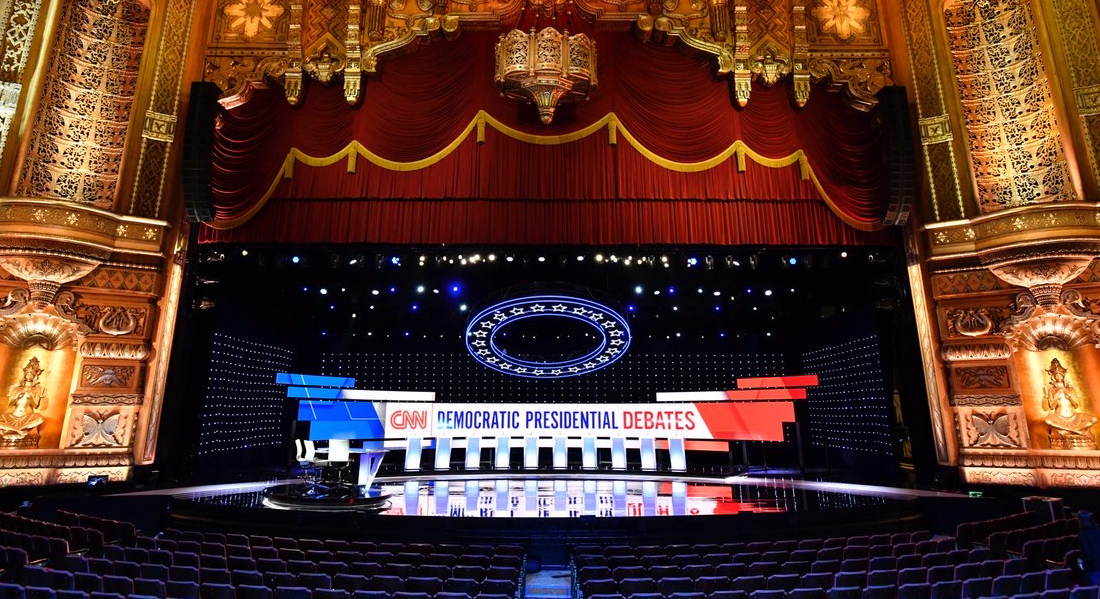 In just over twelve hours, the first group of candidates will face off in their second debate in a month, with the second group taking the stage a day later. The first debate, which begins at 9:00 p.m. tonight, will include two of the four frontrunners, Senators Elizabeth Warren and Bernie Sanders, both of whom are vying for the support of essentially the same group of progressive-oriented voters. This will be the second time that Warren is among the headliners of the first night of the debate, but the first time that she'll be facing one of the other candidates leading in the polls. The second night will once again feature former Vice-President Joe Biden and California Senator Kamala Harris, who of course had a confrontation during the first debate that appeared to give the Senator a boost while dealing the former Vice-President's campaign something of a setback.
In addition to these four frontrunners, these debates likely to prove to be crucial for a number of other candidates as well. This is especially true for candidates who are polling at 2% or lower in national or state-level polling. For many of these candidates, this will be the last chance they will have to make a national impression before a mass audience that would allow them to break out from the bottom of the pack and at least keep their campaigns alive and credible going forward. This is especially true since this is the last debate for which the criteria will allow candidates polling below 2% to qualify debates. If they fail to capitalize on the opportunity before them then they will be shut out of the third and fourth debates in September and October respectively and, potentially, be faced with the probability that they will have to decide if continuing forward makes any sense whatsoever. For many of them, the decision will likely be that it does not.
The first debate, of course, did result in some significant changes in the nature of the race from what it looked like prior to the debate. As we saw in a series of polls in the immediate aftermath of the debate — see here, here, here, here, here and here — that immediate impact consisted of significant gains for both Senator Harris and Senator Warren, largely at the expense of Senator Bernie Sanders and former Vice-President Biden. As time went on, though, there were signs that the post-debate bump was relatively short-lived, especially for Senator Harris. Indeed, as we sit here waiting for the second debate to begin, it appears that the former Vice-President has almost completely bounced back from the losses he suffered after the first debate:
Former Vice President Joe Biden has bounced back to where he was before the first Democratic debate in early July, with 34% support among Democrats and Democratic-leaning independent voters in a new Quinnipiac poll.

The new poll, released a day before the second round of Democratic primary debates in Detroit, shows Massachusetts Sen. Elizabeth Warren follows Biden with 15% support, California Sen. Kamala Harris with 12%, Vermont Sen. Bernie Sanders at 11%, and South Bend, Indiana, Mayor Pete Buttigieg at 6%. The difference between Warren, Sanders and Harris is within the poll's margin of error, while Biden leads the group.

The biggest mover since the last Quinnipiac poll is Harris, who dropped 8 percentage points in her support in a poll taken in the wake of the first debate. Before that debate, Quinnipiac had Biden at 30% and Harris at 7% — and immediately after Biden was at 22% and Harris at 20%.

This poll finds much different numbers than the previous survey, with Harris losing some (but not all) of the support she saw in her surge following the first round of debates. Sanders also lost 8 percentage points since June, having gotten no bump from debates. Warren maintained her 15% support; she's had between 12% and 15% support since April.

Polls taken directly after debates tend to show a surge in support for some candidates who become more prominent in the minds of voters after the performance. Harris made waves at the second night of the first debates, calling out Biden on his past policy choices.

It is more rare for candidates to remain stable, with only one who is polling above 5% not showing significant movement in the wake of the debates: Warren. Sanders has been steady since the debates, but saw some movement since June.

The second round of debates is hosted by CNN Tuesday and Wednesday in Detroit, and could shake up the order of the top five candidates even more. It remains to be seen if any candidate can make that surge in support stick beyond a post-debate bump.

Warren performs better among Democratic voters who consider themselves very liberal (29%) than somewhat liberal (14%) or moderate/conservative (9%). Sanders is in a similar boat — 15% of his supporters are very liberal, 16% somewhat and only 8% are moderate/conservative.

Meanwhile, Biden's supporters tend to be moderate/conservative (39%), instead of somewhat liberal (34%) or very liberal (25%). Harris' support is divided relatively evenly: 12% very liberal, 10% somewhat liberal and 12% moderate or conservative.

Biden continues to top among Democratic black voters, with 53% who plan to support the former vice president. That's compared to 8% for Sanders and 7% for Harris.Older voters are also more interested in Biden than other groups (47% of those over 65 years old, 34% of those 50-64, and 27% under 50). Sanders sees the biggest gap for young voters (18% of those under 50, 7% 50-64-year-olds, and 3% of those over 65).

Biden tops other candidates in terms of who Democrats said would be the best leader (36%), bouncing back from only 26% who said so after the first round of debates, and 44% who said so in April. He is followed by 17% for Warren, 12% for Sanders, 9% for Harris and 5% for Buttigieg.

Biden has also seen a jump in the percentage of people who think he can beat President Donald Trump in the general election (51% now, up from 42% in July, and 56% in April). One in 10 said the same of Sanders, 8% for Harris and 8% for Warren.

The only category where Biden doesn't lead is who Democratic voters think has the best policy ideas, where Warren is on top, with 26% who said so over 21% for Biden. Sixteen percent thought Sanders has the best policy ideas, 6% for Harris and 5% for Buttigieg.
In addition to the Quinnipiac poll, there are several other recent polls that appear to show the race returning to what it looked like before the first debate:
Looking at the RealClearPolitics Average, we find the following:
Vice-President Biden — 32.0% (down slightly from his average before the first debate);
Senator Bernie Sanders — 16.2% (up slightly from his average before the first debate);
Senator Elizabeth Warren — 14.0% (up 1.8 points from her average before the first debate);
Senator Kamala Harris — 10.5% (up 3.5 points from her average before the first debate);
Mayor Pete Buttigieg — 5.7% (down 1.3 points from his average before the first debate);
Beto O'Rourke 2.8% (down 0.2 points from his average before the debate); and,
Andrew Yang — 2.0% (up 1.0 points from his average before the first debate); and,
All other candidates averaging below 2.0%, including Cory Booker, who had an average of 2.4% before the first debate.
The RealClearPolitics chart, meanwhile shows that Biden's post-debate dip appears to have reversed itself, while the three candidates immediately below them are bunched together: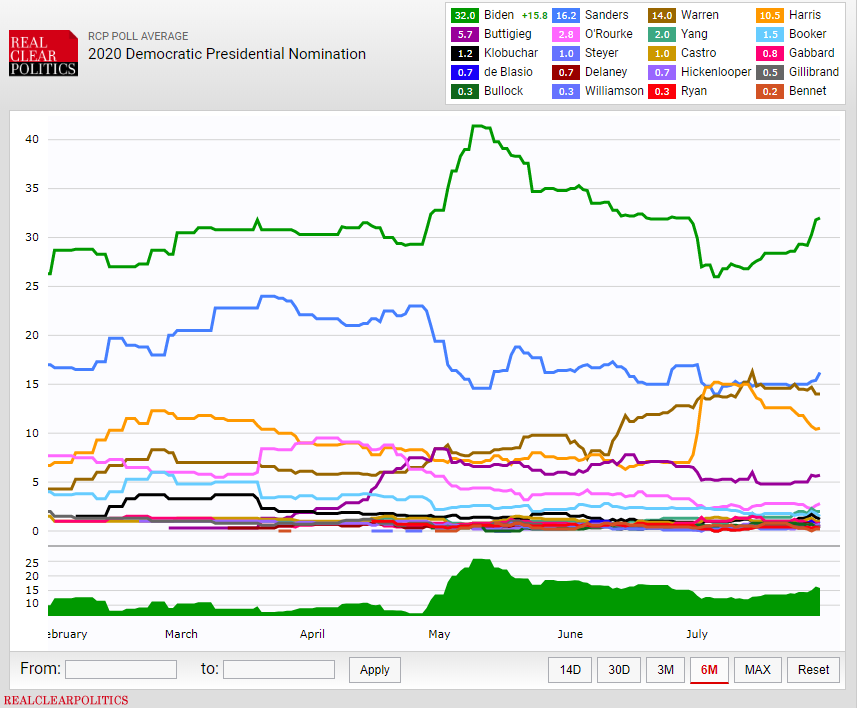 Heading into the debates, it's rather clear what the candidates need to do with the relatively limited amount of time they're likely to have.
Looking at the lineup for tonight's debate, it's clear that the primary focus will be on any potential clashes between Senators Warren and Sanders. While both candidates have refrained from directly attacking one another, it's inevitable that a clash of some kind is coming at some point and this would be as good a time as any for that to happen. This is especially true from Sanders' point of view given the fact that the trends since the first debate show him fading in the polls while Senators Warren and Harris have essentially come up to challenge him from the left. Pete Buttigieg, on the other hand, will need to find a way to revive a campaign that has faded somewhat from the surge he had in April after he first entered the race. The same is true of Beto O'Rourke, who has been falling behind the pack for two months now. The rest of the debate participants, meanwhile, will need to find a way to get a "moment" that propels them into the national discussion, otherwise, they are likely looking at their last chance to reach a large number of voters.
Wednesday night's debate, meanwhile, is shaping up to look somewhat similar to what we saw on the second night of the first debate. Once again, Vice-President Biden and Senator Harris will be at center stage, and everyone will likely be looking to see if there's another Harris-Biden clash like there was in June. If it happens, I suspect that Vice-President Biden will become far more assertive than he was last month. In addition to Harris, though, there have also been reports that Senators Booker and Gillibrand intend to "go after" Biden. The danger in doing so, of course, is that the attacks will backfire. Biden himself will be under pressure to show that the first debate was an anomaly and that he can handle the pressure of the debate stage better than he did that first time. Finally, the lower-tier candidates will also seek to use their time to try to push their campaign forward and differentiate themselves from the other candidates. If they don't succeed then it's unclear how much longer their campaigns can survive.
In any case, the debates will be carried live beginning at 9:00 p.m. Eastern on CNN and will also apparently stream live from CNN's website. Breathless coverage of the run-up to the debate, meanwhile, has already started, complete with the inevitable countdown clock.