Republican Leaders Refuse to Lead
They know Trump lost the election yet are aiding his outrageous assault on democracy.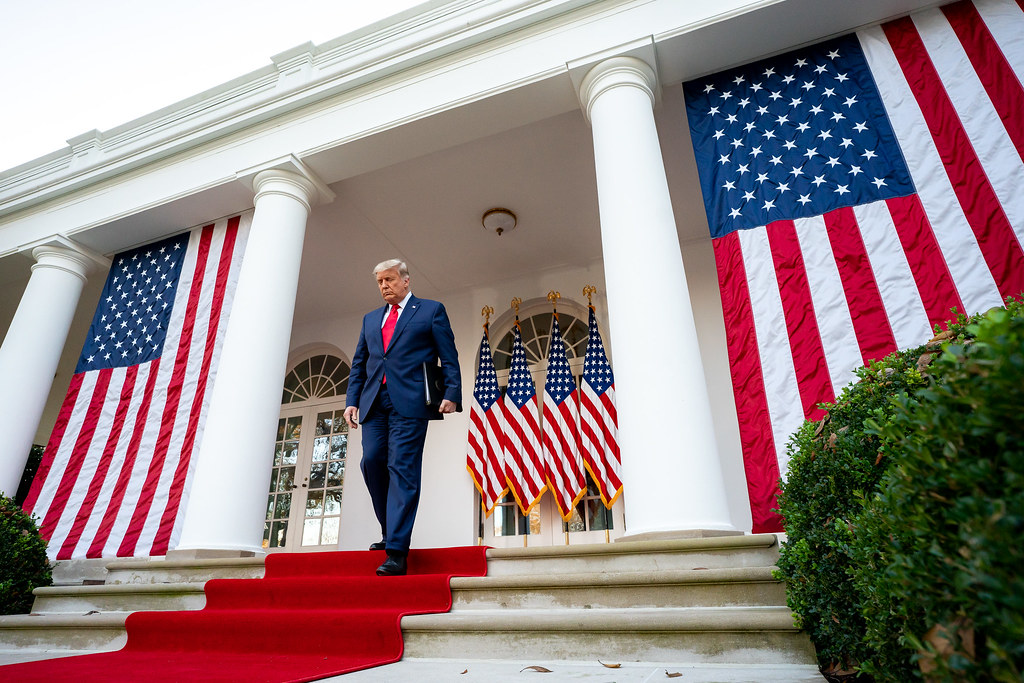 AP Washington Bureau Chief Julie Pace argues that "For Trump, sowing post-election chaos is the goal."
President Donald Trump is trying to turn America's free and fair election into a muddled mess of misinformation, specious legal claims and baseless attacks on the underpinnings of the nation's democracy.

The resulting chaos and confusion that has created isn't the byproduct of Trump's strategy following his defeat to Democrat Joe Biden. The chaos and confusion is the strategy.

Trump's blizzard of attacks on the election are allowing him to sow discontent and doubt among his most loyal supporters, leaving many with the false impression that he is the victim of fraudulent voting. That won't keep Trump in office — Biden will be sworn in on Jan. 20 — but it could both undermine the new president's efforts to unify a fractured nation and fuel Trump in his next endeavor, whether that's another White House run in 2024 or a high-profile media venture.

[…]

Some Trump allies acknowledge privately that using the courts to actually reverse Biden's victory isn't the point of their efforts. And they also see no real path to persuading GOP-controlled state legislatures to appoint electors that would overturn the will of the voters, though some Trump advisers were buoyed this week when a pair of Michigan Republicans voted against certifying Biden's overwhelming victory in Wayne County. They reversed course following a public outcry.

Rather than overturn the election results, Trump allies say the goal is to help keep the president's most loyal supporters engaged and energized for whatever he might pursue after he leaves office — even if that means leaving them ill-informed about the reality of what has unfolded in the election.

Trump has long relished blurring the lines between truth and fiction and taking advantage of the confusion that creates. If anything, his presidency has only emboldened those tendencies, given the ways in which the Republican Party and friendly media outlets have helped propel his versions of events, even when they are indisputably false.

Those same dynamics have continued to help prop up Trump through this post-election stretch. Some small conservative media outlets have refused to accept Biden's victory and have seen their audiences grow as a result. And most GOP leaders have helped give Trump cover by also stopping short of publicly acknowledging Biden's victory, despite the fact that many do so privately.

GOP lawmakers have their own strategy in play. The party's Senate majority hangs in the balance in a pair of runoff elections in Georgia in January, and some Republican strategists see an aggrieved Trump base as key to the party's success there. They're casting the Senate votes as a way to exact revenge for Trump's defeat in a "rigged" election and saddle Biden with a GOP majority in the chamber.

Others see the party's response as a signal that they're simply trying to get through the final weeks of his presidency without rocking the boat, even if that means allowing misinformation about the nation's electoral process to flourish.

"It's hard, cynical politics," said Mike Murphy, a veteran Republican strategist who backed Biden in the election. "They don't think the noise is an immediate threat so they're waiting him out."

In a stinging condemnation of his party, Murphy continued: "The elephant is out as the GOP symbol and the chicken is in."
Her colleagues Jonathan Lemire and Lisa Mascaro add more evidence of said cowardice in their report "GOP increasingly accepts Trump's defeat — but not in public."
When Kamala Harris returned to the Senate this week for the first time as vice president-elect, her Republican colleagues offered their congratulations and Sen. Lindsey Graham greeted her with a fist bump.

It was a sign that many Republicans have privately acknowledged what they refuse to say openly: Democrat Joe Biden and Harris won the election and will take office in January.

The GOP's public silence on the reality of Biden's victory amounts to tacit approval of Trump's baseless claims of election fraud. That has significant repercussions, delaying the transition during a deadly pandemic, sowing public doubt and endangering Biden's ability to lead the portion of the country that may question his legitimacy.

[…]

Republicans are closing the Trump era much the way they started it: by joining the president in shattering civic norms and sowing uncertainty in institutions. But their efforts to maintain a public face of support for the president began to deteriorate on Wednesday.

Backroom whispers about the futility of Trump's legal fight have become louder after Trump lawyer Rudy Giuliani appeared in a Pennsylvania courtroom making wide and unsubstantiated claims of voter fraud in seeking to undo the election results. Asked about the case, Sen. Pat Toomey, R-Pa., said, "Let me just say, I don't think they have a strong case."

And when White House chief of staff Mark Meadows visited with Senate Republicans, he encouraged them to "make the most" of their remaining time with Trump, according to two senators.

Sen. John Cornyn, R-Texas, said the message from Meadows was "basically just that we got about 45 days left of the president's term." Meadows told them the administration wanted to make sure that if the senators "had ideas of things that the White House could and should do during that period of time, that we got them to him."

[…]

Despite the private admissions, there has been no public effort to nudge Trump toward the exit.

Trump has declined to concede the presidential race and is mounting legal fights in several states, but there has been no indication or evidence of voter irregularities or widespread fraud in the election. The Trump-appointed head of the General Services Administration has held off on formally beginning the Biden transition to the White House, slowing the incoming administration's ability to prepare to grapple with a worsening pandemic that has already killed 250,000 Americans.

Trump's refusal to accept the results means the election disputes could drag on for weeks as states certify their tallies or push to mid-December, when the Electoral College is set to vote. And baseless claims about election fraud have filled conservative media without any rebuttal from Republicans, potentially undermining the Biden presidency before it even begins.

A Monmouth University poll released Wednesday showed that while 95% of Democrats believe the election was "fair and square," only 18% of Republicans do, while 70% of GOP voters believe some voter fraud took place.

A sense of paralysis has set in at the White House.

The West Wing has been hollowed out, with staffers quarantining after COVID-19 exposures and others actively looking for new jobs. The president has remained in the Oval Office well into the night but has stayed out of the public eye, tweeting baseless claims while largely giving up on governing and not taking a single question from a reporter since Election Day.

Republicans have said privately there's not much they can do except wait, giving the president the time and space he needs to see the results for himself. Senate Majority Leader Mitch McConnell, perceived by some Republicans as the one man who could urge Trump to cooperate with the Biden transition, has instead steadfastly backed the president, saying he's "100% within his rights" to legally contest the results.

GOP lawmakers have pointed to the more than 70 million votes that Trump garnered as well as his overwhelming popularity with Republicans, including among their respective bases of support back home. The chatter that Trump is already eyeing a 2024 campaign has also frozen Republicans wary of his Twitter account, and they have also expressed fear that being perceived as forcing the president to the exit may trigger the temperamental chief executive to make further risky decisions, such as troop drawdowns or more dismissals on the national security staff.
As in the case of GSA Administrator Emily Murphy, one can simultaneously appreciate the predicament these people find themselves in and yet be outraged at their shirking of their sworn duty to the Constitution. It was bad enough to abet Trump's whining about the unfairness of it all as the counting of mailed ballots overturned his Election Night leads in state after state. But it's one thing to give a notoriously childlike leader a couple of days to accept reality and quite another to go along with it more than two weeks after the outcome was clear.
In "Trump challenges cement Biden triumph," Axios' Glen Johnson notes the irony of it all:
President Trump's frantic post-election challenges are having the opposite effect of what he intended: He's documenting his demise through a series of court fights and recounts showing Joe Biden's victory to be all the more obvious and unassailable.

Why it matters: The president's push to overturn the election results is dispelling the cloud of corruption he alleged by forcing states to create a verified — and legally binding — accounting of his election loss.

"Each loss further cements Biden's win," says election law expert Richard Hasen.

"History shows that any leader who constructs a major myth, that is later shown to be false, will eventually fall," says Harvard science historian and "Merchants of Doubt" author Naomi Oreskes. "The risk is that he takes his country down with him."
But, of course, that's only for those who care about things like facts and reality. Which, alas, increasingly does not include Republican voters. But that's hardly surprising given the efforts their leaders go through to paint a false reality.