Emily Murphy's Plight
Why is making the obvious call so hard for the GSA Administrator?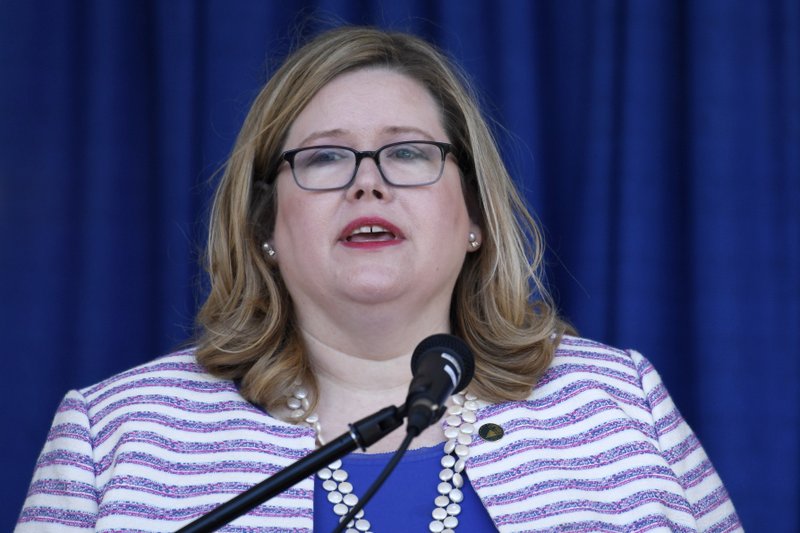 Nine days ago, in my post "GSA Head Refuses to Sign Transition Order," I noted that the career government official charged with the duty of certifying that Joe Biden was "the apparent winner" of the Presidential election was refusing to do her job and that "This isn't 2000, where the outcome of the election is genuinely in doubt."
Alas, we're still waiting.
CNN tries to make us sympathetic to her plight with a feature titled "'It's a terrible situation': Inside a government bureaucrat's pressure-filled decision to delay the transition."
As the only obstacle between President-elect Joe Biden and the formal start of the presidential transition, General Services Administrator Emily Murphy is struggling with the weight of the presidential election being dropped on her shoulders, feeling like she's been put in a no-win situation, according to people who have spoken to her recently.

This was never a position that Murphy thought she would find herself in, the people said. But as the government official in charge of signing off on the election result, President Donald Trump's refusal to concede the election has thrown Murphy into the middle of a political firestorm.

Facing mounting pressure from both sides, and even death threats, the sources say Murphy is working to interpret vague agency guidelines and follow what she sees as precedent to wait to sign off on the election result, a process known as "ascertainment" that would allow the official presidential transition to begin.
As noted in the previous posting on the matter, I fully understand that President Trump's tantrum has made doing her job harder. But she took an oath to the Constitution, not the chief executive. There's simply no question—none—as to the outcome of the election. And there's essentially no harm at all in allowing Team Biden to start the transition process while Trump exhausts his futile legal options.
Sources who spoke to CNN could not say whether Murphy has been in touch with the White House on the issue."

She absolutely feels like she's in a hard place. She's afraid on multiple levels. It's a terrible situation," one friend and former colleague of Murphy's told CNN. "Emily is a consummate professional, a deeply moral person, but also a very scrupulous attorney who is in a very difficult position with an unclear law and precedence that is behind her stance."She's doing what she believes is her honest duty as someone who has sworn true allegiance to the Constitution of the United States of America, and the laws that govern her position," the friend added.
She may believe that, but she's wrong. She's acting dishonorably.
It's true that we're in uncharted territory. In every modern election save 2000 and this one, the loser conceded the race quickly and graciously when the outcome became obvious. And, in 2000, Al Gore in fact conceded on Election Night only to awkwardly pull it back once it became clear the outcome in Florida was still in doubt.
But it's simply absurd to rely on 2000 as the relevant precedent. In that case, the outcome hinged on a single state where the initial count showed a margin of a few hundred votes. This year, Trump would have to overturn the outcome in several states, all of which have him trailing by thousands of votes.
Sources close to Murphy describe her as a technocrat and policy wonk, with a lengthy career as a congressional aide and at GSA. It's not clear what specific actions Murphy is waiting on before granting ascertainment.
Sources tell CNN she is basing her decision on what she sees as the precedent set by the 2000 election, where there was not a clear winner for more than a month.
Two sources close to the transition told CNN that Trump's disastrous day in court last Friday had moved the dial forward, but days later there was still no ascertainment letter from Murphy.

The impending results from Georgia's recount, which are expected to be certified Friday with no dramatic shift in results, along with other states beginning to certify the election are also factors in Murphy's decision, these sources said. But Murphy has not publicly said what the definitive line will be.

"My experiences with Emily have led me to believe she is an ethical and moral person, but I strongly disagree with her current decision not to ascertain the election," said a former administration official and colleague of Murphy's who had spoken to her in recent days. "I think she's absolutely making the wrong decision. President-elect Biden clearly won. And there really is no question about that… It is wrong to delay, even by another minute, the signing of the ascertainment."
Indeed. Given how obvious the call is here, it's hard to gin up sympathy for here as "an ethical and moral person." Especially since she's currently seeking employment elsewhere.
The top General Services Administration official who's blocking President-elect Joe Biden's transition team from accessing government resources ahead of his inauguration appears to be looking for a new job, according to a message obtained by ABC News.

Emily Murphy, head of the GSA, recently sent that message to an associate inquiring about employment opportunities in 2021, a move that some in Washington interpreted as at least tacitly acknowledging that the current administration soon will be gone.

[…]

A GSA spokesperson denied the account that Murphy was actively looking for a job, but noted that it wouldn't be unusual for someone in government, especially a political appointee, to consider future opportunities.

[…]

And while it's true that there's often a reshuffling of officials after a presidential election, regardless of whether the incumbent returns, Rep. Gerry Connolly, D-Va., a senior member of the House Oversight Committee, insisted that Murphy reaching out privately about future employment opportunities "exposes the hypocrisy" of the Trump administration's position.

"Here's somebody who refuses to sign the letter of transition but is self-dealing at the same time," he told ABC News. "That's a de facto recognition that there's an incoming administration, and it's not called Trump — it's called Biden."
It's just shameful all around.