Donald Trump v. Stacey Abrams
Gracious concessions are the norm except when they're not.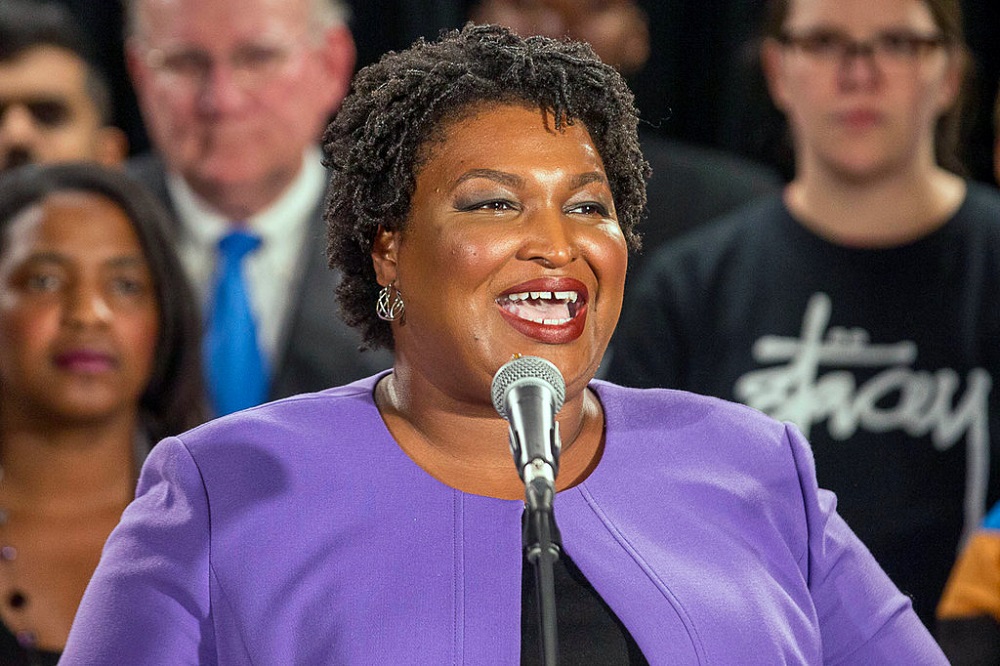 In "Yes, Democrats and Media Are Hypocrites On Stacey Abrams and the Sanctity of Accepting Election Results," Townhall political editor Guy Benson elaborates on an argument that was something of a throwaway line in a recent post of mine.
In all honesty, I haven't read Townhall in years and only know of Benson second-hand because he's very close friends with Mary Katharine Ham, who I mostly know these days through social media. But the piece showed up on the Memeorandum aggregator and, since I had recently had the same thought, it was interesting to see the argument fleshed out.
Additionally, it's worth noting that Benson concedes in the piece that "a president peddling falsehoods and denying electoral realities is particularly unacceptable and damaging" and that "the 2020 presidential election is over, as far as I'm concerened. Joe Biden has won."
So, what's his argument?
Let's discuss an exchange on CNN (below) over the weekend, in which my friend Mary Katharine Ham made the point that perhaps liberals and their media brethren might be taken more seriously in their indignant exasperation over Trump refusing to accept the apparent election results had they not spent the past two years lionizing Stacey Abrams. Abrams is a failed gubernatorial candidate who to this day has not conceded the race she lost in 2018. Like Trump, she's bleated about an illegitimate process, offering dubious claims to bolster her alternative history. Conceding, she's said, would acknowledge the fundamental fairness of the election, which she refuses to do. The facts are not on her side, including this one: The margin of her loss to Republican Brian Kemp in Georgia (54,723) was substantially larger than Joe Biden's leads over Donald Trump in Arizona, Georgia and Wisconsin combined (45,043). If those three states had voted slightly differently, with all else equal, the electoral college would be deadlocked at 269.
That's actually rather powerful. Indeed, because I am actually sympathetic to charges of Republican voter suppression, I had actually remembered the race as having been much closer than that. Is it conceivable that suppression was so effective that it provided that sort of margin?
WaPo's Glenn Kessler asked precisely that question—"Did racially motivated voter suppression thwart Stacey Abrams?"—last October in response to a line from Pete Buttigieg at one of the Democratic Presidential debates. His fact check gets too far into the weeds in parsing racial motivation from pure partisanship but ultimately gets to these as the bases for the Abrams/Buttigieg claim:
That's rather damning, right? Way more than the 50,000 votes separating the two candidates could be accounted for by such an aggressive program. Alas, there are some rather strong countervailing points:
Even if every provisional ballot not counted and every rejected absentee ballot had been awarded to Abrams, it would not have necessitated a runoff, much less overcome Abrams's vote deficit.
The 2018 turnout was far greater than any previous midterm, according to FiveThirtyEight, and more African Americans voted in 2018 than in 2016.
Even if 54,000 to 84,000 had not voted because precinct closings, "Abrams would have had to have won between 82% and 100% of those additional votes to close the gap," the Atlanta Journal-Constitution said.
Georgia purges lots of voters because of death, moving or not voting in recent elections, but it also makes it very easy to register because of automatic voter registration (AVR) when people obtain driver's licenses. Registration has grown 94 percent in Georgia because of automatic voter registration, according to the Brennan Center.
The fact that the Secretary of State, the chief election official, refused to recuse himself from overseeing an election in which he had such an obvious conflict of interest was shameful. But there's just no reason to think Abrams would have made up 54,000 votes had he stepped aside.
Still, I think it's fair to say that she had more basis for complaint about the outcome of her race than Trump did in his. While she's overselling the degree of Republican malfeasance, there was in fact significant Republican malfeasance. By contrast, there's simply no evidence of intentional malfeasance or misfeasance on the part of election officials in Joe Biden's favor in the 2020 race. None.
Regardless, Benson's next point is the one to which I alluded the other day:
Rather than recoiling in horror at her continued refusal to concede a race she lost, Abrams' party and media cheering section has handsomely rewarded her behavior. Democrats elevated her stature by selecting her as their official responder to the subsequent State of the Union Address. Donors have showered her organizations and various initiatives with mounds of cash. She's been given glossy, glowing treatment in an endless string of magazine covers and fawning interviews. She's been feted by celebrities and turned into a Hollywood film producer. She's been empowered, enriched and emboldened. Losing an election and refusing to concede it has made her famous and influential. Her shameless undermining of democracy has paid off in spades. Her profile has never been higher, to the point that she vaulted onto many analysts' VP shortlists, having only held office as a state representative. But mentioning any of this — even as Abrams is being glorified by the news media as heroine for democracy, literally as that same news media is aghast by Trump's lack of concession — is a bridge too far, apparently.
While Benson's argument would be stronger without the tired liberal media tropes, he's not wrong. With the possible exception of Beto O'Rourke, I can't think of a previously-unknown candidate who raised their national profile so much in a loss. She was not only seriously touted as a Vice Presidential nominee despite never having held an office that would be considered traditionally qualifying, she has been given outsized credit for Biden's win in Georgia. And has not, to this day, conceded that she lost.
To the extent one wishes to extol the virtues of the losing candidate making a gracious concession in order to heal the community and make it easier for the winner to get about the business of governing as a legitimate figure—and I do—then it is indeed hypocritical to praise Abrams' steadfast refusal to do so while condemning Trump for the same thing.
The next pieces of Benson's column are rather unfocused and clearly aimed at convincing a Trumpian base that the other side is even worse than they are. But he uses that to set up a reasonable point:
Hyper-partisanship, deepened by echo chambers and perverse incentives, are fueling a genuine crisis of legitimacy in our politics. The institutions and outcomes aren't illegitimate. But sizable minorities of each ideological coalition are now conditioned by their leaders in various influential figures to disqualify and reject any political result they dislike. Losses are no longer merely frustrating or disappointing; they're corrupt and illegitimate. This is poison — and yes, both sides are demonstrably culpable. A striking difference is that because the news media is overwhelmingly aligned with one side over the other, the in-crowd's egregious behavior and excesses are routinely downplayed, ignored, and memory-holed, a la Stacey Abrams. This breeds resentment and justifications from the rival tribe to emulate dirty play. 'Round and 'round we go, with few signs of slowing or stopping. Our body politic was unhealthy before this president took office, and will remain so after his departure. And one of the only things that partisans seem to agree on within this context is that the other side is worse.
From there, he argues that, while it's fine for Trump to continue to pursue legitimate legal inquiries, the election is over, Biden should be allowed to begin the transition, and that Republicans should forthrightly acknowledge the outcome as both real and legitimate.