70 Percent of Republicans Believe Election Unfair
The President's message is getting through.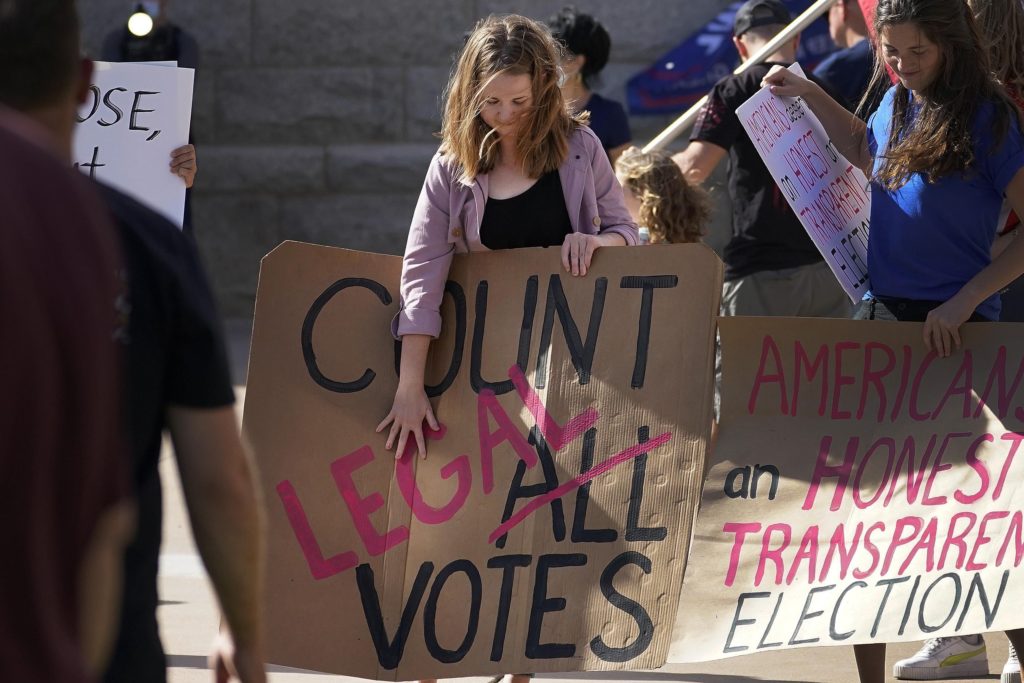 The longstanding effort by President Trump to make supporters question unfavorable election results have paid off—and they've been bolstered by fecklessness of Republican leaders in Congress.
YahooNews/The Week ("Republican official asks what the 'downside' is of 'humoring' Trump after election loss"):
At least one senior Republican official is evidently looking to continue "humoring" President Trump as he baselessly claims he's being cheated out of a 2020 election victory.

Days after Democratic nominee Joe Biden was projected by all major media outlets as the winner of the presidential election, Trump has yet to concede the race, and his campaign is pursuing legal efforts to challenge the results in numerous battleground states. Though experts say there's essentially no chance of these legal options affecting the outcome of the election, one Republican official told The Washington Post they're fine with entertaining Trump while being confident his efforts won't succeed.

"What is the downside for humoring him for this little bit of time?" a senior Republican official told the Post. "No one seriously thinks the results will change. He went golfing this weekend. It's not like he's plotting how to prevent Joe Biden from taking power on Jan. 20. He's tweeting about filing some lawsuits, those lawsuits will fail, then he'll tweet some more about how the election was stolen, and then he'll leave."
I'm not entirely unsympathetic to this view, given the reality of a lunatic in the White House and his enormous popularity with the party faithful. But the "harm" is becoming obvious.
YahooNews/Politico ("Poll: 70 percent of Republicans don't think the election was free and fair"):
After the presidential race was called for Democratic candidate Joe Biden, Republicans' trust in the election system plummeted, while Democrats' trust soared, according to a new POLITICO/Morning Consult poll.

Multiple new organizations announced Biden as the election winner on Saturday after four days of counting in several swing states. Following the news, 70 percent of Republicans now say they don't believe the 2020 election was free and fair, a stark rise from the 35 percent of GOP voters who held similar beliefs before the election. Meanwhile, trust in the election system grew for Democrats, many who took to the streets to celebrate Biden's victory on Saturday. Ninety percent of Democrats now say the election was free and fair, up from 52 percent before Nov. 3 who thought it would be.

Among Republicans who believed that the election wasn't free and fair, 78 percent believed that mail-in voting led to widespread voter fraud and 72 percent believed that ballots were tampered with — both claims that have made a constant appearance on the president's Twitter thread. Like President Donald Trump, a majority of the people that thought the election was unfair, 84 percent, said it benefited Biden.

The lack of trust in the election system has led to Republicans being more skeptical about the election results. Although only 18 percent of Republicans had said the results would be unreliable prior to Election Day, now 64 percent feel the same way following Biden's victory. By contrast, 86 percent of Democrats say they trust the results.
Now, it's not surprising that Democrats are more favorably disposed to believe in the outcome after a win. And Democrats have certainly complained about the fairness of elections they've lost; Stacey Abrams has made a career out of it.
But the fact of the matter is that, despite good reasons for bitterness, Al Gore gave a gracious concession speech after the debacle of 2000. Hillary Clinton was more equivocal in 2016—and has done quite a bit to cast the outcome as unfair since–but, under pressure from a Democratic President, she quickly conceded the race to Trump despite a 3 million vote lead in the popular vote count.
That Trump hasn't faced reality yet is, well, characteristic. But it's time for Republican leaders to lead before the system fractures irreparably.
As noted this morning, the fears that many of us had of Trump needing to be somehow forced out of office now look overblown. But we can't have a majority of the losing candidate's supporters think the election was somehow stolen.