Democratic Candidate Phil Murphy Easily Defeats Kim Guadagno In New Jersey
To nobody's surprise, a blue state returns to its roots.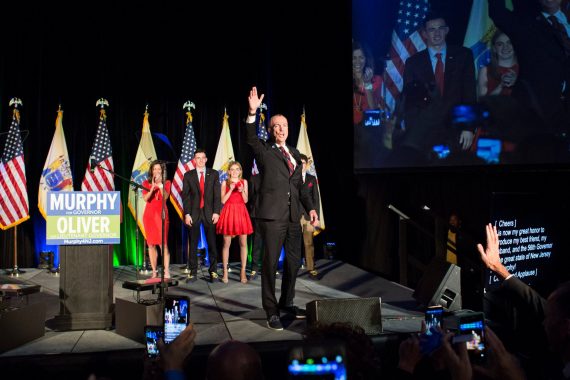 To absolutely nobody's surprise, Democratic nominee Phil Murphy, who was running for his first elective office after a career as an investment banker at Goldman Sach, handily defeated Lt. Governor Kim Guadagno in New Jersey's Governor's race, in a race that was never really in doubt:
ASBURY PARK, N.J. — New Jersey became the seventh state in the country where Democrats now control the legislative and executive branches with the election on Tuesday of Philip D. Murphy, a former Wall Street banker with no experience in office, as its 56th governor, according to The Associated Press.

The decisive victory by Mr. Murphy, who transformed himself from a Goldman Sachs executive into a progressive Democrat to match the direction of an anxious political party, gives Democrats a badly needed lift and a governor who has vowed to make his state a bulwark against the policies of President Trump.

Mr. Murphy's ascendancy also brings an emphatic end to the tumultuous eight-year reign of Gov. Chris Christie, a Republican who was once considered a viable contender for the White House but who leaves office as one of the country's least popular governors.

Still, despite Mr. Murphy's skillfully managed campaign and ambitious agenda, it remains to be seen whether he can deliver on his many promises.

Mr. Murphy, 60, easily defeated Lt. Gov. Kim Guadagno, the Republican candidate and Mr. Christie's second-in-command, by a margin of 56 to 43 percent, with 98 percent of precincts reporting, after a contentious election that never was really in doubt — Ms. Guadagno had struggled to move out of the shadow of her deeply disliked boss.

Mr. Murphy, who promoted a liberal future for New Jersey with a $15 minimum wage, the legalization of marijuana and a vow to stand up to Mr. Trump, represents a shift in the state's reputation for electing moderate governors and makes it a deeper shade of blue.

In his victory speech, Mr. Murphy made it clear that he believed voters had sent a message meant to reverberate beyond the state.

"We will stand firm for New Jersey's values, and push back against the mean winds blowing at us from Washington," he told jubilant supporters in Asbury Park. "This is the first major election since Donald Trump was elected. Tonight, New Jersey sent an unmistakable message to the entire nation — we are better than this."

With a win propelled by the working class and urban neighborhoods of northern New Jersey, Mr. Murphy's election also amounts to a repudiation of the hard-nosed, blunt conservative politics of Mr. Christie, whose tell-it-like-it-is personality often defined New Jersey on the national stage.

In Mr. Murphy, voters selected Mr. Christie's opposite — an energetic politician who yearns to be liked, embraces unions, supports gun control and has been open about his willingness to raise taxes on the wealthy to help fix the state's floundering economy.

But as an untested elected official, Mr. Murphy must prove that he can transform his experience on Wall Street and as the American ambassador to Germany — a position he won largely because he was a major Democratic donor — into an agenda that can chip away at the state's laundry list of problems, including soaring property taxes, underfunded schools, an enormous pension liability and poor public transit.

Still, the outcome represents the triumph of a progressive message over a two-note focus on property taxes and immigration by Ms. Guadagno in a campaign that in many ways became a referendum on the Christie era.

"We left no stone unturned, and we would not have done anything differently," Ms. Guadagno told disappointed supporters on Tuesday night during her concession speech in a ballroom in Aberdeen.

Throughout the race, Mr. Murphy overshadowed his opponent by channeling his fellow residents' exasperation with the current governor, whose approval rating, in the low teens, ranks among the lowest in New Jersey's history, and using their anger to sell his plan to fix a state that he declared to be "broken."

The election of Mr. Murphy was yet another low-water mark in a long fall from grace for Mr. Christie, who once saw his approval ratings soar into the 70s and whose re-election margin in 2013 was so high that it instantly vaulted him into the presidential conversation.

(…)

n the final weeks in New Jersey, Ms. Guadagno, perhaps sensing that she was not gaining any traction, veered toward a style of politics more akin to Mr. Trump's, campaigning against undocumented immigrants and running caustic ads that twisted Mr. Murphy's words about cities that offer them sanctuary.

But support from Mr. Trump, who had been frantically tweeting about the Virginia governor's race for weeks, was nowhere to be found for Ms. Guadagno, nor did any Republican Party luminaries travel to the state to offer their support.

From a campaign that began with a sharp focus on property taxes — she made a promise on primary night not to run for re-election if she failed to lower property taxes — Ms. Guadagno changed course and warned repeatedly that Mr. Murphy would turn New Jersey into a sanctuary state, hoping to energize the base of the Republican Party.

But the strategy fell flat, particularly in a state where the successful Republican Party playbook, which guided Mr. Christie and former governors Christine Todd Whitman and Thomas Kean to victory in an overwhelmingly Democratic state, has relied on winning over the large swath of New Jersey's independent voters with a message focused on pocketbook issues.

The Democratic-controlled state is also poised to play a significant role in the growing resistance to Mr. Trump. The Democratic Party has targeted New Jersey as a state where it hopes to achieve gains in the 2018 midterms. Mr. Murphy's victory, helped along by strong turnout in the northern part of the state, elevates the chances that incumbent Republican congressmen, like Representatives Leonard Lance and Rodney Frelinghuysen, can be defeated.
As I've noted in past coverage, the outcome of this race was never really in doubt. From the moment that Murphy and Guadagno won their respective party's nomination's back in June polling was showing Murphy with a strong lead that seemed as though it would be utterly insurmountable. By the end of the campaign, polling gave Murphy an average of a 14.4 point lead over Guadagno, and he ended up winning by 13.5 points according to the most recently available numbers. In part, this was due to the fact that New Jersey is a deeply blue state where both of the state's Senators, the majority of its Congressional delegation, and both houses of its legislature are controlled by Democrats, and where Hillary Clinton defeated Donald Trump one year ago by nearly the same margin that Murphy won over Guadagno, the odds of a Republican victory were always a long shot. We saw that in 2009 when Chris Christie was elected Governor by a very slim margin in a race that also featured a hugely unpopular incumbent in Jon Corzine and a third-party candidate. Also weighing against Guadagno was the fact that Christie, who had won re-election by a historic margin in 2013 had become exceedingly unpopular over the last four years. According to the most recent polls, Christie's approval rating stood at 16% and nearly three-quarters of the respondents said the state was on the wrong track. Given these facts and those numbers, the fact that Guadagno lost stands as no huge surprise.
In the end, this election doesn't really carry any huge national implications. As has happened before after the tenure of other recent Republican Governors such as Tom Kean and Christine Todd Whitman, New Jersey is a blue state that returned to its roots after a brief flirtation with a Republican Governor who, at least for a short period of time, had found a way to break through the barriers that Republicans usually face there to win and succeed notwithstanding the fact that the GOP is a distinct minority. The surprise would have been if Guadagno had managed to win the race somehow or to do better than the polling was subjected. Throughout the campaign, though, she managed to do everything possible to make sure that didn't happen. Guadagno never really developed a message of her own independent of Governor Christie, and when it became apparent that she wasn't going to win she made the rather bizarre decision to veer to the right with appeals to the Trumpian wing of the GOP on issues such as crime and immigration that most assuredly didn't play well in statewide. Additionally, her campaign was hobbled by lackluster fundraising, low enthusiasm among the state's Republicans, and a national GOP infrastructure that largely wrote the race off and offered little but lip support to what everyone perceived to be a campaign that was doomed from the start.
There is one respect in which this race could have national implications, though. Currently, the state's senior Senator Bob Menendez is on trial for corruption in a trial that has largely escaped national attention and the jury has been deliberating the case since Monday afternoon and will continue those deliberations this morning, meaning that a verdict could come at any moment. If Menendez is convicted, then the possibility exists that he could end up resigning or even being removed from office before his term expires or his appeals exhausted. If that happens, then the Governor of New Jersey will get the power to pick a successor who will serve until a Special Election that would be scheduled for some time later next year. Christie will only be Governor until January 16th and, as I explained in a post when the trial started, it's unlikely that Menendez can be forced out of office before then. Murphy's victory guarantees that the replacement Senator would be a Democrat and robs the GOP of what potentially could have been an opportunity to use a temporarily larger majority to force through something such as tax reform or a health care bill under reconciliation rules. That's highly unlikely to happen now. Beyond that, though, this race doesn't really tell us anything about the nation as a whole, except perhaps the unsurprising fact that campaigning like Donad Trump in a blue state is a really dumb idea.