Rick Perry's Wrongheaded "Government Reform" Plan
Rick Perry is out with a plan to reform Washington. Mostly, it's just a bunch of gimmicks.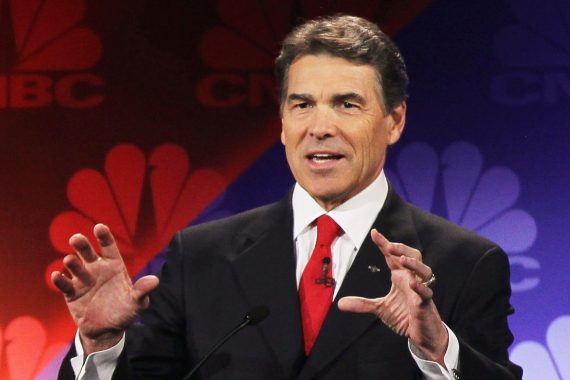 Rick Perry's latest effort to reboot his campaign involves a far-reaching, ultimately quixotic, government reform plan that essentially calls for a complete reworking of how the Federal Government works:
BETTENDORF, Iowa — Gov. Rick Perry of Texas on Tuesday announced a proposal to alter the federal government that ranks among the most radical plans offered by any major Republican presidential candidate this year — and one that legal analysts say will almost surely never happen: making Congress operate part time with half pay, and ending lifetime tenure for federal judges.

"I don't believe that Washington needs a new coat of paint — I think the whole place needs to be overhauled," said Mr. Perry, speaking to applause from more than 100 people on the floor of the Schebler manufacturing plant here. "I'm a true believer that we need to uproot, tear down and rebuild Washington, D.C., and our federal institutions."

Mr. Perry, who is trying to reboot a campaign that is lagging in the polls, proposed cutting the pay of Congress in half (or by three-fourths, under one proposal he sketched out) and halving both its budget and the time members spend in Washington.

"We have a lot of well-intentioned members of Congress, but they have become creatures of Washington," Mr. Perry said. "They get paid more than three times the average American family, and they have doubled their own budgets in the last decade."

Mr. Perry also vowed to "reform" the federal judiciary. "Too many federal judges rule with impunity from the bench," he said, "and those who legislate from the bench should not be entitled to lifetime abuse of their judicial authority." He proposed 18-year terms, staggered every two years, for new Supreme Court justices, and suggested similar limits on federal appellate and district court judges.

In the speech, Mr. Perry sought to present himself as a consummate Washington outsider. He reminded the audience that he was one of the few Republican candidates who had never worked as a lobbyist, served as a member of Congress or spent time in a presidential administration.

"I'm unique to the Republican field," Mr. Perry said. "I have never been an establishment figure. I've never served in Congress. I've never been in an administration. I've never been a paid lobbyist. My career has been that of a Washington outsider."

The speech, which Mr. Perry referred to as his plan to "uproot and overhaul Washington," was an effort to try to return to issues after an embarrassing stumble at a presidential debate last week raised new questions about his candidacy. He did not make a joke — as he did in Saturday's debate in South Carolina — about forgetting the Department of Energy as one of three agencies he would like to eliminate.
Here's a basic summary of what Perry is proposing:
Ending the practice of giving lifetime appointments to federal judges (current judges would not be affected);
Cutting Congressional pay in half;
Cutting Congressional pay in half again if they don't balance the budget by 2020;
Cutting Congressional office budgets in half;
Cutting the Congressional calendar by half;
Criminalizing insider trading by Congressmen;
Reducing spending to 18% of GDP;
Privatizing Fannie & Freddie;
Ending the funding of Planned Parenthood;
Eliminating the Commerce, Education, and Energy Departments;
Getting the EPA under control;
Getting the TSA under control;
Audit the government, including the Department of Defense;
Freeze incoming federal regulations, and audit all of them for the last five years;
Federal salary freeze for all non-military and non-law enforcement officials until the budget is balanced;
And cutting the Presidential salary in half until the budget is balanced
Some of these ideas are quite banal, really. What exactly does it mean to say you want to get the EPA and TSA "under control"? How, specifically, are you going to cut Federal spending enough so that it's equal to or less than 18% of GDP? The audit idea reminds me of the Grace Commission from the 1980s and the mostly useless idea of attacking "government waste." I've written more than once already about Perry's odd ideas for the Federal Judiciary (here, here and here). It's also worth noting that a few of these provisions would require Constitutional Amendments, and the idea that it's going to be easy to amend the Constitution is just silly.The part of Perry's proposals that are getting the most attention, however, are his ideas to basically create a part-time Congress, and it's an idea that's getting criticism from both sides of the political aisle.
Matthew Yglesias describes Perry's plan with one word, terrible:
The basic problem is that under modern conditions, de-professionalizing a legislature tends to make it more corrupt and less responsive to either the views or objective interests of the public.

You can see this along a number of dimensions. One is that if members of Congress need to work second jobs, their business relationships will involve conflicts of interest. A second is that to the extent that earning extra income takes up more of members of Congress' time, they'll become more dependent on lobbyists and special interest groups for information and assistance with their projects. A third is that lower pay tends to induce legislators to retire sooner, and less-senior legislators are more dependent on lobbyists and special interest groups for information and assistance with their projects. A fourth is that to the extent you cut legislators' pay, a larger share of the real compensation for doing legislative work is the opportunity to "cash in" after you leave office. A fifth and related consideration is that to the extent you cut legislators' pay, a larger share of the real compensation for doing legislative work is the ability to raise PAC and campaign funds that you spend on yourself. Last, but by no means least, to the extent that you reduce the desirability of winning re-election, you encourage members of the legislature to ignore their constituents in favor of pleasing others.
The response to this argument, of course, is the idea that increasing rotation in Congress returns us to the ideal that the Founders had when the first drafted the Constitution, the idea of the citizen legislator. Now there's nothing wrong with this idea in principle. For one thing, the idea that Congress is so heavily dominated by the legal profession strikes me as as a bad thing because it reduces the perspectives that are available to members. It's a good thing, I think, that we get business owners, entrepreneurs, and maybe even a few ordinary people in there if they can convince people to elect them. Of course, that ideal hasn't existed for a long time, if it ever did, and there are now plenty of people in Washington for whom their sole career for decades has been being a Member of Congress or a Senator.
But Perry isn't just talking about a more diverse Congress, he's talking about a Congress that does less work for less money, and there's more than a few problems with that idea.
On the money side of the equation, Matt Glassman points out that, adjusted for inflation, the Members of the 112th Congresss are not making all that much more than their predecessors in the 63rd Congress, which ran from 1913-1915.  Glassman's chart tells the tale: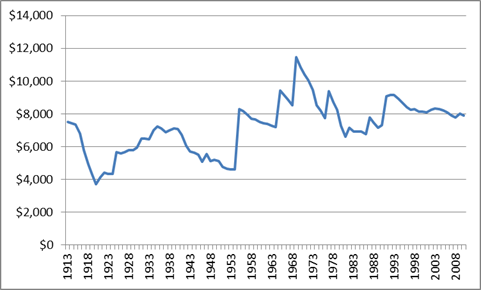 John Sides makes another point about the impact that a Congressional pay cut as drastic as the one Perry proposes would have:
The broader problem with Perry's proposal, as Kevin Collins noted, is that "de-professionalizing" the legislature by cutting pay and the like would actually make Congress less responsive to voters.  He cites this paper (pdf) by Jeffrey Lax and Justin Phillips.  In it, they find that the congruence between state policy and voters' opinions is stronger in states with professionalized legislatures—where professionalism is captured by legislators' salaries, the number of days the legislature is in session, and the number of staff assigned to legislators.

In short, if you want public policy to reflect popular will, don't stock the legislature with amateurs.
There's another argument about Perry's plan that I think is actually more important, though, because it involves the enhancement of the power of a Presidency that has already grown far beyond where the Founders ever intended:
One of the key levers of power for Roosevelt's New Deal and, more broadly, the modern presidency is its corps of bureaucrats and analysts; the Executive Office alone has at least 2000 or so staffers. The president has access to layers and layers of information. This access gives the president great influence in shaping the annual budget and the details of policy. Members of Congress may propose laws, but the substance of these laws often has considerable White House backing.

Congressional staff provide at least a partial check on the data power of the executive branch. By undermining Congressional staffs through salary cuts, one also undermines the ability of Congress to shape the information narrative and write legislation. Meanwhile, cutting Congressional pay might seem an invitation to more petty corruption.

(…)

Any talk of cutting government employment may elicit shouts of glee from many on the right. But conservatives need to ask themselves whether it advances the cause of smaller government to reform the federal government so that the centralized executive branch has even more power.
Indeed.
The truth of the matter is that cutting Congressional pay and reducing Congressional staff is going to do very little to bring Federal spending under control. As noted above, it's also not likely to make the legislative branch more responsive to the public. While the "citizen legislator" idea is an appealing one, the truth of the matter is that a Congress filled with inexperienced legislators working for half of what their predecessors a century ago did isn't going to improve Congress. In fact, it's likely to make Congress worse and the President more powerful. In fact, a suspicious person would say that Perry is proposing something like this because he knows it would increase the power of the office he's seeking. In reality, though, much like Perry's own chances to win the Republican nomination, there's very little chance any of these ideas would ever see the light of day. To the extent Perry intended to propose a real plan, he failed here. Instead, all we've got are gimmicks.